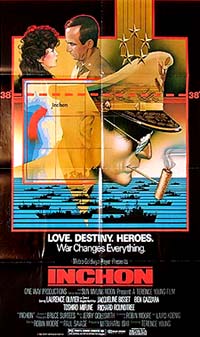 Inchon (1981/82)
Director: Terence Young
Studio/Distributor: One Way Productions/MGM/UA
Budget: $46 million
Total Gross: $5.2 million
Total Net Loss: $40.8 million
Total Estimated Loss (Inflation-Adjusted): $115 million
MGM/UA's and Terence Young's incoherent, anti-Communist Korean War epic (originally titled Oh, Inchon!) starred miscast, aging 73 year-old Laurence Olivier at the end of his long film career as General Douglas MacArthur. The war epic was a re-enactment of the UN-led, surprise amphibious invasion of Seoul's port of Inchon in 1950 to expel N. Korean Communists from South Korea.
The film flop was produced by Rev. Sung Myung Moon and his Unification Church (supported by thousands of obediently 'brain-washed' Moonies), financed by a newly-formed film production company named One Way Productions (led by Moon's associate Mitsuharu Ishii). It was supposedly created to provide a fresh look at the Korean War with its major 'divinely-guided' hero MacArthur, although it totally ignored the fact that Gregory Peck had just starred in the failed epic biopic MacArthur (1977). The film's screenwriter was Robin Moore, known as the author of the following books later made into films: The Green Berets (1968), The French Connection (1971), and The Happy Hooker (1975). The director was Terence Young, who had directed three James Bond films: Dr. No (1962), From Russia With Love (1963), and Thunderball (1963).
The Korean production company lavishly financed director Young at $1.8 million, and other cast members, mostly with cold hard cash (Jacqueline Bisset at $1.65 million after her memorable wet T-shirt role in The Deep (1977), Laurence Olivier at $1.25 million, Ben Gazzara at $750,000, Shaft (1971) actor Richard Roundtree at $200,000, and ex-Fugitive TV star David Janssen at $300,000 (whose scenes were ultimately deleted)).
There were various calamities on the set - two typhoons (Irving and Judy) and resultant mud, days of scorching heat, a chronically-ill Bisset with laryngitis, an earthquake (that washed a camera crane out to sea), continuing problems with the language barrier, and political strife between the Korean government and Moon's Unification Church. Long and expensive delays (at the cost of $200,000/day) occurred during the arduous process of securing permits and receiving government permission to shoot in Korea. Olivier's makeup took four hours to apply - and the results were hideous (an ill-fitting toupee, a putty nose, and feminine makeup). There were no speaking roles given to the Communists in the cast, to emphasize their subhuman, godless nature. Reshoots and extensive editing expenses helped to bloat the film's original budget by millions. When the controversial religious leader Moon himself publically admitted in January 1980 that he had contributed about $35 million to the film's making, everyone embarrassingly attempted to disown their association to the film.
This incompetently-made, turkey film (at an original running time of 160 minutes) that took four years to make and had a whopping budget of almost $50 million was an embarrassment that was quickly withdrawn after awful test screenings and previews (including its world premiere showing in Washington DC in May of 1981). Screened at Cannes in the spring of 1982 in a trimmer version, it was then pared down to 140 minutes long, and again edited down to 105 minutes. At the time, MGM/UA was approached with a remunerative offer to release the film domestically on September 17, 1982 (the 32nd anniversary of MacArthur's Inchon landing). Accusations that the Unification Church was trying to recruit converts with its promotional ploys to attract audiences to the film helped to discourage moving-going audiences -- one of many reasons for the film's low US box-office.
The film embarrassingly won four "Razzies": Worst Actor (Olivier), Worst Director, Worst Picture, and Worst Screenplay, and had a fifth nomination for Worst Supporting Actor (Gazzara). It was never released on home video or DVD.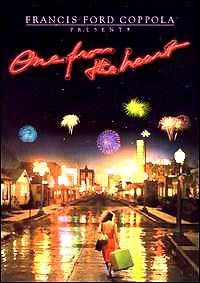 One From the Heart (1982)
Director: Francis Coppola
Studio/Distributor: Columbia Pictures/Zoetrope Studios
Budget: $26 million
Total Gross: $637,000
Total Net Loss: $25.3 million
Total Estimated Loss (Inflation-Adjusted): $64 million+
This stylized musical romance, two years in the making, followed the tremendous success of Coppola's Godfather films in the early 70s and Apocalypse Now (1979), but he was looking for a less difficult, more lighthearted production this time around. The film was originally budgeted at $2 million, but he eventually invested $14 million of his own funds through Zoetrope (plus $12 million from others) into the costly production (when some investors got 'cold feet' and withdrew). The film's failure ultimately caused the demise of Coppola's studio.
One reason for its inflated price tag was that it was one of the first films to use experimental video equipment that included live, in-camera feeds that could instantly be edited - something termed "electronic cinema". Coppola referred to himself as the film's "composer" as he directed the "live cinema" from a technological video control room. He hired Paramount to distribute his film, but then frustrated by the studio's nervousness, he pretentiously premiered it (in what he called its "final preview") in a Radio City Music Hall gala in NYC with reserved seats only. Coppola pulled the film from theaters two weeks after it opened due to a negative reception from "studio politics and media chatter."
The musical film was set in a re-created, artificial fantasy world of Las Vegas, although it was entirely filmed on a Hollywood soundstage (with a recreated city composed of painted backdrops and superimpositions), with no location shots or exteriors. Its main boring, unappealing, one-dimensional and ordinary characters (Teri Garr as an ex-waitress and travel agent, and Frederic Forrest as a mechanic/junkyard owner who salvaged old neon signs) were celebrating their 5th anniversary as a couple on 4th of July Eve and suffered a domestic breakup after exchanging gifts. When they temporarily parted ways, they were joined by two other short-term lovers (Raul Julia as a Latin waiter/professional dancer-musician and Nastassja Kinski as an exotic circus acrobat/performer). The humanity of all the characters was overwhelmed by the sets, complicated lighting schemes, special effects and production values.
The film received one Academy Award nomination (for Tom Waits' soundtrack, Best Original Song Score). However, the film's characters did not sing their own songs -- they were instead sung by bluesy Waits and country music star Crystal Gayle.
Still looking for an audience for his unconventional film, self-termed his "biggest flop" and financial gamble, Coppola produced a 15-minute video (viewable at one time online) marketing the recently-released 2004 DVD restoration (and reworking) of his film. In a statement, he said he hoped the video would help counteract "the bad press and premature criticism" that originally shot down his film.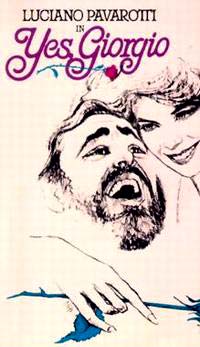 Yes, Giorgio! (1982)
Director: Franklin J. Schaffner
Studio/Distributor: MGM/United Artists
Budget: $19 million
Total Gross: $2.3 million
Total Net Loss: $17.6 million
It seemed like a wonderful idea, to star the great tenor opera star (Luciano Pavarotti) in a musical romantic comedy. In this expensively-financed and escapist film, Pavarotti (in his screen debut) did star as famous Italian opera singer Giorgio Fini, who came to America during a performance tour, but lost his voice. During treatment by Boston throat doctor Pamela Taylor (Kathryn Harrold), the philandering married singing star fell in love with her, and invited her to experience an extravagant "fling" in San Francisco. She also helped him overcome a fear of performing opera at NY's Metropolitan Opera House, although there had to be a melodramatic finale of his return to his wife and family.
The film had one Academy Award nomination -- Best Music (Original Song: "If We Were in Love", performed during a hot-air balloon ride over Napa Valley). It also had three Razzie nominations: Worst Actor and Worst New Star (for Pavarotti), and Worst Screenplay (Norman Steinberg).