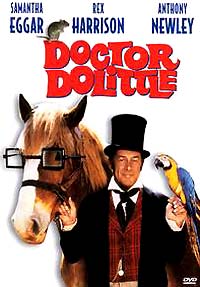 Doctor Doolittle (1967)
Director: Richard Fleischer
Studio/Distributor: 20th Century Fox/Apjac
Budget: $17 million
Worldwide Gross: $9 million
Total Net Loss: $10.8 million
Total Estimated Loss (Inflation-Adjusted): $88 million
This lavish two-and-a-half-hour 70 mm. Todd-AO Technicolor childrens' musical adventure fantasy from 20th Century Fox was this studio's entry into the musical genre, following the successes of Disney's Mary Poppins (1964), Fox's own The Sound of Music (1965) and other musicals. It was adapted from the classic children's books from American writer Hugh Lofting born in Britain. It told about eccentric, absent-minded veterinarian Dr. John Dolittle (Rex Harrison, fresh from the catastrophic Cleopatra (1963)) in the pretty English town of Puddleby-on-the-Marsh in the year 1845.
"Talk-singing" Rex Harrison had originally been lured to star in the picture when it was promised that famed lyricist Alan Jay Lerner (who had worked with Harrison on My Fair Lady (1964)) would write the script, music and lyrics, but after struggling for a year Lerner was replaced by gifted Leslie Bricusse. Harrison was persuaded to stay on (instead of $300,000 paid replacement Christopher Plummer, star of The Sound of Music), while he endured being urinated on by sheep and chewed upon by various temperamental animals. Delays due to problems on the set were compounded by expensive on-location shooting difficulties (in the English countryside village, in the actual town of Castle Combe, and on the island of Santa Lucia in the Caribbean). Multiple problems arose during production, including torrential rains, disgruntled town citizens where the film was shot (the English village's dam was sabotaged), issues with the 1,500+ live animals, and the costly upkeep of the featured creatures at an average of $750/week.
This unique doctor learned how to 'talk to the animals' through lessons from his colorful talking parrot named Polynesia. He also set forth on a worldwide quest in search of exotic, rare specimens of different species, such as his two headed llama named "Pushmi-Pullyu", including a quest to find a legendary and mythical Great Pink Sea Snail (an 8-ton machine that cost more than $65,000) and the Giant Lunar Moth on floating Sea Star Island off the coast of Africa.
When Doolittle liberated a trained seal named Sophie (costumed in a dress and hat) from circus owner and benefactor Albert Blossom's (Sir Richard Attenborough) establishment, he was arrested and committed to an insane asylum run by General Bellowes (Peter Bull). After escaping with the help of Polynesia and chimp Chee-Chee (Tarzan's Cheeta in his last film appearance), he began his travels with friends including sailor Matthew Mugg (Anthony Newley), young Tommy Stubbins (William Dix), and Bellowes' stowaway niece Emma Fairfax (Samantha Eggar).
In the mid-late 1960s, a budget of $17 million (three times the original budget) was fairly sizable, and with poor returns at the box-office, the film nearly bankrupted Fox, especially for its expensive, massively-orchestrated publicity campaign and merchandising push for dozens of Doolittle promotional products. Even before the picture was released, record stores were flooded with half a million original soundtrack albums that sold poorly. It was fairly well-received by audiences that actually went and saw it, but critics despised it and lousy word-of-mouth destined it to failure. The plot was mostly leaden, meandering and over-extended, and director Fleischer was obviously more adept at adventure films (i.e., 20,000 Leagues Under the Sea (1954) and Fantastic Voyage (1966)) than musicals with animals.
It was nominated for nine Academy Awards (even Best Picture and Best Cinematography), with two wins for Best Special Effects, and Best Music - Original Song ("Talk to the Animals").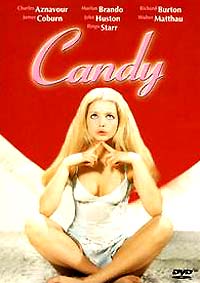 Candy (1968, It./Fr.)
Director: Christian Marquand
Studio/Distributor: Cinerama Releasing Corporation/Dear Film Produzione
Budget: $3 million
Rentals: $7.4 million
This provocative, self-indulgent and satirical 2-hour long sex comedy starred 1965's blonde and blue-eyed Miss Teen Sweden Ewa Aulin (and subsequently Miss Teen International 1966) as the naive, carefree nymphomaniacal and sweet title character - nubile high school teen Candy Christian. It was based on scriptwriter Terry Southern's updated, racy (and supposedly 'unfilmable') 1960 novel originally based on Voltaire's 18th century Candide, adapted for the screen by Buck Henry. On her misadventures and journeys, she was continually seduced and lusted after by a number of leading men (representing various stereotypical male characters or 'father' figures) in episodic segments, including Richard Burton as alcoholic Welsh poet McPhisto, Ringo Starr as Mexican gardener Emmanuel, Walter Matthau as fanatical, ultra-patriotic, airborne right-wing military officer General Smight, John Huston and James Coburn as hospital administrator Dr. Dunlap and eccentric brain surgeon Dr. Krankheit, gravity-defying hunchback (Charles Aznavour), and Marlon Brando as eye-rolling, lecherous mystical guru Grindl.
This misogynistic film was one of the biggest flops of the 60s, although it was marketed with a teasing suggestive campaign about its liberated sexpot star, with only some brief nudity on-screen. It was unappreciated by audiences for its meandering, underdeveloped, improbable and unsophisticated plot (with an anti-establishment theme), unrelated episodes and pretentious sillyness. Some of the movie's expense was due to expensively-paid stars, on-location filming in Rome and New York, and special effects for the opening and closing sequences by Douglas Trumbull (responsible for the mind-blowing slit-scan visuals in 2001: A Space Odyssey (1968)).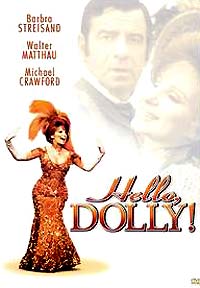 Hello, Dolly! (1969)
Director: Gene Kelly
Studio/Distributor: 20th Century Fox/Chenault Productions
Budget: $25 million
Worldwide Gross: $400,881
Rentals: $15.2 million
This ill-considered, cumbersome big-budget Fox film musical, following their ill-received Doctor Doolittle (1967), seemed an anachronism during the politically-tumultuous late 1960s, with its miscast star, 27 year-old Barbra Streisand as the middle-aged match-making widow title character Dolly Levi, following her success in Funny Girl (1968). She was replacing the popular stage originator Carol Channing in an immortal role from the long-running show. It was directed by dancer Gene Kelly -- as a big-budget, overblown musical version of Thornton Wilder's play The Matchmaker that had opened on Broadway in 1964, with elaborate sets and costumes and an over-indulgent production.
The musical was the most expensive (over $20 million) produced up to its time, and was another Fox financial disaster, although it was the fifth-highest grossing film of its year. It was one of a number of disappointing flops and sometimes foolhardy films that spelled an end to the large-scale film musical. The studio was attempting to duplicate its success with The Sound of Music (1965) with three films in the late 60s, with this as one of them. The other two films were the overly-long and expensive Doctor Doolittle (1967) with Rex Harrison 'talking to the animals', and director Robert Wise's $12 million Star! (1968), a biography of stage musical comedy star Gertrude Lawrence and a disastrous film for Julie Andrews.
Although the musical had a number of show-stopping songs and production numbers, there was a distinctive lack of screen chemistry between stars Walter Matthau and Streisand, and it was an over-produced, overlong, overly-buoyant and overstuffed musical production that spelled the end of Gene Kelly's career as a musical film director. However, its memorable moments included Louis Armstrong's brief singing of the title song in the palatial Harmonia Gardens Restaurant filled with red-uniformed waiters.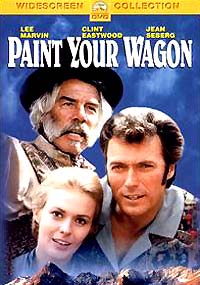 Paint Your Wagon (1969)
Director: Joshua Logan
Studio/Distributor: Paramount Pictures/Alan Jay Lerner Productions
Budget: $20 million
Worldwide Gross: $14.5 million
Rentals: $14.5 million
This 1951 Broadway musical by Lerner and Loewe was lavishly adapted for the screen by noted scriptwriter Paddy Chayefsky (and lyricist Alan Jay Lerner) in the late 60s, when musicals were already losing popularity. Obviously, musical comedy was not Chayefsky's strongest suit. Its sole Oscar nomination was for Nelson Riddle's Best Adapted Musical Score. It was one of many expensive musicals at the time that attempted to cash in on the popularity of Fox's The Sound of Music (1965).
The setting for the musical was a Gold-Rush mining camp in 1840s California in a city named: "No Name City". The bloated, almost three-hour production featured the 'singing' of non-singing actors Lee Marvin (often drunk on the set) as grizzled, drunken prospector Ben Rumson and a young Clint Eastwood as Pardner, a soft-spoken ex-farmer from Michigan, while the voice of miscast female lead Jean Seberg (as Elizabeth) was dubbed by Anita Gordon. Eastwood tentatively sang "I Talk to the Trees", while Marvin sang "I Was Born Under a Wandrin' Star" - a surprise novelty hit record. The film's best vocalist was Harve Presnell (as "Rotten Luck Willie") who sang the memorable "They Call the Wind Maria." Bing Crosby was originally intended to star in the Lee Marvin role, but declined to be involved in a lengthy on-location shoot (with realistic sets built in the wilderness of the Cascade Mountains about 50 miles from the town of Baker, Oregon at the cost of $2.4 million, and at Big Bear Lake/Valley in California).
Veteran director Joshua Logan proved to be a very slow-working director (the film was over-schedule and over-budget), and ran into problems with the supervising producer Lerner. This reportedly caused Eastwood to declare that he would soon produce and direct films in a more economical and responsible way, with his own independent production company. It was also rumored that Jean Seberg had an on-set romance with co-star Clint Eastwood that enraged her husband, and further complications arose when hippies used as extras in the production organized a union of their own and threatened a strike over higher pay.
The big-budget, over-produced, misguided western-tinged film, dubbed "Lerner's Folly", featured a menage-a-trois relationship between the three principals, based on a dubious polygamous, shared wife arrangement after a three-ring ceremony, and the kidnapping of French prostitutes for the gold town's brothel, with some commentary on the raunchy goings-on by Mormons and temperance groups. Marvin played a rough prospector similar to his Oscar-winning role in Cat Ballou (1965). Although the provocative film was criticized and mocked for its unlikely genre mix of western, comedy, and musical, it was lively, lusty and exuberant, with a few mild swear words ("hell" and "damn") and an "M" (for Mature Audiences) rating - the first for a large-scale musical. Upon its initial release, it couldn't recoup its exorbitant costs (it made only $14.5 million), but over the years has recovered some of its stature and financial losses. However, it was the last film for Joshua Logan, and in ten years, a depressed Jean Seberg would commit suicide.