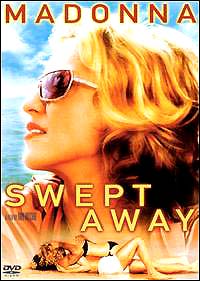 Swept Away (2002)
Director: Guy Ritchie
Studio/Distributor: Columbia Pictures/Screen Gems
Budget: $10 million
Domestic Gross: $598,645
Worldwide Gross: $1 million
Director/scripter Guy Ritchie's film was an inferior, off-the-track remake of Best Director-nominated writer/director Lina Wertmüller's satirical and thought-provoking Swept Away... by an Unusual Destiny in the Blue Sea of August (1974, It.) as a plain erotic-comedy and sentimental romantic idyll -- starring his miscast, athleticized, black-bikinied wife Madonna in a misguided attempt at dramatic acting, as she had already demonstrated in Shanghai Surprise (1986) with then-husband Sean Penn, Who's That Girl? (1987), Body of Evidence (1993) and The Next Best Thing (2000).
The misguided film turned out to be a nice-to-look at film (with cinematography by Alex Barber), but it showcased bad jokes, unintentional campiness, a music-video fantasy segment on the beach (with Madonna in a gown lip-synching to Della Reese singing "Come On-A My House" with full orchestra backing), an improbable love relationship, and an inane, inarticulate and diluted script with an altered contrived ending, based upon the original screenplay. Ritchie's and Madonna's efforts were a combined financial, commercial, career, and creative failure.
The film was nominated for seven Razzie Awards, including Worst Actor (Giannini) and Worst Screenplay (Ritchie), and it won five: Worst Actress (Madonna, tied with Britney Spears for Crossroads (2002)), Worst Director, Worst Picture, Worst Remake or Sequel, and Worst Screen Couple (Madonna and Giannini). It was also nominated in 2005 as the Worst 'Drama' of the Razzie's 25 years of awards, and lost to Battlefield Earth: A Saga of the Year 3000 (2000).
The poorly-paced film was about Amber Leighton (Madonna), the haughty rich-bitch wife (similar to real-life?) of an apathetic pharmaceutical-company business magnate named Anthony (Bruce Greenwood), on a chartered yacht between Greece and Italy with handsomely bearded deck-hand crew member Guiseppe (Adriano Giannini, aptly the son of Giancarlo Giannini who was in the original Swept Away, in his first English-language film). Perturbed by the less than luxurious conditions on-board, Amber overenthusiastically berated and abused Guiseppe with degrading nicknames such as "Nature Boy," "Guido," and "Pee-pee." The wives of other privileged passengers included pill-popping boozer Marina (Jeanne Tripplehorn) and the dumb Debi (Elizabeth Banks). Due to a faulty dinghy raft during a cave excursion, both Amber and Guiseppe were 'swept away' to a deserted island with a white sandy beach, where their power-roles were quickly reversed in life-or-death survival, and the starving and shrill Amber -- remarkably and unbelievably -- became submissive to Guiseppe's "master" dominance - and actually enjoyed being tamed and experiencing unlikely love in paradise. Later, she was reluctant to return to her wealthy, upper-class life style.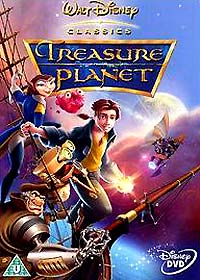 Treasure Planet (2002)
Director: Ron Clements, John Musker
Studio/Distributor: Walt Disney Animation Studios
Budget: $140 million
Domestic Gross: $38.2 million
Worldwide Gross: $110 million
Total Net Loss: $85 million
Total Estimated Loss (Inflation-Adjusted): $128 million
Disney Pictures' attempted to provide an animated futuristic version of Robert Louis Stevenson's classic 1883 literary novel Treasure Island -- also Disney's first all-live action feature film in 1950 with Bobby Driscoll and Robert Newton. This expensive film was targeted at family audiences (but would mostly appeal to tween boys, the reverse of the market targeted with its earlier effort Lilo & Stitch (2002)). Unfortunately for Disney, it was a very costly failure, although it was a landmark film -- it was the first film to debut in both the conventional and IMAX formats on the same day.
The animated feature ambitiously brought together 3-D CGI with hand-drawn 2-D animation, and used oil paintings as backdrops - processes that took scores of animators/artists and four and a half-years to complete. The dazzling, colorful film was budgeted at $140 million but earned only about $40 million domestically, pushing the studio division's operating income down 7 percent. The downturn would be that there would be further cutbacks among all studios in hand-drawn animated films. The project had been the focus of in-house corporate conflicts dating back to 1985 over whether it should be completed or not.
This impressive and stunning animation, similar in scope to another failed Disney effort Atlantis: The Lost Empire (2001), drastically altered the traditional pirate-themed elements from the original, with added space-wars components, including space creatures (a malfunctioning talkative robot named B.E.N (voice of Martin Short), and a shape-shifting character named Morph (voice of Dane Davis)).
Its coming-of-age story about filial bonding, bravery and sacrifice, with great affinity to animator Don Bluth's PG-rated Titan A.E. (2000), told about a troubled, pony-tailed, earring-wearing teen with an attitude named Jim Hawkins (voice of Joseph Gordon-Levitt of TV's Third Rock from the Sun) who dreamed about a legendary planet called "Treasure Planet" where treasure had been reportedly hidden by dreaded ancient space pirate Captain Nathaniel Flint. With a 3-D holographic treasure map or star-chart issuing from a hand-held orb in his possession, and a space vessel hired by goofy, canine-like family doctor/astrophysicist Doctor Delbert Doppler (voice of David Hyde Pierce from TV's Frasier), the two commenced an intergalactic quest-journey. On board the majestic space galleon RLS Legacy were stern but slinky feline named Captain Amelia (voice of Emma Thompson), the squinty-eyed, traitorous and menacing spider-like Scroop (voice of Michael Wincott), a dangerously crafty, mutinous but charming cyborg and galley master named John Silver (voice of Brian Murray) with an ingenious Swiss Army Knife-like arm. Action sequences included escape from an exploding planet on a turbo-propelled skateboard.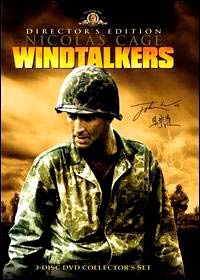 Windtalkers (2002)
Director: John Woo
Studio/Distributor: Lion Rock Productions/MGM
Budget: $115-120 million
Domestic Gross: $40.9 million
Worldwide Gross: $77.6 million
Total Net Loss: $76-81 million
Total Loss (Inflation-Adjusted): $114-122 million
Hong Kong action film director John Woo's (noted for Broken Arrow (1996), Face/Off (1997), and the big-budget Mission: Impossible 2 (2000)) dramatic WWII epic told about Marines whose duty was to protect Navajo Indian 'codetalkers' during combat (actually recruited by the US Naval Signal Corps to use their Native American language for coded transmissions to confuse Japanese intelligence eavesdroppers). However, the real truth was that the Marines were instructed to protect not only the 'code-talker' but the unbreakable 'code' itself - even if it meant killing the codetalkers if they were to fall into enemy hands. Of course, the codetalkers were also subjected to racism and bigotry while serving their country.
The R-rated film starred Nicolas Cage in a central role as devoted Catholic, Italian-American Sergeant Joe Enders, an enigmatic, emotionally-traumatized and gung-ho soldier who was assigned to a combat unit to invade Saipan in June of 1944 -- which would ultimately become one of the bloodiest and most chaotic battles of the conflict. This recreated battle sequence was operatically choreographed and stylistically photographed by Woo (and cinematographer Jeffrey Kimball) in a prolonged section of the film with loud explosions, bloody carnage, and frenetic camera movements. Enders' orders were to guard (or "babysit") one of the "codetalkers"- a young, cheerfully-smiling father/husband named Private Ben Yahzee (Adam Beach), while Sgt. Ox Henderson (Christian Slater) was paired with fellow Navajo Private Charles Whitehorse (Roger Willie). There were many one-dimensional stereotypical characters in this film, including obnoxious, prejudiced red-haired redneck Corporal Charles "Chick" Rogers (Noah Emmerich), and other by-the-book, sketchily-manufactured supporting cast members.
This was Woo's first English-language film that went beyond a formulaic action format, but it mostly fell flat with derivative Hollywoodish war-film cliches and lack of complete character development. Its violent and spectacular, thrill-to-kill depictions of hand-to-hand combat and battle carnage (similar in part to the first half-hour of Spielberg's Saving Private Ryan (1998)) were typical Woo fare (without some of his signature shots), but overwhelmed the film's other themes and turned off some potential viewing audiences.
The far-fetched film was received only luke-warmly, in part for its underdeveloped, mediocre and unsubtle script (and mishandling of the racism and cultural message by scripters John Rice and Joe Bateer) and lack of emotional intensity and depth regarding its real themes. All it turned out to be was another big-budget action/war film with a major white actor and secondary minority characters - it should have been more centered on the story of the Navajos themselves rather than on Cage's inner heroic turmoil. Originally, the film was scheduled for a fall 2001 release, but the 9/11 tragedy postponed its release until the following year.