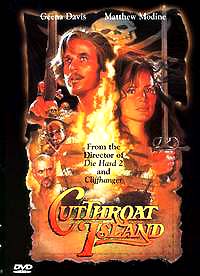 Cutthroat Island (1995)
Director: Renny Harlin
Studio/Distributor: MGM/UA, Carolco Pictures
Budget: $98-115 million
Domestic Gross: $10 million
Worldwide Gross: $18.3 million
Total Net Loss: $105 million
Total Loss (Inflation-Adjusted): $187 million
Director Renny Harlin's (known for Die Hard 2 (1990) and Cliffhanger (1993)) and MGM/Carolco's bloated action-comedy pirate film (before the hugely popular Pirates of the Caribbean series with Johnny Depp) was one of the biggest flops of the decade (with an eventual cost of about $115 million and box-office of only $10 million domestic). It continues to enjoy the reputation of being one of the biggest box-office bombs of all time. Its losses were phenomenal - costs were nearly equaled by its net losses of over $100 million (inflation adjusted at $176 million). It was nominated for one Razzie award: Worst Director.
The swashbuckling pirate-themed movie was an adventure tale with horrible acting, a deficient and often incoherent script, continuity problems, spectacular but boring special effects and action-film sequences, and logistical issues due to being filmed on two continents (in Malta - serving as 1600s Jamaica, and Thailand). There were six writers credited for the dubious film's story and script, indicative of its major problems.
Harlin's film starred B-list actor Matthew Modine (who was paid $4 million for the role, after it was turned down by A-listers Michael Douglas, Keanu Reeves, Tom Cruise, and Daniel Day Lewis, and B-listers Charlie Sheen and Michael Keaton) opposite Geena Davis (the director's real-life wife) who was cast in the unlikely main role of Captain Morgan Adams. She played the modern 'feminist' role of a swashbuckling pirate queen (along the lines of Errol Flynn's Captain Blood (1935) and The Sea Hawk (1940)) of the pirate ship "The Morning Star" - in search of treasure on Cutthroat Island with only part of a treasure map (tattooed on her dead father's scalp!). Modine played the secondary role of her Latin-reading slave/companion (and unappealing, incompatible love/hate interest) William Shaw.
The independent production company Carolco (makers of the Rambo series, Terminator II: Judgment Day (1991), and Total Recall (1990)), didn't survive this film's failure (and the additional failure of Showgirls (1995)), and was forced to file for bankruptcy even before it opened, and sold most of its assets for $50 million to 20th Century Fox.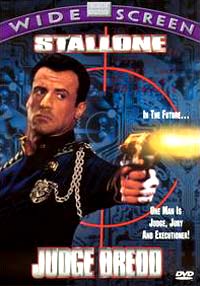 Judge Dredd (1995)
Director: Danny Cannon
Studio/Distributor: Buena Vista/Hollywood Pictures
Budget: $90 million
Domestic Gross: $34.7 million
Worldwide Gross: $113.5 million
This film's title character was famed Judge Joseph Dredd (Sylvester Stallone), derived from a popular comic-strip character from the British science fiction anthology 2000 AD - and in the film, a futuristic, unemotional, notorious law enforcement officer in a violence and crime-ridden mega-city (formerly New York), located on a dystopic desert wasteland known as The Cursed Earth in the year 2139 AD.
There were many obvious and derivative references to other films, such as The Hills Have Eyes (1977), Blade Runner (1982), Return of the Jedi (1983), The Terminator films, Robocop (1987), Total Recall (1990), and Stallone's own Demolition Man (1993). The action/adventure sci-fi film's tagline summarized the plot: "One man is Judge, Jury, AND Executioner." It was reported that besides the three credited story/screenwriters: William Wisher Jr. of Terminator 2: Judgment Day (1991), Steven E. de Souza of Commando (1985), The Running Man (1987) and Die Hard (1988), and former New Line Cinema producer Michael De Luca of In the Mouth of Madness (1995), other scripters were called in as well.
The grunting, deadpan and inarticulate Sylvester Stallone received a Razzie Award nomination as Worst Actor for his role, in which he repetitively voiced the phrase: "I knew you'd say that." Going beyond the comic-strip, the film added a love interest for Stallone, Diane Lane as Judge Hershey. Stallone added to his already long list of film flops, including Oscar (1991), Stop! Or My Mom Will Shoot (1992) and The Specialist (1994). It was nominated for one Razzie award: Worst Actor (Stallone).
The excessively violent, exhausting, hard-to-follow unpleasant film was given a rating of R, was universally panned by critics, and was considered a domestic box-office flop, although it did well outside of the US. Its director Danny Cannon was relegated to directing mostly TV episodes (including CSI) afterwards, although he also helmed the feature films Phoenix (1998) with Ray Liotta, and the sequel I Still Know What You Did Last Summer (1998).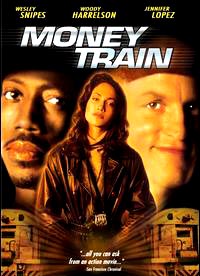 Money Train (1995)
Director: Joseph Ruben
Studio/Distributor: Columbia Pictures
Budget: $68 million
Domestic Gross: $35.4 million
Worldwide Gross: $35.4 million
This feeble action-thriller (and buddy cop comedy) was about two foster brothers and NYC transit police co-workers, Charlie (Woody Harrelson) and John (Wesley Snipes), who both toiled for harsh and nasty boss Captain Patterson (Robert Blake). [The two main stars had previously teamed together in the hit film White Men Can't Jump (1992), although this film came nowhere near attaining the same dynamic.] The hard-working, unorthodox brothers posed as drunks in stations to catch would-be muggers and other criminals.
To resolve Charlie's money problems and to get back at their boss, the two plotted to rob a "money train" - the armored collection vehicle (with armed guards) of the subway's daily revenue from the city's token booths. Jennifer Lopez was featured as new Hispanic working colleague Grace Santiago who provided a romantic spark between the two brothers, and appeared picture-perfect in each scene while showing spunky 90s Latina attitude.
As in all by-the-numbers films of this ilk, the time-killing picture lacked substance and contained lots of loosely-connected padding (routine action scenes) that finally leading up to the film's major bungled heist in the last climactic 30 minutes. The non-credible plot, two-dimensional characterizations, continuity errors and the false-sounding dialogue were further detrimental features. Many would-be viewers probably felt that they had already seen eveything this film had to offer. It also opened against a strong competitive line-up of Toy Story, James Bond's GoldenEye and Ace Ventura: When Nature Calls.
The mostly-hated film engendered further controversy when a similar theft (copying Chris Cooper's Torch character) that resulted in the death of a subway worker caused demands for the film to be boycotted. Much of the exorbitant expense of the film was for the construction of a massive 4000-foot-long set resembling a typical four-track New York City Subway trunk line.