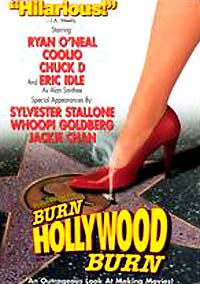 An Alan Smithee Film: Burn, Hollywood Burn (1998)
Director: Arthur Hiller, Alan Smithee
Studio/Distributor: Buena Vista/Cinergi Productions/Hollywood Pictures
Budget: $10 million
Domestic Gross: $45,779
Worldwide Gross: $59,921
This satirical comedy that spoofed the Hollywood filmmaking industry with lots of celebrity cameos (Sylvester Stallone, Whoopi Goldberg, Jackie Chan, and more), and written by the notorious Joe Eszterhas, was taglined: "The movie Hollywood doesn't want you to see." Its only awards were Razzies: with nine nominations including Worst Actor (Ryan O'Neal), Worst Director, Worst Screen Couple, and Worst Supporting Actor (Sylvester Stallone as himself), with five wins including Worst New Star (Joe Eszterhas, tied with Jerry Springer for Ringmaster (1998)), Worst Original Song -- "I Wanna Be Mike Ovitz!", Worst Picture, Worst Screenplay, and Worst Supporting Actor (Joe Eszterhas as himself). It was also nominated as the Worst Picture of the 1990s Decade, but lost to the raunchy Showgirls (1995), another Eszterhas creation.
One of the most telling quotes from the film was this: "If we love film, then we have the responsibility to protect the world from bad ones" - this film included. It was nowhere near the lampooning of the movie business found in Wilder's Sunset Boulevard (1950) or Robert Altman's The Player (1992). The $10 million film opened and closed almost immediately, with hardly any box-office business, and was reviled by critics as a fiasco.
The unfunny and moronic mockumentary (and 'film-within-a-film'), filled with in-jokes, profanity and snide self-criticism, received its name from the Director's Guild convention of having the pseudonym "Alan Smithee" substituted for the real director's name in the credits, when a director was displeased with creative changes made in a film. The irony of the picture was that respected director Arthur Hiller had his name replaced with Alan Smithee when he saw Eszterhas' final cut -- a case of life imitating art. The second irony was that in the actual film, the disgruntled director was named Alan Smithee - and one must ask, how can he have his name successfully removed from the project? [Partly as a result of this film, the practice of using the Alan Smithee credit was discontinued by the Director's Guild in 1999.]
The plotline involved the doomed making of an extravagant, $200 million action film titled "Trio" by a first-time director named Alan Smithee (Eric Idle), who was so enraged by producers that re-cut his film that he threatened to burn it, while offering himself up (in a psychiatric institute) for interviews filled with sound-bites, and narrating the story with flashbacks. Ryan O'Neal (as James Edmunds) and Richard Jeni (as Jerry Glover) starred as fast-talking, self-absorbed and sleazy producers, and two black-gangsta filmmakers who offered protection services to Smithee were stereotypically portrayed by Coolio (as Dion) and Chuck D. (as Leon Brothers). Miramax's Harvey Weinstein took the role of a private investigator.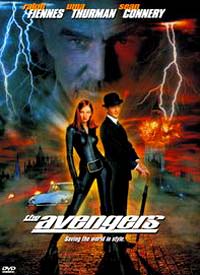 The Avengers (1998)
Director: Jeremiah S. Chechick
Studio/Distributor: Warner Bros.
Budget: $60 million
Domestic Gross: $23.4 million
Worldwide Gross: $48.6 million
This unwatchable and uninteresting Warner Bros' $60 million film was based on the popular and cultish 1960s TV series of the same name about special secret agents, featuring Diana Rigg as leather jumpsuited-adventuress and martial-arts expert Emma Peel, and Patrick Macnee as her British agent sidekick John Steed with a bowler hat, umbrella and bullet-proof three-piece suits. In this horrible remake, Ralph Fiennes and Uma Thurman appeared as the emotionless and bland couple called upon to investigate the criminal activities of wealthy and eccentric former Ministry member and megalomaniac, Sir August De Wynter (Sean Connery) who had decided to control the weather with a machine called Prospero - and then practice blackmail and extortion upon Britain. As in many spectacular films of its kind, two landmarks were decimated: Big Ben with a flaming explosion, and Trafalgar Square with a blizzard.
The studio knew in advance that this dismal, shallow and uninvolving film was going to be a disaster. The less-than 90 minutes long film was delayed in release until late-summer (it had originally been scheduled for a June opening), and Warners' also decided to withheld screenings for the press until the film opened on a Friday evening, so that bad publicity from critics' reviews wouldn't harm business. Incompetent direction by Chechick (who had previously directed National Lampoon's Christmas Vacation (1989) and the disappointing remake Diabolique (1996) and has only directed TV episodes since), lame dialogue, inert chemistry between the two mismatched and lackluster leads, expensive special-effects, confusion as to its genre (was it a comedy spoof or an action-adventure film?), and lack of continuity and coherence in the script (and final edit) were only some of the film's major problems.
Like many major flops, this one received multiple Razzie Award accolades. Its nine nominations included: Worst Actor (Ralph Fiennes), Worst Actress (Uma Thurman), Worst Director, Worst Original Song -- "Storm", Worst Picture, Worst Screen Couple (Thurman and Fiennes), Worst Screenplay, Worst Supporting Actor (Sean Connery), and it won the award for Worst Remake or Sequel (tied with Godzilla (1998) and Psycho (1998)).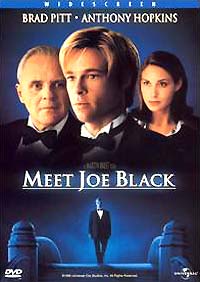 Meet Joe Black (1998)
Director: Martin Brest
Studio/Distributor: City Lights/Universal
Budget: $90 million
Domestic Gross: $44.6 million
Worldwide Gross: $142.9 million
Martin Brest's tedious, manipulative and overly-long romance film was nominated for one Razzie Award for Worst Remake or Sequel (it was a remake of Death Takes a Holiday (1934) with Fredric March), but lost to three tying 1998 films: Godzilla, Psycho, and The Avengers. Rich in production values, the film was made with a lavish budget of $90 million, mostly to illustrate the extravagant "first-rate" life style of the privileged rich in Newport, Rhode Island and in a Manhattan triplex penthouse with a pool. It received mixed reviews and was initially a flop, until impressive overseas showings boosted its totals. As a result of its expensive failure with audiences that cold-shouldered the film, Universal Pictures' chairman Joe Bondi was fired.
The ponderous film with four scriptwriters starred handsome, golden-haired wooden actor Brad Pitt as a lawyer who was killed in a vehicular accident and then reappeared as an inarticulate, often silent Angel of Death - renamed Joe Black. Veteran actor Anthony Hopkins played the role of dying, imperious mid-60-ish entrepreneur magnate William Parrish, who was given a negotiated reprieve from death by Death (Pitt) in exchange for introducing him to new things and experiences in earthly life.
Parrish's beloved, dark-eyed, vacuous, vulnerable and thin daughter Susan (beautiful Claire Forlani in her first major Hollywood feature film) fell in love with the passionless, metaphysical doppelgänger Joe Black in a doomed relationship. (Although engaged to be married, she had recently met the young lawyer in a coffeeshop before his startling death, after which his deceased body was inhabited by Death, and she couldn't understand why he acted differently.) The chemistry between the two good-looking yet bland and passive stars was lacking, and their interactions were protracted, awkward, and overblown. Unusual scenes included the ones in which the naive Angel of Death didn't recognize Susan, know how to kiss or have sex, or know the exquisite taste of a spoonful of peanut butter.
The film ended with an underwhelming, tear-jerking, fireworks-filled conclusion in which Joe revealed his true identity to Susan and then Bill and Joe walked over a bridge into death and the afterlife on the horizon; Joe gave Susan a second chance at love by returning his body to its previous mortal owner and returning to her by the bridge out of a bright light - they both watched the fireworks celebrating her father's birthday.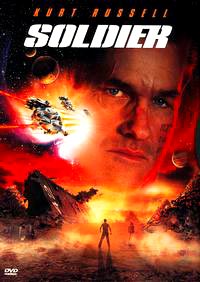 Soldier (1998)
Director: Paul W.S. Anderson
Studio/Distributor: Warner Bros.
Budget: $60-75 million
Domestic Gross: $14.6 million
Total Net Loss: $60 million
Total Estimated Loss (Inflation-Adjusted): $94 million
One year after Warner Bros' post-apocalyptic Kevin Costner flop The Postman (1997) (see above), the same studio released this similar disaster. It made a measly $15 million on a production budget of between $60-75 million, losing close to $60 million. However, this action-adventure film, an outer-space western of sorts, was thought to be a wise investment, with accomplished director Paul Anderson, and a script by David Webb Peoples (known for Blade Runner (1982), Unforgiven (1992) and Twelve Monkeys (1995)).
The 98 minute macho movie was criticized as being a formulaic, generic retread of many other sci-fi action thrillers, with the lead star Kurt Russell as a 40 year-old interplanetary super-warrior named Sgt. Todd 3465, socially conditioned and raised as a square-jawed, muscle-bound soldier from birth, and possessing only a few dozen lines of dialogue (a total of 79 words in the entire film). The action sequences were violent and destructive enough, but not much of a plot to hold everything together.
The post-apocalyptic futuristic film, characterized by sweat, brawn, unending combat, explosions, weapons and indiscriminate killing, told about older super-military soldiers, such as Todd, who were threatened to be replaced by a next-generation breed of even more dispassionate DNA-engineered killers, such as head-shaven Caine 607 (Jason Scott Lee). Although left for dead in a waste dump on distant planet Arcadia 234, Todd was rescued by a defenseless group of cast-off, communal homesteaders and nurtured by beautiful Sandra (Connie Nielsen) - the wife of one of the settlers, although he still had to use his lethal killing skills to face his nemesis in a predictable climactic battle of extermination against villainous Caine and his super-squadron of fighters.