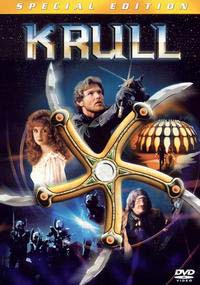 Krull (1983, US/UK)
Director: Peter Yates
Studio/Distributor: Columbia Pictures
Budget: $47 million
Total Gross: $16.9 million
Total Net Loss: $33.5 million
Total Estimated Loss (Inflation-Adjusted): $91 million
This derivative, copy-cat, familiar sword-and-sorcery sci-fi and fantasy film was a box-office flop, due to its lackluster approach to its princess-rescue storyline, when compared to other similar films, such as Star Wars (1977) and Return of the Jedi (1983), Excalibur (1981), The Sword and the Sorcerer (1982), and Conan the Barbarian (1982). It also had an uninspiring title, and featured two unappealing and bland actors. It was specifically designed by its studio to 'cash-in' on the popularity of "Dungeons and Dragons" films in the wake of Star Wars.
Prince Colwyn (Ken Marshall) was the hero, whose kingdom was under siege by an evil Beast, who kidnapped his Princess bride Lyssa (Lysette Anthony in her film debut, although her voice was dubbed by American-accented Lindsay Crouse). He went on a journey-quest to rescue her from the alien Beast in a "dark fortress" (filled with marauding biomechanical Slayers) by first acquiring a sharp, five-pronged, star-shaped, magical double-edged sword or spinning boomerang (glaive). One of Prince Colwyn's challenges was that the Beast's Black fortress (or spaceship) kept changing locations by teleporting around the surface of the beseiged planet Krull, to avoid attack. Along his circuitous journey, Colwyn united with a renegade band of thieves led by Torquil (Alun Armstrong), apprentice magician Ergo (David Battley) and mysterious Rell the Cyclops (Bernard Bresslaw) to combat the monster.
The special effects were expensive but crudely dated, and the appearance of the Beast was always fuzzy and distorted.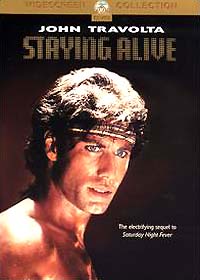 Staying Alive (1983)
Director: Sylvester Stallone
Studio/Distributor: Paramount Pictures
Budget: $22 million
Total Gross: $64.9 million
Rentals: $33.7 million
Co-written and directed by self-obsessed Sylvester Stallone and produced by Robert Stigwood, this 6 years-after disappointing sequel to Saturday Night Fever (1977) followed up with the Tony Manero signature role (played again by Oscar-nominated John Travolta) in Manhattan - now a jazz dance instructor and bar waiter at a dance club attempting to break into Broadway dance shows and being rebuffed at auditions. Although he had a relationship with another struggling and supportive, 'girl-next-door' dancer named Jackie (Cynthia Rhodes, seen also in Flashdance (1983) and later appearing in Dirty Dancing (1987)), he fell hard for long-haired, icy British dancer and wealthy, bitchy diva Laura (Finola Hughes, better known for the daytime soap opera General Hospital and as the make-over show host of "How Do I Look?" on the Style Network) who used him sexually - soon followed, coincidentally and miraculously, by his securing of a minor role (and then the co-starring male lead role) in Laura's new show titled Satan's Alley. The love triangle between the two women and Travolta formed the basis for the overheated plot.
The dull-acted performances from heartless characters (especially Manero's irresponsible, insecure, mean-spirited, manipulative, misogynistic and insensitive role), the choppy musical and dance scenes, the completely predictable and cliched dialogue, the repetitive and monotonous plot, the over-powering pop soundtrack with some forgettable BeeGees songs and brother Frank Stallone's chart-topping hit "Far From Over" made this the worst sequel ever made (according to Entertainment Weekly magazine in 2006), and it was also voted the fifth Worst Film of all time by Maxim magazine in 2002. The screenplay's superior first draft by Norman Wexler was flattened into this one-dimensional musical drama (Rocky-ized) by Stallone through his unoriginal directing and scripting - ignoring everything that made the original film such a hit.
Although this musical dance sequel wasn't a major box-office flop, the film was savagely and soundly criticized as a prime example of horrible film-making, and it received three Razzie Awards nominations: Worst Actor (John Travolta, also for Two of a Kind (1983)), Worst New Star and Worst Supporting Actress (Finola Hughes). Travolta had already been vilified for taking the starring romantic lead role in Moment by Moment (1978) with Lily Tomlin, and this film encouraged more mixed reviews for his career, with the downward spiral continuing for more of his films in the 80s, including Two of a Kind (1983) and Perfect (1985).
The Cotton Club (1984)
Director: Francis Coppola (the "Ford" was dropped for this film)
Studio/Distributor: Orion/Zoetrope Studios
Budget: $58 million
Total Gross: $25.9 million
Total Net Loss: $32.1 million
Total Estimated Loss (Inflation-Adjusted): $79 million+
Francis Coppola's jazz age musical crime drama was about the famed late 1920s Prohibition Era Harlem nightclub and gangsters of various ethnic groups (Irish, Jewish, Italian) in competition with each other in Harlem. It also followed a secondary plot line regarding the musical dance team of Sandman and Clay Williams (Gregory and Maurice Hines), who worked in the Cotton Club -- with black entertainers performing for rich white clients. The film was lukewarmly received at the box-office and by critics, and recouped only half of its privately-financed budget (paid for by brothers Fred and Ed Doumani of Las Vegas).
The plodding and mediocre film told the story of pianist/jazz cornet player and aspiring movie star Michael "Dixie" Dwyer (Richard Gere) - modeling real-life George Raft - who was recruited to be the errand boy for power-mad, psychopathic mob boss Dutch Schultz (James Remar), working alongside his own younger brother Vincent Dwyer ("Mad Dog Dwyer") (Nicolas Cage) as a numbers runner and hit-man. A love triangle developed between Dixie and Dutch's greedy, precocious, teenaged singer-flapper/moll Vera Cicero (Diane Lane), and Sandman fell in love with beautiful mulatto Cotton Club singer Lea Rose Oliver (Lonette McKee). Dixie was also working with other gangsters, including two criminal associates: malevolent Irish gangster Owney Madden (Bob Hoskins) and towering Frenchy Lemange (Fred Gwynne) - owners of the exclusive whites-only Cotton Club.
The ambitious, self-conscious film had a plethora of cameo appearances by stars in fictional roles and impersonations of 20's era celebrities scattered throughout to evoke the era (Diane Venora as Gloria Swanson, Gwen Verdon as ex-show-girl mother Tish Dwyer, Jennifer Grey as Patsy Dwyer, Gregory Rozakis as Charlie Chaplin, Zane Mark as Duke Ellington, Vincent Jerosa as James Cagney, Rosalind Harris as Fanny Brice, and Larry Marshall as Cab Calloway). The character of Dutch Schultz was based on real-life gangster Arthur Flegenheimer. Joe Dallesandro portrayed Charles 'Lucky' Luciano, and Diane Lane's trademarked line: "Hello suckers!" recalled real-life Texas Guinan. Cage as "Mad Dog Dwyer" was based upon Mad Dog Coll. Laurence Fishburne's role as Bumpy Rhodes was based on real-life Harlem gangster Bumpy Johnson. The characters of the Williams Brothers were based on Broadway stars The Nicholas Brothers, one of whom had a relationship with Dorothy Dandridge in the real Cotton Club during the period of the Harlem Renaissance when the club was filled with movie stars, gangsters, and wealthy businessmen.
Although Coppola was one of the greatest directors in film history (and was one of the "auteurs" of the 70s), he also produced/directed some spectacular flops, many in the early 1980s (such as One From the Heart (1982)). Coppola was forced to take over the directorial reins when the production (which was supposed to be famed producer Robert Evans' directorial debut) ran into serious trouble. The film was criticized as being incoherent and somewhat confusing, with muddled character delineation and wooden acting by the leads, and exhibiting an uneven balance between multiple and parallel storylines and themes seen in separate vignettes (such as brotherly conflict between two sets of brothers, a gorgeous mulatto passing as white and racial discrimination, ethnic tensions between mobsters, and the transition from silent films to talkies).
Was the film a love story (involving two different couples), a typical gangster film (recalling some of the more violent sequences in The Godfather films), or a musical? And the overlong film was plagued by negative publicity, including rumors of conflict on the set, constant script rewrites, news of the troubled production - strained relations between Evans and Coppola, and threats of bankruptcy due to months of shooting. And audiences had lost their taste for musicals by 1984. Tangential to the film's problems was a murder, scandal, and trial implicating Evans in a drug-related murder in 1983 -- his acquaintance, Florida cocaine dealer Karen ('Laney') Jacobs Greenberger (and two male accomplices) were eventually convicted in 1991 of brutally murdering one of the film's investors, showbiz entrepreneur Roy Radin. In 1980 during the production of Popeye (1980), Evans had already pleaded guilty to cocaine possession.
Diane Lane received the film's sole Razzie Award nomination for Worst Supporting Actress, and it deservedly received two Oscar nominations for Best Art Direction-Set Decoration (for its gorgeous production values, glamourous sets and costumes) and Best Film Editing (for its stylistic and elegant camerawork, including the climactic inter-cut scene of Sandman's dazzling solo dance on the Cotton Club stage with the shooting in a New Jersey restaurant).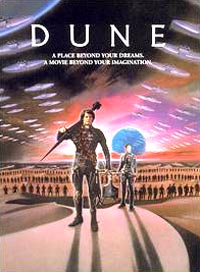 Dune (1984)
Director: David Lynch
Studio/Distributor: Universal/Dino De Laurentiis
Budget: $40 million
Total Gross: $31 million
The adaptation and making of Dune, based upon the science-fiction tale of Frank Herbert's 1965 novel, began with a long and troubled history. Director David Lean's adaptation was curtailed by the death of producer Arthur P. Jacobs in 1973. The next group of directors, called "the seven samurais" (including Salvador Dali, Orson Welles, and others) also was derailed. Ridley Scott went on to direct Blade Runner (1982) instead of the lengthy Dune. Writer/director David Lynch was hired, but his idea of the film impossibly condensed from the book was only to pick highlights. The rambling and already confusing book became even more incoherent.
The delayed science-fiction space adventure, with the tagline: "A Place Beyond Your Dreams. A Movie Beyond Your Imagination"! - was set in the future year 10,191 in a feudal kingdom ruled by Padishah Emperor Shaddam IV (Jose Ferrer). There were two warring houses, Atreides and Harkonnen, both sparring to acquire a special life-extending and awareness-expanding substance known as Spice (Melange), only found on Dune (the desert world of Arrakis where nomadic desert dwellers were called Fremen, and there were 300-foot monster worms guarding the spice). The scheming and evil Emperor allowed the Atreides, led by Duke Leto Atreides (Jurgen Prochnow), with aid from his own concubine Lady Jessica (Francesca Annis) and his son Paul Atreides (Kyle MacLachlan), take over Spice production although he planned with the Harkonnens, led by a bloated and degenerate (and floating!) villain Baron Vladimir Harkonnen (Kenneth McMillan) with a boil-covered face, and his two nephews - the Beast Rabban (Paul L. Smith) (resembling a talking vagina!) and Feyd Rautha (pop singer Sting), to sabotage their efforts. After Paul's father Leto was murdered by a traitor, Paul was forced to seek refuge, and found himself welcomed by the Fremen as the messianic Kwisatz Haderach. With his love Chani (Sean Young), he led the warrior natives in revolt to take over power, end spice production, crush the evil empire, and become emperor of the known universe.
If a film-viewer had no knowledge of the massively dense book, the bloated film made little sense. Its opening narration by the emperor's daughter Princess Irulan (Virginia Madsen) was an early example:
"A beginning is a very delicate time. Know then, that it is the year 10,191. The known universe is ruled by the Padishah Emperor Shaddam the Fourth, my father. In this time, the most precious substance in the universe is the spice Melange. The spice extends life. The spice expands consciousness. The spice is vital to space travel. The Spacing Guild and its navigators, who the spice has mutated over 4000 years, use the orange spice gas, which gives them the ability to fold space. That is, travel to any part of the universe without moving. Oh, yes. I forgot to tell you. The spice exists on only one planet in the entire universe. A desolate, dry planet with vast deserts. Hidden away within the rocks of these deserts are a people known as the Fremen, who have long held a prophecy that a man would come, a messiah, who would lead them to true freedom. The planet is Arrakis, also known as Dune."
The 137-minute film was criticized as being overly long, slowly paced, poorly put together, unnecessarily complex with dozens of irrevelant characters and sub-plots - and gory. It featured a boring lead actor (MacLachlan) and other cartoonish characters, a New Agey feel, and an inappropriate rock musical soundtrack by Toto. The dark cinematography was also dulled by a filter engulfing everything in a brownish-yellowish tinge. One annoying aspect was that characters thought 'out-loud' to explain their motivations. The expensive special effects on first glance looked good (i.e., the sandworms) but became tiresome, dated and shabby. Later, there appeared the expanded, three-hour - 177 minute Universal TV version (made without Lynch's involvement, who had disowned the original theatrical film), syndicated and originally broadcast in the early 1990s. Another attempt was made to film the book as a mini-series - the Science Fiction Cable Channel put together an international TV production 265 minutes in length in the year 2000.