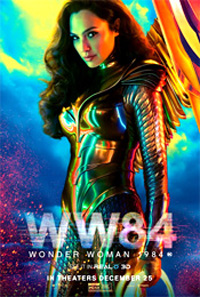 Wonder Woman 1984 (2020)
Director: Patty Jenkins
Studio/Distributor: Warner Bros. Pictures
Budget: $200 million
Domestic Gross: $45 million
Worldwide Gross: $164.1 million
Total Net Loss: $100 million
Total Estimated Loss (Inflation-Adjusted): $100 million
The original theatrical release date for the film (postponed multiple times) was a year before it was actually released. Eventually, the film's US theatrical release date was Christmas Day 2020, and it also premiered to subscribers (at no cost) on HBO Max (through digital streaming) for a month. (For viewers worldwide without HBO Max, the film was theatrically released a week earlier.) Then, it would be available as premium VOD (video on demand). Due to the film's timing during the COVID-19 outbreak, the expensive blockbuster film was predictably doomed to lose money due to its limited theatrical play in the US - and the domestic gross of $45 million reflected that fact. The film grossed $164.1 million worldwide and ultimately failed to break even. However, it became the most-watched straight-to-streaming title of 2020.
This lengthy escapist sequel to the 2017 superhero comic-book film was the 9th film in the DC Extended Universe (DCEU) series-franchise. It was set in the Reagan era of the 1980s, and opened with some backstory on the home island of Themyscira where young Diana (Lilly Aspell) competed athletically, and was taught truth and honesty from her aunt Antiope (Robin Wright) and mother Hippolyta (Connie Nielsen), the Amazonian Queen. Then fast-forward to 1984 in Washington, DC where Amazon princess and warrior Diana (Gail Gadot) was working as an archaeologist at the Smithsonian with the museum's inept and insecure geologist/gemologist, Dr. Barbara Ann Minerva (Kristen Wiig) who was admiring and envious of Diana. One of the gems was a mysterious citrine crystal (a Dreamstone with the magical power to grant a wish). Wonder Woman took on two new foes who were allied together during the Cold War - The Cheetah (Barbara who was transformed into a fanged, furred, and clawed super-human adversary by the gem), and con-man/oil-man tycoon/TV celebrity and businessman Maxwell "Max Lord" Lorenzano (Pedro Pascal) who took possession of the gem.