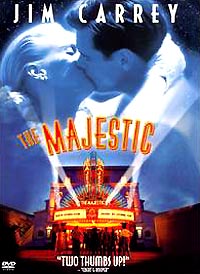 The Majestic (2001)
Director: Frank Darabont
Studio/Distributor: Warner Bros/Castle Rock Entertainment
Budget: $72 million
Domestic Gross: $27.8 million
Worldwide Gross: $37.3 million
Total Net Loss: $49 million
Critics were divided in their praise and denouncement of this 152-minute Americana period drama, self-consciously styled like a sentimental Frank Capra film (Meet John Doe or Mr. Smith Goes to Washington), or Preston Sturges' Hail the Conquering Hero (1944). Jim Carrey starred in an uncharacteristically straight role as an aspiring 50s Hollywood screenwriter named Peter Appleton, who was experiencing his first successful screenplay for the film "Sand Pirates of the Sahara." Unfortunately, his romance with attractive starlet Sandra Sinclair (Amanda Detmer) and his newfound fame (his contract, movie credit, and film's release date) disappeared when he was called before the McCarthy hearings of the House Un-American Activities Committee, and questioned by witch-hunting anti-Communists about suspicious activities years earlier.
The story drastically turned when he drunkenly crashed his car on the California coast, suffered amnesia, and found himself recognized (but mistakenly) as lost, presumably-killed MIA WWII hero Luke Trimble in the small town of Lawson. He was hesitantly reunited with both Luke's 'father' Harry Trimble (Martin Landau) and Luke's one-time 'girlfriend' lawyer Adele Stanton (Laurie Holden).
The film's title referred to the old run-down movie-theatre that he decided to modernize and reopen with former proprietor Harry to give the town new hope - just as his amnesia began wearing away (after his movie-house aired his own film), some in the town expressed doubts about his identity, and federal agents came searching for him. Instead of giving in to the demands of the black-listers by admitting his association with the Communist Party and denying his own civil liberties, Peter decided to courageously confront them during hearings held in Congress by delivering a televised speech about American ideals. His convictions and efforts to stand up to oppression resulted in his heroic reception back in Lawson.
Overlong and needing to be tightened up in lots of areas, one of the film's problems was its view of perfect small-town life. The fantasy film portrayed a false dichotomy between the decent and clean town of Lawson and the outside evil world, populated by phoniness, worldliness and misguided government. It also presented an emotionally-unconvincing romance between Carrey and sweet-heart Laurie Holden that was tritely portrayed and unrealistic. Some cynical viewers saw the ultra-patriotic themes in this overblown melodrama as sappy and shamelessly cliched.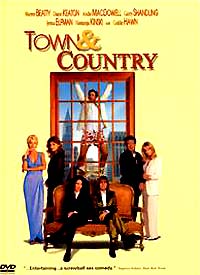 Town & Country (2001)
Director: Peter Chelsom
Studio/Distributor: New Line Cinema
Budget: $90 million
Domestic Gross: $6.7 million
Worldwide Gross: $10.4 million
Total Net Loss: $85 million
Total Estimated Loss (Inflation-Adjusted): $130 million
The original idea of this slow and disjointed film was to create a simple romantic sex comedy about marital infidelity and the mid-life crisis, with appropriately-aged veteran stars serving as the film's two upper-crust couples: Warren Beatty and Garry Shandling as the husbands, and Diane Keaton and Goldie Hawn as their wives. The film hopskotched from Park Avenue to the Hamptons, then to Mississippi and Sun Valley, Idaho. However, the ensemble film's budget ballooned to double its original estimate of $44 million, and it took three years to produce (with shooting beginning in June 1998) due to multiple script rewrites and revisions, reshoots (reportedly demanded by 62 year-old indulgent star Warren Beatty, who had played a similar Lothario role as a young hairdresser in Shampoo (1975)), recastings and lengthy post-production problems, and continual postponements of the film's opening date 13 times.
It became one of the biggest box-office losers in film history, with net losses of approximately $85 million, including major savaging by critics and indifferent audience reaction. It was pulled from theatres after only four weeks. It was nominated for three Razzie awards, including Worst Director and Worst Supporting Actress (Goldie Hawn), and it won for Worst Supporting Actor (Charlton Heston).
The cliched, tired and clumsily-executed film was scripted by Michael Laughlin and Beatty's Heaven Can Wait (1978) collaborator Buck Henry (Sample dialogue from Keaton to Beatty: "Your problem is your big, stupid cock" - she also called him a "pussy-crazed slob.").
It ended up being a tasteless, mostly unfunny, ugly and vulgar tale about two middle-aged affluent couples who suffered the consequences of sexual self-exploration (multiple cases of adultery), infidelity, mistrust and miscommunication: successful NY architect Porter Stoddard (Beatty) with his self-absorbed, aloof fabric designer wife Ellie (Keaton) of 25 years, and their friends, secretly-gay antique-store owner Griffin (Shandling) and his wife Mona (Goldie Hawn). Both men took a foray into philandering, misbehaving indiscretions (Griffin was discovered having sex in a B&B with a red-headed transvestite) that led to enraged wives, and further complications when Porter engaged in a second guilt-ridden tryst with Mona, and a third affair with aggressively-crazy heiress Eugenie Claybourne (Andie MacDowell) who met him on an airplane and simply stated: "I love to f--k architects" - she was the daughter of self-mocking, crazed gun-toting Charlton Heston and alcoholic, profanity-spewing, wheelchair-bound Marian Seldes. The film also featured appearances by Jenna Elfman (as fishing shack/hardware store clerk Auburn and notable as Marilyn Monroe in a Halloween Party scene), and Nastassja Kinski (as neurotic cellist-musician Alex, involved in Porter's first affair and who played her instrument for him in the nude).