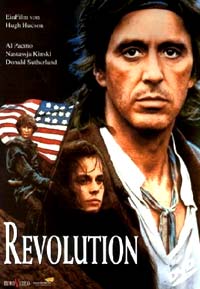 Revolution (1985)
Director: Hugh Hudson
Studio/Distributor: Warner Bros./Goldcrest Films International
Budget: $28 million
Total Gross: $359,000
Total Net Loss: $27.6 million
Hugh Hudson's (famous for the Oscar-winning Chariots of Fire (1981)) miscalculated historical epic of the American Revolution was this Warner Bros. film. It starred miscast Al Pacino as an 18th century New York fur trapper named Tom Dobb speaking with a Scottish-Cockney-Bronx accent, Donald Sutherland as British redcoat villain Sgt. Maj. Peasy with a Yorkshire brogue, and Nastassja Kinski as renegade New York aristocrat Daisy McConnahay with a Eurotrash accent in an unnecessary love-interest subplot. It grossed only $359,000 on a budget of about $28 million.
The perfectionist director's intentions were to make a major masterpiece (it does have excellent production values), but cost overruns led to entire scenes being deleted. Problems on the set included Pacino's illness, bad weather, and various set disasters. The overly-dramatic film was supposed to be "impressionistic", but ended up with jerkily-filmed action/battle scenes, a disjointed plot, unlikely and overly coincidental circumstances, and a downbeat ending.
The film was nominated for four Razzie awards: Worst Actor (Pacino), Worst Director, Worst Musical Score, and Worst Picture (Irwin Winkler). Its colossal failure curtailed Hudson's major directorial efforts until the big-budget I Dreamed of Africa (2000) 15 years later, and Pacino wouldn't star in another film for four years (until Sea of Love (1989)). It took 15 years for another Revolutionary War epic to eventually be made, Roland Emmerich's The Patriot (2000) with Mel Gibson.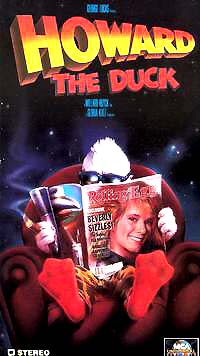 Howard the Duck (1986)
Director: Willard Huyck
Studio/Distributor: LucasFilm/Universal Pictures
Budget: $37 million
Domestic Gross: $16.3 million
Worldwide Gross: $38 million
Based on Steve Gerber's 70s Marvel Comics character (which went out of print in 1981), and from executive producer George Lucas (and his screenwriting pal, director Willard Huyck), this was one of the worst and least successful big-budget films ever made. Lucas hired Willard Hyuck and his wife Gloria Katz (the screenwriter for Lucas' film American Graffiti (1973)) to write the big-screen version. This misguided Universal film domestically grossed about $16 million on a budget of $37 million.
The science-fiction comedy film featured a quip-spouting, cigar-smoking, duck-billed title character (played by eight different human actors in a duck costume) -- a wide-eyed, duck-like version of ET? The film was noted for lots of explosions and chase scenes, expensive special effects, sometimes awful dialogue, and Howard's unusual relationship with a struggling punk-rock musician from Cleveland, Ohio named Beverly Switzler (Lea Thompson). After its disastrous US release in the summer, Variety reported on the repercussions: the dismissal of the head of Universal, Frank Price: "'Duck' Cooks Price's Goose."
It was nominated for seven Razzie awards, including Worst Director, Worst Original Song ("Howard the Duck"), and Worst Supporting Actor (Tim Robbins), and won four awards: Worst New Star ("the six guys and gals in the duck suit"), Worst Picture, Worst Screenplay, and Worst Visual Effects. In addition, it was nominated in 1990 for the Worst Picture of the Decade Razzie, and lost to Mommie Dearest (1981).
George Lucas re-edited the film for its European release, re-titling it Howard: A New Breed of Hero, but to no avail. Lucas was already into heavy debts due to the recent creation of his high-tech Skywalker Ranch in Marin County, so accepted a buyout of his LucasFilm CGI animation branch (or Computer Division) by Apple's CEO Steve Jobs -- it was the precursor to Pixar Animation Studios.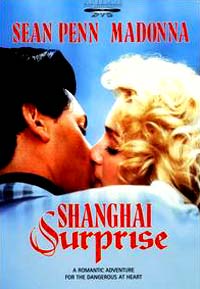 Shanghai Surprise (1986)
Director: Jim Goddard
Studio/Distributor: MGM/UA/HandMade Films
Budget: $17 million
Total Gross: $2.3 million
This highly-anticipated film, produced by Handmade Films (headed by the Beatles' George Harrison!), starred newlyweds: pop diva singer Madonna and volatile actor Sean Penn. Lacking a coherent plot and without any chemistry between the two leads in poorly-acted characterizations (she portrayed a missionary nurse in 1937 China, and he was a fortune hunter looking for opium), the overlong film failed miserably (with a box-office take of only $2.3 million with a budget of $17 million) and was nicknamed "Flop Suey."
This was Madonna's follow-up film to Desperately Seeking Susan (1985), and received a total of six Razzie Award nominations, including Worst Actor (Sean Penn), Worst Director, Worst Original Song (George Harrison for "Shanghai Surprise"), Worst Picture, and Worst Screenplay, and gave Madonna her first Razzie award - for Worst Actress.