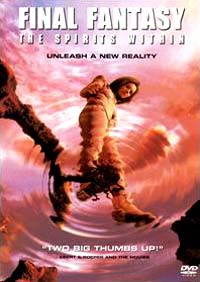 Final Fantasy: The Spirits Within (2001)
Director: Hironobu Sakaguchi
Studio/Distributor: Columbia Pictures/Square Pictures
Budget: $137 million
Domestic Gross: $32.1 million
Worldwide Gross: $85.1 million
Total Net Loss: $94 million
Total Estimated Loss (Inflation-Adjusted): $144 million
This exceptional anime-like film, done completely in astronomically-expensive CGI over a four year period, bankrupted its production company, Honolulu-based Square Pictures (celebrating its first film). It was the first photo-realistic, computer-generated feature film with convincing, accurately-detailed, life-like flesh-and-blood characters, inspired by a best-selling series of video games by the film's director, Hironobu Sakaguchi.
Set in the futuristic year 2065, this stunning-looking, hyper-realistic, revolutionary science-fiction film told about a ravaged Earth ruled by an alien race known as the Phantoms, who had forced the Earth's inhabitants to live in energy-shielded "barrier cities" to escape being virus-infected. The uninvolving story's main characters were two scientists: smart and slim virtual brunette heroine Aki Ross (voice of Ming-Na), looking like actress Bridget Fonda, and her wise old mentor Doctor Sid (voice of Donald Sutherland), who were working to save the world, combat the ghostlike enemy forces and defend Earth's survivors by "collecting" the Eight Spirits that would generate energy waves strong enough when combined (as a force called "Gaia") to neutralize and disarm the aliens.
During an adventurous mission to save mankind through peaceful pseudo-ecological means, Aki reconnected with hunky, Ben Affleck-like stoic boyfriend Captain Gray Edwards (voice of Alec Baldwin) and his team of Deep Eyes soldiers with laser guns, although they found themselves at odds with evil and determined General Hein (voice of James Woods), who wanted to eliminate the predatory phantom aliens by blasting them with a highly dangerous, high-tech orbiting space weapon called the Zeus Cannon. In a dream-vision, Aki eventually realized that the eighth spirit (a Phantom) resided within her own self -- it was distributed by dying Captain Gray's body and transmitted directly at the Phantom spirit world to eliminate the threat, in the film's finale.
While the film presented an engaging storyline, it wasn't overly compelling with its bland combination of contemplative, semi-spiritual Eastern (or New Age-y) philosophy, mechanically-animated humans, and ephemerally translucent monsters. Although it was a landmark film in terms of technical achievement, it was also one of the most expensive flops in film history, due to mismarketing to its videogame audience as a fast-paced action film. Plans for further installments of Final Fantasy with the 'synthetic actress' had to be scrapped.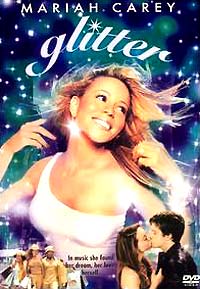 Glitter (2001)
Director: Vondie Curtis-Hall
Studio/Distributor: Twentieth Century Fox/Columbia Pictures/Maroon Entertainment
Budget: $22 million
Domestic Gross: $4.3 million
Worldwide Gross: $5.3 million
Total Net Loss: $16.7 million
This campy, song-filled rise-to-pop stardom film (and formulaic rags-to-riches tearjerker story found in lots of better films, such as A Star Is Born) starred diva Mariah Carey in her feature film debut - she also served as the film's executive music producer. In this disastrous, star-vehicle vanity project with an inadequate screenplay (by amateur scriptwriter Cheryl West), Carey was given the uncomfortable opportunity to 'act' while modeling various fashions, from almost-transparent, low-cut evening gowns (to showcase her enhanced cleavage), to bustiers, legwarmers, a gray bikini, fishnet outfits and spiky high-heels, and spout lame, short monotone phrases of dialogue with emotionless, quizzical childlike delight. In some ways, the film was a positively-viewed, semi-autobiographical revisionist look at the star's own career, whose sex appeal and charisma (at one time) were exploited by male promoters/producers. It appeared to be trying to copycat the cross-over success that Jennifer Lopez found when she made the transition to the big screen with the bio-pic Selena (1997).
The made-for-TV like, PG-13 melodrama, delayed in its release, failed to jump-start Carey's already-failing career arc, with its unintentionally funny dialogue, her passive and bland performance, plodding pacing, and 90s style songs (unmodified for the early 80s era) -- and would only appeal on its opening weekend to die-hard, pre-teen female fans. Many noted how the film, released at the time of the 9/11 tragedy, contained two eerie shots of the soon-to-be destroyed World Trade Center's Twin Towers, followed by the inappropriate image of Carey wearing a T-shirt with the word "Bombshell" on it.
She portrayed aspiring torch-singer Billie Frank, who at age 8 (Isabel Gomes) with her orange kitten was abandoned by her struggling, black jazz-singing, alcoholic mother Lillian Frank (Valarie Pettiford) and absent white father and sent to a foster home in the late 60s. Then after a flashforward to the early 80s, she was discovered dancing/singing with fellow singer-dancers Louise (Da Brat) and Roxanne (Tia Texada) in a Manhattan club by music producer Timothy Walker (Terrence Howard), who wanted her to provide the voice for his tone-deaf, untalented, lip-synching girlfriend/singer Sylk (Padma Lakshmi), and also to have the trio serve as a backup group. Billie's career was then taken over by producer DJ Julian "Dice" Black (British actor Max Beesley) who took over her contract for $100,000. He aided her in getting a #1 single record, a contract with CMZ Records, an appearance on the US Musical Awards show and the Late Night Live TV show. She also became the romantic love interest of both "Dice" and pop star Rafael (Eric Bénet) in the film's sub-plot.
This box-office flop was severely lambasted when released. It was nominated for six Razzie Awards, including Worst Director, Worst Picture, Worst Screen Couple (Mariah Carey's cleavage!), Worst Screenplay, and Worst Supporting Actor (Max Beesley), with one win for Worst Actress (Mariah Carey). In 2005, it was also nominated as the Worst 'Musical' in the Razzie's 25 year history, but lost to From Justin to Kelly (2003) - see below.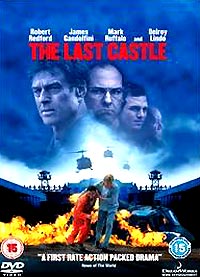 The Last Castle (2001)
Director: Rod Lurie
Studio/Distributor: Dreamworks Pictures
Budget: $72 million
Domestic Gross: $18.2 million
Worldwide Gross: $27.6 million
Total Net Loss: $44.4 million
Total Estimated Loss (Inflation-Adjusted): $61 million

This prison action-thriller, directed by former film critic Rod Lurie, was released about a month after 9/11. It did some business, although its production costs (and high-priced salaries for its stars) doomed its success. The film was hindered by its slow-paced plot, pretentious acting, muted drama, Soprano star Gandolfini's mis-casting, and script loopholes in the falsely-portrayed prison life.
Aging Robert Redford starred as Lieutenant General Eugene Irwin, a respected three-star commander who was court-martialed (unjustly, supposedly) and sentenced for insubordination to serve ten years in a maximum security military prison dubbed The Castle (the century-old former Tennessee State Prison in Nashville). The tagline pretty much described the entire 132 minutes of this overlong, over-blown film flop, a bold-faced struggle between good and evil: "A Castle Can Only Have One King."
The inspiring, principled and often sanctimonious Irwin incited his fellow prisoners to rise up against the autocratic, bookish, sadistic and corrupt prison warden, Colonel Winter (James Gandolfini), and prove that he was unfit to exercise martial control, although Irwin's strategy was morally questionable. The battle of wills - and man-power - eventually led to a stand-off between Irwin and Winter, resulting in Irwin's fatal shooting and Winter's incarceration - vindicating Irwin's heroic death and righteousness. Flag imagery was predominent as one of the film's themes - especially poignant after the 9/11 tragedy, although everyone's claims about rightfully possessing the flag was very contrived and ethically messy.