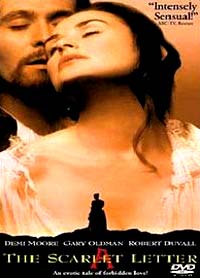 The Scarlet Letter (1995)
Director: Roland Joffé
Studio/Distributor: Buena Vista/Hollywood Pictures/Allied Stars Ltd.
Budget: $46 million
Domestic Gross: $10.4 million
Worldwide Gross: $10.4 million
Total Net Loss: $35.6 million
Very loosely based on Nathaniel Hawthorne's 1850 novel about mid-17th century Puritanical Massachusetts, this reinterpreted, 'Hollywoodized' romantic drama about forbidden love was severely criticized upon its release, for the way in which the sexualized script freely deviated from its source.
Limited ability actress/sexpot Demi Moore (who also appeared in numerous other clunkers in the 90s, including Striptease (1996) and G.I. Jane (1997)) was miscast in the role of the adulterous, independent-minded and free-spirited, heroically-silent Hester Prynne opposite co-star Gary Oldman as her sinful and anguished lover Reverend Arthur Dimmesdale. In particular, the film added action sequences (Indian skirmishes), a witch hunt, a reappearing scarlet bird (a tempting devil symbol?), a sexy and voyeuristic slave girl named Mituba (Lisa Joliffe-Andoh), and a happy denouement including the rescue of Hester from the gallows and the condemned couple's ride off to a fulfilling life in the Carolinas - unlike the novel in which Hester was doomed by hanging (although saved), and the guilt-ridden Dimmesdale died of a heart attack on the scaffold after a public confession.
The melodramatic, overlong, revisionist R-rated film (for violence and nudity by both of its main stars, especially Oldman's skinny-dip, Moore's luxuriant bath scene, and the passionate scene of their lusty, child-producing love-making in a barn) received seven Razzie Award nominations including Worst Actress (Demi Moore), Worst Director (Joffe), Worst Picture, Worst Screen Couple, Worst Screenplay, and Worst Supporting Actor (Robert Duvall as vengeful Roger Chillingworth/Prynne) and won the award for Worst Remake or Sequel.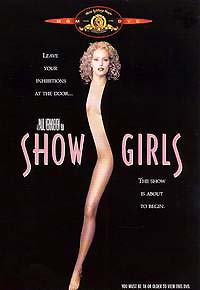 Showgirls (1995)
Director: Paul Verhoeven
Studio/Distributor: MGM/UA, Carolco Pictures
Budget: $45 million
Domestic Gross: $20.4 million
Worldwide Gross: $20.4 million
Total Gross: $37.8 million
This 'guilty-pleasure' popular cult film was the second pairing of director Paul Verhoeven (known for RoboCop (1987) and Basic Instinct (1992)) and screenwriter Joe Eszterhas (also for Basic Instinct (1992)). It was a sleazy, big-budget 'adult-oriented' film that became a camp classic instead. The outlandish, over-the-top film marked a milestone in film history - it was the first NC-17 rated film with a wide mainstream release. Although it was the first big-budget, adults-only film in many years (after Caligula (1979) and Philip Kaufman's Henry & June (1990)), it turned out to be both a critical and commercial failure, and grossed domestically only $20 million (less than half of its budgeted cost).
Feature film newcomer Elizabeth Berkley (of TV's Saved By the Bell) starred as 23 year-old Nomi Malone - a stripper turned Las Vegas showgirl-dancer in a soul-less, exploitative plot with mostly repugnant characters. However, the cynical film was nothing like Flashdance (1983), All About Eve (1950), or 42nd Street (1933), although it had aspirations. First working at the sleazy Cheetah Club where she performed pole and lap dances, Nomi graduated to the Stardust's "Goddess" topless dance show (where she contributed her characteristically-jerky dance moves) with scores of half-naked dancers. There, she developed a love-hate attraction for bi-sexual, trashy diva star Cristal Connors (Gina Gershon), who headlined and made her flashy entrance from an exploding volcano.
The film was considered senseless, violent, and actually sexually boring or desensitizing, although it contained lots of gratuitous nudity. Along the way, the film included Nomi's slithering, intercourse-simulating lapdance for Cristal's boyfriend Zack Carey (Kyle MacLachlan), a naturally-degrading topless dancer audition scene, a seizure-like orgasmic nighttime sex scene (voted one of the least sexy scenes of all time) in an outdoor swimming pool decorated with neon palm trees, and an offensive gang-rape scene.
To illustrate its campy nature and the dictum that it was "so bad it was good", the film received a record thirteen Razzie nominations and won seven of them, including Worst Actress and Worst New Star (Berkley), Worst Director, Worst Original Song, Worst Picture, Worst Screen Couple and Worst Screenplay. It also won the Razzie award for Worst Picture of the 1990s Decade.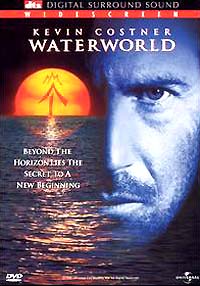 Waterworld (1995)
Director: Kevin Reynolds
Studio/Distributor: Universal Pictures
Budget: $175 million
Domestic Gross: $88.2 million
Worldwide Gross: $264.2 million
Self-indulgent star (Kevin Costner, who co-produced and took over the directing reins mid-stream after firing director Kevin Reynolds) headlined this action-packed science-fiction film as an anti-hero -- a mutated Mariner, who had grown a set of webbed feet/fins and gills (located behind his ears) to survive the post-apocalyptic watery landscape, after the polar icecaps melted and submerged Earth. In part, the film resembled The Road Warrior (1982) (aka Mad Max 2 (1981, Australia)) and Blade Runner (1982) only superficially, with an implausible plot, lots of script rewrites, and re-editing.
Even before the film's release, it was reviled as a flop and received numerous comic nicknames, such as "Kevin's Gate" and "Fishtar". It was nominated for four Razzie awards, including Worst Actor (Costner), Worst Director, and Worst Picture, and won one Razzie for Worst Supporting Actor (Dennis Hopper).
The film's expensive price tag (it was the most expensive movie ever made when it appeared, before Titanic (1997)) was due in part to its on-location shoot off the coast of the Big Island in Hawaii, where a giant floating land mass, a fortress city, was constructed. The production was plagued by bad weather that destroyed sets and delayed filming, as well as on-set conflicts between cast and crew, while Costner himself was going through a divorce. The central plot of the film pitted roaming, petroleum-burning pirate-vandals called "The Smokers" on an oil tanker led by an over-the-top bald, scar-faced, one-eyed Deacon (Dennis Hopper) against Mariner in his three-hulled trimaran, who had rescued love-interest and atoll barmaid Helen (Jeanne Tripplehorn) and her adopted daughter named Enola (Tina Majorino) who possessed a tattoo on her back that identified the location of Dryland - the world's paradisical last continent.
The film's massive budget deficit was saved when it made money overseas and after rental grosses were taken into account, although it took additional marketing cash to increase its grosses. It was remarkable that Costner went on two years later to make another expensive post-apocalyptic flop titled The Postman (1997) that also lost money.