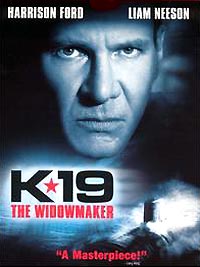 K-19: The Widowmaker (2002)
Director: Kathryn Bigelow
Studio/Distributor: First Light Production
Budget: $100 million
Domestic Gross: $35.2 million
Worldwide Gross: $65.7 million
Total Net Loss: $67 million
Total Estimated Loss (Inflation-Adjusted): $101 million
What was exceptional about this dramatic military action thriller was that it was not financed by a major Hollywood studio (but rather by National Geographic), making its almost $67 million dollar loss one of the most expensive independent film flops to date. Its bloated budget accounted for its financial disaster. Other criticisms were that it recycled some of its ideas from other similar, tense submarine-based action films (Crimson Tide (1995), Das Boot (1981), The Hunt for Red October (1990), etc.), and that its unwieldy script kept providing false endings, until it came up with an unusual, dubious, and disingenuous character twist. Working as one of the only female Hollywood action-film directors, Kathryn Bigelow's accomplishment was in creating this old-fashioned movie, with virtually no females, where every character was an officer or sailor in the Soviet Navy. (Her previous major studio film was Strange Days (1995)).
This grim, claustrophobic, machismo epic, more than a typical summer blockbuster, told about a Russian naval officer named Captain Alexi Vostrikov (Harrison Ford with an accent), who commanded the USSR's first nuclear submarine during the early 1960s Cold War era. [The film's strange title, K-19 referred to the name of the Soviet nuclear submarine with ballistic missiles, nicknamed "The Widowmaker."] The entire drama centered around the hard-nosed conflict between single-minded, disciplinarian Vostrikov and the vessel's previous well-liked commander Captain Mikhail Polenin (Liam Neeson), now demoted and second-in-command, resentful, and very vocal about the submarine's deficiencies, although unwaveringly loyal. During their journey into the North Atlantic to detonate a test missile, a leak in the sub's reactor cooling system dangerously threatened to ignite WWIII unless fixed. Crews without protective clothing were ordered to repair the problem, although they heroically exposed themselves to deadly fall-out, while the personalities of the two dueling officers faced off within the stricken sub.
Although it was a fictional film, it was "inspired by actual events" - a real-life incident in 1961. Members of the actual crew objected to early versions of the Hollywoodized script, complaining about technical and historical compromises made by the filmmakers, one of which was that there was no animosity between the two highest-ranking commanding officers. By film's end, after returning to the Soviet Union, Polenin defended Vostrikov on charges of defecting and his testimony helped acquit him. 28 years later in the film's superfluous epilogue, similar to Schindler's List, the two officers met at a gravesite for a "feel good" moment - to remember the seven crewmen who died immediately, and the 20 who later succumbed to the effects of radiation.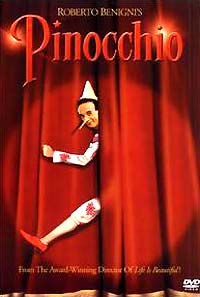 Pinocchio (2002, It.) (aka Roberto Benigni's Pinocchio)
Director: Roberto Benigni
Studio/Distributor: Miramax
Budget: 40-45 million euros (about $49.9 million)
Domestic (US) Gross: $3.7 million
Worldwide Gross: $44.3 million
This curious film from the award-winning, clownish writer/director Roberto Benigni was the recipient of six Razzie Awards nominations, including Worst Director, Worst Picture, Worst Remake or Sequel, Worst Screen Couple (Benigni and Nicoletta Braschi), and Worst Screenplay, including one win for Worst Actor (Benigni). It was notable as the first film in a non-English language to be nominated for Razzies.
This was Benigni's first follow-up film (as co-writer, director, and actor) since winning multiple Oscars for Life is Beautiful (1997), and boasted some impressive film craftsmen working on it (cinematographer Dante Spinotti, production and costume design for the 19th century sets by Danilo Donati, and a film score in the classic Italian mode by Nicola Piovani), and English voice roles for Glenn Close (as the Blue Fairy, who was played by Nicoletta Braschi, Benigni's real-life wife), John Cleese (as the three-inch high Talking Cricket), James Belushi (as the Farmer), Queen Latifah (as a Dove), Cheech Marin (as the Fox), Regis Philbin (as the Ring Master), and miscast Road Trip (2000) and Rat Race (2001) star Breckin Meyer (as the voice of Pinocchio). But it ended up being the most expensive film in Italian movie-making history, in part because of the convincing clout of the former triumphant Oscar winner, a monstrous set for the town, and digital mice (pulling the Blue Fairy's coach) for special effects. It was originally intended to be made with director Federico Fellini, but he died in 1993.
This awful, unmagical and unfunny live-action film, based on Carlo Collodi's 1883 fairy tale similar to its animated 1940 Disney predecessor, was distributed by Miramax and mismarketed as a family film. 49 year-old Benigni miscalculated by appearing as the wooden live man-child puppet (carved creation of lonely toymaker Gepetto (Carlo Giuffré)) wearing a white dunce cap and a red and white ruffled clown costume. In silly slapstick style as he constantly moved about, he rambunctiously skipped/cavorted around the Italian streets smashing into garbage cans in a marketplace and scaring wild geese on a farm, shouting: "Isn't it great to be alive?" (It could easily scare little tykes with its ever-present gloom of death, a hanging, rabbit pallbearers ready at a gravesite, a donkey transformation, and the Death of the Blue Fairy, after which Pinocchio pleaded: "How do you become dead? I wanna be dead too!")
It opened on Christmas Day (it was originally scheduled to be a high-profile holiday release for families) without much advance warning (or marketing) or press screenings (except for a sole looney appearance of the annoying Benigni with Jay Leno on The Tonight Show), and then excused itself for its quick arrival by arguing that there were post-production difficulties with the sound looping. The nightmarish film was entirely (and poorly) dubbed into English for its American audiences, although it was also available in the superior original Italian version with English subtitles. To recoup some of its losses, the film was re-released in early 2003 by Miramax and recategorized as an art-house film.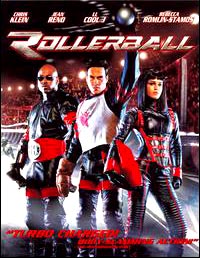 Rollerball (2002)
Director: John McTiernan
Studio/Distributor: MGM/Sony Pictures/Atlas Entertainment
Budget: $70 million
Domestic Gross: $19 million
Worldwide Gross: $25.9 million
Total Net Loss: $54 million
Total Estimated Loss (Inflation-Adjusted): $77 million
This poorly-rated sports-action film was an inept, needless remake of Norman Jewison's classic, ultra-violent 1975 film of the same name, although positing the action in the present day, rather than in some dystopian future. It also dispensed with most of the allegorical multi-national corporate sports intrigue of the original, although kept the main concept of violence as entertainment.
The disastrous film highlighted the hot, 'sports entertainment' professional league competition called Rollerball, ruled by mustached Russian mobster-businessman Petrovich (Jean Reno) in Central Asia - the sport capital of Kazakhstan, presumably. The two thrill-seeking characters, American daredevils recruited from San Francisco, clueless and naive Jonathan Cross (Chris Klein) and his high-school football buddy Marcus Ridley (L.L. Cool J), and Jonathan's face-scarred team-mate love-interest Aurora (Rebecca Romijn-Stamos, who received a Razzie nomination as Worst Supporting Actress, losing to Madonna in the Bond film Die Another Day (2002)) play on the Red Horseman team. They soon discover the game was being sabotaged and manipulated for "Global Instant" TV ratings hikes (the bloodier the better), and decide to somehow escape at night on Ridley's motorcycle, shot with greenish "night vision." The malevolent entrepreneur Petrovich only had his sights set on North American cable rights, but was defeated in the predictable climax by Jonathan's attack upon the owners' booth to avenge Ridley's death and to rescue Aurora.
The one-dimensional character roles, the awful dialogue, crunching sound effects, and the ever-present noisy heavy metal-music added up to one loud and unappealing, punishing experience. Due to negative preview responses, the troubled film was delayed in its release by over six months, pushing it from 2001 to 2002, and was edited from an R-rating to a PG-13 rating, in order to attract a broader audience, although it remained appealing solely to teen boys. The shaky, quick-cut, sharply-angled, hand-held camera work documenting the complicated game itself on a figure-8 sloped track was flashy and extreme, but incomprehensible and uninvolving since it was impossible to figure out what was going on.