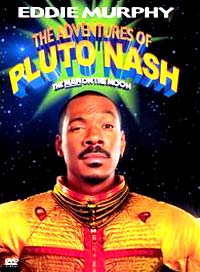 The Adventures of Pluto Nash (2002)
Director: Ron Underwood
Studio/Distributor: Castle Rock Entertainment/Warner Bros.
Budget: $100 million
Domestic Gross: $4.4 million
Worldwide Gross: $7.1 million
Total Net Loss: $96 million
Total Estimated Loss (Inflation-Adjusted): $145 million
Mega-star Eddie Murphy starred in the hugely-successful Norbit (2007) five years later, wearing a fat-suit and playing multiple roles -- a film budgeted at $60 million and grossing over $95 million, but this film was an entirely different situation. It suffered possibly one of the largest financial losses (percentage-wise) ever recorded for a film -- approximately a 95% loss. This would mark a succession of strikes against Murphy in 2002, following his lukewarm appearance in Showtime (2002), and before his performance in I Spy (2002).
Allegedly, this futuristic, science-fiction crime comedy's concept was introduced in a script over a decade and a half earlier in 1985, but after being made in the year 2000 was shelved for two years following a negative preview screening for the press, allowing for portions to be re-shot and rewritten. Approximately a dozen scriptwriters attempted to offer film rewrites, but only one writer was officially credited (Neil Cuthbert).
This directionless effort, that wasted both time and talent, seemed promising at the start, with a competent director (Ron Underwood had already directed Mighty Joe Young (1998), Tremors (1989) and City Slickers (1991)), and a great cast for both supporting roles and short cameos, but when the studio feared more criticism from bad press, the ill-conceived film with an inadequate publicity campaign was released to theatres without advance play for film critics.
The film's infantile and unfunny script was poorly executed and borrowed from lots of second-rate films. It was filmed episodically like a vintage action serial, was dwarfed by the inventive production values of the film's setting and special effects, and was often diluted by Murphy's familiar but sleepy and subdued characterization. The film was honored with five Razzie Award nominations: Worst Actor (Murphy), Worst Director, Worst Picture, Worst Screen Couple, and Worst Screenplay. It was also nominated in 2005 as the Worst 'Comedy' in 25 years of Razzie awards, losing to Gigli (2003) -- see below.
Its story was about an ex-smuggler and ex-con nightclub owner in space (on the Moon) around the year 2087 named Pluto Nash (Eddie Murphy) who was pressured by demanding mobster goons (including Joe Pantoliano as thuggish hitman Mogan) to turn over his successful establishment named Club Pluto (in the hip urban district of "Little America" - a lunar Las Vegas) for $10 million to reclusive and mysterious gangster kingpin Rex Crater residing in a penthouse at the Lunar Grand Casino in the gambling city of Moon Beach - he wanted the club to be converted into a lucrative casino. When the mob blew up the nightclub and engaged in a laser-gun shootout, Nash became a fugitive with his new love interest: his own space-suited waitress and aspiring nightclub singer Dina Lake (Rosario Dawson) during her first visit to the Moon, and an outdated, bald android robot bodyguard named Bruno (Randy Quaid). They spent the remainder of the film trying to discover the source of their conflict at Crater's swanky resort casino.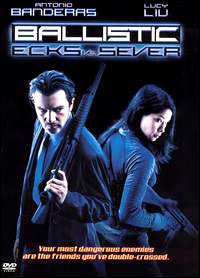 Ballistic: Ecks vs. Sever (2002)
Director: Wych Kaosayananda (Kaos)
Studio/Distributor: Warner Bros/Franchise Pictures
Budget: $70 million
Domestic Gross: $14.3 million
Worldwide Gross: $20.2 million
Total Net Loss: $70.1 million
Total Estimated Loss (Inflation-Adjusted): $106 million
In addition to being a major box-office failure, this Hong Kong-influenced action-thriller - a glamorized spy film, was also considered one of the worst films ever made by every reviewer or critic who suffered through it. Just the awkwardness and confusion generated by its title was enough to turn away audiences. Additional complaints were that it was boring, unimaginative, uninvolving, and incoherently put together, and that the characters were improperly drawn. Of course, there were many explosions, a dominating heavy-metal soundtrack, slo-motion action scenes, and a non-stop violently high kill-count (involving beatings, shootings, and knife attacks).
This major, 92 minute blockbuster flop was the first US feature film of Thai filmmaker Wych Kaosayananda (aka Kaos). The two major stars, Antonio Banderas and Lucy Liu, were the two character names in the title - they were both former government agents. He was an FBI tracker named Jeremiah Ecks (Banderas) while she was renegade ex-Defense Intelligence Agency agent Sever (Liu), from the DIA's "Orphan Class" division of unwanted Chinese orphan girls who were only trained to kill.
The black-leathered Asian super-agent sought revenge for the killing of her husband and young son, blaming their deaths on rogue ex-colleague and villain Gant (Gregg Henry). To get even, Sever's plan included acquiring a deadly new microscopic weapon developed by Gant, to be used for nanobot assassinations, that was hidden in the circulatory system of Gant's 7 year-old son Michael (Aidan Drummond) so that it could be imported into North America. She sought to obtain the weapon by kidnapping Michael, to actually save him. At the same time, Ecks was on a mission to recover the weapon, and crossed paths with Sever. In the film's second half, he was forced to team up with Sever to defeat their common enemy, Gant.
There were plot discontinuities and discrepancies, such as the US FBI, working in Vancouver Canada, and one of the confusing plot twists was that Ecks was the father of Michael, not Gant, and that Ecks' wife Vinn (Talisa Soto) wasn't dead from seven years earlier, but was married to Gant.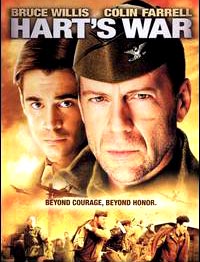 Hart's War (2002)
Director: Gregory Hoblit
Studio/Distributor: MGM/Cheyenne Enterprises
Budget: $70-95 million
Domestic Gross: $19 million
Worldwide Gross: $32.3 million
Total Net Loss: $62.7 million
Total Estimated Loss (Inflation-Adjusted): $105-143 million

John Katzenbach's best-selling novel of the same name was the basis for this all-male POW-camp war drama, starring Colin Farrell as German WWII POW prisoner 1st Lt. Thomas W. Hart, an idealistic enlistee who was formerly a 2nd year Yale Law School student - now captured during the Battle of the Bulge. Following the murder of caricature racist Staff Sergeant Vic Bedford (Cole Hauser), the vengeful killing was falsely blamed or 'framed' on black Tuskegee airman 2nd Lt. Lincoln A. Scott (Terrence Howard).
The high-ranking prisoner (and fourth-generation war hero) Colonel William A. McNamara (Bruce Willis) who was in charge of the captured Americans, convinced the camp's commandant Colonel Werner Visser (Marcel Iures) to allow the POWs to hold their own court-martial trial instead of executing Scott, turning the film into a military courtroom drama - a face-off between the young lieutenant as a defense lawyer and the grizzled veteran McNamara who presided over the trial.
After a few plot turns, It was soon revealed that there was another genre type emerging - an action-escape drama sub-plot. McNamara was involved in a covert plot to dig an escape tunnel, and the trial provided a distraction. In addition, McNamara had killed Bedford because he was threatening to divulge the plan to escape and attack a nearby shoe factory (actually, a munitions plant). Ultimately, Hart selflessly sacrificed himself by claiming in his closing defense speech that he had killed Bedford, but then McNamara heroically came to his rescue. Learning of the escape tunnel, and holding McNamara accountable, Visser had him executed.
The Hollywood-styled entertainment film was accused of trading reality for drama, being too contrived, dull, and too earnest in its depiction of racial-issues in the military. It also seemed off-balance, flitting from one genre to the next, a little of Stalag 17 and A Soldier's Story.