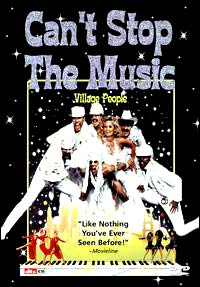 Can't Stop the Music (1980)
Director: Nancy Walker
Studio/Distributor: EMI Films
Budget: $20 million
Total Gross: $2 million
Net Loss: $18 million
This infamous musical was a major box-office bomb, although its Hollywood producer/writer Allan Carr was the co-producer of the hit film Grease (1978). Originally titled Discoland: Where the Music Never Ends!, it was changed due to the fact that the disco craze had long ago peaked. It starred the Village People, in a semi-autobiographical story about their success as a group of eccentric performers of macho American stereotypes with outrageous costumes (consisting of Felipe Rose the Indian, Randy Jones the cowboy, David Hodo the hard-hatted construction worker, Ray Simpson the police officer, Glenn Hughes the leatherman biker, and Alex Briley the G.I.).
It included their notorious gay-themed popular Y.M.C.A. number (a well-choreographed calisthenics segment with a chorus line of bikini-clad swimmers, accompanied by a nude male shower and hot tub sequence), the knock-off Busby Berkeley-like Milk Shake number - an all-white costumed dance craze (with the leading lady in a giant milk glass), the gay pride anthem Liberation, and the crazed finale Can't Stop the Music filmed as a concert at San Francisco's Galleria.
The film's feeble plot was about an aspiring music composer and song writer named Jack Morell (Steve Guttenberg, pre-Police Academy (1984) and Short Circuit (1986)) (a character loosely based on real-life, openly-gay Village People songwriter-producer Frenchman Jacques Morali) who through his housemate - ex-high-fashion model and liberated Samantha Simpson (Valerie Perrine) - connected him up ultimately to "put on the show" with the Greenwich Village group dubbed "Village People" - the group of homoerotic fantasy characters - buffed-up "macho men" (although cleaned up to appear straight). It also featured a cameo performance from Leigh Taylor-Young and introduced non-actor Bruce Jenner (ex-Olympic decathlon medalist and non-actor) as uptight record-company tax lawyer Ron White from St. Louis.
This over-the-top, outrageous film was made by inexperienced director Nancy Walker -- better known as a sit-com actress: as maid Mildred in the early 70s TV show McMillan & Wife, as Rhoda Morgenstern's (Valerie Harper) Jewish mother on the mid-70s TV show Rhoda, the short-lived The Nancy Walker Show in 1976, and as Rosie the Waitress - the Bounty Lady on TV commercials for the "quicker-picker-upper" paper towels.
The disco film musical was strangely touted as a family musical, with an exorbitantly-expensive publicity campaign (reported to be $10 million) and a promotional tie-in to the American Diary Association. However, it also inspired and won the First Golden Raspberry Award for Worst Picture - a recognition given to the most banal and awful 'turkey' film of the year. It received seven Razzie Awards nominations in fact, Worst Actor (Bruce Jenner), Worst Actress (Valerie Perrine), Worst Director (Nancy Walker), Worst Original Song ("(You) Can't Stop the Music"), and Worst Supporting Actress (Marilyn Sokol), and won two: Worst Picture and Worst Screenplay. In 2005, it was again nominated as the Worst 'Musical' in 25 years of Razzie Awards (also nominated was Xanadu (1980), Rhinestone (1984), Spice World (1997), and Glitter (2001)), all losing to From Justin to Kelly (2003).
This disastrous film was badly timed - released after the disco craze had mostly worn itself out, and with its slightly-veiled homosexual tone (with gay in-jokes), irrelevant plot, and amateurish production, it lost its appeal quickly. The only place the film was a hit was in Australia, surprisingly.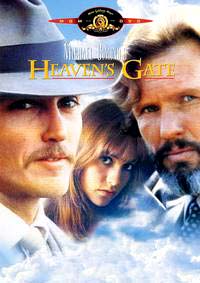 Heaven's Gate (1980, 1981)
Director: Michael Cimino
Studio/Distributor: United Artists
Budget: $44 million
Total Gross: $3.5 million
Total Net Loss: $40.5 million
Total Estimated Loss (Inflation-Adjusted): $133 million
Pretentious auteur director Michael Cimino, who had just earned a Best Director Oscar for the multiple-award-winning The Deer Hunter (1978), was given unprecedented creative control (in the overindulgent, director-centric 70s era) and a large budget for the production of his long-brewing, flawed script titled The Johnson County War. Problems could have been forecast when the writer/director demanded that the film be titled "Michael Cimino's Heaven's Gate" ('Heaven's Gate' was the name of a roller-skating rink in the film).
The disastrous western film has since become synonymous for any failed enterprise - specifically, any film facing major financial disaster, although it had a cast of prominent actors (Christopher Walken as hired mercenary Nathan D. Champion, John Hurt in a minor role as Billy Irvine, Kris Kristofferson as US Federal Marshal James Averill, and French actress Isabelle Huppert as brothel madam Ella Watson). The ponderous and flawed film (with beautiful cinematography and art direction, but often muffled dialogue) included abundant nudity, violence throughout, a love triangle, a cock fight, a country-western roller-skating sequence, and a lengthy series of bloody battles at film's end.
Difficulties became apparent when an entire town was created in Montana for the expensive, historically-recreated sets, and the shooting schedule quickly fell behind after repeated re-takes of each scene with a crew that was required to routinely work overtime. A number of poorly-paid extras in the production suffered accidental injuries, and the poor treatment of various animals in the film caused the ASPCA to protest. Even officials at Glacier National Park became exasperated at Cimino's disregard for preserving the public lands in their pristine condition. At the conclusion of location shooting, Cimino had filmed 220 hours of film, and then insisted on an additional prologue (a lavish opening dance sequence to the tune of Blue Danube (filmed at Oxford University in England)) at an additional cost of $5 million and a short epilogue (filmed in Rhode Island and San Diego) at an additional cost of $1 million. United Artists' incomprehensible, over-long epic Western film about Wyoming's Johnson County Wars cost almost six times above-budget to produce (from $7.5 million to about $44 million), with an additional amount for promotion amounting to about $11 million.
Originally, the first cut -- a 5-hour 25 minute version (derived from more than 500 hours of developed film) had to be cut down to 219 minutes for its November 18, 1980 NYC premiere (and a one-week run). The infamous review of New York Times critic Vincent Canby (who called the film "an unqualified disaster") built negative press until Cimino's film was permanently doomed. The picture was immediately pulled (with further 'exclusive' showings cancelled), re-cut and then re-released six months later on April 23, 1981 in Los Angeles for its first theatrical release (after being shortened by 70 minutes down to 149 minutes) - and the re-edited film still failed due to more bad press and poor reviews.
It stunned its studio by becoming the biggest flop in film history at the time (US box-office was about $3.5 million) - it lost at least $40 million when the final tally was taken. UA's corporate parent, Transamerica, had to sell the studio to MGM for only $350 million as a result. The film's fiasco immediately caused the resignation of veteran studio president Andy Albeck, other top officials, and the firing of UA executive Steven Bach. [UA was responsible for earlier hits Midnight Cowboy (1969), Rocky (1976), Annie Hall (1977) and the James Bond films.] Bank-rolled support for independent 'auteur' directors of the New Wave of 70s directors (who controlled their own production costs with little studio oversight) ended when this film's egotistical director (nicknamed "The Ayatollah") was criticized as being self-indulgent, financially irresponsible and ego-driven.
The film received numerous Razzie Award nominations (Worst Actor- Kris Kristofferson, Worst Musical Store, Worst Picture, and Worst Screenplay- Cimino), including a Worst Director prize for Cimino, although it received generally positive reviews after release to video, and fairly good results from its international box-office. It was critically re-evaluated by the LA-based Z Channel when it premiered on cable TV in its uncut version in 1982, but it was already too late. Details of the film's notorious production could be found in production head Steven Bach's 1985 book Final Cut: Art, Money, and Ego in the Making of Heaven's Gate, the Film That Sank United Artists.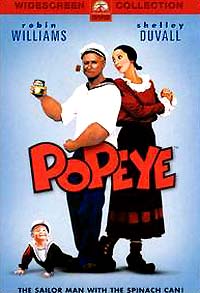 Popeye (1980)
Director: Robert Altman
Studio/Distributor: Paramount Pictures
Budget: $20 million
Total Gross: $49.8 million
Rentals: $24.6 million
The spinach-loving sailor man, originally a comic-book creation (by E.C. Segar) and cartoon character (by Max Fleischer), was brought to life by individualistic, maverick director Robert Altman. For the ten years surrounding this film, most of Altman's films were unsuccessful and poorly-received: A Wedding (1978), A Perfect Couple (1979), Quintet (1979), HealtH (1980), Streamers (1983), Secret Honor (1984), O.C. and Stiggs (1985), and Beyond Therapy (1987).
This big-budget adaptation, an experimental comedy musical with an integrated musical score featured mostly forgettable, unmemorable songs by talented songwriter Harry Nilsson. Fast-talking, improvisational comic Robin Williams (in his film debut, after becoming known as Mork - the alien from planet Ork on TV's Mork And Mindy) starred as the buff-fore-armed, squint-eyed title character, who found himself in his dinghy (under the credits) searching the "seven seas" for his father Poopdeck Pappy (Ray Walston) that abandoned him. Docking in the small seaside/harbor town of Sweethaven, he met hamburger-addicted Wimpy (Paul Dooley), his lanky future love interest Olive Oyl (a perfectly-cast Shelley Duvall), his newfound abandoned son Swee' Pea (Altman's grandson Wesley Ivan Hurt), and brutish bearded pirate Capt. Bluto (Paul L. Smith) whom he battled as a jealous rival for Olive's affection in their long-running, exaggerated love triangle. [Note: Dustin Hoffman and Lily Tomlin were at one time considered for the lead roles.]
The fictional, oppressive shanty-town fishing village of Sweethaven with crazy-angled streets was actually constructed on the Mediterranean island of Malta, an expensive project (by production designer Wolf Kroeger) that took seven months to complete, although it turned out to be the ideal, visually-spectacular, eccentric backdrop for the film's story. However, if the film was originally designed for family audiences, it would only confound younger viewers with its over-sophisticated approach designed to honor the original Popeye characters. Larger than life, eccentric characters that were often annoying and involved in cheap slapstick made the film difficult to appreciate.
The strangely-fashioned, almost wacky, unwieldy and rambling, original and offbeat film (a live-action cartoon or comic-strip) could technically be called a hit (although it wasn't a major blockbusting success), but it was basically an artistic, visionary failure that misfired. It was dissonant and uneven (alternating between being bizarre and funny in its organized confusion), slightly ahead of its time with its live-action retelling of the famed story, and often incomprehensible (dialogue was incoherently muttered by Popeye under-his-breath or was overlapping). Paramount Studios fortunately risked the financial burden by co-producing with Walt Disney Productions.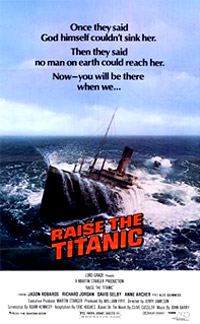 Raise the Titanic (1980)
Director: Jerry Jameson
Studio/Distributor: ITC Films Entertainment/Associated Film Distribution
Budget: $36 million
Domestic Gross: $14.8 million
Rentals: $6.8 million
This big-budget adventure film dud prominently displayed its tagline on its poster: "Once they said God himself couldn't sink her. Then they said no man on earth could reach her. Now - you will be there when we... RAISE THE TITANIC." The film's premise was based upon author Clive Cussler's best-selling novel of the same name. After the film was released, Cussler henceforth refused every other film company from using his books for film adaptations. It received three Raspberry Award nominations: Worst Picture (it lost to Can't Stop the Music (1980)), Worst Supporting Actor (David Selby as Dr. Gene Seagram), and Worst Screenplay.
Media mogul Lew Grade of ITC Entertainment, who backed the expensive flop, found that it was one more nail in the coffin of his motion picture production enterprises, as audiences opted for other kinds of entertainment such as George Lucas' The Empire Strikes Back (1980).
The suspense-less, mostly dull plotline was about an American crew hired to salvage and raise the ill-fated RMS Titanic from its resting place in the North Atlantic Ocean, although at the time of the film's making, the Titanic had not yet been found. There were also unnecessary, fanciful subplots about a female Washington Star reporter (Anne Archer) and her romantic ties to two of the crew, international espionage, and competition with the super-power Russians to acquire a rare radioactive mineral called Byzanium (the film's MacGuffin) onboard the ship - demanded by the American military for defense purposes (the "Sicilian Project").