From Russia With Love (1963)
d. Terence Young, 115 minutes
Opening Credits, Title Sequence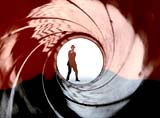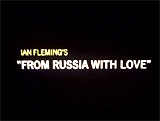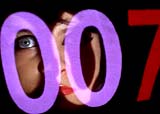 This was the second film with a gunbarrel opening (with stuntman Bob Simmons). The same sequence was used for the first three Bond films.
It was also the first Bond film with a now standard, pre-title credits action sequence.
Gun-barrel Sequence (reused from Dr. No (1962)): Designed by Maurice Binder
Main Title Sequence: Designed by Robert Brownjohn
Title Song: Instrumental/"James Bond Is Back" (John Barry) and "James Bond Theme" (sung by Matt Monro during end credits), also "From Russia With Love"
Film Plot Summary
The pre-title credits action sequence was set in a mansion's sculptured gardens (on SPECTRE island) at nighttime - a cat-and-mouse game between two black-dressed men: British agent James Bond (Sean Connery) in a tuxedo, and blonde, psychopathic Russian assassin Donald "Red" Grant (Robert Shaw). The stalking ended when Grant pulled a razor-wire garrotte from his wristwatch and strangled the agent (# 1 death). Lights illuminated the scene, and Grant was evaluated on his SPECTRE training mission by Bond enemy Morzeny (Walter Gotell): "Exactly one minute, 52 seconds. That's excellent." The dead agent's Bond face-mask was removed, revealing the face of another man.
In Venice, Italy at the International Grandmasters Championship, Czechoslovakian chess-player Kronsteen (or SPECTRE No. 5 (Vladek Sheybal)) defeated his Canadian opponent. He was summoned by a note on a napkin (with an Octopus symbol/seal) to a meeting on the luxury yacht of evil, menacing SPECTRE No. 1 villain Ernst Stavro Blofeld (uncredited Anthony Dawson, his hands, in close-up, seen petting a white Persian cat). He was attended by defecting, ex-SMERSH Russian intelligence agent Rosa Klebb (now working as SPECTRE No. 3) (Lotte Lenya), as they discussed Siamese fighting fish in his tank, comparing its tactics to SPECTRE's. Director of Planning Kronsteen had concocted what he dubbed a "foolproof" plan to steal a new Lektor cryptographic decoding machine from the Russians (and then sell it back to them, embarrassing MI6). Unknowing accomplices would include a female member of the Russian Cryptographic Section in Turkey, and the British Secret Service (MI6). The pawn - a cipher clerk from the Russian Consulate in Istanbul had already been selected, according to Klebb who was put in charge of the criminal SPECTRE mission. The plan was to seek "personal revenge" for the death of operative Dr. No (in the previous film), by killing Bond, who would most likely be involved.
Back on SPECTRE island, the organization's secret training base for terrorism, Klebb assigned "Red" Grant (a convicted murderer and escaped prisoner from Dartmoor prison, a "homicidal paranoiac" recruited by SPECTRE) to be Bond's assassin. She tested his formidable strength with a brass-knuckled punch to his abdomen. He was to report to Klebb in Istanbul in 24 hours time. In Turkey, blonde Tatiana "Tania" Romanov (Daniela Bianchi, Italy's 1960 Miss Universe runner-up), Corporal of State Security from the Russian Consulate General offices, took a break from work and met with masculine-looking Klebb (wearing a Russian military uniform, and hinting at lesbian tendencies) in her back alleyway apartment/hotel room, where she was briefed on her assignment ("to give false information to the enemy"), with the promise of a promotion if she succeeded, or death if she didn't cooperate. Tania, a Mata Hari like figure, was duped and led to believe she was working for Russian intelligence.
Outside London by a scenic lake, James Bond was kissing Sylvia Trench (Eunice Gayson) during a picnic lunch, but was summoned by pager, and told by secretary Miss Moneypenny (Lois Maxwell), through his Bentley car phone, to report to the office. Before leaving, he romanced Sylvia during "lunch" under his car's convertible top (# 1 tryst) in the back seat. Bond was briefed by "M" (Bernard Lee) regarding the "trap" set for him, involving the cipher machine (the brand-new Lektor), and a Russian girl who had fallen for Bond - with a letter, she had already contacted British Intelligence Chief Kerim Bey (Pedro Armendariz), head of Station T (Turkey) and asked to defect. She had promised to turn over the Lektor on one condition - if Bond went to Istanbul and personally brought her and the machine back to England. Bond was given a briefcase with an assortment of gadgets before flying to Istanbul the next day. At the airport, he was observed by one mustached Russian agent (Haslan Ceylan). Bond was chauffeured to Kerim Bey's office in Istanbul, although followed by a mysterious black Citroen driven by Russian foreign agents. During a brief initial meeting, Bey told Bond that they must wait for the girl to arrange a meeting. On the way to his hotel, Bond was again shadowed, this time by SPECTRE agent Grant, who had murdered the Russian agent driver and had hijacked his car (# 2 death). Soon after, Grant parked the Russian agent's car in front of the Russian consulate, with the driver dead in the back seat, to further fuel tensions in the region.
Bond checked into his hotel, where he discovered his phone was tapped - he requested a different room and was moved to the bridal suite. The next morning, an explosion rocked Bey's office (this was the first unsuccessful attempt on Bey's life) - a limpet-mine had been attached to the wall outside, but missed Bey when he was away from his desk. Bond met with the unharmed Bey, who couldn't understand why the Russians had broken the truce. The two floated down an underground waterway-cistern to a position beneath the Russian Consulate, to try to learn why there was an attack. There, they used a secretly-installed giant naval periscope to spy on a conference room meeting occurring above, spying on Tatiana's legs. One member at the table was a Bulgarian killer (Bey: "This man kills for pleasure") working for SMERSH, a rival agent named Krilencu (Fred Haggerty), who was employed by the Soviets to assassinate Western agents in Turkey, and had tried to kill Bey. Bond was advised to not stay at his hotel that night.
Bey drove Bond to a gypsy encampment (Bey used the gypsies for his dirty work), where they were entertained by a belly-dancer (Leila). At the same time, Krilencu was assembling Bulgarian assassins to counter-attack the gypsy camp and kill Kerim Bey, his arch-enemy, who was mistakenly believed to have murdered several Soviet agents. [Both Bey and Krilencu were unknowingly pitted against each other by SPECTRE.] Their attack was signaled by the killing of a gypsy guard with a knife to the stomach (# 3 death). At the time, Bond and Bey were watching a gypsy cat fight between two jealous women:
Zora (Martine Beswick) in green
Vida (Aliza Gur) in red
Both were interested in the same man, son of gypsy chief Vavra (Francis de Wolff). Their fierce, love-triangle struggle was cut short by the attack of Krilencu. Kerim Bey was wounded in the arm. In hiding as a sniper, Grant acted as Bond's "guardian angel" protector and killed one assassin (# 4 death) to ensure Bond would be alive to finish SPECTRE's mission. Krilencu and his Bulgar men retreated. For saving his life during the attack, Vavra allowed Bond to "decide the matter" of the fight's winner, and offered him the females' company for the next day (# 2 tryst). The next evening, Bey decided to finish off Krilencu once and for all. Bond and Bey visited Krilencu's hideout (behind a giant billboard film poster on a brick wall for the 1963 film 'Call Me Bwana' - a Bob Hope comedy with Anita Ekberg) where Bey shot and killed Krilencu with Bond's sniper rifle (# 5 death) as he was escaping through a private hatch in the brick wall - crawling out of the mouth of actress Anita Ekberg.
Upon his return to his hotel suite, Bond found the beautiful Tania Romanova naked in his bed, wearing only a sexy black velvet choker. Bond asked for floor plans of the Russian consulate, and proposed that they meet the next day at St. Sofia Mosque, posing as tourists. During love-making (# 3 tryst) in his bridal suite, they were unaware that they were being filmed through a one-way mirror at the head of the bed, by Klebb and another man, to create a sex scandal. The mustached Russian agent at the airport was also at the rendezvous point at the mosque, and attempted to intercept the plans, but was killed by Grant (# 6 death). Bond came upon the body, and found the hand-drawn plans within a vanity compact case in the dead man's hand. The plans matched the architectural blueprints possessed by Bey. Tania also met Bond on a Bosphorus ferry boat, where she expressed fears that they were in danger. He recorded her responses to questions about the Lektor on a hidden tape-recorder in his box-camera, to determine its authenticity: it weighed 10 kilos in a brown case about the size of a typewriter, and had 24 symbols and 16 code keys. Inside were copper perforated disks. The tape was dispatched to MI6 in London, where they declared the Lektor genuine.
On the 13th of the month, Bond took a taxi to the Russian Consulate, where as he stood in the waiting room, an exploding smoke-bomb rocked the building (it was detonated by Bey from the underground cistern). During the confusion in the lobby, Bond wore a gas-mask (to avoid tear-gas) and made his way to the location of the Lektor, where he found Tania. They both absconded with the decoding machine, and with Bey's help raced to the train station to board the Orient Express, bound for the safety of the Bulgarian frontier. Benz (Peter Bayliss), a Russian security agent, observed Tania at the station, and quickly boarded the train - Grant was already a passenger. Bond and Tania were given passports, and told to pose as a married couple, Mr. and Mrs. David/Caroline Sommerset. At the Bulgarian border, the plan was for Bond to de-board from the restaurant car, and be taken by Bey's drivers to an airstrip 20 miles away, to be flown to Athens and then to England. After Bond and Tania enjoyed another romantic encounter (# 4 tryst), Bond was notified by the train conductor (George Pastell), Bey's friend, that both Benz and Bey were victims of a terrible accident - they were dead (# 7-8 deaths). [Grant had made it appear that they had killed each other.] Bond was frustrated and exasperated by Tania when she wouldn't tell him her orders.
The train continued onto Belgrade, where at the train station, Bond was forced to change plans. He told Bey's son why the train hadn't stopped at the border -- the "bad news" of his father's death. Bond requested a message to be sent to "M" in London, to have someone from Station Y (Yugoslavia) meet the train at Zagreb, Yugoslavia. There at the train station before Bond exited the train, Grant quickly killed "M's" dispatched agent Captain Nash (William Hill) in the WC (# 9 death), and then impersonated him.
Reboarding the train, Grant (posing as Nash) told Bond that the new plan was to either jump off the train with the Lektor at the Yugoslavia-Trieste border, to escape customs, or somehow risk getting through customs with it. In the restaurant car during dinner, Grant drugged Tania's wine with chloral hydrate, and then back in their cabin, knocked Bond out. When Bond revived, he realized that Grant was not a Smersh agent, but an agent of SPECTRE, pitting the Soviets and the British against each other: "You've been playing us off against each other, haven't you? Then it was SPECTRE who killed the Russian agent in the mosque. You?" Grant admitted killing the agent, and also Bey, Benz, and Nash. He also admitted he was Bond's "guardian angel" and saved his life at the gypsy camp, protecting him until they obtained the Lektor. And he told how the girl Tania believed that she was working for "Mother Russia" - taking orders from Colonel Klebb.
SPECTRE's ultimate plan was to kill both of them - Tania would have explicit 8mm film from their sexual contact in the bridal suite planted in her handbag, and an assassinated Bond would be found with a forged letter from Tania, threatening to publicize the film if Bond didn't marry her. It would be made to appear that Bond killed her and then committed suicide. The headlines would be: "British Agent Murders Beautiful Russian Spy, Then Commits Suicide." Grant's orders were to kill Bond and deliver the Lektor to SPECTRE - he promised a slow and painful torturous death.
Bribing Grant with the gold sovereigns in his own case, Grant was tricked into a fatal error to open the other agent's briefcase, triggering the release of tear-gas from a cartridge hidden in a magnetized tin of talcum powder. After a prolonged and vicious hand-to-hand struggle in the claustrophobic train cabin, in which Grant tried to strangle Bond with his garrote wire from his wrist-watch, Bond stabbed Grant in the shoulder with his flat throwing knife, and then strangled him with his own garrote (# 10 death, # 1 Bond kill).
With Tania, they escaped using "Nash's" escape plan (a flower truck blocked a railroad crossing and the train was forced to stop). Bond hijacked the truck after subduing and binding up the driver Rhoda (Peter Brayham). By dawn, their truck was being pursued by a helicopter throwing hand-grenades at them. With his rifle, Bond caused the helicopter to explode and crash, killing its two occupants (# 11-12 deaths, # 2-3 Bond kills), and then he drove to a jetty and commandeered Rhoda's powered motor-launch carrying four fuel drums. Rhoda was tossed overboard, as they proceeded to Venice, hoping to arrive by the following morning.
Unhappy and displeased with the turn of events (three bodies on the train at Trieste, including Grant, and loss of the LEKTOR, already promised to the Russians), SPECTRE No. 1 (on his yacht) reprimanded Klebb (No. 3) and Kronsteen (No. 5), who both blamed each other. Unable to tolerate failure, No. 1 summoned Morzeny, who used a poisoned toe-spike in his shoe to kick and execute Kronsteen (# 13 death) - he died in 12 seconds. Klebb was given one final chance. She sent Morzeny in pursuit of Bond in the Gulf of Venice with a squadron of three SPECTRE boats, firing rocket grenades and machine guns. Bond released punctured fuel drums into the water from his boat, then promised to surrender - but instead exploded the fuel drums with a flare gun and engulfed the pursuing boats in flames (# 14-22 deaths, # 4-12 Bond kills, although inconclusive).
Once in Venice, Bond and Tania checked into a hotel, with plans to soon fly to England. Disguised as a hotel maid, Klebb entered the room, and held a gun on Bond as she stole back the decoder machine. Tania recognized her - and because she had fallen in love with Bond and had truly defected to the West - she knocked Klebb's gun away. Then, as Klebb kicked and threatened Bond with her poisoned toe-spike, Bond pinned her to the wall with a chair, and Tania shot the "horrible woman" dead (# 23 death) - Bond quipped: "She's had her kicks." Bond sailed away with Tania, relaxing on a Venetian water-taxi gondola in a canal, kissing her as he tossed away the incriminating film shot in the bridal suite (# 5 tryst).
Film Notables (Awards, Facts, etc.)
The second film in the series.
This film set the pattern for many Bond films to follow - with many of the requisite elements of the espionage/agent-spy series. It was realistic in its depiction of Cold War paranoia.
With a production budget of $2.5 million, and gross revenue of $25 million (domestic) and $79 million (worldwide).
Desmond Llewelyn was introduced as 007's gadgets master named Q. His actual name was Major Boothroyd, and he was the head of 'Q' Section (the gadgetry department of British intelligence.) Llewelyn would make 17 performances as Q, ending with The World Is Not Enough (1999).
This was the second and final appearance of minor character Sylvia Trench, one of the Bond girls.
President John F. Kennedy's statement that From Russia With Love was his favorite Ian Fleming book led to this film adaptation. It was the last film seen by Kennedy in the White House on November 20, 1963, a few days before his assassination in Dallas, Texas.
Set-pieces: the opening chess match, the female gypsys' cat fight and the Bulgars' attack on the gypsy camp, the hand-to-hand showdown-combat in the cabin on the Orient Express, the helicopter fight, the powerboat chase-pursuit
Bond Villains: Donald 'Red' Grant (Robert Shaw), Morzeny (Walter Gotell), Kronsteen or SPECTRE No. 5 (Vladek Sheybal), SPECTRE No. 1 Ernst Stavro Blofeld (Anthony Dawson), Col. Rosa Klebb or SPECTRE No. 3 (Lotte Lenya), Krilencu (Fred Haggerty)
Bond Girls: Corporal Tatiana ("Tania") Romanova (Daniela Bianchi), Sylvia Trench (Eunice Gayson), Zora (Martine Beswick), Vida (Aliza Gur)
Number of Love-Making Encounters: 5
Film Locales: SPECTRE Island (location unknown but somewhere near Adriatic), Venice, Italy, Istanbul, Turkey, London, England, Yugoslavian locations on the Orient Express (heading for Trieste) that included Belgrade and Zagreb
Gadgets: retractable garrotting piano razor-wire wrist-watch, MI6 pager/beeper, Univex radio-car telephone phone, Q-issued black leather briefcase (with 20 rounds of ammunition, a pull-out flat throwing knife, an AR7 folding-collapsible 2.5 caliber sniper rifle with infra-red telescopic sight, plus 50 gold sovereigns, and a magnetized tin of talcum powder concealing a tear gas canister), telephone bug detector, box-camera with miniature tape recorder inside, the LEKTOR decoding machine, SPECTRE's (Rosa Klebb's) poison-tipped (with puffer fish poison), spring-loaded, retractable spiked shoe with a stiletto blade
Vehicles: green vintage Bentley Mark IV (convertible), black Citroen, the Orient Express train, SPECTRE's 2-seater Hiller helicopter, a powerboat, a squadron of SPECTRE motor launches, a Venetian water-taxi gondola
Number of Deaths (Bond Kills): 23 (12)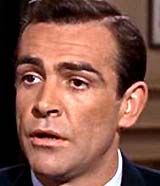 James Bond:
(Sean Connery)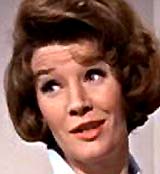 Bond Regular: Miss Moneypenny
(Lois Maxwell)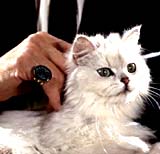 Bond Villain: Ernst Stavro Blofeld, SPECTRE No. 1
(uncredited Anthony Dawson)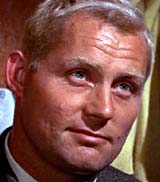 Bond Villain: Donald 'Red' Grant (Robert Shaw)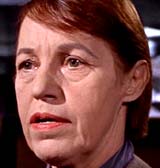 Bond Villain: Col. Rosa Klebb/ SPECTRE No. 3
(Lotte Lenya)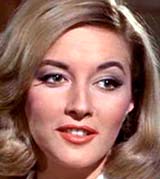 Bond Girl: Corporal Tatiana ("Tania") Romanova
(Daniela Bianchi)