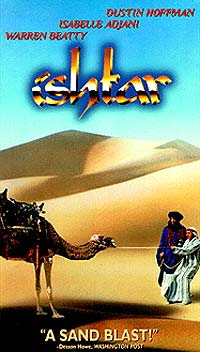 Ishtar (1987)
Director: Elaine May
Studio/Distributor: Columbia Pictures
Budget: $51-55 million
Domestic Gross: $14.4 million
Worldwide Gross: $14.4 million
Total Net Loss: $40.6 million
Total Estimated Loss (Inflation-Adjusted): $97 million
Columbia Pictures' and writer/director Elaine May's fourth and final feature film was a poor imitation of the Hope/Crosby/Lamour "Road" pictures. The two egotistical male stars (both recent Oscar-winners): Warren Beatty (for Reds (1981)) and Dustin Hoffman (for Kramer vs. Kramer (1979)) (along with director Elaine May) reportedly put pressure on new Columbia boss David Puttnam to provide their massive salaries and final cut privileges. Problems plagued the production immediately, with schedule delays, a ballooning budget due to overspending, on-site filming difficulties (in the desert), and squabbles between the actors.
It was a very expensive and sometimes funny comedy film, about Rogers and Clarke, two lounge lizards who traveled to Morocco for a job and bumbled their way into a Cold War squabble between the CIA, the Emir of Ishtar, and the rebel forces.
It was finally budgeted at about $55 million with only a small box-office gross of $14.4 million. The film was a tremendous disaster and considered by some reviewers to be one of the worst films ever made - in spite of its stars Warren Beatty, Isabelle Adjani and Dustin Hoffman (who won an Oscar the next year for Rain Man (1988)!). It was nominated for three Razzie awards: Worst Picture (Beatty) and Worst Screenplay (Elaine May), including one win for Worst Director (May).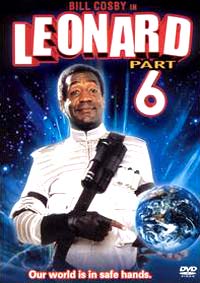 Leonard, Part 6 (1987)
Director: Paul Weiland
Studio/Distributor: Columbia Pictures
Budget: $24 million
Domestic Gross: $4.6 million
Worldwide Gross: $4.6 million
With his popular legacy of I-Spy NBC-TV appearances opposite Robert Culp in the mid-to-late 1960s as a world-trotting, super-secret agent, Bill Cosby thought it would be a good idea to repeat his role in this film as Leonard, a retired and wealthy agent. He had also reached the pinnacle of big-name stardom as TV's No. 1 dad Dr. Clifford Huxtable in his popular TV show The Cosby Show, from 1984-1992, but was never able to successfully translate his amazing success on the small screen to the big screen. Cosby made a string of flops after Leonard, Part 6 (i.e., the contrived and unfunny Ghost Dad (1990) directed by Sidney Poitier!) and never fully recovered.
The film (that Cosby both produced and co-scripted, his first post-Cosby Show role) was a parody of spy films, titled Part 6 because Leonard had already saved the world in five earlier, unseen parts or adventures (which were confiscated because they were classified as top-secret). The plot of the short film (mercifully only about 71 minutes long) was about master-spy Leonard Parker (with his butler Frayn (Tom Courtenay)) who battled evil Medusa Johnson (Gloria Foster), a megalomaniac vegetarian who could manipulate the brains of animals with dishwashing liquid, so that the killer animals could sabotage the CIA and wreak havoc. Leonard repelled man-eating lobsters with a stick of butter, fought off other leaf-eaters with meat patties, and used under-arm arm-pit missiles as part of his arsenal!
The film's opening credits were composed of poorly hand-drawn, cartoonish crayon drawings of animated animals. During the infamous film (that was made to look like Eddie Murphy's Pluto Nash (2002) on the DVD cover), there were innumerable product placements for Coke (a subsidiary of Columbia Pictures), hundreds of bars of Lava Soap, a personalized Jane Fonda workout tape segment, and Alka-Seltzer to save the day. The film ended with a credits sequence in which Peabo Bryson and Regina Belle sang the ballad "Without You" while Leonard engaged in a food-fight with his ex-wife (Victoria Rowell).
The movie was so terrible, stupid and embarrassing for Bill Cosby that he encouraged audiences to deliberately avoid the stinker. The film was nominated for five Razzie Awards, including Worst Director and Worst Supporting Actress (Gloria Foster), and won three: Worst Actor and Picture (Bill Cosby) and Worst Screenplay (Cosby and co-writer Jonathan Reynolds). Cosby became the first Razzie winner to collect his prizes - in person, in late April of 1988. They were presented to him on the Fox network's late-night talk show, The Late Show, a few weeks after the official Razzie ceremony. In 2005, it was nominated by the Razzies as the Worst 'Comedy' during the first 25 years of the awards, and lost to Gigli (2003).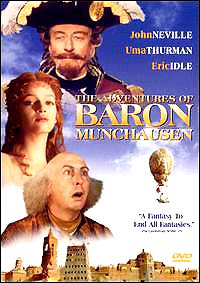 The Adventures of Baron Munchausen (1988)
Director: Terry Gilliam
Studio/Distributor: Columbia Pictures/Prominent Features
Budget: $46.6 million
Domestic Gross: $8.1 million
Worldwide Gross: $8.1 million
Total Net Loss: $38.5 million
Total Estimated Loss (Inflation-Adjusted): $88 million
Writer/director Terry Gilliam's (of Monty Python fame) had already endured battles with his studio over the release of Brazil (1985), and it was thought this would be the ideal next project for him, but problems would also continue with this imaginative and absurdist film. [Note: This film concluded Gilliam's informal 'trilogy' of films, after Time Bandits (1981) and Brazil (1985).] To keep the escalating costs down during production, large sections of the script were excised, although it still was kept fairly understandable ("A fantasy to end all fantasies").
The story-within-a-story told about the fabulous and fanciful misadventures (illustrated with expensive special effects) of a legendary late-17th century European aristocrat (John Neville) who was a reputed chronic liar -- to the moon in a hot-air balloon with stowaway girl Sally Salt (Sarah Polley) to meet the King of the Moon (uncredited Robin Williams) who could detach his head from his body while making love to the Queen of the Moon (Valentina Cortese), to the interior of a fiery volcano and into the presence of the Roman god Vulcan (Oliver Reed) where the goddess Venus (Uma Thurman) made a sensual entrance from a giant clamshell, and into the belly of a sea monster where he was reunited with his white horse Bucephalus and used his snuff to 'sneeze' the group's way out through the whale's blowhole. The Baron was shot to "death" or assassinated by city official "The Right Ordinary Horatio Jackson" (Jonathan Pryce) during a victory parade when his life's soul was taken by the Grim Reaper 'doctor'. As the Baron's body was lowered into a grave, he suddenly appeared on stage and told the audience: "And that was only one of the many occasions on which I met my death, an experience which I don't hesitate strongly to recommend!" In the finale, the Baron strode through the city's opened gates, rode off onto a faraway hillside, saluted the town, and then cryptically disappeared.
This deeply-troubled but visually-captivating fantasy production was a major failure and fiasco, due to production delays, cost-overruns, legal issues, on-location difficulties at Rome's Cinecitta studios, and lack of promotion during a change of leadership at Columbia studios. Despite four Oscar nominations, it had a gross of only about $8 million with a film budget of over $46 million (originally $23.5 million). Although it did poorly at the box-office, it has remained a widely-loved, cult-type film.