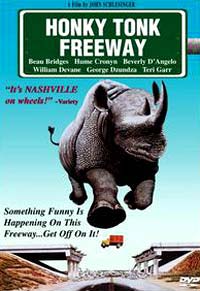 Honky Tonk Freeway (1981)
Director: John Schlesinger
Studio/Distributor: EMI Films/Universal Pictures
Budget: $24 million
Total Gross: $2 million
Total Net Loss: $22 million
British director John Schlesinger (known for Midnight Cowboy (1969), Sunday, Bloody Sunday (1971) and Marathon Man (1976)) directed this large-cast ensemble comedy to skewer American enterprise and the American dream, in the style of Robert Altman's Nashville (1975). This crude, overstuffed, fragmented and shrill film with a slapstick finale told about an isolated small Florida tourist town named Ticlaw without a freeway off-ramp exit to its safari park. So to ensure visitors and not be bypassed, the town was painted pink, free gas was offered as a lure, and the town featured a water-skiing elephant named Bubbles and a wild charging rhino.
The fragmented film was mostly about the various 'road stories' of various caricature-types who were enroute to the tourist-trap town with an ambitious but crazy mayor Kirby T. Calo (William Devane): two New York bank robbers, an aspiring children's book writer with a book titled Randy the Carnivorous Pony (Beau Bridges), a wacky elderly couple (Hume Cronyn and Jessica Tandy), a discontented and frustrated nun (Deborah Rush), and a small-town nymphomaniacal whore (Beverly D'Angelo) bringing her mother's ashes (in an urn on the dashboard) to the town.
The film was allegedly the most expensive comedy made up to its time. It received one Razzie nomination: Worst Original Song ("You're Crazy But I Like You"). Its financial backers at EMI Ltd., impresarios Lew (Lord) Grade and Bernard (Lord) Delfont, had already recently financed a number of flops: Raise the Titanic (1980), The Jazz Singer (1980), the Village People musical Can't Stop the Music (1980), and The Legend of the Lone Ranger (1981). Their investment of $11 million in this American film was a nail in their movie-making coffin.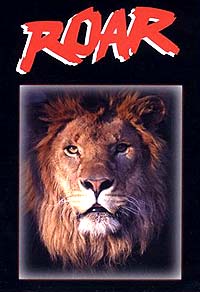 Roar (1981)
Director: Noel Marshall
Studio/Distributor: Alpha/Filmways Pictures
Budget: $17 million
Total Gross: $110,000
The film's tagline said everything: "There's never been a film like ROAR - and there never will be again!" However, this curious film had some similarities to the big hit in the mid 1960s, Born Free (1966).
Wildlife animal rights activist and actress Tippi Hedren starred in this semi-documentary (home) film production opposite her husband -- the film's director, co-star, and writer. It told the story of Madeleine (Hedren), with her long estranged scientist/husband Hank (Marshall) living in the African jungle with their three children (one being real-life daughter Melanie Griffith) - and other than that, just a minimal plot, with the many leopards, lions, tigers, etc. filling out the cast.
This family adventure film was made over a period of eleven years, and during filming caused director/star Noel Marshall, Hedren, cinematographer Jan de Bont and Melanie Griffith to all be injured or mauled by a lion. Melanie's injury required 50 facial stitches and plastic surgery to repair. Other problems on the set (behind the scenes) besides the maimings included a flood, a fire, foreclosure, and a feline virus that decimated the wild animal cast. The film was screened for only one week.
In 1972, Hedren founded and became president of the Roar Foundation and Shambala Preserve, an 80-acre wildlife habitat 40 miles northeast of Los Angeles (in Acton, CA located at the edge of the Mojave Desert between the Antelope Valley and the Santa Clarita Valley), to provide sanctuary for dozens of exotic animals who have suffered from gross mistreatment and neglect. In early December of 2007 when one of the Bengal tigers mauled a preserve's caretaker, the whole issue of the danger of captive animals was again raised -- recalling the white-tiger mauling of Roy Horn (of the illusionist team of Siegfried and Roy) four years earlier before a horrified Las Vegas audience.