Background
---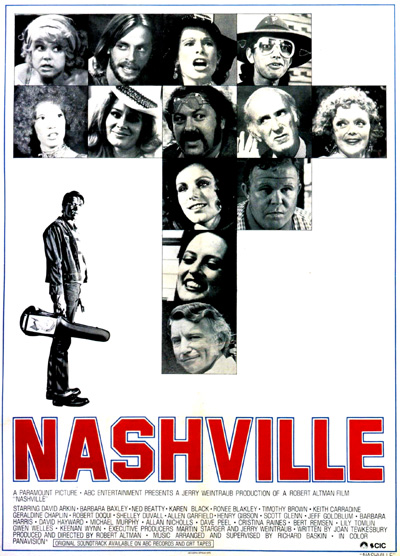 Nashville (1975) is maverick director/producer Robert Altman's classic, multi-level, original, two and a half-hour epic study of American culture, show-business, leadership and politics - and one of the great American films of the 1970s. It advertised itself as:
The damndest thing you ever saw.
Its emergence at the end of two troubling eras (Watergate and the Vietnam War) and on the eve of the country's Bicentennial celebrations signaled that it was commenting upon the confused state of American society. Its free-flowing narrative (from a screenplay by screenwriter Joan Tewkesbury) revealed the shallowness of American life - political emptiness and show-business commercialism are equated. One of its taglines reflected this:
The town in America where nobodies go to become somebodies.... NASHVILLE
Underneath the drama about the country-western music business and the election campaign of an unseen, independent (populist) party candidate, the multi-faceted, beautifully-structured film is an ensemble piece, a rich mosaic and a complex tapestry.
It tells the free-form, explosive tragic-comedic tale of the inter-twined (and colliding) lives of twenty-four protagonists during a five day (long weekend) period in Nashville, Tennessee (the "Athens of the South") - the capital of country music and a microcosmic representation of all society. The fund-raising rally is to be held at the Parthenon in Nashville [the replica of the Greek Parthenon, a symbol of democracy, was erected in 1876 for the nation's first centenary]. A poster for the film described the venue's contradictions:
NASHVILLE IS
Corrupt, Innocent, Beautiful, Vulgar, Sentimental, Shocking Exuberant, and Fabulous

NASHVILLE IS ABOUT
Big People, Little People, Cycle Freaks and Groupies;
Candidates, Crackpots and Lovers; Simple Folk, Crazy Folk and Chock-Full of Music.

BUT WHATEVER...
NASHVILLE
Says It All
During the weekend, both a music festival and political rally bring together the protagonists in random fashion -- they express their hopes, dishonest intentions, dreams, and frustrated lives. There are Nashville residents, civic leaders, populist politicians and their frontmen, singing stars and managers, wannabes, reporters, fans, and other drifters, hangers-on, and misfits, who move through various locales including the Grand Ole Opry itself, the airport, the freeway, recording studios, parking lots, motel and hospital rooms, private homes, and nightclubs. Individuals have come with different agendas - love-making, a shot at stardom or political advancement, aspirations within the music business, and longing desperation, to name just a few of their motivations in this exhilarating film:

Cast Members

Character

Performer

Description

Linnea Reese
Lily Tomlin
a gospel singer in a black choir and surburban wife with two deaf children
Delbert Reese
Ned Beatty
Linnea's plump husband; one of the town's leading lawyers who is assisting in the setup of a political, fund-raising rally to be held at the Parthenon in Nashville
John Triplette
Michael Murphy
a blue-suited, smiling, smooth-talking advance man and presidential campaign manager for dubious, unseen third-party (Replacement Party) candidate Hal Phillip Walker
Barbara Jean
Ronee Blakley
the reigning lady or queen of country-western music, but delicate, emotionally frail, exhausted and mentally unstable; hired to give a performance at the rally
Barnett
Allen Garfield
Barbara Jean's selfish, impatient, manipulative husband/manager
Pfc. Glenn Kelly
Scott Glenn
a young, star-worshipping solder; his mother rescued Barbara Jean from a fire; he protectively keeps watch outside the singer's hospital room after her physical collapse
Mr. Green
Keenan Wynn
a slightly-deaf, Nashville resident devoted to an ailing wife in the same hospital
L. A. Joan "Martha"
Shelley Duvall
Mr. Green's skinny, free-souled, hot-pants-wearing niece visiting from Los Angeles
Tricycle Man
Jeff Goldblum
ubiquitous low-riding, 3-wheeling biker and mischievous magician; one of L.A. Joan's many bed partners
Buddy Hamilton
David Peel
law-student son and amiable business manager of another country-western singer
Haven Hamilton
Henry Gibson
a short-statured, oily and egotistical, middle-aged, dressed-in-white country-western singer of sanctimonious tunes; Buddy's phony father with competitive aspirations for power
Lady Pearl
Barbara Baxley
Haven Hamilton's purple-clothed, Catholic mistress/consort who is obsessed with the Kennedy assassinations; owner of Nashville's "Old Time Pickin' Parlor"
Opal
Geraldine Chaplin
a flea-market dressed, tattered, nit-wit, opinionated, and pretentious BBC journalist-reporter who interviews most of the other characters during the film for a documentary; always looking for metaphorical meanings
Tommy Brown
Timothy Brown
a successful, black Nashville singing star
Connie White
Karen Black
bitchy country western performer, second in popularity behind Barbara Jean
Bill
Allan Nicholls
part of touring folk-rock trio, married to Mary
Mary
Cristina Raines
part of touring folk-rock trio; unfaithfully married to Bill
Tom Frank
Keith Carradine
part of touring folk-rock trio; easy-going, moody, self-absorbed and narcissistic; a sexy womanizer
Norman
David Arkin
a red-jacketed chauffeur for the touring folk trio; a frustrated would-be entertainer himself
Kenny Fraiser
David Hayward
a troubled, angry young drifter/loner from Columbus, Ohio who rents a room from Mr. Green, carries a guitar case (his musical instrument case ironically conceals a deadly weapon), and stalks Barbara Jean from afar
"Albuquerque" (Winifred)
Barbara Harris
a dizzy, frizzy, bleach-blonde-haired, white-trash, mini-skirted hillbilly and wanna-be singer, and runaway, free-spirited hillbilly wife who eludes her husband
Star
Bert Remsen
"Albuquerque's" redneck, distraught farmer/husband in pursuit of his wife
Sueleen Gay
Gwen Welles
a dim-witted, red-haired, tone-deaf, lower-class waitress who determinedly aspires to be a singer
Wade
Robert Doqui
an embittered black cafe dishwasher and friend-caretaker for Sueleen
The characters play seemingly-naturalistic vignettes of their lives - and there are two cameos of actors playing themselves (Julie Christie and Elliott Gould) and ex-ABC television newscaster Howard K. Smith plays himself during a broadcast. Everything in the kaleidoscopic film builds to its shattering conclusion, as the assorted characters assemble together and witness a shocking onstage assassination at the Parthenon - foreshadowed by multiple clues in earlier scenes.
It was one of a number of films in the late 60s and 70s that used country music as a backdrop, i.e., Bonnie and Clyde (1967), Five Easy Pieces (1970), Frankenheimer's I Walk the Line (1970) with five Johnny Cash tunes, and Daryl Duke's Payday (1972) about the last hours in the life of a country music performer. The film's screenplay by Joan Tewkesbury is rendered as a quasi-documentary film by Altman, with realistic C & W music (twenty-seven songs appear in the film - many of them were written by the actors and/or cast members). It can be interpreted that real C&W stars are represented by the fictional characters:
Country-Western Music Kings and Queens

Character

Performer

Real-Life Star

Barbara Jean
Ronee Blakley
Loretta Lynn
Haven Hamilton
Henry Gibson
Hank Snow and/or Roy Acuff
Tommy Brown
Timothy Brown
Charley Pride
Lady Pearl
Barbara Baxley
Minnie Pearl
Connie White
Karen Black
Tammy Wynette
Hallmarks of Altman's aural and visual style are evident everywhere - overlapping dialogue, life-like improvised roles and ensemble acting, multiple means of communication to connect the characters (phone calls, tape recordings, radio and TV, and P.A. announcements), a continuously moving camera, long takes, and imaginative sound and film editing. The bicentennial film was the recipient of five Academy Award nominations - Best Director, Best Picture, Best Supporting Actress (2) (Ronee Blakely and Lily Tomlin), with its only win for Best Song ("I'm Easy", sung by Keith Carradine). When backing from United Artists fell apart, Altman was able to find independent financing for the film through Paramount and ABC. But the film was so long that there was talk of releasing it as two features: Nashville Red and Nashville Blue.
For authenticity, many members of the cast wrote and performed their own country-western songs:
| | |
| --- | --- |
| Cast Member | Song(s) |
| Henry Gibson | "200 Years," "Keep A'Goin'" |
| Lily Tomlin | "Yes I Do" |
| Ronee Blakley | "Down to the River," "Bluebird," "Tapedeck in His Tractor (The Cowboy Song)," "Dues," and "My Idaho Home" |
| Dave Peel | "The Heart of a Gentle Woman" |
| Keith Carradine | "Honey," "I'm Easy," and "It Don't Worry Me" |
| Allan Nicholls | "Rose's Cafe" |
| Karen Black | "Memphis," "Rolling Stone," and "I Don't Know If I Found It In You" |
Plot Synopsis
---
The credits are in the mocking style of a fast-talking, hard-sell television commercial for an album of the performances and the country songs of "twenty-four of your very favorite stars." A spinning record album filled with the flashing hand-drawn faces of the stars, a rolling scroll of hit song titles (moving down the right side of the screen) and actors (in alphabetical order moving up the left side of the screen), and the huckster's voice - all hype the opening credits:
Now, after years in the making, Robert Altman brings you his...Nashville with twenty-four, count'em, twenty-four of your very favorite stars...right before your very eyes without commercial interruption.
Day One (Friday):
The film opens with the sliding up of the garishly-decorated garage door of the Tennessee State Headquarters of the independent (Replacement Party) candidate Hal Phillip Walker. One of the signs adorns the garage exterior: "Walker - Talker - Sleeper." Other signs read: "NO PARKING TODAY." Walker's presidential campaign truck - red, white, and blue - departs in the early morning to sell the politician to the people. The slogan for the party is "New Roots For the Nation" and his campaign represents anti-establishment, anti-bureaucracy politics. His earnest, pre-recorded voice blares from the loud-speakers atop the van as it delivers the candidate's political platform. The vehicle leaves the garage and joins traffic in the main street - where other signs and billboards (highway routing signs, a Mini-Adult cinema, and a large orange billboard for The Bank) compete for attention:
Fellow taxpayers and stockholders in America. On the first Tuesday in November, we have to make some vital decisions about our management. Let me go directly to the point. I'm for doing some replacing. I've discussed the Replacement Party with people all over this country and I'm often confronted with the statement - 'I don't want to get mixed up in politics,' or 'I'm tired of politics,' or 'I'm not interested.' Almost as often, someone said, 'I can't do anything about it anyway.' Let me point out two things. Number One: All of us are deeply involved with politics whether we know it or not and whether we like it or not. And Number Two: We can do something about it. When you pay more for an automobile than it cost Columbus to make his first voyage to America, that's politics.
The scene dissolves, with a militaristic soundtrack leading the way, to the interior of a country-western recording studio, where Haven Hamilton (Henry Gibson) is in a recording session in a sound booth, wearing microphones over his toupee while singing a doom-and-gloom, solemn, mock-patriotic, jingoistic, Bicentennial song: "200 Years." The inspirational lyrics are half-sung and half-spoken, and sung with the uncertain refrain: "We must be doin' somethin' right to last 200 years." [Red, white and blue technical credits are displayed during the song.]
My mother's people came by ship
And fought at Bunker Hill
My daddy lost a leg in France
I have his medal still
My brother served with Patton
I saw action in Algiers
Oh we must be doin' somethin' right
To last 200 years.

I pray my sons won't go to war
But if they must, they must.
I share our country's motto
And in God I place my trust.
We may have had our ups and downs
Our times of trials and fears.
But we must be doin' somethin' right
To last 200 years.

I've lived through two depressions
And seven Dust Bowl droughts
Floods, locusts and tornadoes
But I don't have any doubts.
We're all a part of history
Why Old Glory waves to show
How far along we've come 'til now
How far we've got to go.

It's been hard work but every time
We get into a fix
Let's think of what our children faced
In two - ought - seven - six.
It's up to us, to pave the way
With our blood and sweat and tears.
For we must be doin' somethin' right
To last 200 years.
Haven's back-up musicians are visible through one side of the glassed-in sound booth, and the stratified reflections of other observers in the center of the room display a multi-layered effect. The short-statured, middle-aged Haven, who throughout the film is always dressed in white with rhinestones and gaudy designs, is distracted by the unauthorized entrance into the control room audience of a BBC journalist Opal (Geraldine Chaplin), a flea-market dressed, tattered, nit-wit, opinionated reporter who is "doing a documentary on Nashville" and lugging a tape recorder at her side. After the interruption and halt in the recording, the egotistical Haven asks for a second song to begin, adding:
I want to hear a little more Haven in this one.
Juxtaposed to this studio is the one adjoining it, where Haven's friendly business manager/son Buddy (David Peel) escorts Opal - following his father's orders. A black gospel choir, led enthusiastically by amateur white gospel singer Linnea Reese (Lily Tomlin), raucously hand-claps and rocks to the rhythm of the lively spiritual "Yes I Do." "Part of them is from Fisk University here in town." Linnea is the wife of the local attorney named Delbert. Opal asks: "Is she a missionary?" and then opines, in her typically inane way, and exaggerates the extent to which the black singers are tribalistic:
That rhythm is fantastic. You know, it's funny. You can tell it's, it's come down in the genes through ages and ages and hundreds of years, but it's there. And take off those robes and, and one is in darkest Africa. I can just see them - naked frenzied bodies dancing in the heat of...do they carry on like that in church?
Pompously, Haven wrathfully berates his piano player Frog (Richard Baskin, the film's musical director): "You get your haircut. You don't belong in Nashville." The film cuts to the "WELCOME TO NASHVILLE" sign above the airport, accompanied by loud band music. Self-important individuals (civic leaders with ribbons on their lapels) are admitted through security and march toward the camera.
The Nashville Metro airport is a scene awash with marching bands, live newcasters, security police, twirlers, the Chamber of Commerce and an adoring crowd of fans for the arrival of Barbara Jean (Ronee Blakely in her film debut), the reigning lady of country-western music, who "has been away for special treatment at the Baltimore Burn Center" following an accident. A newscaster from WNGE- channel 2 on special assignment is framed on a TV camera's monitor. The camera pans to the right where he is announcing the arrival live. In unlikely combinations, elements from the film come together. The Walker sound track pulls up in front of the airport, trailing a low-riding, three-wheeling, biker - the Tricycle Man (Jeff Goldblum). The loudspeaker drones Walker's voice once again, sounding a warning call to the people:
There is no question about being involved. The question is what to do. It is the very nature of government to strain at a man who swallowed a camel. As loyal citizens, we accept our take-home pay, understand most of the deductions, and even, to a degree, come to expect them. However, when the government begins to force its citizens to swallow the camel, it's time to pause and do some accounting.
On his way to the airport's coffee shop, the Tricycle Man parks and walks by a red-jacketed chauffeur named Norman (David Arkin) who stands attentively by his black limousine - he is there to pick up members of a popular performing rock/folk group "Tom, Bill, and Mary". The Tricycle Man performs a magic disappearing trick with his multi-colored scarf on his way into the airport. In the cafe, Nashville resident Mr. Green (Keenan Wynn), who has an ailing wife in the hospital, orders from dim-witted, red-haired waitress Sueleen Gay (Gwen Welles). At the end of the counter, the ubiquitous Tricycle Man/magician privately amuses himself with another sleight-of-hand trick: he removes the saltshaker cap, pours salt into his left hand fist, lifts both hands and waves the salt goodbye, then grabs thin air with his right fist and distributes salt on his salad. Wade (Robert Do'Qui), a black cafe dishwasher, watches in astonishment and tells friend Sueleen:
Wade: Did you see what he just did? He took some salt...he took the thing off the salt and he threw it up in the air. Did you see it?
Sueleen (leaning over and beaming with a smile toward the biker): Why'd ya do that?
An aspiring country performer, the simple-minded Sueleen volunteers her tone-deaf, amateurish singing talent: "I wrote me this real hot song. You wanna hear it? It's called: 'I Never Get Enough.'"
I never get enough, I never get enough
Of the love I'm hungry for.
I never get enough, I never get enough
I always want more and more
If we stay together, our whole lifetime through
I'll never get enough, I'll never get enough
I'll never get enough of you.
Linnea's plump and sweaty lawyer-husband Delbert (Ned Beatty) is also at the airport in the cafe where he has heard Sueleen singing [Three days later, he will encounter her singing in a more intimate way]. In the airport corridor, Delbert mistakes a stranger for John Triplette (Michael Murphy), Hal Phillip Walker's blue-suited, advance man and presidential campaign manager. To the right of the frame is a statuesque, spindly, tall young woman, there to meet her uncle. Triplette is there as a talent coordinator to recruit talented Nashville stars to appear on the stage at a Walker fund-raising political rally at the Nashville Parthenon in a few days: "I like the idea of bands." As they talk together, they block the walkway for passengers which include members of a popular rock group called "Tom, Bill, and Mary" (Keith Carradine, Allan Nicholls, and Cristina Raines) and free soul L.A. Joan "Martha" (Shelley Duvall), Mr. Green's niece who is visiting from California.
The rock group's first record is displayed on the airport newstand, and Bill is amazed by its prominence. He comments to his wife Mary: "Do you believe this? They have our album here" - but sales aren't too promising. The airport music counter attendant explains: "We sell mostly country here." Bill also spots one of Hal Phillip Walker's bumper-stickers pasted across the bust of an oversized black and white photograph of another country western star - Connie White (Karen Black), the second runner-up to Barbara Jean - he is motivated to make a dumb joke:
Wait a minute! Wait a minute! Hal Phillip Walker looks exactly like Connie White.
Haven Hamilton, Bud, and Hamilton's mistress/consort, purple-clothed Lady Pearl (Barbara Baxley) drive up in a open, white Jeep, emblazoned with the Hamilton insignia: a horseshoe and two H initials. Haven is there - self-appointed as the town's unofficial greeter. Kept back in the airport is military-uniformed Pfc. Glenn Kelly (Scott Glenn), whose mother rescued Barbara Jean from the fire. After Barbara Jean's white jet (with her name written in huge, scrolly blue letters on its side) taxis to a halt, her husband/manager Barnett (Allen Garfield) appears exasperated with the pressures put upon him. Exuding charm and respectability, Haven begins the festivities by introducing his amiable son Buddy to the crowd:
He just graduated from Harvard Law School. We're tryin' to give him all the breaks that we never got.
Barbara Jean, wearing a long-flowing virginal dress, is escorted off the small jet plane. As she proceeds to the podium, she is upstaged by a gigantic American Airlines jet which taxis from left to right behind her. She is welcomed to the podium, presented with white flowers, a rousing band number, flag-waving twirlers from the Tennessee Twirling Institute, and a very young girl with another bouquet of a dozen red roses. With a warm and sincere smile, she speaks to a small crowd of well-wishers who are part of the crass, sexist, pretentious, and commercialistic trappings of her profession. Her real, reverential fans (including trance-like Kelly and Sueleen) are kept behind locked airport doors for security's sake:
I'd like to thank you for comin' out to greet me today. It's great to be home. It's hot as a firecracker. And me and the boys are gonna be out at the Opry this week and like my grand-daddy always used to say, "If you're down to the river, I hope you'll drop in."
The fragile, farm-girl singer faints and collapses on her way into the airport to see her true supporters. In the airport parking lot, the Walker van's loudspeaker spouting empty myths is heard in the background as the protagonists move to their cars:
Who do you think is running Congress? Farmers? Engineers? Teachers? Businessmen? No, my friends. Congress is run by lawyers. A lawyer is trained for two things and two things only. To clarify - that's one. And to confuse - that's the other thing...Did you ever ask a lawyer the time of day? He told you how to make a watch, didn't he? Ever ask a lawyer how to get to Mr. Jones' house in the country? Congress is composed of five hundred and thirty-five individuals. Two hundred and eighty-eight are lawyers. And you wonder what's wrong in Congress. No wonder, we often know how to make a watch, but we don't know the time of day.
Vehicles representing the characters struggle with each other to exit. Bill and Mary are with the chauffeur loading their limousine. The third member of the folk trio, easy-going and narcissistic Tom, leaves with a bunch of young women in a flower-decorated VW bug. Delbert and Triplette, Mr. Green and L.A. Joan, and Wade and Sueleen leave together. The mechanical arm of the parking lot exit can't keep up with the non-stop line of exiting automobiles and is cracked off at its hinges. The WNGE reporter wraps up his sanitized report at the airport gate, while unbeknownst to him, a proselytizing Walker supporter with a gleaming toothpaste smile holds up a poster for her candidate behind him - - until a security guard (off-screen) pulls her out of the frame.