Background
---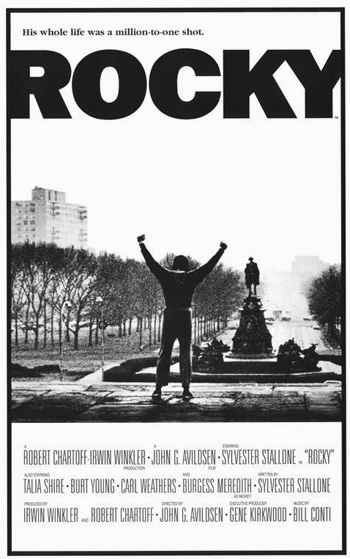 Rocky (1976) is the phenomenally successful, uplifting, "sleeper" film that was filmed in a record twenty-eight days with a paltry budget of about $1 million, and ultimately grossed well over $100 million. [A notable observation is that this low-budget film was positioned between two early "blockbusters" - Spielberg's Jaws (1975) and Lucas' Star Wars (1977).] Its screenwriter and major star, Sylvester Stallone, was an unbankable unknown at the time - an underdog actor/writer in the film industry (with 32 previously-rejected scripts) similar to the boxing 'bum' in the film. Stallone supposedly wrote the script for the sports comeback film over a three-day period. It was the third film production to use the new technology of the Steadi-cam, after Bound for Glory (1976) and Marathon Man (1976).
The main poster's tagline emphasized the lowly, simple-minded status of the working-class, Italian hero, who was a good-natured individual that lacked basic intelligence, but displayed gutsy, optimistic perseverance while fighting for his dignity:
"His whole life was a million-to-one shot."
In a self-fulfilling manner, the hulking actor persisted in demanding to be the film's star in a make-or-break deal, instead of letting the studio cast Robert Redford, Ryan O'Neal, Burt Reynolds or James Caan. As a result, he would forever be convincingly typecast as the mono-syllabic, crude and boorish hero - albeit super-star.
The action-packed, 'feel-good' crowd-pleasing story, shot mostly on location, tells of the rise of a small-time, has-been, underdog Philadelphia boxer against insurmountable odds in a big-time bout, with the emotional support of a shy, hesitant, loving girlfriend. The low-key film was a combination of On the Waterfront (1954), Marty (1955), and a fairy-tale, Cinderella rags-to-riches story. It was also one of a string of 70s films featuring blue-collar, Italian-American characters, i.e., The Godfather films (1972, 1974), and Saturday Night Fever (1977).
This United Artists' feature reworked the fight film formula of many early Hollywood films (i.e., The Champ (1931), Golden Boy (1939), Body and Soul (1947), Champion (1949), The Set-Up (1949), Somebody Up There Likes Me (1956), and Requiem for a Heavyweight (1956 and 1962)).
[Note: Stallone claimed that he was inspired to base his "Rocky" character upon little-known, 36 year-old working-class New Jersey club boxer Chuck Wepner (the "Bayonne Bleeder"), who challenged Muhammad Ali in a heavy-weight title bout in March 1975 in Cleveland, Ohio, and went 15 rounds. Wepner was one of Ali's few challengers who knocked him down and went the entire distance - actually, up to 19 seconds before the final bell. Years later in mid-November 2003, Wepner filed a questionable lawsuit claiming that he was entitled to compensation, $15 million, for the unauthorized 'rights of publicity' use of his name for selling and promoting the film.]
Stallone had already appeared in small roles (some uncredited) - in Woody Allen's early comedy Bananas (1971), Klute (1971), Neil Simon's The Prisoner of Second Avenue (1974), The Lords of Flatbush (1974) in which he inaugurated his 'Rocky' street hood persona as Stanley Rosiello, in the film-noir re-make Farewell, My Lovely (1975), and in Roger Corman's Death Race 2000 (1975) as Machine-Gun Joe Viterbo. [Stallone had also appeared in a soft-core pornography film Party at Kitty and Stud's (1970) that was re-released as The Italian Stallion (1976) to capitalize on his popularity.] Stallone's pre-Rocky script for Hell's Kitchen (a section of New York) was later produced and filmed as Paradise Alley (1978) - it marked Stallone's directorial debut in a film about the world of wrestling.
The original Rocky film, from director John G. Avildsen, was the most accessible, popular and identifiable of the lot of Rocky films, and it packed movie houses. The million-to-one underdog film was awarded three Academy Awards from its ten nominations: Best Director, Best Film Editing, and Best Picture, and it beat out formidable competition for the top prize: All the President's Men, Bound For Glory, Network, and Taxi Driver - all excellent films about other aspects of the American experience. Its other seven nominations included: Best Actor (Sylvester Stallone lost to Peter Finch in Network), Best Actress (Talia Shire lost to Faye Dunaway in Network), Best Supporting Actor (for 69 year old veteran star Burgess Meredith and Burt Young - both lost to Jason Robards in All the President's Men), Best Original Screenplay (Stallone lost to Paddy Chayefsky for Network), Best Song, and Best Sound. [Ironically, Chayefsky won the screenwriting honors about twenty years earlier for Rocky's forerunner - the Best Picture-winning Marty (1955).]
[Note: With Stallone's nominations for Best Actor and Best Original Screenplay, he joined only two others with the same pair of honors in the same year in Academy history: Charlie Chaplin (for The Great Dictator (1940)), and Orson Welles (for Citizen Kane (1941)).]
There were four successful, but predictable sequels or remakes, with Stallone, Shire, and Young returning for all of them. In each one, Rocky would ultimately meet his challenges and rise to the top. Then Stallone directed a 6th film 16 years after the last in the regular series, Rocky Balboa (2006), and served as writer-producer-actor in a 7th film, Creed (2015).
See much more about The Rocky Films Franchise/Series
Original 5 Rocky Films

Rocky Films

Director

Plot

Rocky (1976)
John G. Avildsen
Rocky Balboa, the unknown underdog nicknamed the Italian Stallion, boxes the heavyweight champion of the world Apollo Creed (Carl Weathers) and unbelievably 'goes the distance' under the direction of wily fight manager Mickey (Burgess Meredith). An upstart film that won Best Picture against heavy odds: Network, Taxi Driver, and All the President's Men.

Box Office (domestic): $117.2 million
Rocky II (1979)
Sylvester Stallone
Features a rematch between Rocky (now married to Adrian (Talia Shire)) and his nemesis Apollo Creed - with Rocky triumphant; considered a very similar film to the first in the series.

Box Office (domestic): $85.2 million
Rocky III (1982)
Sylvester Stallone
Three years after the second film, aging Rocky has successfully defended his title many times and become wealthy; he considers retirement but fights a new challenger Clubber Lang (Mr. 'T') for the title, loses, and then prepares for a rematch; former rival Creed becomes his trainer after former trainer Mickey dies in this film - terrorized by Lang into a heart attack; also in an early scene includes a charity fight between Rocky and professional wrestler Thunderlips (Hulk Hogan).

Box Office (domestic): $124.1 million
Rocky IV (1985)
Sylvester Stallone
A film with lots of Cold War rhetoric, Rocky trains in Siberia (under the guidance of Creed's former manager (Tony Burton)) and boxes the seemingly-unbeatable Soviet Ivan Drago (Dolph Lundgren) - a hulking blonde fighter with his spokesman/wife Ludmilla (Brigitte Nielsen), to avenge the death of Apollo Creed (Carl Weathers) who was killed during an earlier 'exhibition match' in the ring with Drago.

Box Office (domestic): $127.9 million
Rocky V (1990)
John G. Avildsen
After poor financial management and a brain-damaged career as a boxer after fighting Drago, Rocky suffers bankruptcy, retires, moves back to his South Philadelphia urban-blighted neighborhood, and trains up-and-coming heavyweight boxer Tommy "Machine" Gunn (real life boxer Tommy Morrison) in Mickey's old gym; Rocky is ultimately forced into a street brawl/match with his former protege after the arrogant fighter won the heavyweight championship from Union Cane (Micheal Williams) and was manipulatively prodded by Don King-like promoter George Washington Duke (Richard Gant) to challenge true champ Rocky; Mickey reappears in flashbacks as Rocky's spiritual guide.

Box Office (domestic): $40.9 million

Additional Rocky Films in Franchise

Rocky Balboa (2006)
Sylvester Stallone
Actor/director Stallone starred as the aged, retired, and bloated title character - the owner of a Philadelphia-area restaurant named Adrian's (after his wife who died of cancer); he was lured back to the ring (a charity exhibition match in Las Vegas) after watching himself win a virtual boxing match (an ESPN computer simulation) between his younger incarnation and the current heavyweight champion Mason "The Line" Dixon (real-life light-heavyweight boxer Antonio Tarver); the film featured regulars Burt Young as brother-in-law pal Paulie and Tony Burton as Duke - the only actors along with Stallone to appear in all 6 films; Geraldine Hughes played Marie from the original film, and Milo Ventimiglia played Rocky's now-adult son Robert (Rocky Balboa, Jr.); the film returned to its modest, self-deprecating low-budget roots and earned generally positive reviews.
Box Office (domestic): $70.3 million
Creed (2015)
Ryan Coogler
Upstart boxing progeny of Rocky Balboa's late rival Apollo Creed (Carl Weathers), born-out-of-wedlock underdog Adonis "Donnie" Creed (Mchael B. Jordan) is coached by retired Rocky Balboa (Sylvester Stallone). Both Rocky's brother-in-law Paulie and wife Adrian have since died. Creed's opponent in the ring is undefeated boxing champion "Pretty" Ricky Conlan (Tony Bellew). [Note: Apollo Creed died in a boxing match in Rocky IV (1985).]
Box Office (domestic): $79.3+ million
Plot Synopsis
---
The first film opens with a screen of black - and then in giant white letters, the word ROCKY moves across from right to left accompanied by Bill Conti's memorable, dynamically-triumphant fanfare (Rocky's Theme song: "Gonna Fly" - that topped the Billboard charts in the first week of July 1977).
November 25, 1975 (Tuesday)
The boxing film is book-ended by two contrasting matches in Philadelphia - the first low-paying bout is held in late 1975 in a dark church arena between two heavyweights (both wearing dark trunks) who fight beneath a giant painting of Jesus. The lower-class fans boo both fighters for getting into a clinch, and continue to heckle the pair for the entire fight. During rounds, bull-necked Rocky Balboa (Sylvester Stallone in his first starring role) is told by his cornerman: "You're waltzin' - give the sucker some action. You're fightin' like a bum."
A fan asks the tired and plodding Rocky from the side whether he should bet that he will last the three rounds. Rocky's opponent, Spider Rico, purposely butts him with his head and opens up a bloody cut above his left eye, causing Rocky to get riled up. He attacks and ends the fight with a flurry of blistering punches. The ring is littered with rubbish as Rocky leaves. He is called a "bum" by a disrespectful, angry female fan as he bums a cigarette from another spectator and enters the shabby locker-room. There, he puts on a tattered, tan-colored robe with the words "The Italian Stallion" sewn on the back in white letters. The fight's promoter distributes slim profits between Rocky and his opponent:
Promoter (to Rocky's opponent): Forty dollars, less fifteen dollars locker and cornerman, five dollars shower and towel, seven percent tax, comes to $17.20. You fought a good fight, Spider.
Promoter (to Rocky): ...Sixty-five dollars, less fifteen dollars locker and cornerman, five dollars shower and towel, and seven percent tax, comes to $40.55.
The credits continue to play, as Rocky Balboa, already labeled as a "bum," is portrayed in a series of vignettes as a simple-minded, hang-dog-eyed, inarticulate bum - a 30-year-old Philadelphia fighter who resorts to small, two-bit club bouts to make a meager living. He walks along a dark sidewalk littered with rubbish along the curb, while tossing and catching a small ball with one hand. As he often does, he pauses at the window of a local pet shop to look and wave at a litter of puppies, passes his boxing gym across the street, and stops to say hello to (and swig from a wine bottle) a group of street-corner singers (one of whom is his brother, Frank Stallone, Jr.). He lives a lonely but simple life in a dingy, cramped, one-room, second-floor apartment (at the end of a row of similar brick apartments) in South Philly - in a deteriorating, bleak area of the city. He has rolled and propped up an old mattress (with stuffing showing) to serve as a punching bag.
His only company is a 45 rpm record player (that he flips on), his pet turtles Cuff and Link, a tiny goldfish named Moby Dick, and a curling wall poster of heavyweight boxing idol Rocky Marciano. [All of these items reflect Rocky's dreams of grandeur and richness. Cuff-links are normally worn with fancy dress shirts, and Moby Dick is the largest of the creatures in the sea! Rocky also idolizes another Rocky from an earlier era.] He jokes to the turtles about his poverty-stricken, disappointing existence:
If you guys could sing or dance, I wouldn't be doin' this, you know?
In front of a mirror, he practices telling a joke about the turtle food, and then takes a few ice cubes from his half-sized icebox and applies them to his badly-swollen, cut eye.
(Wednesday, November 26, 1975)
The next morning, wearing a black hat and leather jacket, he visits the pet shop again and politely speaks to the painfully-shy, 30 year old, dark-haired, gawky, and spectacled Adrian (Talia Shire) - the timid wall-flower clerk behind the counter. Flirting with her, he repeats the "bad" joke about the turtle food getting caught in his pets' throats, and how he has to hit them on their shells - making them "shell-shocked." But Adrian offers the thuggish customer little encouragement in return for his interest. Afterwards, he plays with Butkus (Stallone's own dog), a bull mastiff placed in a large cage.
His next stop is the waterfront area, where he walks by a group of mafioso types next to a car, and is asked: "Fightin' again?" As the strong-arm collections man for a local numbers racket, he intimidates one of the laborers named Bob/Fats (Jack Hollander) to collect a two hundred dollar loan for his employer - loan shark Tom Gazzo (Joe Spinell). Terror-struck, Bob pleads for Rocky not to hit his face or break his thumb, as Rocky tells him (with another metaphor about 'singing and dancing'):
You wanna dance, you gotta pay the band, you understand? If you wanna borrow, you gotta pay the man. Hey, I ain't emotionally involved, Bob, ya understand? Give us the money.
Thinking for himself, and revealing his kindness and heart-of-gold sensitive side, Rocky accepts $130 in cash and takes a verbal IOU - it's "still seventy dollars light." He refuses to take the coat of the desperate man. Bob suggests that he'll tape up his hand to fake that his thumb was broken, while Rocky walks away, advising: "You shoulda planned ahead." On a train trestle, Rocky is picked up in a car by Gazzo for the payoff (Rocky receives $20, a cut of the loan payment), and receives his next assignment to collect a 3-week late payment from Del Rio. Gazzo's driver/bodyguard Buddy asks the unsuspecting, dumb Rocky:
Bodyguard: Did ya get the license number?
Rocky: Of what?
Bodyguard: The truck that run over your face.
When Rocky is dropped off, he reasons that the debtor couldn't work to pay off the loan with broken thumbs. Gazzo warns him about not following orders:
Gazzo: When you don't do what I tell you to do, you make me look bad, Rock.
Rocky: I figure if, look, I figure if I break the guy's thumb, he gets laid off, right? He can't make no more money...
Gazzo: Yeah, well, don't figure. Let me do the figurin'. OK, Rock? From here on, just let me do the figurin'. You know? These guys think that we're runnin' some kind of charity or somethin', that they're gonna get off light. From here on in, do what I tell ya to do, because it's bad for my reputation. Ya understand?