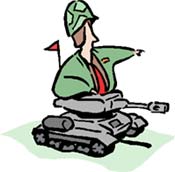 Greatest War Films: War films acknowledge the horror and heartbreak of war, letting the actual combat fighting or conflict (against nations or humankind) provide the primary plot or background for the action of the film. There are a significant number of influential, important, and milestone war films throughout cinematic history, outlined here, and each with a few screenshots and the title screen from the opening credits.

Typical elements in the action-oriented war plots include POW camp experiences and escapes, historical recreations of major battles or war-related events, submarine warfare, spy or espionage tales, personal heroism, biopics of important war figures, "war is hell" brutalities, air dogfights, tough trench/infantry experiences, resistance movements, pre-war intrigue, veterans returning to the homeland, male-bonding buddy adventures during wartime - even black comedies about warfare.

Themes explored in these war films include combat, survivor and escape stories, tales of gallant sacrifice and struggle, studies of the futility and inhumanity of battle, the effects of war on society, and intelligent and profound explorations of the moral and human issues.

In the recent 2014 book War on the Silver Screen, it was stated that more films have been made about World War II than about any other armed hostility in American history.

In 2007, Military History Magazine created a special collector's edition highlighting their selection of the 100 Greatest War Movies, a critical guide to the best war films of all time, chronologically covering war films from Battleship Potemkin (1925) to Letters From Iwo Jima (2006), as this list does. The magazine wrote that "the movies that made the cut cover a full spectrum of life during wartime, were made by filmmakers around the globe and span the history of war from ancient days to now..." Almost all the films dealt with wars and battles of American involvement since the Civil War, and a vast majority of them dealt with World War II.

Some of the Military History Magazine films probably shouldn't have been on list:

The Third Man (1949) for instance, was a political thriller rather than a war movie. Hitchcock's

Notorious (1946), John Huston's

The African Queen (1951) and The Man Who Would Be King (1975), John Ford's

The Searchers (1956) and William Wyler's

Ben-Hur (1959) were also not typical war movies. John Wayne's The Alamo (1960) was not a great film. Besides having ranking issues (ranking films of this sort seems to be a fruitless effort), the Military History magazine's list was a very comprehensive and detailed compilation.
A few films that were not in the Military History list (and included in this list, in part) were:
The Birth of a Nation (1915)
Intolerance (1916)
Gone With the Wind (1939)
In Which We Serve (1942, UK)
Destination Tokyo (1943)
The Lost Patrol (1943)
Back to Bataan (1944)
The Fighting Sullivans (1944)
Objective, Burma! (1945)
Sands of Iwo Jima (1949)
Halls of Montezuma (1950)
Flying Leathernecks (1951)
Battle Cry (1955)
Mister Roberts (1955)
The Young Lions (1958)
Sink the Bismarck (1960)
Hell is for Heroes (1962)
Battle of the Bulge (1965)
Chimes at Midnight/Falstaff (1965)
In Harm's Way (1965)
The Blue Max (1966)
Closely Watched Trains (1966, Czech.)
The Sand Pebbles (1966)
Where Eagles Dare (1968)

The Bridge at Remagen (1969)
Catch-22 (1970)
Kelly's Heroes (1970)
Tora! Tora! Tora! (1970)
The Boys in Company C (1977)
MacArthur (1977)
Coming Home (1978)
Force 10 From Navarone (1978)
Go Tell the Spartans (1978)
Gallipoli (1981, Austr.)
First Blood (1982)
Heartbreak Ridge (1986)
Born on the Fourth of July (1989)
Casualties of War (1989)
Henry V (1989)
Heaven and Earth (1993)
Richard III (1995)
Courage Under Fire (1996)
Starship Troopers (1997)
Three Kings (1999)
Enemy at the Gates (2001)
Tigerland (2000)
The Pianist (2002)
We Were Soldiers (2002)
Jarhead (2005)
--- and many more following

Note: The films that are marked with a yellow star

are
the films that Greatest Films has selected as the "100 Greatest Films".