Background
---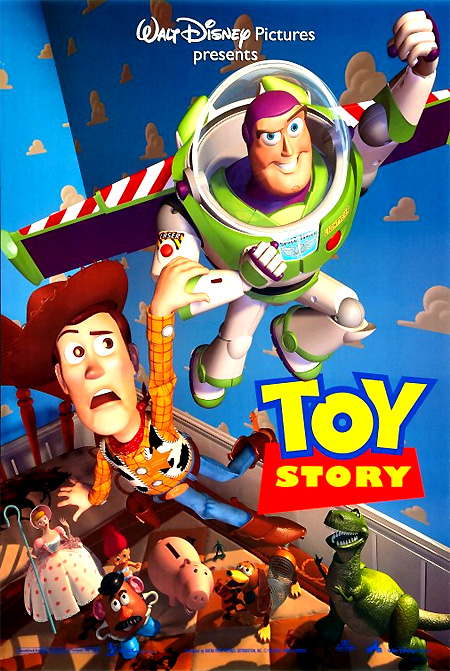 Toy Story (1995) is the first completely computer-generated, animated feature film. The visuals were entirely generated from computers, creating a wonderfully-realistic 3-D world with lighting, shading, and textures, that included real toys in supporting roles (Etch-A-Sketch, Slinky Dog, plastic toy soldiers, Mr. Potato Head, etc.). The development spelled the end of traditional hand-drawn animation, and spurred the creation of other digital production animation studios. The film's amazing computer effects were surpassed only by the intelligent, thoughtful script that had adult themes that both parents and their kids could relate to. It is to this film's enduring credit that it built a very strong foundation of storytelling expertise AND amazing technology that continues to the present day for the powerfully-influential franchise.
The groundbreaking film created a marvelous world of anthropomorphic toys that came to life in the absence of human characters. Many of the toys were classic variants of decades of various toys played by many children over the years beginning in the 1950s. Toy Story became the first feature film of Pixar Animation Studios to be released in theaters, created by a team of 110 (including 27 animators) working over 800,000 hours to render the finished movie, for its release in November of 1995. Viewed now, however, some might consider the animation quality 'primitive' but it's important to remember that decades ago, this was a 'state-of-the-art' product.
The themes of the movie were neatly interwoven into the comic and often suspenseful circumstances presented to the toys: the importance of friends and teamwork, the problems that jealousy can engender, the centrality of belief in oneself, the fear of being replaced or overtaken (obsolescence), the power of imagination and aspiration ("To infinity and beyond"), the disillusioning realization that no one is really that special, the peace that comes from getting back home, and finally the ever-present struggle between the forces of good and evil (a sadistic, maladjusted toy-destroying boy). The animation brought to life the wish-fulfillment of so many young children to have their toys come to life (and the empathic understanding that toys, like children, never want to be abandoned by their owners, or parents).
The Pixar Animation Studios (and director John Lasseter) and Walt Disney Pictures joined together in a 1991 deal worth $26 million, to work together. Pixar Studios had already experimented with quite a few short subject animations, most noticeably the Oscar-nominated 2-minute short Luxo Jr. (1986) (whose characters, desk lamps, became the basis for their logo). Luxo, Jr. became the first fully computer-generated, computer-animated (or CGI) film, and the first to use shadows in CGI. It was followed by Pixar's Oscar-winning 5-minute short Tin Toy (1988), the first fully computer animated (CGI) film to win an Academy Award Oscar - for Animated Short Film. These two films paved the way for the first feature-length computer animated film in the mid-1990s - Toy Story!
Pixar's feature debut film, at only 81 minutes, was notable for many 'firsts' - it was:
nominated for three Academy Awards: Best Original Song (Randy Newman's You've Got a Friend in Me), Best Original Musical Score, and Best Original Screenplay (without any wins)
the first animated film in Oscar history to be nominated for an Academy Award for Best Screenplay (Original)
the first feature-length fully computer animated (CGI) film
the only Pixar film at the time to have full opening credits
the highest-grossing domestic film in 1995
the shortest Toy Story movie, and the shortest Pixar movie to date
the first Pixar film to be adapted for television
the first Pixar film to debut (in 2008) as a live action musical on Disney Cruise Line's The Disney Wonder
Major emphasis was placed on the characters and their voices - it was essentially a buddy comedy film between western cowboy doll Woody (voice of Tom Hanks) and Space Ranger action figure Buzz Lightyear (voice of Tim Allen). The story itself dealt with the anxiety experienced by a toy (cowboy Woody) upon the arrival of a rival plaything (spacetoy Buzz Lightyear)-- mirroring the tension felt by a child when a younger sibling is born. The tale also referenced the historical change in genre emphasis in the 50s when westerns were supplanted by science-fiction films.
Although there were about 20 toy characters in the landmark first film, these were the major ones that had speaking parts:
Main Toy Characters (and Voices)

Toy Description

Sheriff 'Woody' (Tom Hanks)
A Western-themed cowboy rag-doll with a pull-string; also with a yellow plaid-checked long-sleeved shirt, red bandana or scarf, cowhide vest, tight jeans, brown hat and boots with spurs, belt buckle, and a gun holster around his waist
Buzz Lightyear (Tim Allen)
A Space Ranger-astronaut futuristic super-hero action figure with a white and green spacesuit, clear plastic helmet, and many flashy, advanced buttons and gadgets. [Trivia: Buzz was named after Apollo 11 astronaut "Buzz" Aldrin.]
Catchphrase: "To infinity and beyond!"
Mr. Potato Head (Don Rickles)
A Potato-shaped doll with removable body parts or appendages, and a heavy Brooklyn accent, often moody and wise-talking; with pink ears, gloved white arms, big blue shoes, red lips, an orange nose, black eyebrows and mustache, and dark bowler hat
Catchphrase (Rickles): "What are you looking at, ya hockey puck?"
Slinky Dog (Jim Varney)
A Dachshund (weiner) dog with green collar and floppy ears, and a metallic, Slinky-Toy expandable middle body section; with a Southern accent; Woody's trusted friend
Catchphrase: "Golly bob-howdy!"
Rex (Wallace Shawn)
A Tyrannosaurus Rex (green) plastic figurine, nervous, fearful, sensitive and insecure; very neurotic with assertiveness issues; designed as a take-off on the T-Rex in Jurassic Park (1993)
Hamm (John Ratzenberger)
A Piggy bank (pink), smart-talking and wise-cracking, with a cork in his belly
Bo Peep (Annie Potts)
A Blonde comely shepherdess figurine, made of porcelain (originally a lamp), carrying a long hooked green cane and wearing a pink bonnet and dress; romantically interested in Woody
Green Army Men
and Sarge (R. Lee Ermey)

A Set of Gung-Ho, Miniature plastic green soldier figurines (from the Bucket O Soldiers) with flat platform bases, commanded by Sarge
Budgeted at $30 million, it was a very successful film for its time, with revenues of $373.5 million (worldwide) and $191.8 million (domestic). It became the highest-grossing (domestic) film of its year 1995. Further commercial success came after the massive merchandising efforts to promote toys, video games, theme park attractions, spin-offs, numerous products from corporate tie-ins (i.e., Burger King, Pepsi, Coca-Cola, and Payless Shoes), and VHS - DVD rentals and sales.
Over time, there would be a trilogy of sequels:
Toy Story Sequels

Notables

Toy Story 2 (1999)

the first Pixar sequel; initially envisioned as a straight-to-video sequel, but then converted to a full theatrical release
considered by some to be superior to the original landmark film
budgeted at $90 million, and made in nine months
the highest-grossing (domestic) animated film of 1999 (at $245.9 million) and $497.4 million (worldwide)

Toy Story 3 (2010)

an estimated budget of $200 million
the highest-grossing (domestic) film of 2010, at $415 million (and the highest-grossing animation of all time, at that time), and $1.07 billion (worldwide)
it became the first animated movie to take in over $1 billion (worldwide)
the first Pixar film to be released in 3D for its first run, and the first film to be released theatrically with Dolby Surround 7.1 sound
at the time, it was the most expensive Pixar movie to ever be produced
it became the second Pixar film, after Up! (2009), and third animated film overall, after Beauty and the Beast (1991) and Up! (2009), to receive an Oscar nomination for Best Picture; it was also the first ever Pixar film to be nominated for the Best Adapted Screenplay Academy Award

Toy Story 4 (2019)

a sequel to Toy Story 3 (2010), 9 years later
with an estimated budget of $200 million
it was delayed two years in its release, allowing two other Pixar releases to come before it: Cars 3 (2017) and Incredibles 2 (2018)
again featuring Buzz and Woody and many other toys, embarking on a road trip with Bonnie and a new character, a spork named Forky
Plot Synopsis
---
Prologue - Andy's Make-Believe Play with His Toys:
In a young boy's bedroom with blue-sky and cloud wallpaper (with a young boy's voice heard off-screen), a Western town's main street had been fancifully created out of a collection of cardboard boxes, to represent a saloon, hotel, school ('skool'), bank, and general store. One of the boxes had a WANTED poster taped to the front, with a crayon-drawn image of One-Eyed Bart (portrayed by the boy's toy Mr. Potato Head). The poster offered a $50 Bzillion Reward for his capture. The boy propped the toy (holding a green plastic gun) in front of the poster and play-acted a robbery scene. The bandit threatened the townsfolk (other toys) at the bank: "All right, everyone! This is a stickup! Don't anybody move! Now empty that safe." The stick-up victims and hostages, holding their arms up, included:
Bo Peep (a porcelain female figurine, a kind-hearted shepherdess with a crook, watching over a Trio of Sheep: Billy, Goat and Gruff)
Troll (a short, pink-haired doll wearing a blue-flowered bikini)
Rocky Gibraltar (a burly, muscle-bound plastic wrestler-figurine with straight-up white hair)
Robot (a red and blue educational toy)
Toddle Tots (small toys)
Hamm (a pink ceramic piggy bank)
Hamm was a stand-in for the safe that was being emptied of its money (coins) by the robbers. Bo Peep became upset when the bandit threatened to run over her porcelain sheep if she didn't keep quiet during the robbery. The three sheep attached to each other: Billy, Goat and Gruff, were placed dangerously in the middle of a Hot Wheels 360 degree circular track loop. The bandit told her: "Quiet, Bo Peep, or your sheep get run over!" Her Trio of Sheep cried out: "Help! Baa! Help us!" When the despairing Bo Peep called for help, the boy grabbed his favorite toy Sheriff Woody, stood him up next to the bank robber, pulled his string to activate his voice, and arrested Mr. Potato Head: ("Reach for the sky!...I'm here to stop you, One-Eyed Bart!"). The bandit countered by bringing out his "attack dog with a built-in force field" - Slinky Dog (a combination dachshund and slinky toy) although Woody had his own weapon: a scary-looking plastic, green T-Rex named Rex (Wallace Shawn) "who eats force-field dogs." Potato-Head 'Bart' was tossed by Woody into a nearby white baby crib (labeled 'JAIL') to be put away for good: ("Say goodbye to the wife and Tater Tots"). The young boy's curly-haired infant sister Molly (voice of Hannah Unkrich), inside her crib, bit off Mr. Potato Head's ear and bashed him into the side bar of the crib (dislocating one arm and many other body parts), and tossed him to the floor.
Opening Title Credits:
During the title credits, the young boy came into full view - red cowboy-hatted Andy Davis (voice of John Morris) - who congratulated his favorite toy Woody for saving everyone: "You saved the day again, Woody." The toy's pull-string activated another phrase in response: "You're my favorite deputy." (Randy Newman's Best Original Song nominee: "You've Got a Friend in Me" began to play on the soundtrack). Andy possessed a creative imagination, usually cowboy-oriented, that was exhibited when he turned some of the cardboard boxes around to display cattle drawn on their back sides. He yelled out as he lasso-roped them: "Round 'em up, cowboy!" He placed Woody on the driver's seat of a remote-controlled RC, a green and blue toy car roadster that sped across the floor and crashed into one of the boxes. Obviously, Woody was Andy's most adored and favorite toy-companion. Andy placed him on the stairs-banister and slid him down to the first floor. In the living room, he used the retractable Lazy-Boy ottoman as a revolving seat and as a catapult to send his prized toy flying across the room.
Downstairs, Andy's single-mother Mrs. Davis (voice of Laurie Metcalf) had just decorated the dining room in preparation for Andy's 6th birthday celebration, with purple and white streamers, balloons, and an archway banner: HAPPY BIRTHDAY ANDY. Andy had his mother agree to keeping the decorations up until they moved - only a few days away. The party was imminent with four guests about to arrive, so Andy grabbed Woody and exclaimed: "It's party time, Woody!" He ran upstairs to deposit Woody on his bed's pillow during the party, after pulling on his string one more time: "Somebody's poisoned the water hole!" Then, Andy picked up his baby sister Molly in her crib and carried her downstairs.
The Introduction of More Toys in Andy's Room - "The Coast is Clear":
The entire fanciful premise of the animation was that when the humans were not around, the toys came to life as anthropomorphic characters. Woody - who had only a blank and inexpressive look on his face up to this point - suddenly came to life. He sat up on the bed and spoke for the first time: "Pull my string! The birthday party's today? Okay, everybody, coast is clear!" Other toys emerged from their resting places, including the closet, the bookshelf, and Andy's toy box:
RC
Lenny (a pair of bright blue binoculars, a wind-up toy with orange walking feet)
Mr. Shark (a squeaky-sounding rubber 'blue shark')
Mr. Potato Head woke up on the floor, noticing how he had been drooled upon by Molly and smashed to pieces, and he complained: "Ages three and up. It's on my box. 'Ages three and up.' I'm not supposed to be baby-sitting Princess Drool." RC's tires squealed as he raced around the room, passing by other toys:
Snake (a green and purple jointed rattlesnake toy)
Robot - viewed earlier
Fire Truck (a red fire truck with a white, extensible crane bucket, manned by Toddle Tots, a toy made by Tiny Tikes) - it righted itself after resting on its side
Mr. Potato Head had reassembled himself arbitrarily with his facial body parts and bragged to Hamm that he looked like an abstract Picasso painting: "Hey, Hamm, look. I'm Picasso!" When Hamm didn't comprehend, Mr. Potato Head insulted him: "You uncultured swine." He then reprimanded another nearby toy Hockey Puck (with two yellow-gloved hands and red boots): "What are you looking at, ya hockey puck?" Woody asked the saluting Sarge (R. Lee Ermey) a green, plastic commandant soldier with binoculars and a gun who was standing on the bed's nightstand, about the whereabouts of Slinky. Other toys were briefly viewed in the background:
Etch (based upon the 1970s Etch-A-Sketch drawing toy, a magical and erasable screen with a red plastic border and two rotating knobs for creating artwork)
Roly Poly Clown (an armless clown-faced toy sporting wide, red lipsticked-lips, with a white oval-shaped body - minus feet, that rocked back and forth, with a hand-painted jacket and vertical yellow stripes, and wearing a party hat)
Rock-a-Stack (a set of five stacked colorful rings on a post)
Mr. Mike (a smiling, tape recorder toy made by Playskool, with a microphone and AM/FM tuner dial)
Dolly (a blonde rag-doll with blue top and red dress)
Duckie (a small yellow rubber duck)
Teddy (a soft, plush pink teddy bear)
See 'n Say (a 'Farmer Says' educational Mattel toy, with various farm animals illustrated on a round wheel - to be identified by a child - including a cow, pig, rooster, coyote, horse, frog, duck, dog, sheep, turkey, cat, and bird)
They were all alerted to stop in their tracks when they heard Woody tell Slinky (who wanted to play a board game of Checkers): "I've got some bad news." While a staff meeting was being organized, the toys' leader Woody challenged Etch a Sketch to a gunfight quick-draw (Etch drew a revolver on its screen), and pretended to be shot:
"Hey, Etch. Draw! Oh! Got me again. Etch, you've been working on that draw. Fastest knobs in the West."
Woody's Staff Meeting With the Toys:
Robot and Snake began to construct a speaker's podium made out of wooden ABC-Alphabet Blocks (and a tall Tinker Toy Container), when Rex took the opportunity to try and scare Woody with a pathetic roar: "Oh, I'm going for fearsome here, but I just don't feel it! I think I'm just coming off as annoying." Bo Peep hooked her cane around Woody's neck and pulled him closer, to thank him for saving her flock of three sheep from Bandit Bart. And then she asked if someone else could "watch the sheep tonight," implying that they could get together and be romantic - the lovestruck Woody nervously giggled and blushed. The toys advanced to their places for the meeting to take their places upfront, including the smaller Troikas that opened up (a group of five plastic, hand-painted, nested Russian egg-shaped toys, representing animals mostly - from largest to smallest: dog, cat, duck, fish and ladybug).
At the start of the staff meeting with his fellow toys, Andy climbed up on the ABC blocks to stand behind the tall, hastily-erected makeshift podium, the Tinker Toy container. He held his flat, erasable, cowboy-themed Doodle Pad before him, using it for his notes or speech script. He also borrowed Mr. Mike's microphone for amplification, although at first, it caused squealing feedback.
[Note: Woody stood in front of a bookshelf at the foot of Andy's bed, holding books with titles of four previous Pixar shorts.]
The Adventures of André & Wally B. (1984)
Red's Dream (1987)
Tin Toy (1988) - Lasseter
Knick Knack (1989)
Woody's first item on his agenda was a question: "Has everyone picked a moving buddy?" When his question was met by consternation and some laughter, Woody replied: "We've only got one week left before the move. I don't want any toys left behind. A moving buddy. If you don't have one, get one!" Woody also thanked Mr. Spell (the classic yellow Texas Instruments ('Speak and Spell') educational toy with a display screen and keyboard) in particular for "Tuesday night's plastic corrosion awareness meeting." Mr. Spell responded with a scrolling reply screen and robotic voice: "You're Welcome!"
Woody's second more important surprise announcement (uttered softly) was that Andy's impending birthday party was being held one week earlier than his birthday, due to the Davis' family move. He sensed panic and tried to calm and assure the upset and panicking toys, who worried about being rejected, packed away and possibly replaced if Andy received gifts of new toys: "I'm not worried. You shouldn't be worried." Slinky defended Woody: "Woody has never steered us wrong before." Woody became exasperated with the group, and tried to explain how their sole purpose as toys was not to compete in a popularity contest - but to be available to bring joy to Andy's life:
"Come on, guys. Every Christmas and birthday we go through this....Hey, listen. No one's getting replaced. This is Andy we're talking about. It doesn't matter how much we're played with. What matters is that we're here for Andy when he needs us. That's what we're made for, right?"
Hamm suddenly interrupted: "Birthday guests at three o'clock!" and the meeting was quickly adjourned.
The Toys' Daring Reconnaissance Mission to Spy on Andy's Birthday Party:
The agitated toys stampeded for the second-story bedroom window to watch young boys arriving and walking toward Andy's front door, with large wrapped birthday present gifts in their arms. Hamm was dismayed: "Ho, boy, will you take a look at all those presents?...Yes, sir. We're next month's garage sale fodder for sure." Rex cringed: "Any dinosaur-shaped ones?...They're getting bigger...We're doomed!" To calm the toys down, Woody proposed a reconnaissance mission to calm everyone's nerves (and batteries!): "If I send out the troops, will you all calm down?...Okay! Save your batteries."
Woody proceeded over to Andy's bed and delivered orders to Sarge on the nightstand: "Sergeant, establish a recon post downstairs. Code Red! You know what to do." Sarge again saluted, then jumped down to the edge-top of one of the nightstand's drawers to deploy his Green Army Men (miniature plastic soldiers with platform bases, kept in a white Bucket O Soldiers):
"Code Red! Repeat: We are at Code Red. Recon plan Charlie. Execute! Let's move, move, move, move, move!"
The soldiers emerged from the bucket and marched across the floor to the bedroom door, and cautiously crept out into the hallway, and motioned that the coast was clear.
A squad of the green soldiers followed, hoisting up and carrying out a Baby Monitor and a jump rope for their mission. Two paratroopers jumped between the banister stairposts and floated down to the floor below, as the boys at the party gathered in the living room to open presents. A jump rope was dropped down from the second floor, and the remainder of the soldiers rappeled down the rope to the first floor. Upstairs in the bedroom, Woody and the toys gathered around the Baby Monitor speaker (sitting on the nightstand) to listen in, to find out what was happening downstairs. Suddenly, as Mrs. Davis exited the kitchen with a tray of food, she noticed the line of frozen Green Soldiers on the floor after stepping on one of them. She brushed them aside with her foot as she muttered a complaint to herself: "I thought I told him to pick these up."
After she walked away, the soldiers sprung to action, while Sarge helped the squashed soldier: "A good soldier never leaves a man behind." The Baby Monitor was placed inside the base of a "FOREST FANTASY" houseplant (as if it was a jungle) for concealment, and then activated to listen in. By radio, Sarge reported the play-by-play of the ripping apart of the pretty wrapping of the first gift - a lunch box. The second gift was bed sheets (Mr. Potato Head queried: "Who invited that kid?"). Eventually the last gift was finally revealed - a Battleship boardgame. Woody felt vindicated that there was "nothing to worry about." Apparently, the toys were safe for another year. But then Mrs. Davis reported one more surprise present, with blue space-ship wrapping, that she pulled out of the closet. Impatient to know what it was, Rex shook the nightstand and the Baby Monitor receiver crashed to the floor and dislodged its two batteries, making it inoperable and unable to transmit any more information. However, loud cheers came from the young boys downstairs.
All of Andy's pals rushed down the hallway to follow him to his room, as Sarge reported a RED ALERT and "juvenile intrusion" - the toys were signaled to scramble and resume their stationary positions and places. Excitement about the new toy was palpable as the boys shouted: "Its lasers light up. Take that, Zurg." To make room, Woody was roughly brushed aside from his favored position on Andy's pillow and fell to the floor behind the bed. The boys heard Mrs. Davis from downstairs announce that it was time for games with prizes, and the room abruptly vacated. The toys slowly reanimated and walked over to the bed, asking curiously if any of them could hear or see the new toy sitting in Woody's spot on Andy's bed. Brushing himself off, Woody crawled back out from under Andy's bed when Rex asked nervously: "Have you been replaced?" Woody suggested that they should welcome the new toy: "Now, let's all be polite and give whatever it is up there a nice, big Andy's-room welcome."
The Introduction of Buzz Lightyear - Space Ranger:
The revelation of the new toy was purposely delayed and made suspenseful. About 15 minutes into the animation, the first full view of the new toy occurred. Woody climbed up the side of Andy's bed and peeked over, just as the camera panned up the toy's stout legs - standing tall in front of Woody. His eyes widened as the camera pulled back between the legs of a sleek-looking, futuristic space-age action figure. The impressive toy was clothed in a green and white space-suit with a clear plastic bubble helmet. It featured a red button (to activate a laser) on his right bicep, other chest-emblazoned colored buttons, and a name plate with his last name: LIGHTYEAR. The heroically-poised, jut-jawed macho Space Ranger Buzz Lightyear, standing pompously with his arms perched on his hips, suddenly blinked, came alive, and looked around his environment - Andy's bedroom. From his POV, he was scanning the room through his plastic head shield and listening to his own heavy breathing. He pushed the red button on the front of his suit to call his Space Command control center (but there was no answer), and then noticed his ripped and damaged outer packaging (in the shape of a spaceship):
"Buzz Lightyear to Star Command. Come in, Star Command. Star Command, come in. Do you read me? Why don't they answer? My ship! Blast! This'll take weeks to repair. (He flipped open his left arm's wrist communicator to record a message into his Mission Log) Buzz Lightyear mission log, stardate 4-0-7-2. My ship has run off course en route to sector 12. I've crash-landed on a strange planet. The impact must've awoken me from hypersleep. (He jumped up and down on the squishy bed) Terrain seems a bit unstable. No readout yet if the air is breathable. And there seems to be no sign of intelligent life anywhere."
From Buzz's POV, Woody's face and body suddenly tilted into view from the right, with a welcoming: "Hello!" Buzz reacted with a defensive posture and activated his arm's red laser beam - a red dot was aimed at Woody's forehead. Woody tried to calm him down: "Whoa! He-Hey! Whoa, whoa, whoa, whoa, whoa! " Woody tried to nervously explain, as he gulped, that there was a slight problem - Buzz was usurping his spot on Andy's bed:
"Did I frighten you? Didn't mean to. Sorry. Howdy. My name is Woody, and this is Andy's room. That's all I wanted to say. And also, there has been a bit of a mix-up. This is my spot, see -- the bed here."
Buzz noticed Woody's gold Sheriff's badge pinned on his vest and mistook him for a local law-enforcement officer. He formally introduced himself:
"I'm Buzz Lightyear, Space Ranger, Universe Protection Unit. My ship has crash-landed here by mistake....I need to repair my turbo boosters. Do you people still use fossil fuels, or have you discovered crystallic fusion?"
After Buzz saw other toys peering at him, he reactivated his wrist-laser to shoot at them, but Woody claimed that they were his friends ("life-forms") - Andy's toys. Rex eagerly stepped forward to gratefully shake hands, relieved that he wasn't being replaced: ("Oh, I'm so glad you're not a dinosaur!"). Buzz then demonstrated one of his chest buttons - it activated his superior recording and 'quality-sound system' ("Buzz Lightyear to the rescue!") when compared to Woody's antiquated pull-string and robotic voice (that "sounds like a car ran over it" according to Mr. Potato Head). Buzz further described his mission to combat the evil Zurg, when asked by Hamm if he was manufactured ('came from') in Singapore or Hong Kong:
"I'm stationed up in the Gamma Quadrant of Sector Four. As a member of the elite Universe Protection Unit of the Space Ranger Corps, I protect the galaxy from the threat of invasion from the evil Emperor Zurg, sworn enemy of the Galactic Alliance."
Disgusted, Woody realized that Buzz's canned spiel was derived, word-for-word, from the back of his packaging. Some of the toys bragged about their own origins to Buzz:
Mr. Potato Head: "I'm from Playskool!"
Rex: "And I'm from Mattel. Well, I'm not really from Mattel. I'm actually from a smaller company that was purchased in a leveraged buyout."
Woody was envious and disgruntled about all the attention Buzz was receiving: "You'd think they'd never seen a new toy before." Bo Peep reacted to the new flashy toy with advanced features: "He's got more gadgets on him than a Swiss Army knife." Mr. Potato Head was critical of Woody's obviously-inferior qualities: "How come you don't have a laser, Woody?" Woody downplayed Buzz's gadgets: "It's not a laser. It's a, it's a little light bulb that blinks." Mr. Potato Head called Woody's problem "Laser Envy!"
Woody felt he just had to speak up about his exasperation with the new T-O-Y:
Woody: "Look, we're all very impressed with Andy's new toy....T-O-Y. Toy!"
Buzz: "Excuse me. I think the word you're searching for is Space Ranger."
Woody: "The word I'm searching for I can't say because there's pre-school toys present."
But he couldn't distract the other toys from their fascination with the Space Ranger. He even tried to discredit Buzz's claims: "He's not a Space Ranger! He doesn't fight evil or-- or shoot lasers or fly!" This challenge spurred Buzz to press another button and retractable wings popped out from his shoulders. Hamm reacted: "Impressive wingspan," but Woody wasn't impressed: "These are plastic. He can't fly." Buzz vehemently disagreed: "They are a terillium-carbonic alloy, and I can fly." After an immature back-and-forth argument, Buzz was determined to prove his ability to fly around the room: "I tell you, I could fly around this room with my eyes closed!...All right, then, I will. Stand back, everyone."
Buzz stood on Andy's bedpost, delivered his catchphrase: "To infinity and beyond!", and then lept off the bed like a swan-diver off a high platform. Heading straight for the floor, he bounced off a large rubber ball, and landed on a small Hot Wheels racecar that was poised to descend on a steep, looping race-track. He performed one loop-de-loop and then sailed off the ramp upwards to grab onto a toy Airplane Mobile hanging from the ceiling. Its motor activated and spun Buzz around. Eventually, the centrifugal forces propelled him back onto the bed. Most of the toys, now cheering, were mesmerized by the performance - Rex congratulated him: "Oh, wow! You flew magnificently!" Bo Peep was thrilled: "I found my movin' buddy." Woody was unimpressed and told Slinky:
"That wasn't flying. That was falling with style."
Woody couldn't believe the adulation for Buzz and groused to himself: "In a couple of days, everything will be just the way it was. They'll see. They'll see. I'm still Andy's favorite toy."
"Strange Things" - Montage:
Randy Newman's song "Strange Things" played on the soundtrack, accompanied by a montage of activity, illustrating how Woody's life had drastically changed following the arrival of Buzz Lightyear. It appeared that Andy was favoring the new toy, leading to Woody's feelings of rejection and discouragement:
I was on top of the world livin' high
It was right in my pocket
I was livin' the life
Things were just the way they should be
When from out of the sky like a bomb
Comes some little punk in a rocket
Now all of a sudden
Some strange things are happening to me

(Refrain)
Strange things are happenin' to me
Strange things
Strange things are happenin' to me
Ain't no doubt about it

I had friends I had lots of friends
Now all my friends are gone
And I'm doin' the best I can
To carry on

I had power. I was respected.
But not anymore
And I've lost the love of the one
Whom I adore
Let me tell you 'bout it
Andy jumped up and down on his bed, with Woody grasped in his right hand; he also played with Woody by holding him up and shaking him by his two arms, and then placed him limply on the floor
Andy grabbed Buzz Lightyear and aimed the Space Ranger's laser weapon at Woody (the target); to simulate the shooting, Andy smacked Woody across the floor
Andy (wearing his cowboy hat) ran into his closet, and then reemerged with cardboard cutouts he had made that formed a replica of Buzz's helmet (with a wire clothes-hanger antenna on top) and pair of wings; he called out: "Buzz Lightyear to the Rescue!"
Woody gasped as the western and cowboy-themed decorations in Andy's room faded away and became space-oriented, including the wall posters, the hand-drawings, and the pillow and bedspread
Buzz instructed Rex how to deliver more fearsome 'Jurassic Park'-type roars by correcting his posture
Woody was startled when Etch drew a picture of Buzz Lightyear - he shook the toy to erase the drawing
Woody observed Buzz acting as a hair-dresser to comb the Troll doll's pink hair
Buzz led a weight-lifting exercise class (with Tinker Toys as weights) attended by some of the toys: Rocky Gibraltar, Snake, the Troll, Rex, and Mr. Spell; Buzz was on a treadmill track atop the upside-down Robot; Mr. Potato Head's attempt to lift a heavy bar-bell set of Tinker Toys disattached his arms
Woody searched under Andy's bed and found only the checkerboard; he saw his game-playing partner Slinky walking away and under Buzz's spell; he spied upon Buzz directing Slinky and Robot to move his space-ship on top of a stack of three ABC wooden blocks, in order to repair his vessel; frustrated by the attention being given to Buzz, Woody kicked the checkerboard game; one of the red round checkers game pieces ricocheted off the dresser and boomeranged back into Woody's mouth
at the foot of Andy's bed, Woody watched Buzz petting Slinky, whose metal-ringed body had elongated out to the entire length of the bed - and whose tail was wagging right in Woody's face; he shoved Slinky's back end off the bed and the rest of Slinky's body followed
when Andy was preparing for bedtime, he tossed all of his toys back into his toybox, and was left with only two toys: Woody and Buzz; he deliberated about which one to keep out; later that night as he slept, Andy had obviously chosen Buzz, who was snuggling next to him and by his side under the covers, while Woody peered out of the covered wagon toy box at them with envy; finally by the next morning, Woody was able to escape from the toy box after Andy had left the room