Actors Turned Directors:

Three actors/directors received numerous awards for their Best Pictures. Kevin Costner's directorial debut film - the Native-American epic Dances With Wolves (1990) - was honored with twelve nominations and seven wins including Best Picture and Best Director. Clint Eastwood won accolades with the elegaic, revisionist western Unforgiven (1992), another Western genre film to win Best Picture (and Best Director). [Producer Eastwood directed and starred in the revisionist, deglamourized western as a retired gunslinger forced to return to killing.]
And producer/actor/director Mel Gibson's historical Scottish epic Braveheart (1995) also won the Best Picture and Best Director honors, among others. Gibson starred as the Scottish hero William Wallace, and Patrick McGoohan played the role of Edward Longshanks. Robert Redford directed his third film, A River Runs Through It (1992), a beautifully-evocative film made on location in Montana about two brothers of the MacLean family (headed by minister Tom Skerritt) who followed different paths: older serious son Craig Sheffer and impetuous, wild gambling younger son Brad Pitt. He also directed Quiz Show (1993), about the TV game show "Twenty-One" cheating scandal involving Charles Van Doren (Ralph Fiennes) and unfairly beaten Herbie Stemple (John Turturro).
Rob Reiner first directed the overly-emoted A Few Good Men (1992) - with Guantanamo Bay, Cuba as the scene of a crime in the military, followed by a courtroom drama pitting Navy lawyer Tom Cruise against the hystrionics of higher-up Jack Nicholson. Reiner also directed the romantic comedy The American President (1995) which starred Michael Douglas as the President and Annette Bening as a lobbyist who fall in love with each other. [Its appearance seemed to inspire the creation of the popular TV hit The West Wing.]
Maverick Writer/Director Quentin Tarantino: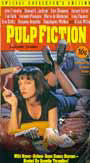 Violence accompanied a number of films, including those of emerging maverick writer/director Quentin Tarantino, a self-promoting videostore clerk who demonstrated his exciting, self-taught, original filmmaking genius (with generous helpings of violence, sex, and profanity) in his first film Reservoir Dogs (1992). The cult hit broke many of the rules of conventional crime films in its tale of a group of color-named criminals whose jewelry heist went awry. It began with a deconstruction of Madonna's 'Like A Virgin' and even featured director Tarantino as Mr. Brown.
Tarantino served as co-screenwriter (with Roger Avary) and director of an acclaimed (Best Screenplay-winning) follow-up, low-budget independent film Pulp Fiction (1994). The Cannes Film Festival Palme d'Or winner and seven-time Academy Award nominee was an ultra-violent, intermingling, non-linear trio of criminal life stories intertwined in a sleazy Los Angeles (involving hitmen, a crime boss' overdosing wife played by Uma Thurman, and a boxer - Bruce Willis) that gave John Travolta a super-star comeback (famed as a hitman for talking about what the French call fast-food Big Macs). It began with and returned to a scene of Pumpkin and Honey Bunny holding up a restaurant.
Director/screenwriter Tarantino also followed up with a more mature character study in his leisurely crime thriller Jackie Brown (1997) with ex-blaxploitation 70s star Pam Grier in a stand-out role as an ex-con.
Films About Hollywood and Film-Making (Before the 90s):
Before the decade of the 90s, a number of films looked at the dark underbelly of the business of making illusions (movies) in the Hollywood film industry, and often cautioned against its beguiling ways and problems. Many were inspired directly or indirectly by Billy Wilder's caustic and corrosive black comedy, Sunset Boulevard (1950) about an abandoned silent era screen actress:
The Bad and the Beautiful (1952) was a cynical look at the hypocrisies, exploitations and deceits of Hollywood's film industry and the studio system
Singin' in the Rain (1952) reflected the crisis faced by many in Hollywood's film industry during the transition to sound from the silent era
Will Success Spoil Rock Hunter? (1957) from director Frank Tashlin, was a frenetic comedy with Jayne Mansfield and Tony Randall, including media satire about the excesses of 50's American pop-culture (including the movies, TV, and advertising)
Whatever Happened to Baby Jane? (1962) portrayed the real-life animosity heightening the tension between stars Crawford and Davis, who starred as rival ex-'30s movie stars
Francois Truffaut's comedy-drama Day For Night (1973) featured Truffaut as director Ferrand shooting a fictional film titled May I Introduce Pamela, while observing and celebrating the art of movie-making
director Blake Edwards satire, S.O.B. (1981) starred Richard Mulligan as a director (the director's alter ego) healing from a nervous breakdown and salvaging his career by converting his latest G-rated flop into an R-rated blockbuster - notorious for Julie Andrews' appearance topless
the documentary Burden of Dreams (1982) told about the 'making of a movie' - the chaotic and dangerous production of Werner Herzog's epic Fitzcarraldo (1982) shot mostly on location in the rain forests of South America
Films About Hollywood and Film-Making In the 90s Decade:
A flood of films in the 90s looked at the often-times vain, difficult and failed business of making films as their prime subject matter:
Christopher Guest's The Big Picture (1989) looked at the Hollywood film industry through the perspective of a young aspiring wannabe filmmaker Nick Chapman (Kevin Bacon) who won a student film contest with his flick First Date - and was immediately signed with high-strung agent Neil Sussman (Martin Short) and a deal with sleazy studio head Allen Habel (J.T. Walsh)
Giuseppe Tornatore's heartwarming Cinema Paradiso (1989) celebrated the magic and love of film through the eyes of a film-maker recalling his childhood and his village's small theatre and projectionist - with its famous scene of a montage of censored film kisses
Clint Eastwood's White Hunter Black Heart (1990) was a thinly fictionalized account of a legendary movie director (John Huston) as he filmed in Africa The African Queen (1951) - the screen version of C. S. Forester's novel The African Queen written by James Agee (and Peter Viertel)
Hearts of Darkness: A Filmmaker's Apocalypse (1991) chronicled the chaos and difficulties on the set of the production of Francis Ford Coppola's Apocalypse Now (1979)
the Coen Brothers' original black comedy Barton Fink (1991), with the tagline: "Between Heaven and Hell There's Always Hollywood!" captured the difficulties experienced by a Clifford Odets-like left-wing New York intellectual playwright named Barton Fink (John Turturro) - with writer's block in a fleabag hotel - in Hollywood in the early 1940s where he was commissioned by Capitol Pictures and its studio head Jack Lipnick (Michael Lerner) with a strange, lucrative assignment -- to write a Wallace Beery wrestling picture; it was the first film to sweep three major awards at the Cannes Film Festival: it received honors including the Palme d'Or, the director's prize (Joel Coen), and Best Actor (Turturro)
Robert Altman's satirical The Player (1992), with an all-star cast and numerous subplots about Hollywood's dark wheeling and dealing involving power, greed, and murder - told about an ambitious studio executive blackmailed by a screenplay writer whose script was rejected
Joe Dante's overlooked Matinee (1993) was a disguised portrait of innovative exploitation film-maker William Castle (responsible for such cinematic horror gimmicks as Emergo and Percepto) in the person of small-time showman and huckster film producer Lawrence Woolsey (John Goodman), and set during the time of the Cuban Missile Crisis
Ed Wood (1994) was a biopic-movie devoted to the life of one of the worst film directors ever - Edward D. Wood, Jr. (Johnny Depp) - the maker of schlock cult movies, such as Glen or Glenda? (1953) and Plan 9 from Outer Space (1956)
writer/first-time director George Huang's black comedy Swimming with Sharks (1994) starred Kevin Spacey as hateful, abusive and caustic Keystone Pictures producer/studio executive Buddy Ackerman and Frank Whaley as his young, naive, and maltreated Hollywood studio assistant (Frank Whaley) - a recent film grad student who ultimately sought revenge
Barry Sonnenfeld's satirical mobster black comedy Get Shorty (1995), based on Elmore Leonard's 1990 novel, was about the intermixing of crime and Hollywood; it told about a small-time, Miami mob loan shark/debt collector (John Travolta) sent to Hollywood who ended up in the movie business; with stars Rene Russo, Danny DeVito as Martin Weir, and Gene Hackman as low-budget horror movie producer Harry Zimm
real-life writer/director Tom DiCillo's Living in Oblivion (1995) was a "movie-within-a-movie" about the problems inherent in low-budget, independent film-making by a harried film director (Steve Buscemi)
screenwriter and producer Joe Eszterhas' An Alan Smithee Film: Burn Hollywood Burn (1997) had the tagline: "The movie Hollywood doesn't want you to see"; it starred Eric Idle as filmmaker Alan Smithee - a well-known pseudonym for a director who disowns his own film - as a director of a big-budget blockbuster produced by Ryan O'Neal that he wanted to disown; ironically, the real director, Arthur Hiller, also wanted his name removed from the actual credits of the film
Paul Thomas Anderson's Boogie Nights (1997) examined late 70's and 80's California hardcore pornographic film-making
Frank Oz's Bowfinger (1999) from a script by Steve Martin, told about the making of an awful sci-fi alien film (Chubby Rain) by Ed Wood-like Bobby Bowfinger (Martin) - a desperate producer/director who filmed uncooperative action megastar Kit Ramsey (Eddie Murphy) as the star of his film - without the actor's consent
the documentary The Kid Stays in the Picture (2002) told the story of legendary Paramount producer Robert Evans - "the man who seduced Hollywood"; it was based on Evans' own autobiography of the same name and the film was narrated by him
the documentary Lost in La Mancha (2002) chronicled the failed attempt in the year 2000 of maverick film-maker Terry Gilliam to make (or 'un-make') a film out of a script titled The Man Who Killed Don Quixote (an adaptation of the original novel)
director Martin Scorsese's The Aviator (2004) evoked the glamorous Golden Age of Hollywood with its biopic look at the early years of legendary director and aviator Howard Hughes (Leonardo DiCaprio)
Political-Thriller Films:

An era of suspenseful, post-Cold War adventure spy films was launched in the 90s, all based on Tom Clancy's best-selling "Jack Ryan" techno-thriller novels. The first in the Paramount series was directed by John McTiernan, and the rest of the trilogy by Phillip Noyce:
Ford was also featured in Alan Pakula's gripping who-dun-it thriller Presumed Innocent (1990) as an adulterous prosecuting attorney who investigates the murder of a seductive lawyer (Greta Scacchi) and becomes a suspect himself. Sylvester Stallone made a comeback in the non-stop, relentlessly-exciting Cliffhanger (1993). Tony Scott's tense military thriller Crimson Tide (1995) extended the trend of Hollywood's production of political-military pictures. And In the Line of Fire (1993) was the story of a government agent (Clint Eastwood) haunted by his past, because of failing to protect Kennedy in 1963, and now called upon to protect the present-day President from psychotic killer John Malkovich. Air Force One (1997) told of threats against President Harrison Ford aboard his airplane.
John Grisham's Film Adaptations:
Adaptations of John Grisham's best-sellers, many of which were legal thrillers set in the South, also did well at the box-office:
Sydney Pollack's crime thriller The Firm (1993), with Tom Cruise as a young, Mafia-duped Harvard Law School graduate
writer/director Alan Pakula's conspiracy thriller The Pelican Brief (1993) featured Julia Roberts as a clever and endangered Tulane University law student, and Denzel Washington as her supportive crusading investigative reporter
director Joel Schumacher's The Client (1994), starring Oscar-nominated Susan Sarandon as a recovering alcoholic lawyer who must protect the safety of her Mob-threatened young client (Brad Renfro)
James Foley's courtroom drama and character study The Chamber (1996), with Chris O'Donnell as a naive Chicago defense attorney involved in an appeals case with a racist, Mississippi KKK member and death-row inmate (Gene Hackman)
Joel Schumacher's racially-charged A Time to Kill (1996), starring Samuel L. Jackson as a vengeful Southern black father defended by novice Southern lawyer Matthew McConaughey and his legal aide-clerk Sandra Bullock in a small Mississippi town
scriptwriter/director Francis Ford Coppola's The Rainmaker (1997), a David vs. Goliath tale with Matt Damon as a naive young Memphis law school graduate battling a group of corrupt insurance company lawyers headed by Jon Voight
Nineties Neo-Noirs:
Belfast-born actor/director Kenneth Branagh directed his second film (following his revisionist rendering and scripting of Shakespeare's Henry V (1989)), the intelligent and suspenseful noir thriller Dead Again (1991). In the film, Branagh starred as a cynical L.A. private detective who investigated a twisting cycle of murder involving a mysterious amnesia victim (Emma Thompson, Branagh's real-life wife at the time).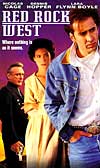 A master of modern noir, writer-director John Dahl contributed three great stylish neo-noirs in the decade:
Kill Me Again (1989), Dahl's film debut, with Joanne Whalley-Kilmer as a ruthless, deceptive woman involved in an intricate plot of double-cross between psychotic mobster Michael Madsen and private eye Val Kilmer hired to fake her own death
Red Rock West (1993), a great sleeper film, with Nicolas Cage as a loser-drifter caught in a twisting murder plot and a case of mistaken identity in an isolated Wyoming town, with a psycho contract killer (Dennis Hopper) and the intended femme fatale victim (Lara Flynn Boyle)
John Dahl's contemporary film noir The Last Seduction (1994), starred Linda Fiorentino in an outstanding, single-minded role as a scheming, amoral, sexy and lethal femme fatale; the film was broadcast on HBO cable TV before being released in theaters - thereby eliminating and invalidating its eligibility for an Oscar nomination (Best Actress or Best Picture)

Gus Van Sant's dark comedy-satire To Die For (1995) featured Nicole Kidman as obsessed and determined cable-TV weather reporter Suzanne Stone who sought to have Joaquin Phoenix kill her obstructive husband Matt Dillon. Bryan Singer's mystery/crime thriller The Usual Suspects (1995), screened at Sundance, had a complicated screenplay and a surprise ending. It starred Kevin Spacey in his first Oscar-winning performance of the decade as a petty crook - and the all-knowing, black-hearted villainous crime lord Keyser Soze. Spacey also appeared in British theater director Sam Mendes' motion-picture directorial debut picture - DreamWorks' brightly-colored black comedy about an unhappily-married couple in suburbia, American Beauty (1999) and became a multiple Oscar winner for his role as head of the dysfunctional family. While his real estate-selling wife (Annette Bening) was having an affair, he was obsessing over his daughter's cheerleader friend (Mena Suvari).

Curtis Hanson, who had earlier directed the thriller The Hand That Rocks the Cradle (1992), directed the much-acclaimed, modern film noir and police drama L.A. Confidential (1997), set in early 50s Los Angeles and adapted from James Ellroy's crime story. A shooting at an all-night diner set the stage for the film. Two of its Aussie stars, Russell Crowe and Guy Pearce, became more familiar to movie-goers since 1997, as has character actor Kevin Spacey (who portrayed a detective who also served as a TV consultant). The film received nine nominations and two Oscars (Best Adapted Screenplay and Best Supporting Actress for Kim Basinger).

The anarchic Coen brothers continued to make twisted but very influential independent films in many genre areas, including the gangster film Miller's Crossing (1990), Barton Fink (1991), The Hudsucker Proxy (1994), and the Oscar-winning black comedy Fargo (1996) - their most conventional film to date, about a kidnapping-blackmail scheme that went awry. It had a twisting plot and featured Best Actress-winning Frances McDormand as a determined, pregnant Minnesota police

sheriff investigating a triple-murder, and William H. Macy as the perpetrator - a desperate used car salesman.
The pair also directed the quirky and convoluted mystery-crime/thriller The Big Lebowski (1998) with Jeff Bridges as a stoned, bowling-loving 'Dude' in early 1990s LA caught in a complex case of mistaken identity, kidnapping, extortion, and ransom. Since its release, it has become one of the most revered films of the Coens - a cult classic of absurdist pop cultural elements (in episodic vignettes) all thrown together as a shaggy dog tale, including a pissed-on rug, nihilism, strange performance art, White Russians and doobies, Hollywood porn, Bob Dylan, and much more. It was reminiscent of writer Raymond Chandler's writings that backed the film noir The Big Sleep (1946).
The Dying Musical Genre: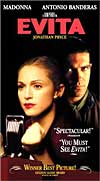 There was very little evidence of films from the musical genre beyond just a few examples: the first major Hollywood musical in almost a decade and a half was director Alan Parker's Evita (1996) - based on the stage musical by Andrew Lloyd Webber and Tim Rice and starring an impressive Madonna in the lead role as Argentina's first lady Eva Peron. The film won Golden Globe Awards for Best Comedy/Musical and Best Actress, and one of its songs, You Must Love Me won the Academy Award for Best Original Song. A second example was Woody Allen's revival of the musical-romantic comedy - Everyone Says I Love You (1996).
Some of the best musicals of the decade were animated features (see more below), jump-started by Disney's The Little Mermaid (1989). Some examples included: Beauty and The Beast (1991), the only musical nominated for Best Picture for many years and the first animated Best Picture nominee in Academy history, Aladdin (1992), The Lion King (1994), Pocahontas (1995), The Hunchback of Notre Dame (1996), Anastasia (1997) - the first animated feature film from 20th Century Fox, and The Prince of Egypt (1998) - DreamWorks' first animated feature film.
Comedies: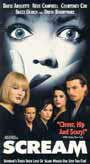 Horror king Wes Craven made an unpredicted comeback with Scream (1996), a well-made, intelligent version (from a witty script by Kevin Williamson) of the schlocky slasher films of the 70s and 80s. It was both a post-modern comedy and horror film of the 'stalk' and 'slash' variety, with star Drew Barrymore as the first to be stalked by a 'ghost-faced' serial killer. Craven reprised the successful film with two sequels in the decade, all with bright young female star Neve Campbell in the lead role:
Scream 2 (1997)
Scream 3 (2000)
All three low-budget horror films helped to generate cash for Miramax' subsidiary, Dimension Films.
Mike Myers (as Wayne) and Dana Carvey (as Garth), originally buddies in a Saturday Night Live skit, were particularly memorable ("Ex-squeeze me?" and "Schwing!") in the feature-length anarchic comedy Wayne's World (1992), followed by a similar sequel the next year. Myers would also play the dual lead role (as both a hip fashion photographer in swingin' 60s London, and as a crime-fighter) in the first of a series of James Bond parodies - Austin Powers: International Man of Mystery (1997).
In Kindergarten Cop (1990), police officer Arnold Schwarzenegger went back to school. Sister Act (1992) starred Whoopi Goldberg as a singer who went into hiding for protection, and became a nun. Desperate divorcee Daniel Hillard (Robin Williams) cross-dressed to be a nanny in order to see his kids in Mrs. Doubtfire (1993). In the screwball comedy Bean (1997), Rowan Atkinson (in the title role that he originated on TV) was supposed to be an art expert looking after Whistler's Mother. The Farrelly Brothers' tasteless and raunchy romantic comedy There's Something About Mary (1998) included Ben Stiller experiencing a problem with his 'frank and beans' on prom night, and Cameron Diaz as his date - who also discovered a new form of hair gel. In Harold Ramis' crime comedy Analyze This (1999), Robert DeNiro was a Mafia boss with unresolved issues concerning his father that he discussed with psychiatrist Billy Crystal.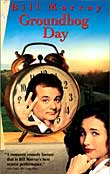 Harold Ramis' excellent existentialist romantic fantasy Groundhog Day (1993) featured Bill Murray as an egotistical TV weatherman doomed to experience deja vu and repeat the same day over and over again (February 2, 1992) - beginning with a Sonny and Cher song - during the Punxsutawney, Pennsylvania "Ground Hog Day" festivities. Ron Underwood's enjoyable and funny City Slickers (1991) followed a group of suburbanized, married, mid-life friends (including Billy Crystal as 40 year old Mitch Robbins) on a two-week cattle drive led by Curly - a weathered and grizzly trail boss (Best Supporting Actor Oscar-winning Jack Palance). Their experience was repeated in the sequel City Slickers: The Legend of Curly's Gold (1994) with virtually the same cast. Walter Matthau and Jack Lemmon were brought together as two long-time feuding, cantankerous neighbors who pursued the same woman in Grumpy Old Men (1993).
Tim Burton spoofed sci-fi alien-invasion and UFO films of the 50s and 60s, Mystery Science Theater 3000, and even present day films (i.e., Independence Day) with Mars Attacks! (1996), and he saluted a 50's maverick, angora-wearing director-writer-producer (one of the worst, but praised cult and B movie film-makers of all time) in his black and white Ed Wood (1994), with Johnny Depp in the title role and Best Supporting Actor Oscar-winner Martin Landau as horror star and morphine addict Bela Lugosi. Robin Williams played a homeless tramp (searching for the Holy Grail) and Jeff Bridges portrayed a shock-jock who instigated a shooting tragedy in Terry Gilliam's fantasy comedy The Fisher King (1991). Joe Pesci played a New York lawyer called to defend an accused relative, but found himself out of his element in Alabama in My Cousin Vinny (1992).
In Honeymoon in Vegas (1992), Nicolas Cage lost his fiancee Sarah Jessica Parker to gambler James Caan in a bet and had to travel to Hawaii and then back to the strip - where he parachuted down as a sky-diving Elvis. In My Best Friend's Wedding (1997), Julia Roberts (as Julianne Potter) realized she loved long-time friend Michael (Dermot Mulroney), but he was due to marry Kimmy (Cameron Diaz) - so she tried to break them up. And in another romantic comedy set in 1985, The Wedding Singer (1998), Adam Sandler (as broken-hearted wedding singer Robbie Hart) was left at the altar, while Drew Barrymore (as waitress Julia Sullivan) was engaged to the wrong guy.
Woody Allen's Comedies:
In the 90s, writer-director-actor Woody Allen continued to make mostly satirical, intelligent comedies, mostly set in New York. Although he has shown signs of wear, with increasing bitterness and anger reflected in his works (conceivably due to attacks by the tabloids and the general public on his scandalous personal life), he remains a key film-maker in the 90s and after:
Alice (1990), originally titled The Magical Herbs of Dr. Yang, about an angst-ridden, dissatisfied, hypochondriacal, pampered and wealthy Manhattan housewife (Mia Farrow) and her spiritual awakening (similar to the experiences of Alice in Wonderland)
the nightmarish, absurdist, and experimental Shadows and Fog (1992), with Allen as a nebbish clerk enlisted to search for a serial killer; with innumerable bit roles for Madonna, John Cusack, Donald Pleasence, Kathy Bates, Jodie Foster, Lily Tomlin, Fred Gwynne, John Malkovich, Kenneth Mars and more
the docudrama (in a mockumentary format) Husbands and Wives (1992) - the engrossing, uncompromising, serious examination of mid-life crises in two New York couples' marriages (Farrow & Allen, and Sydney Pollack and Judy Davis); uncannily reflected the director's highly-publicized, real-life problems and scandalous conflict with Farrow after Allen admitted romantic involvement with Farrow's adopted daughter (Soon-Yi Previn) in the winter of 1991
Manhattan Murder Mystery (1993), reuniting Diane Keaton and Allen as a Manhattanite, middle-class married couple, similar to the detective duo of Nick and Nora Charles in The Thin Man (1934) series and a semi-follow-up to their pairing in Annie Hall (1977), the two suspected their next-door neighbor of murdering his wife, in homage to Hitchcock's Rear Window (1954); it also referenced Welles' The Lady From Shanghai (1948), and Wilder's Double Indemnity (1944)
the backstage, Roaring 20s screwball comedy Bullets Over Broadway (1994), without Allen as an actor, but with seven Oscar nominations, involving a playwright (John Cusack), a Broadway theatre diva star (Best Supporting Actress Oscar-winner Dianne Wiest, with her third career nomination and second win), a mobster (Joe Viterelli) and his hitman (Best Supporting Actor nominated Chazz Palminteri), and the mobster's ditzy talentless, would-be actress-girlfriend (Best Supporting Actress nominated Jennifer Tilly)
Mighty Aphrodite (1995), Allen's 31st film with Best Supporting Actress winner Mira Sorvino in a unique role as a naive, blonde prostitute/porno actress named Linda Ash - the real mother of a Manhattan sportswriter's (Allen) adopted young son; the film was presented as a Greek drama -- complete with a roaming chorus filmed in the Acropolis ruins
Deconstructing Harry (1997), a dark, caustic comedy composed of flashbacks regarding Harry Block (Woody Allen), a dysfunctional novelist; with this film, Allen received his 13th Best Original Screenplay Oscar nomination
Celebrity (1998), with cinematography by Swede Sven Nykvist (Ingmar Bergman's most popular photographer), a New York style treatise on fame and celebrity, starring Judy Davis, Kenneth Branagh, Winona Ryder, Melanie Griffith, Joe Mantegna, Leonardo DiCaprio, Charlize Theron, Famke Janssen, and others; resembled a dark version of Fellini's La Dolce Vita (1960)
Antz (1998), a computer-animated comedy-adventure not directed or written by Woody Allen, but providing his voice for Z, a misfit worker ant - a character similar to the neurotic protagonist in Allen's comedies of the early 70s; it also had a villain named General Mandible and a soldier named Weaver (voice of Sylvester Stallone)
Sweet and Lowdown (1999), a Depression-Era, semi-documentary portrait of Emmet Ray - a womanizing, guitar-playing jazz musician (Best Actor-nominated Sean Penn) similar to Django Reinhardt, and shy mute girlfriend (Best Supporting Actress-nominated Samantha Morton)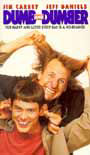 The Super-Stardom of Jim Carrey:
Hammy and crude, face-twisting, clownish comedian Jim Carrey, of Fox TV's comedy show In Living Color, began to make a name for himself in Tom Shadyac's directorial debut film Ace Ventura: Pet Detective (1993) as a low-cost, Florida missing-animals detective searching for a kidnapped dolphin (the mascot for the Miami Dolphins football team). His next two films propelled him into super-stardom - both were from New Line Cinema (purchased by Ted Turner in 1993):
Peter Farrelly's very low-brow physical comedy Dumb and Dumber (1994) starred Jim Carrey and Jeff Daniels as Lloyd Christmas and Harry Dunne (memorable in a hilarious bathroom scene) - two manic, intellectually-challenged buddies on a cross-country road trip to Aspen, Colorado to deliver a briefcase
Chuck Russell's adventure/fantasy/comedy The Mask (1994) combined gags with great cartoonish digital effects when Carrey, as shy bank teller Stanley Ipkiss, donned an ancient, magical mask and was transformed into a green superhero; the film marked the debut of blonde actress Cameron Diaz
The sequel Ace Ventura: When Nature Calls (1995) suffered from a poor script and infantile-minded comedy. Carrey turned to more legitimate acting at the end of the decade in two films. In Peter Weir's comedy/drama The Truman Show (1998), Carrey played the role of Truman Burbank, a happy suburbanite resident of the paradisical fictional community of Seahaven Island, and the unwitting, imprisoned star of a real-life documentary TV series created and controlled by god-like producer Christof (Ed Harris). And in Milos Forman's biopic Man on the Moon (1999), he assumed the role of legendary comic Andy Kaufman. In consecutive years, Carrey won the Golden Globe Best Actor award for both roles, but was un-nominated for an Academy Award.

Film History of the 1990s
Part 1, Part 2, Part 3, Part 4, Part 5, Part 6
---



---