Austin Powers: International Man of Mystery (1997)
d. Jay Roach, 100 minutes
Film Plot Summary
The film opened in the year 1967, "Somewhere outside Las Vegas," where bald Dr. Evil (Mike Myers) (modeled after Blofeld in the James Bond films), first seen stroking a white furry cat (named Mr. Bigglesworth), had an underground lair where he had gathered together six deadly assassins commissioned to kill "Britain's top secret agent" Austin Powers; frustrated by the "freakin' idiots," he reprimanded them and upturned the chairs of four of his henchmen and burned them alive, sparing two of them.
The next scene featured Austin "Danger" Powers (also Myers) skipping into view on a sidewalk in London, England in the swingin' 60s, with a blue-striped velvet suit, thick black-framed glasses, black Italian boots, and jagged yellowed teeth, where he was pursued by crazed fans and led a marching band and dance group, under the credits. He somersault-flipped himself into a sports car, emblazoned with the British flag, driven by Emma Peel-like Mrs. Kensington (Mimi Rogers), where he muttered his memorable catch-phrase: "Yeah, baby!" Basil Exposition (Michael York) of British Intelligence contacted Powers to inform him that Dr. Evil was "planning a trap" that evening at the Electric Psychedelic Pussycat Swinger's Club. That evening at the club's "swingin' shindig " with go-go girls, Austin foiled Dr. Evil's attempt on his life, by one of the disguised cocktail waitresses. After mis-firing a dart into the back of his own assassin, Dr. Evil escaped onto the rooftop and entered a space-rocket (and its "Cryogenic Freezing" chamber), disguised as a giant Bob's Big Boy statue, and warned: "See you in the future, Mr. Powers" - to "return at a time when free love no longer reigned and greed and corruption ruled again."
The year was now 1997, 30 years later, where at the Norad Operations Center in Colorado Springs, CO, the Big Boy space rocket was reported as entering the Earth's atmosphere over Nevada. Commander Gilmour (Charles Napier) traveled to London, England, where hairy-chested Powers had volunteered to have himself frozen - "in case Dr. Evil should return" - he was stored in the Celebrity Vault of the Cryogenic Storage Facility within the Ministry of Defense. "The ultimate gentleman spy, irresistible to women, deadly to his enemies, a legend in his own time" - was thawed and reanimated, with Basil Exposition and Comm. Gilmour in attendance. Powers was told the Cold War was over, and that "madman on the loose" Dr. Evil was again threatening. His new partner would be "top agent" Miss Kensington (Elizabeth Hurley), Mrs. Kensington's daughter - Powers thought to himself outloud: "I bet she shags like a mink." She would help Powers acclimatize to the 90s - among his personal effects that he retrieved was a Burt Bacharach record, and one Swedish-made penis enlarger pump (with his credit card receipt, warranty card, and a book he authored about using the pump).
Dr. Evil had set up his new headquarters in the desert outside Las Vegas, where he revealed how the unfreezing process had caused Mr. Bigglesworth to lose his white fluffy fur - in retaliation, he blamed henchman Mustafa (Will Ferrell) and killed him. He spoke to his remaining associates: militant Salvation Army founder Frau Farbissina (Mindy Sterling) (a parody of Rosa Klebb in From Russia With Love), Korean ex-wrestler and evil handyman Random Task (Joe Son) (a shoe-throwing parody of Oddjob in Goldfinger), ex-Irish assassin Patty O'Brien (Paul Dillon) (a parody of Red Grant in From Russia With Love), and one-eye-patched businessman Number Two (Robert Wagner). Number Two had been running Evil's empire for 30 years, called Virtucon - "the legitimate face of my evil empire." Fifteen years earlier, the company changed from volatile chemicals to the communications industry (owning cable companies in 38 states, shipping, steel mills, oil refineries, and a factory). Evil's plan was to blackmail the royal family of Britain ("the wealthiest landowners in the world") by fabricating a story that Prince Charles had an affair outside his marriage and was forced to divorce (an event that had already occurred, making it unfeasable). His second plan was to use a weather-changing machine - a sophisticated heat beam ("laser") to punch a hole in the protective ozone layer, causing ultra-violet rays to penetrate and cause an increase in skin cancer. Number Two also rejected this plan since it had already happened.
Evil then said: "Hell, let's just do what we always do - hijack some nuclear weapons and hold the world hostage." With the warhead, Evil suggested demanding a ransom of $1 million dollars. Number Two suggested a larger, inflation-based figure (since Virtucon was already making $9 billion a year) -- and the demand was raised to $100 billion.
Powers jetted off to Nevada in his "groovy," psychedelically-painted private jumbo jet with Vanessa, while he attempted to seduce her, calling her a "hot chick" and proposing: "Why don't we go in the back and shag?...I've been frozen for 30 years. I gotta see if my bits and pieces are still working...My meat and two veg, my twig and berries. Hello lads, you still awake?" She resisted him and told him to give his libido a rest, although he persisted. On his revolving circular bed, he asked her: "Do I make you horny? Randy?" - until she vowed: "I will never have sex with you, ever! If you were the last man on Earth, and I was the last woman on Earth and the future of the human race depends on our having sex simply for procreation, I still would not have sex with you."
Dr. Evil was told by Frau Farbissina that his semen had been frozen during his 30-year absence, and a son had been artificially-created -- his name was Scott Evil (Seth Green), a Generation-Xer teen who was angered by his father's sudden appearance: "...now you come back and just expect a relationship - I hate you!"; Scott refused a hug and called Evil a "lazy-eyed psycho."
In Vegas, Vanessa and Powers shared a casino hotel room only to "keep up the context that we're a married couple on vacation," although he joked: "Shall we shag now, or shall we shag later?" When they both unpacked, her gun was three times larger than his, and he reached for his penis-enlarger pump - although again claimed it wasn't his. On their way to the gaming tables, Vanessa told him that Virtucon executives, linked to Evil, were gambling in the casino. Vanessa and Powers joined Number Two and his busty "Italian confidential secretary" Alotta Fagina (Fabiana Udenio) at a blackjack table, introducing themselves as a couple named Richie and Oprah Cunningham. Powers followed Number Two into the men's room, where a Texan cowboy (uncredited Tom Arnold) and Powers sat in adjoining stalls as they took a dump. As Powers avoided being strangled from behind by Patty O'Brien, the Cowboy believed he was straining due to constipation ("Don't force it. You're gonna blow out your O-ring. Drop a lung...Grab ahold of something, bite your lip, and give it hell. Come on, we're gonna get through this.") Afterwards, he asked: "What did you eat?"
After acquiring the warhead, Dr. Evil communicated with delegates in the United Nations Secret Meeting Room and announced his ransom demands -- at first forgetting the correct figure, although they refused as a general policy, to negotiate with terrorists. In their casino hotel room while phoning her mother, Vanessa was advised about Powers: "Women want him, and men want to be him" -- as Powers cavorted around naked and his private parts were strategically hidden and covered by various objects - a magnifying glass, a wine bottle, a water pitcher, etc.
At Virtucon's Worldwide Headquarters, Powers spied upon Random Task leaving with Evil's cat, quipping: "I never forget a pussy - cat"; he promised the "beautiful" Vanessa a night on the town - Burt Bacharach serenaded them in person atop an open-topped, double-decker bus as they shared dinner and dancing. Afterwards, they played a game of Twister, and when she became "smashed" and she suggested a kiss, he told her that she was drunk and it wasn't right. Receiving an email (through AOL) from Basil, Powers was instructed to find out what part Evil's Virtucon played in "Project Vulcan" - by visiting Alotta Fagina's penthouse immediately.
There, he took photos of the secret plans with a mini-camera, and learned that Project Vulcan consisted of a drill that drove a nuclear warhead deep underground into the Earth's core. When Alotta arrived, she suggested "let me slip into something more comfortable" - and he watched her strip silhouetted behind a screen before she emerged in a tiny bathrobe. She summoned him to join her as she approached her hot-tub and stripped naked ("Come in, and I'll show you everything you need to know"). As she washed him, she found his business card and discovered his true identity -- Austin Powers -- causing her to further seduce him ("In Japan, men come first, and women come second (or sometimes not at all)") with sake ("Sake it to me, baby") and her proposition: "Let's make love, you silly hairy little man".
Meanwhile, Dr. Evil feared: "Austin Powers is getting too close." Frau suggested the "ultimate weapon" to defeat him: Fembots (introduced with Nancy Sinatra's singing of "These Boots Were Made For Walking") - beautiful blonde android replicants, wearing white boots and two piece outfits. They were "the latest word in android replicant technology. Lethal, Efficient, Brutal. No man can resist their charms"; they had protruding gunbarrels that emerged from their bikini-covered breasts [the Fembots' brassieres were based on the one worn by Ursula Andress in the cult Italian sci-fi movie The 10th Victim (1965)];- they demonstrated their lethal breast-weapons on emasculated guards.
In the British Makeshift Headquarters, Powers was outfitted with a geosynchronous positioning device, and Vanessa proposed some dental enhancements (toothpaste, floss, etc.). Basil suggested that Austin and Vanessa infiltrate Virtucon for on-site reconnaissance during one of its regularly-scheduled tours, disguised as tourists.
Dr. Evil and his artificially-created son Scott attended a group therapy session for "fathers and sons," led by therapist (Carrie Fisher), where Scott refused to follow in his father's 'evil' footsteps. Scott rightfully admitted: "I really think he wants to kill me." Inappropriately, Dr. Evil described his shocking childhood: "The details of my life are quite inconsequential... Very well, where do I begin? My father was a relentlessly self-improving boulangerie owner from Belgium with low-grade narcolepsy and a penchant for buggery. My mother was a 15 year-old French prostitute named Chloe with webbed feet. My father would womanize, he would drink. He would make outrageous claims like he invented the question mark. Sometimes he would accuse chestnuts of being lazy. The sort of general malaise that only the genius possess and the insane lament. My childhood was typical, summers in Rangoon, luge lessons. In the spring, we'd make meat helmets. When I was insolent, I was placed in a burlap bag and beaten with reeds. Pretty standard, really. At the age of 12, I received my first scribe. At the age of 14, a Zoroastrian named Vilma ritualistically shaved my testicles. There really is nothing like a shorn scrotum. It's breathtaking - I suggest you try it."
Vanessa confessed to Austin that she was suspicious about Alotta Fagina - and he openly admitted: "I shagged her...I shagged her rotten, baby, yeah!" His "protection" was a 9 mm automatic - "Only sailors use condoms, baby," although he told her: "Alotta meant nothing to me." She told him that in the 90s, "times have changed - You can't just go off shagging anybody anymore," and he realized his love for her: "You're everything to me. She feared he would live a lonely life. He wrote down a list of the people and things that had deceased or changed since the 60s: Jimi Hendrix, Janis Joplin, Mama Cass, the moon-landing, the fall of the Berlin Wall.
During their tour of Virtucon, Vanessa (as a cowgirl) and Austin (as a bearded guru) left the guided group, steam-rolled over a guard, and gained access into a Restricted Area, but were confronted by Random Task, knocked out, and driven to Dr. Evil's underground lair. They watched as Dr. Evil presented his final ultimatum to the UN regarding his Vulcan subterranean drill, that could deliver a 50-kiloton nuclear warhead into the liquid hot core of the planet, where it could be detonated and cause worldwide volcanic eruptions. Left with no other choice, the UN decided to pay the ransom. Dr. Evil also introduced his son to his nemesis Austin Powers, and described how he would "place him in an easily escapable situation involving an overly elaborate and exotic death." Evil also planned to collect the ransom and still use his device: "I expect them to die. Even after they pay me the money, I'm still gonna melt every city on the planet with liquid hot magma." Vanessa and Powers were lowered into a death trap - a tank filled with mutated, ill-tempered seabass (instead of sharks with laser beams), although they escaped, and then separated (with Vanessa sent for help).
While Project Vulcan was being readied by Dr. Evil, Austin came upon the Fembots, now wearing purple fuzzy teddy-bear nightgowns - they asked him: "Care to have a little fun?" - one of them jumped onto his shoulders, while the others protruded tubes from their breasts ("jumblies," British slang) (he asked: "Is it cold in here?") and sprayed him with a pink-colored gas. Powers found himself lying in bed with the Fembots, who stroked him to tantalize him, as he attempted to think of distracting things: "Baseball, cold showers...Margaret Thatcher naked on a cold day..." When they challenged him, "You can't resist us, Mr. Powers," he performed a sexy strip-tease dance (down to Union Jack red underwear and hairy chest) to the tune of "I Touch Myself," causing them to short-circuit with sexual electricity as their heads twitched violently and then exploded (he explained later how he defeated the Fembots with machine-gun boobs: "...all of a sudden, the Fembots came by and smoke started to come out of their jumblies. So I'd thought I'd work my mojo, right, to counter their mojo. We got cross-mojonations, and their heads started exploding").
Vanessa led British forces on a raid of Dr. Evil's lair, and the Vulcan subterranean probe was aborted (to the tune of "Secret Agent Man"). Powers confronted Dr. Evil in his meeting room, accusing him of wanting "money and world domination," although Evil called agent Powers an "aging hipster." The tables turned when Alotta Fagina appeared holding Vanessa hostage - and then Powers held Scott hostage, although it was ineffectual (Evil encouraged: "Kill the little bastard"). Number Two entered and held everyone at gunpoint -- he described how for 30 years of his life, he had turned the "two-bit evil empire into a world-class multinational." He resented Evil's plan to take over the world ("I've had enough of you pushing me around"), and sought to betray him. He made a "business proposition" toward Powers, although Dr. Evil prevented it by killing Number Two with one of his trap-dooor death chairs.
Evil then initiated a 30-second "SELF DESTRUCT" mechanism to blow up the complex, and again escaped in his cryogenic freezing chamber/Big Boy rocketship. Just before the underground facility was destroyed in the nuclear detonation, Powers and Vanessa escaped in their SWINGER sportscar parked outside.
Three months later, the two were married and celebrating their honeymoon in their hotel. As they talked on a videophone to British Intelligence Agent Basil Exposition, the two were cleverly shielded by various objects as they moved about naked. He told them that Dr. Evil had escaped in his rocket - although he had disappeared from the tracking system.
When room service arrived, a disguised Random Task attacked them, and Austin subdued the henchman with his penis-enlargement pump, while Vanessa knocked him out with a champagne bottle. The couple retreated to their balcony terrace to view the night sky, where they spied one "big star" - a telescope viewing revealed it was Dr. Evil's spaceship, where the frozen villain vengefully vowed: "I'm gonna get you, Austin Powers. It's frickin' freezing in here, Mr. Bigglesworth."
Classic Scenes
The toilet scene in the casino, the scene of Austin cavorting around naked in his bedroom suite while objects were strategically placed in front of his private parts (also reprised with Vanessa in the closing scene), the hot-tub scene between Alotta Fagina and Powers, the therapy session featuring Dr. Evil and his son (where Carrie Fisher had a cameo as therapist).
Film Notables (Awards, Facts, etc.)
With an initial production budget of $16.5 million, the film grossed $54 million (domestic) and $68 million (worldwide).
With the tagline: "If he were any cooler, he'd still be frozen, baby!"
This film arrived after the resurgence of the James Bond films, with GoldenEye (1995), spoofing the decade of the psychedelic 60s and British spy agent 007, especially the film Dr. No (1961).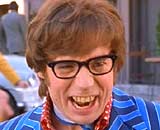 Austin Powers
(Mike Myers)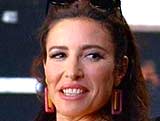 Mrs. Kensington
(Mimi Rogers)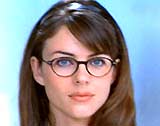 Vanessa Kensington
(Elizabeth Hurley)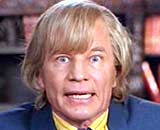 Basil Exposition
(Michael York)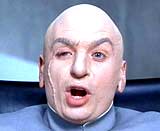 Dr. Evil
(Mike Myers)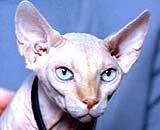 Mr. Bigglesworth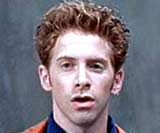 Scott Evil
(Seth Green)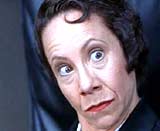 Frau Farbissina
(Mindy Sterling)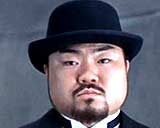 Random Task
(Joe Son)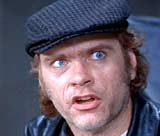 Patty O'Brien
(Paul Dillon)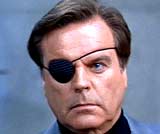 Number Two
(Robert Wagner)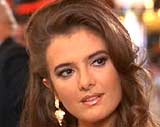 Alotta Fagina
(Fabiana Udenio)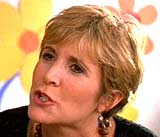 Therapist
(Carrie Fisher)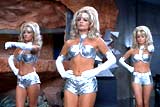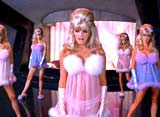 The Fembots
(Cheryl Bartel, Cindy Margolis, Donna W. Scott, Barbara Ann Moore, Cynthia Lamontagne)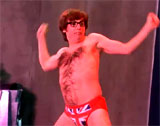 Austin Counter-Seducing and Defeating the Fem-Bots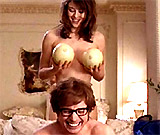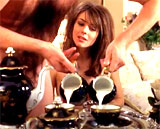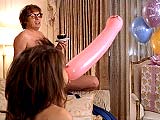 Closing Scene: Austin with Vanessa