James Bond Films in the 90s:
Not unexpectedly, Agent 007 James Bond films flourished in the 90s (all with Pierce Brosnan), although there was a six year gap between the 16th film, Licence to Kill (1989) and the next Bond film, due, in part, to prolonged litigation over rights to the James Bond character stretching back 40 years. [The conflict was between Kevin McClory, a producer and coscreenwriter of Thunderball (1965), who attempted to claim a piece of MGM's $1 billion James Bond franchise by specifically asserting, in 1997, that he was co-owner of the Bond character. The case, between MGM/UA and Sony, was finally settled by the courts in the late 1990s]:
Major Blockbusters: Phenomenal Successes
Since the making of Jaws (1975), studio executives were primed toward making blockbusters to meet the bottom line. In the 90s, many of the greatest box-office hits of all time (in the top twenty) were made and marketed with sophisticated publicity and merchandising campaigns:
Steven Spielberg's and Universal's f/x laden Jurassic Park (1993) (based upon Michael Crichton's 1990 novel) with photo-realistic, computer-generated dinosaurs spliced into live-action sequences, i.e., the car-crunching T-Rex sequence
Adrian Lyne's Indecent Proposal (1993), in which wealthy Robert Redford offered one million dollars as the price-tag for one night with married Demi Moore
Chris Columbus' Mrs. Doubtfire (1993)
Robert Zemeckis' Forrest Gump (1994)
The Lion King (1994)
the apocalyptic disaster film ("Earth! Take a good look. It could be your last") from director Roland Emmerich Independence Day (1996) - that set a record by grossing $100 million in box-office receipts during its first six days, and won a Best Visual Effects Oscar - mostly for the sequence of the White House exploding
Twister (1996) - about the chasing of tornadoes by researcher Bill Harding (Bill Paxton) while trying to divorce his wife Jo (Helen Hunt)
Titanic (1997) - see below
Men in Black (1997) - with Tommy Lee Jones and Will Smith as black-clad buddies on a mission
Spielberg's sequel The Lost World: Jurassic Park (1997)
Michael Bay's top-grossing, but expensive-to-make Armageddon (1998) from Touchstone (a Disney Company)
Star Wars: Episode I - The Phantom Menace (1999) - a box-office success although derisively criticized by fans and other reviewers as shallow story-telling but with dazzling visual effects
The Mummy (1999), a glossy remake of the original, with French Foreign legion hero Brendan Fraser stumbling upon an ancient city in Egypt and awakening high priest Imhotep
Toy Story 2 (1999) - a sequel that far surpassed the original Toy Story (1995) in terms of the quality of animation, voice acting and script, as the themes from the first film -- obsolescence and loyalty -- were explored even more deeply. It was also a major financial success, and the third highest-ranking film of the year in terms of box-office revenue (at $245.8 million domestic).
But the biggest box-office ($294 million) and critics favorite - and psychological thriller - was writer/director M. Night Shyamalan's The Sixth Sense (1999) - about a 9 year-old boy (Haley Joel Osment) who saw ghosts of dead people (with the memorable tagline "I see dead people") all around south Philadelphia, and who shared his ghostly experience with child psychologist Bruce Willis. The mysterious film from an unknown director generated much talk over its unexpected twist ending. [There were at least five films famous for their gripping twist or surprise endings in this decade: The Crying Game (1992), Se7en (1995), The Usual Suspects (1995), and Fight Club (1999) could be added.]
Hollywood was relieved (and recouped its costs) when its traditional kind of blockbuster did well in the summer of 1991, evidenced by James Cameron's expensive sequel Terminator 2: Judgment Day (1991). It featured superstar Arnold Schwarzenegger ("Hasta la vista, baby!") as a T-800 cyborg, and incredible, quicksilver "morphing" effects of the opposing, molten-metal T-1000 android (Robert Patrick) produced with high-powered Silicon Graphics super-computers).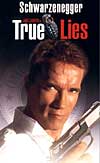 It was the first film with a $100 million budget. [Cameron had written and directed the earlier low-budget The Terminator (1984) with modest success. Likewise, he had transformed Ridley Scott's Alien (1979) into a big-budget sequel titled Aliens (1986).]
Writer/director Cameron's next film (with secret agent Arnold Schwarzenegger as Harry) was True Lies (1994) - a Bond-like spy-adventure packed with special effects, thrills, an exciting jet and car chase over the Florida Keys, and tongue-in-cheek comedy about how Harry's wife Helen (Jamie Lee Curtis) didn't know his occupation. [It was the first movie with a budget to exceed $100 million, and eventually grossed $365 million.] Ridley Scott closed the decade with the Best Picture, multiple-Oscar winner Gladiator (2000), a computer-enhanced Roman Empire sandals-toga epic with Australian actor Russell Crowe as the virtuous and wronged Maximus who sought revenge in the Coliseum.
The Phenomenon of Titanic: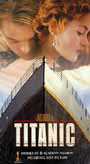 Writer/director James Cameron solidified his reputation as the undisputed king of mega-blockbusters in this decade with his studio-shared (Fox and Paramount) Titanic (1997) (grossing $600 million in the US alone, and $1.8 billion worldwide for the studios). It was the first film with a budget exceeding $200 million. Titanic retold the spectacular, epic-disaster of the 1912 ill-fated, maiden voyage cruise of the R.M.S. Titanic, when it was pierced by an iceberg. The tense scene of the sinking of the ship was created with state-of-the-art digital effects and a life-size version of the ship. In addition, a secondary love story between star-crossed lovers - poor passenger Jack Dawson (Leonardo DiCaprio) and upper-class Rose DeWitt Bukater (Kate Winslet), told in flashback by an older Rose (Gloria Stuart) slowly built to the inevitable conclusion.
The melodramatic film was notable for many milestones:
it became the highest grossing and most successful film of all time (passing the megahit of the past Gone with the Wind (1939))
its worldwide gross was $1.835 billion, and it was the first movie to gross $1 billion
it was the most expensive film in Hollywood history estimated at about $200 million
it tied Ben-Hur (1959) with its eleven Oscar wins
It also featured Celine Dion's popular song: 'My Heart Will Go On.' The mega-hit even surpassed Steven Spielberg's box-office blockbusters: Jurassic Park (1993) and E.T.: The Extra-Terrestrial (1982).
Minor Films Were Also Successful:
Other successful films were small, comparatively cheap, and often independently-produced films that unpredictably soared at the box office:
director Frank Marshall's Arachnophobia (1990) told about a threatening lethal spider/creature that made its way to California from Venezuela; it starred John Goodman as the town exterminator, and Jeff Daniels as a doctor afraid of spiders
director Chris Columbus' blockbuster Home Alone (1990) and scripted by John Hughes - was one of the most lucrative comedies ever made, with new child star Macaulay Culkin as an 8 year-old boy accidentally left behind when his parents fly off to Paris for Christmas vacation and foiling robbers Harry and Marv (Joe Pesci and Daniel Stern); it was followed by a less-successful sequel Home Alone 2: Lost in New York (1992) with the same slapstick gimmicks
director Garry Marshall's call-girl fantasy romance Pretty Woman (1990) (released by Disney Studios - its highest grossing release up to that time), sent sweetheart superstar Julia Roberts catapulting to fame in the Disney-fied Cinderella-like story of a Hollywood Boulevard streetwalker's (Vivian Ward) transformation while spending a week (for $3000) with silver-haired Wall Street millionaire Richard Gere (as Edward Lewis) at the Regent Beverly Wilshire Hotel
comedy director Jerry Zucker's supernatural, tearjerker love story Ghost (1990) starred Demi Moore and Patrick Swayze as passionate lovers separated by tragedy but brought together by psychic spirit medium Whoopi Goldberg (a Best Supporting Actress Oscar winning role); the film revived the Righteous Brothers' 60s hit "Unchained Melody"
The Bodyguard (1992) was one of the top-grossing films of its year, with Kevin Costner as a Secret Service agent hired to protect a musical superstar (Whitney Houston in her acting debut)
screenwriter Frank Darabont's directorial debut film that was narrated by lifer inmate 30265 (Morgan Freeman), The Shawshank Redemption (1994), was the first of his two 'life-affirming' prison dramas in the decade that were both adapted from works of horror writer Stephen King. [Although it suffered poor numbers at the box-office, its enormous success came after video release, and it became a sleeper hit through word-of-mouth.]
the Australian film Muriel's Wedding (1994) was a sleeper hit that starred Toni Collette as an unconventional woman who felt unloved and worthless, so she moved from the small town of Porpoise Spit to Sydney in search of the perfect man to marry
Italy's Il Postino (The Postman) (1995) was the first foreign-language film since 1973 to be nominated for Best Picture
Clint Eastwood acted and directed The Bridges of Madison County (1995), portraying a National Geographic photographer who entered into a middle-aged love affair with housewife Meryl Streep
another serial killer crime drama of the decade - David Fincher's unflinching police thriller Se7en (1995) followed two detectives (retiring cop Morgan Freeman and rookie cop Brad Pitt) in pursuit of a maniacal psychopath who dramatized the seven deadly sins (gluttony, greed, sloth, pride, lust, envy, and wrath) of the works of Chaucer and Dante with gruesome murders; the film's gruesome ending (a head-in-a-box) was controversial, but didn't deter the film from garnering over $300 million in worldwide box-office receipts
actor/director/writer Roberto Benigni's sentimental Italian, WWII comedy-drama Life is Beautiful (1998) was the most successful sub-titled, imported foreign-language film of all time - a mixed, Chaplinesque fable of courtship and the Holocaust; the film won Best Foreign Film and Best Actor Oscars
David Fincher's daring, feverish and dark non-linear satire Fight Club (1999) found a large (and sometimes controversy-invoking) audience with its compelling, grim and twisting story about the glorification of self-destructive violence by a men's club, with anonymous voice-over narration provided by Edward Norton
Frank Darabont's second film, The Green Mile (1999), was a lengthy treatise about a magical death-row inmate and convicted killer named John Coffey (Best Supporting Actor-nominated Michael Clarke Duncan), a pet mouse (Mr. Jingles), and a head execution-row prison guard (Tom Hanks)
Special-Effects Laden Films:
Two special-effects-laden, predictably-scripted apocalyptic disaster films racked up huge profits. Both were about destructive meteors or asteroids hurtling toward Earth - in the same year:
Mimi Leder's solemn and emotional Deep Impact (1998), with Robert Duvall cast as an astronaut who must blow up the threatening comet, Morgan Freeman as the US President, and Tea Leoni as a TV news reporter
Michael Bay's fast-paced Armageddon (1998), with Bruce Willis (as Harry Stamper) and Billy Bob Thornton cast as two members of a crew of Texas oil-drillers called upon by NASA to save the Earth from a huge meteor headed its way; also with a romantic subplot featuring Ben Affleck and Liv Tyler
At the close of the decade, another chapter of the Star Wars saga appeared after a sixteen year lapse: George Lucas' computer-generated return to his epic saga with the first sci-fi space episode, an inferior but financially successful prequel Star Wars Episode I: The Phantom Menace (1999).
The eerie horror film Interview with the Vampire (1994) was based on Anne Rice's novel, and starred Tom Cruise as a decadent vampire in New Orleans who converted Brad Pitt to blood-sucking and immortality. And Clint Eastwood's latest directing and acting project, Space Cowboys (2000) used high definition television (HDTV) technology for the first time in a Hollywood feature.
The Wachowski Brothers' The Matrix:

Writers-directors Andy and Larry Wachowski's second feature film (following Bound (1996)) was the ambitious and inventive virtual-reality flick The Matrix (1999). It starred Laurence Fishburne, Carrie-Anne Moss and Keanu Reeves, and won four Academy Awards (all in sound, editing, and visual effects technical categories). Slacker hacker Thomas Anderson/Neo (Keanu Reeves) was called as a messianic figure to save the world (of approximately the year 2199) from virtually indestructible Sentient Agents. The blockbuster's wild popularity was due to its combination of comic-bookish plot, mysticism, philosophical complexity, computer-enhanced digital effects of its unbelievable action scenes, flying bullet-dodging ("bullet-time") and intriguing virtual worlds in which reality was redefined as a computer simulation. It helped to illustrate what the future would be of futuristic sci-fi action films with slick and smart plots, and jaw-dropping action.
Big Losers, Flops and Bombs: Turkeys of the 90s Decade
See this site's major sub-section on Greatest Flops and Box-Office Disasters. There were a number of expensive blockbusters that seemed like they would be sure-fire, instant successes for studio bosses, but there were no guarantees. It was becoming clear that expensive, star-studded films with reliable adventure, horror, fantasy or crime genre plots, or with state-of-the-art special effects and huge marketing campaigns, didn't necessary mean success at the box office. Unless Hollywood could sell its films to foreign markets, or find lucrative profits from the video market or cable/satellite TV industry or other outlets, many films were doomed to fail and lose money due to bloated budgets. The disturbing trends begun in 80s continued into this decade, with unimaginative, vanilla-flavor plots, poor artistry, inferior production values, and hackneyed scripts.
Despite massive production budgets and elaborate marketing and distribution campaigns (Hollywood studios had been transformed into money-making factories that were spending approximately $70 million per feature film by the late 1990s), the following films were major flops or were reviewed highly critically:
The Bonfire of the Vanities (1990), director Brian de Palma's flop adaptation of Tom Wolfe's best-seller; mis-cast with Tom Hanks as the central character - a Wall Street broker.
Hook (1991), another high-budget film from Steven Spielberg, was an odd and savagely-criticized updating of the Peter Pan legend. It starred Robin Williams (as Peter Pan), Dustin Hoffman (as Captain Hook), and Julia Roberts (as Tinker Bell).
Director Michael Lehmann's Hudson Hawk (1991) was Columbia/TriStar's ill-fated, unfunny, and poorly-executed attempt at a heist flick (with homage to Hitchcock's To Catch a Thief (1955) and Leslie Nielsen in The Naked Gun (1988)). It starred Danny Aiello, Andie MacDowell, and self-indulgent Bruce Willis in this vanity project as a reformed cat burglar who stole priceless da Vinci art pieces around the world. The film's budget of over $60 million brought in US box-office of only about $17 million.
Director Renny Harlin's (star Geena Davis' husband! and known for Cliffhanger (1993)) and MGM/Carolco's bloated Cutthroat Island (1995) was one of the biggest flops of the decade (with an eventual budget of $100 million and box-office of only $10 million). The pirate movie was an adventure tale with horrible acting, a deficient script, continuity problems, and logistical issues due to being filmed on two continents (in Malta and Thailand). Harlin's film starred B-list actor Matthew Modine opposite Geena Davis who was cast in the unlikely role of Captain Morgan Adams - a swashbuckling pirate queen in search of treasure; Carolco (makers of the Rambo series, Terminator II: Judgment Day (1991), and Total Recall (1990)), didn't survive after the film's failure.
Showgirls (1995) - a sleazy, big-budget 'adult-oriented' film that became a camp classic instead; the outlandish film was both a critical and commercial failure, and grossed only $20 million (half of its budgeted cost); Elizabeth Berkley (of TV's Saved By the Bell) starred as a stripper turned Las Vegas showgirl-dancer in a soul-less, exploitative plot with repugnant characters; the film was considered senseless, violent, and actually sexually boring; the film was the second pairing of director Paul Verhoeven (known for RoboCop (1987) and Basic Instinct (1992)) and screenwriter Joe Eszterhas (also for Basic Instinct (1992)).
Star/director Kevin Costner's and Warners' over three-hour long futuristic sci-fi epic The Postman (1997) with Costner in the title role as a Shakespeare-quoting, Messiah-like postman (with homage to the Australian Mad Max films); based on David Brin's fantasy post-apocalyptic novel, the laughable film was budgeted at $80-100 million, with a US box-office of only about $18 million.
Godzilla (1998) was an over-produced blockbuster from the team of Dean Devlin and Roland Emmerich; with an unwisely-redesigned monster-creature from the Japanese classic.
Battlefield Earth (2000) was best known for being devoted Scientology member and spokesperson John Travolta's greatest all-time turkey; also noted for its ridiculous dialogue and poorly executed special effects, the unappealing film was a miserable adaptation of L. Ron Hubbard's science-fiction novel, and believed to be a propagandistic recruitment tool for the self-help 'religious' Church of Scientology; the $75 million flop was released at the same time as Ridley Scott's acclaimed Gladiator (2000).
The tasteless, vulgar, "middle-aged sex comedy" about marital infidelity, Town & Country (2001) failed miserably, with a budget of $85-90 million (double the original budget), and a box-office of only about $7 million; it featured an impressive cast: Warren Beatty and Garry Shandling as cheating husbands on their wives Diane Keaton and Goldie Hawn. The three-year production was so plagued with script problems and re-shoots that the studio postponed the film's opening date 13 times!
Other Films With Critical Reviews or Failed Box-Office Results:
Steven Spielberg's Always (1989) starred Richard Dreyfuss and Holly Hunter - it was a remake of the classic WWII drama A Guy Named Joe (1943) with Spencer Tracy; it also featured Audrey Hepburn's final screen performance as a guardian angel
Walter Hill's cop-buddy film sequel to Eddie Murphy's earlier box-office 1982 hit, Another 48 Hrs (1990)
Top Gun director Tony Scott's Days of Thunder (1990), a high-concept film described simply as "Top Gun on wheels," starred Tom Cruise as a NASCAR stock-car racer, who became romantically involved with hospital brain specialist (Australian actress Nicole Kidman in her first American feature film) following a car accident; as a result of their acquaintance on the set, the couple were married soon after filming wrapped
Warren Beatty's stylish, brightly-colored but lifeless film Dick Tracy (1990) from the Chester Gould comic-strip of the same name, with Beatty as the title character, Madonna as blonde Breathless Mahoney, and Al Pacino as crime boss Big Boy Caprice
Francis Ford Coppola's The Godfather (Part III) (1990), the weakest film in the trilogy, and poorly cast with the director's daughter Sofia in the crucial role as mob patriarch Michael Corleone's (Al Pacino) daughter Mary
Rocky V (1990), a tired and depressing fifth (and final?) chapter of the long-running series about boxer Rocky Balboa (Sylvester Stallone)
Jack Nicholson's directorial debut film The Two Jakes (1990), a convoluted sequel to the legendary Chinatown (1974), with Nicholson reprising his role as LA detective Jake Gittes
further film adaptations of Larry McMurtry novels (previously The Last Picture Show (1971) and Terms of Endearment (1983)) failed this time at the box-office as continuation sequels of their originals (with "Where are they now?" plots) -- Peter Bogdanovich's Texasville (1990) and director Robert Harling's The Evening Star (1996)
director Robert Benton's flawed period crime drama Billy Bathgate (1991), adapted from E.L. Doctorow's story, with Dustin Hoffman and Nicole Kidman
director Garry Marshall's romantic drama Frankie and Johnny (1991), with Al Pacino and Michelle Pfeiffer cast as co-workers in a small Greek diner
director Russell Mulcahy's inferior fantasy sequel Highlander II: The Quickening (1991) - both a critical and commercial flop, with over-paid actor Sean Connery
More dubious Kevin Costner films:
1- director Kevin Reynolds' Robin Hood: Prince of Thieves (1991)
2- the notoriously over-extended aqua-post-apocalyptic Waterworld (1995), infamously called "Fishtar" - although the film ultimately broke even
3- co-writer/director Ron Shelton's sports comedy Tin Cup (1996) with Costner as a US Open golfer who fell for psychologist Renee Russo

Bram Stoker's Dracula (1992), also from Coppola, another retelling of the Dracula tale with Gary Oldman as the Count, Winona Ryder as Mina, Anthony Hopkins as the vampire slayer Van Helsing, and Keanu Reeves as Jonathan Harker
The Last Action Hero (1993), starring 'action hero' Arnold Schwarzenegger failed -- even at the height of the star's popularity!
the awful The Avengers (1998) adapted from the TV spy series of the same name, with Ralph Fiennes as John Steed, and Uma Thurman as Emma Peel
Soldier (1998), an uncompelling outer-space version of the classic western Shane (1953) that starred Kurt Russell, was a disaster
aging director Woody Allen and his films in the late 1990s went mostly into decline (with lower box-office receipts and lukewarm reviews), including: Deconstructing Harry (1997), Celebrity (1998), Curse of the Jade Scorpion (2001), and Hollywood Ending (2002)
Barry Sonnenfeld's unfunny action-comedy (and sci-fi western) Wild Wild West (1999), although appealing for Will Smith's role and its lavish special effects, was a money-losing revival of the classic TV series of the same name
the expensive science-fiction thriller Red Planet (2000) with Val Kilmer flopped miserably
the Farrelly Brothers' unfunny Osmosis Jones (2001) with Bill Murray was a disappointing box-office turkey - a mixture of live-action and animation
Disney's animated Treasure Planet (2002), a futuristic sci-fi version of the classic Robert L. Stevenson novel Treasure Island, was a major flop
Eddie Murphy's starring vehicle, the sci-fi comedy The Adventures of Pluto Nash (2002), was a dud
The adventure film remake of the 1939 film, The Four Feathers (2003), was an expensive box-office bomb
Although Jim Carrey received the first of many $20 million Hollywood salaries in the decade for his appearance in director Ben Stiller's dark, unsettling comedy The Cable Guy (1996), the film failed miserably. A lot of lesser horror films failed at the box office, such as the sequel I Still Know What You Did Last Summer (1998) (scriptwriter Kevin Williamson's original film in 1997, a follow-up to Scream, fared slightly better) and Urban Legend (1999).
Plot Line Derivatives for 90s Hollywood Films:
To retread well-known and well-accepted plots, storylines, or film properties from the past that would potentially provide guaranteed profits, Hollywood studios looked to comic book characters or superheroes, sports figures, popular TV shows or animations, or videogames for inspiration for live action films (and their sequels), such as:
The Rocketeer (1991)
Super Mario Bros. (1993)
Double Dragon (1994)
The Flintstones (1994)
Street Fighter (1994)
Judge Dredd (1995)
Mighty Morphin Power Rangers: The Movie (1995)
Mortal Kombat (1995)
Tank Girl (1995)
Barb Wire (1996)
Kazaam (1996)
McHale's Navy (1997)
Mr. Magoo (1997)
Steel (1997)
Pokemon: The First Movie (1998)
Dudley Do-Right (1999)
Inspector Gadget (1999)
The Mod Squad (1999)
My Favorite Martian (1999)
Wild Wild West (1999)
Wing Commander (1999)
The Adventures of Rocky & Bullwinkle (2000)
Dungeons & Dragons (2000)
Other examples illustrated how intellectually-bankrupt things had become in the 1990s. Studios also refurbished old ideas with sequels or adaptations of novels, such as:
Return to the Blue Lagoon (1991)
V.I. Warshawski (1991)
Sleepwalkers (1992)
The Scarlet Letter (1995)
The Island of Dr. Moreau (1996)
Kull the Conqueror (1997)
The Rage: Carrie 2 (1999)

Film History of the 1990s
Part 1, Part 2, Part 3, Part 4, Part 5, Part 6
---



---