The Dawning of the 50s: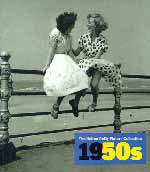 The 50s decade was known for many things: post-war affluence and increased choice of leisure time activities, conformity, the Korean War, middle-class values, the rise of modern jazz, the rise of 'fast food' restaurants and drive-ins (Jack in the Box - founded in 1951; McDonalds - first franchised in 1955 in Des Plaines, IL; and A&W Root Beer Company - formed in 1950, although it had already established over 450 drive-ins throughout the country), a baby boom, the all-electric home as the ideal, white racist terrorism in the South, the advent of television and TV dinners, abstract art, the first credit card (Diners Club, in 1951), the rise of drive-in theaters to a peak number in the late 50s with over 4,000 outdoor screens (where young teenaged couples could find privacy in their hot-rods), and a youth reaction to middle-aged cinema. Older viewers were prone to stay at home and watch television (about 10.5 million US homes had a TV set in 1950).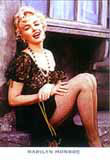 In the period following WWII when most of the films were idealized with conventional portrayals of men and women, young people wanted new and exciting symbols of rebellion. Hollywood responded to audience demands - the late 1940s and 1950s saw the rise of the anti-hero - with stars like newcomers James Dean, Paul Newman (who debuted in the costume epic The Silver Chalice (1954)) and Marlon Brando, replacing more proper actors like Tyrone Power, Van Johnson, and Robert Taylor. [In later decades, this new generation of method actors would be followed by Robert DeNiro, Jack Nicholson, and Al Pacino.] Sexy anti-heroines included Ava Gardner, Kim Novak, and Marilyn Monroe - an exciting, vibrant, sexy star.
One of the decade's best comedies was Harvey (1950), with James Stewart as a lovable, eccentric drunk named Elwood P. Dowd whose best friend was an imaginary, six-foot-tall rabbit. Another of the most popular films in the late 50s was Leo McCarey's romantic drama An Affair to Remember (1957), the story of an ill-fated romance between Deborah Kerr and Cary Grant due to an automobile accident, delaying a rendezvous at the top of the Empire State Building in New York City. It was a remake of the director's own tearjerker film Love Affair (1939) with Irene Dunne and Charles Boyer. The same story would inspire the making of Nora Ephron's Sleepless in Seattle (1993) with leads Tom Hanks and Meg Ryan (who had first appeared together in Joe Versus the Volcano (1990)), and Love Affair (1994) with real-life couple Warren Beatty and Annette Bening.
The New Teenage, Youth-Oriented Market:
The 50s decade also ushered in the age of Rock and Roll and a new younger market of teenagers. This youth-oriented group was opposed to the older generation's choice of nostalgic films, such as director Anthony Mann's and Universal's popular musical biopic The Glenn Miller Story (1954), starring James Stewart as the big band leader, duplicated in Universal's follow-up musical biography The Benny Goodman Story (1956) with Steve Allen (his film debut in a serious dramatic role) as the talented clarinet player. They preferred Rock Around the Clock (1956) that featured disc jockey Alan Freed and the group Bill Haley and His Comets (singing the title song) and many others (such as the Platters, and Freddy Bell and The Bell Boys) - it was the first film entirely dedicated to rock 'n' roll. It was quickly followed by two more similar films featuring Alan Freed (as Himself) -- Don't Knock the Rock (1956) and Rock, Rock, Rock (1956). Both films argued that rock-and-roll was a new, fun, and wholesome type of music. However, the adult generation continued to regard the new youthful generation (and the rise of juvenile deliquency) with skepticism and fear, as illustrated in the film adaptation of Maxwell Anderson's stage play, The Bad Seed (1956). The thriller demonstrated that evil could reside in a young, cute serial killer (played by Patty McCormack).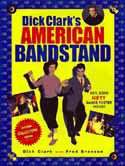 Bandstand first began as a local program for teens on WFIL-TV (now WPVI), Channel 6 in Philadelphia in early October, 1952. In mid-1956, the new host chosen for ABC-TV's American Bandstand was 26 year-old Dick Clark. By the time the show was first aired nationally, in mid-1957, it had became a mainstay for rock group performances.
The rock and roll music of the 50s was on display, along with big-bosomed star Jayne Mansfield as a talentless, dumb blonde sexpot in writer/director Frank Tashlin's satirical comedy The Girl Can't Help It (1956). Marilyn Monroe's foil Tom Ewell starred in the film as the protagonist. It was the first rock and roll film to be taken seriously, with 17 songs in its short 99 minutes framework. Great rock and roll performers included Ray Anthony, Fats Domino, The Platters, Little Richard and his Band (featured in the title song), Gene Vincent and His Bluecaps, Eddie Cochran (with his screen debut) and others. American youth wanted to hear their popular groups in their films that they chose to view, including Bill Haley, Jerry Lee Lewis, Fats Domino, Ritchie Valens, Eddie Cochran, Chuck Berry, Frankie Lymon and the Teenagers, Gene Vincent, and The Platters.
Sometimes, to appeal to the new juvenile market, actors were miscast, such as clean-cut crooner Pat Boone in April Love (1957), playing a juvenile delinquent who was sent to his uncle's Kentucky farm for rehabilitation. The title song, however, became a big hit for the singer/actor. By the last year of the decade, the youth market in all its forms was worth $10 billion a year. Tragedy also struck in the last year of the decade, when pop idols 22 year old songwriter and singer Buddy Holly, 17 year old Latino singer Ritchie Valens, and 28 year old J.P. Richardson (aka radio DJ "The Big Bopper") were killed in a light plane crash on February 3, 1959 in an Iowa cornfield, while on a "Winter Dance Party" tour. [Both singers were later honored with biopics: The Buddy Holly Story (1978) and La Bamba (1987), and also by Don McLean's 1972 hit song American Pie.]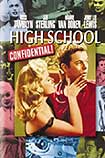 Hollywood soon realized that the affluent teenage population could be exploited, now more rebellious than happy-go-lucky - as they had been previously portrayed in films (such as the Andy Hardy character played by Mickey Rooney). The influence of rock 'n' roll surfaced in Richard Brooks' box-office success, Blackboard Jungle (1955). It was the first major Hollywood film to use R&R on its soundtrack - the music in the credits was provided by Bill Haley and His Comets - their musical hit "Rock Around the Clock." The film also starred Glenn Ford as a war veteran and clean-cut All-American novice teacher at inner city North Manual HS (New York), where the students, led by a disrespectful, sneering punk (Vic Morrow), test his tolerance. [One of the other persuasive youths was a young Sidney Poitier.]
Another film, that came later in the decade, that also exploited the new teenage market's non-conformist attitudes, was Jack Arnold's exploitative juvenile delinquent film, High School Confidential (1958), featuring drugs in a high school dope ring, lots of 50's slang words and hep-talk, Russ Tamblyn as an undercover cop posing as a student, switchblade fights, drag races, Mamie Van Doren as Tamblyn's nympho aunt, and Jerry Lee Lewis singing the title song in its opening.
Two Early 50's Youth Films and Their Influential Actors:
Two other youth-oriented actors and their films in the mid-50s would portray the potentially-scary, self-expressive, and rebellious new teenage population.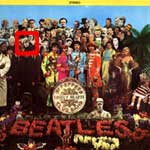 1. Marlon Brando: A Symbol of Adolescent, Anti-Authoritarian Rebellion
A young Marlon Brando (1924-2004) was trained by Lee Strasberg's Actors' Studio in New York in raw and realistic 'method acting,' and influenced by Stella Adler. He starred in A Streetcar Named Desire on Broadway (opposite Jessica Tandy as Blanche) in 1947, and would later repeat his work on film in A Streetcar Named Desire (1951) and receive an Oscar nomination. He also contributed a memorable role as a self-absorbed teen character. He played Johnny - an arrogant, rebellious, tough yet sensitive leader of a roving motorcycle-biking gang (wearing a T-shirt and leather jacket) that invaded and terrorized a small-town in Laslo Benedek's controversial The Wild One (1954) (banned in Britain until a decade and a half later). The film was noted for one line of dialogue, typifying his attitude: "What are you rebelling against?" Brando's reply: "Whadda ya got?" A nasty Lee Marvin led a rival gang of bikers named The Beetles.
[Brando's photo as biker Johnny later appeared on the front-sleeve of the famed mid-late 60s Beatles' album: Sgt. Pepper's Lonely Hearts Club Band. (Brando's new style of acting would be forever emulated by future generations of actors, including Jack Nicholson, Sean Penn, and later Russell Crowe.)]
2. James Dean: The 'First American Teenager'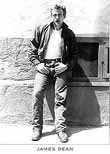 The anguished, introspective teen James Dean (1932-1955) was the epitome of adolescent pain. Dean appeared in only three films before his untimely death in the fall of 1955. His first starring role was in Elia Kazan's adaptation of John Steinbeck's novel East of Eden (1955) as a Cain-like son named Cal vying for his father's (Raymond Massey) love against his brother Aron.
It was followed by Nicholas Ray's best-known melodramatic, color-drenched film about juvenile delinquency and alienation, Warner Bros.' Rebel Without a Cause (1955). This was the film with Dean's most-remembered role as mixed-up, sensitive, and defiant teenager Jim Stark involved in various delinquent behaviors (drunkenness, a switchblade fight, and a deadly drag race called a Chicken Run), and his archetypal scream to his parents: "You're tearing me apart!"
Dean also starred in his third (and final) feature, George Stevens' epic saga Giant (1956) set in Texas, and also starring Rock Hudson, Elizabeth Taylor, and Dennis Hopper. (The 24 year-old actor was killed in a tragic car crash on September 30th 1955 while driving his Silver Porsche 550 Spyder -- affectionately nicknamed 'The Little Bastard', around the time that Giant was completed and about a month before Rebel opened. Dean was on his way to car races in Salinas on October 1st. The crash occurred at the intersection of Routes 41 and 46 near Paso Robles at Cholame, and he died enroute to the hospital.) [Note: Dean's two co-stars in the film also experienced untimely deaths: Sal Mineo (as Plato) was stabbed to death at age 37, and Natalie Wood (as Judy) drowned at age 43.] In his honor, James Dean was awarded two post-humous Best Actor nominations: for his role as rebellious Cal Trask in East of Eden (1955) and as oil-rich ranch-hand Jett Rink in Giant (1956).
Elvis 'The Pelvis' Presley: The King of Rock 'N Roll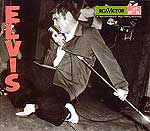 Elvis' first record was That's All Right Mama, cut in July, 1954 in Memphis and released on the Sun Records label. At the time of his first hit song Heartbreak Hotel, singer Elvis Presley made his first national TV appearance in January 1956 on CBS' Tommy (and Jimmy) Dorsey's Stage Show, although he is best remembered for his controversial, sexy, mid-1956 performance of Hound Dog on the Milton Berle Show, and for three rock 'n roll performances on the Ed Sullivan Show from September 1956 to January 1957 - his last show was censored by being filmed from the 'waist-up'.
He was also featured as an actor in many money-making films after signing his first film deal in 1956. His screen debut was in Fox's Civil War drama Love Me Tender (1956) (originally titled The Reno Brothers), with a #1 single hit song ballad. He also appeared in Paramount's Loving You (1957) (noted for his first screen kiss, and for being his first Technicolor film), and then in his MGM debut film Jailhouse Rock (1957) - generally acknowledged as his most famous and popular film. Next came director Michael Curtiz' and Paramount's King Creole (1958) (his third and last B/W film and his own favorite) in a role as a New Orleans teen rebel (acclaimed as one of his best acting roles) before the decade ended. His induction into the Army in 1958 was a well-publicized event. After his Army stint, he also starred in G.I. Blues (1960), in Don Siegel's western Flaming Star (1960) (with only two songs) as a half-breed youth, in the southern melodrama Wild in the Country (1961), and in other formulaic 60's films (i.e., Blue Hawaii (1961), Kid Galahad (1962), and his biggest box-office hit Viva Las Vegas (1964)). By the 70s, his film roles had deteriorated, and although he returned to stage performances and revived his singing career, he was physically on the decline until his death in August, 1977 of heart disease and drug abuse.
American Releasing Corporation (ARC) - Renamed American International Pictures (AIP) (1956): Roger Corman
| | | |
| --- | --- | --- |
| ARC (1954-1956) | ARC (1954-1956) | AIP (1956- ) |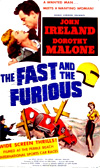 In its first few years starting in 1954, American International Pictures (AIP) was originally named American Releasing Corporation (ARC). It was known as a low-budget, exploitative film company. The studio's executive producers were James Nicholson and Samuel Arkoff, while its most notable and successful film producer was Roger Corman. Corman became one of the most influential film-makers of the 50s and 60s (he was dubbed the "King of the Drive-In and B-Movie") for his production of a crop of low-budget exploitation films at the time. The studio was largely responsible for the wave of independently-produced films of varying qualities that lasted into the decade of the 70s.
The first release from ARC was the B-movie crime thriller-drama The Fast and the Furious (1954) (Corman's second production) that featured a car chase and starred Dorothy Malone and John Ireland. Another early ARC release was the western Outlaw Treasure (1955) - in fact, a number of the earliest Corman ARC releases were westerns, including Five Guns West (1955), Apache Woman (1955) with Lloyd Bridges, The Oklahoma Woman (1956) and Gunslinger (1956).
Cheap Teen Movies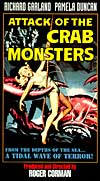 Teenagers were Corman's dominant target audience in exploitative films following The Fast and the Furious (1954), such as Teenage Doll (1957) (aka The Young Rebels) - about juvenile delinquency, the first rock & roll horror film I Was a Teenage Werewolf (1957) (Michael Landon's first feature film). and Sorority Girl (1957). As was the case with most AIP films, they were aggressively marketed with publicity campaigns and lurid posters. There were often double-features (black and white double-bills), for example, Not of This Earth (1957) - an alien invasion film was originally released as part of a double-bill with Attack of the Crab Monsters (1957). [Note: Not of This Earth was remade by Jim Wynorski as Not of This Earth (1988) with ex-porn star Traci Lords in her first post-adult film appearance, in the Beverly Garland role.]
[Note: It must be acknowledged that not all cheap teen movies were made by AIP in the 50s, for example, The Blob (1958), featuring Steve McQueen in his first starring role as a high-schooler, was about a meteorite that oozed a disgusting, gooey substance that ate people. There was also Ed Wood's debut transvestite shock film Glen or Glenda (1953).]
Other significant film subjects for ARC and Corman were science fiction/horror films, such as The Beast with a Million Eyes (1955), Day the World Ended (1955), The Phantom from 10,000 Leagues (1955), and Attack of the Crab Monsters (1957). ARC only released one film noir during this early period: Female Jungle (1955) - notable as sexpot Jayne Mansfield's first film.
Once ARC changed its name to AIP, Corman and other major producers specialized in lots of sensational science-fiction/horror films, teen-oriented exploitation films, and B-film crime dramas, such as:
The Threat of Television:

Hollywood was obviously fearful of television's dawning in the early 1950s. Indeed, the studios forbade their movies and stars from appearing on the small screen at all. Fearful of losing audiences to the screens in their living rooms, Hollywood enticed filmgoers with expensive epics, gimmicky 3D releases, stereo sound, enhanced color technology and widescreen formats such as CinemaScope, VistaVision and Panavision. Bwana Devil (1952) was the first full-length 3D talkie.This is Cinerama (1952) was the first to use a wrap-around, widescreen format, and The Robe (1953), the first movie released in CinemaScope, was recorded in four-track stereo.
All of the major Hollywood studios fought television with what they called "theater television": closed-circuit screenings of TV programs in movie theaters. Since the Big Five studios owned extensive theater chains, this strategy was easily implemented. The Theater Television Network, founded in 1951, aired shows in participating theaters where audiences were provided with costlier programs incorporating political news coverage, prizefights, NCAA games, etc. Although over 100 U.S. theaters had installed theater television by 1952, the phenomenon faded shortly thereafter. And years before HBO, Cinemax or Showtime, an early version of subscription/pay television (called "pay-see" or "toll-video" by Variety) in the late 40s to early 60s equipped regular TV sets with coin-boxes or punch-card systems that, when activated, allowed customers to unscramble the relevant broadcast signal to view special content. Technological and financial issues combined with the threat of government regulation doomed this direct-pay system to failure.
Film attendance declined precipitously as free TV viewing (and the increase in popularity of foreign-language films) made inroads into the entertainment business. In 1951, NBC became America's first nationwide TV network, and in just a few years, 50% of US homes had at least one TV set. In March of 1953, the Academy Awards were televised for the first time by NBC - and the broadcast received the largest single audience in network TV's five-year history. By 1954, NBC's Tonight Show was becoming one of the most popular late-night TV shows. Expensive promotional TV advertising for the scifi flick The Beast From 20,000 Fathoms (1953) marked one of the first times that film advertising successfully exploited television to drive people to movie theaters nationally.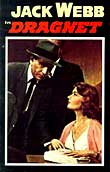 Inevitably, the studios came to see that TV wasn't going away and that collaboration could be mutually beneficial. With a steep decline in weekly theatre attendance, studios were forced to find creative ways to make money from television - converted Hollywood studios were beginning to produce more hours of film for TV than for feature films. [In mid-decade, the average film budget was less than one million dollars.]
A number of Hollywood's independent producers created television shows in the late '40s and early '50s. Low-budget westerns (The Roy Rogers Show, The Lone Ranger, etc.), crime/mystery shows (Mark VII Production's Dragnet, MPTV's Adventures of Superman, etc.), and sitcoms (I Love Lucy and Our Miss Brooks). At first, filmed programs ran second to high-quality live dramas, but eventually, pre-recording became the standard mode of production thanks to the profitability of reruns and syndication. By 1953, many major studios became actively involved - notably Disney (with its weekly ABC Disneyland in 1954 promoting the Disneyland theme park and recycling already-released products, and its afternoon TV show The Mickey Mouse Club in 1955). Other TV shows became popular:
the early sitcom I Love Lucy (on CBS, beginning in 1951); its stars Lucille Ball and husband Desi Arnaz had founded Desilu Productions in 1950
the family show The Adventures of Ozzie and Harriet (on ABC, from 1952-1966)
The Donna Reed Show (on ABC, from 1958-1966)
The Honeymooners (from 1951 and after)
Lassie (on CBS, from 1954-1971)
Gunsmoke (on CBS, from 1955-1975) with James Arness as Matt Dillon
This is Your Life (on NBC, from 1952-1961)
In the 1955-56 season, the ABC TV show Warner Brothers Presents was the first television program produced by Warner Brothers Pictures, and marked the introduction of the major Hollywood studios into television production. It was a survival tactic for the studios to pioneer in television series production. In the same year, Twentieth Century-Fox Hour played on CBS (from 1955-1957) and MGM's documentary series MGM Parade on ABC. And later, in the mid- to late 50s, Warner Bros. studios produced more TV shows, such as their first hit series Cheyenne (1955-1963 with Clint Walker), Maverick (1957-1962, first with James Garner) and 77 Sunset Strip (1958-1964). By the end of 1957, more than 100 Hollywood-produced television series were being broadcast or in production. By 1960, Hollywood dominated prime time.
In the mid-1950s, major studios began to sell and release older black-and-white B-movies (and film rights) to television for broadcast and viewing, albeit primarily to individual stations, not networks. The first Hollywood feature film to be broadcast on US television (on November 3, 1956), during prime-time, was The Wizard of Oz (1939). In 1961, NBC became the first network to premiere recently released, major studio films on the tube. Its popular weekly show Saturday Night at the Movies, was immediately duplicated by the other networks, and by 1968, every night of the week featured a prime-time movie. This phenomenon lasted through the '70s, triggering Hollywood to produce its own made-for-TV movies and miniseries beginning in the mid-'60s. The first made-for-TV movie, broadcast on NBC, was See How They Run (1964).
TV stars became cross-over film stars - the first was Charlton Heston. In early 1950, Western cowboy star Gene Autry was the first film star to announce his appearance in a sponsored TV series. The feature-length, color version of Dragnet (1954), with popular detective TV star Jack Webb (serving as director, producer, and star) as dead-pan LAPD Sgt. Joe Friday, was the first film based on a TV show - the then-popular B/W TV show of the same name ran from 1951-1959. It was memorable for its "Dum, de Dum Dum" theme music (that first made an appearance in the Miklos Rozsa soundtrack for the film noir The Killers (1946)), and the disclaimer: "Only the names have been changed to protect the innocent."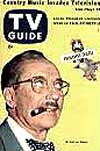 In 1956, the studios lifted the ban against film stars making TV appearances. Fast-talking, cigar-smoking, and quick-witted Groucho Marx (of the famed Marx Brothers) brought his popular radio show You Bet Your Life to television (NBC) as a game show in 1950, with a duck that would descend with $100 if one said the secret word. It lasted until 1961 - its theme music "Hooray for Captain Spaulding" was taken from the Marx Bros.' second film Animal Crackers (1930).
One positive side-effect of the growing influence of American television in the 50s was that it was becoming the proving ground for many aspiring directors. Some of the directors who began in TV in this decade were to make some of Hollywood's best movies in the 60s: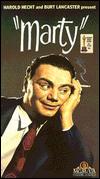 Because of the emergence of television as a major entertainment medium, many studios converted their sound stages for use in television production. Because labor was cheaper abroad, many producers were taking their film production overseas.
Delbert Mann's direction of Paddy Chayefsky's script (initially written as a TV play and produced for NBC Television Playhouse and aired in 1953 with Rod Steiger) for the black and white Marty (1955) about a romantically-insecure and lonely Bronx butcher (Best Actor-winning Ernest Borgnine) who found love with someone his friends called a 'dog'. It was a big winner on the film screen - it was the first American film chosen at the Cannes Film Festival as Best Picture since the award was instituted, and it won four major Academy Awards, including Best Picture from the Academy of Motion Picture Arts and Sciences.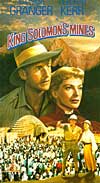 Because television (a small black and white screen) had become affordable and a permanent fixture in most people's homes, the movies also fought back with gimmicks - color films, bigger screens, and 3-D. Bigger and more colorful films and screens, and big scale, profitable box-office epics, such as Cecil B. DeMille's Samson and Delilah (1949), the popular Biblical story starring long-haired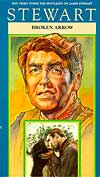 and virile Victor Mature and the beautifully-bewitching Hedy Lamarr with exposed belly-button, and MGM's expensive romantic adventure King Solomon's Mines (1950), filmed on location in Africa, were designed to lure movie-goers back into the theatres. By the mid-50s, more than half of Hollywood's productions were made in color to take Americans away from their B/W TV sets.
Coincidentally, two of the biggest films at the start of the decade, director Henry King's Twelve O'Clock High (1949) about the stress experienced by American bombing units in England, and Delmer Daves' Broken Arrow (1950), an "adult-Western" of the blood-brother relationship between an Indian agent (James Stewart) and Apache chief Cochise (white actor Jeff Chandler), would both become episodic TV series in future years.
Along with Samuel Fuller's Run of the Arrow (1957), Broken Arrow was notable for having a sympathetic depiction of the Native American culture and concerns - the first film to be shot from the Indians' point-of-view for many years. This revisionist effort would be followed years later by the politically-correct, award-winning Dances With Wolves (1990).

Film History of the 1950s
Part 1, Part 2, Part 3, Part 4, Part 5, Part 6
---



---