Background
---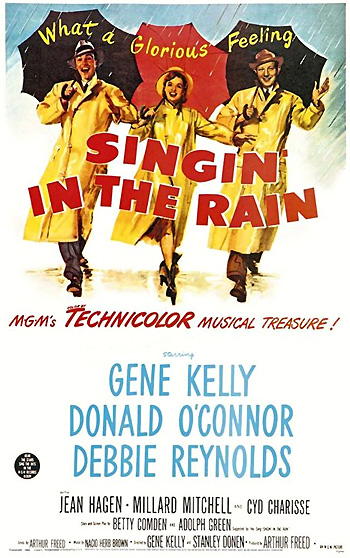 Singin' in the Rain (1952) is one of the most-loved and celebrated film musicals of all time from MGM, before a mass exodus to filmed adaptations of Broadway plays emerged as a standard pattern. It was made directly for film, and was not a Broadway adaptation.
The joyous film, co-directed by Stanley Donen and acrobatic dancer-star-choreographer Gene Kelly, is a charming, up-beat, graceful and thoroughly enjoyable experience with great songs, lots of flashbacks, wonderful dances (including the spectacular Broadway Melody Ballet with leggy guest star Cyd Charisse), casting and story.
This was another extraordinary example of the organic, 'integrated musical' in which the story's characters naturally express their emotions in the midst of their lives. Song and dance replace the dialogue, usually during moments of high spirits or passionate romance. And over half of the film - a 'let's put on a play' type of film, is composed of musical numbers.
This superb film, called "MGM's TECHNICOLOR Musical Treasure," was produced during MGM studios' creative pinnacle. From the late 1930s to the early 1960s, producer Arthur Freed produced more than forty musicals for MGM. The creative forces at the studio in the Freed Unit - composed of Freed, Vincente Minnelli, Stanley Donen, and actor/choreographer Gene Kelly - also collaborated together to produce such gems as Meet Me in St. Louis (1944), The Pirate (1948), On the Town (1949), Best Picture Oscar-winner a year earlier with director Vincente Minnelli - An American in Paris (1951), Royal Wedding (1951), Seven Brides for Seven Brothers (1954), and Gigi (1958).
Because the colorful, witty film is set in 1927, it humorously satirizes and parodies the panic surrounding the troubling transitional period from silents to talkies in the dream factory of Hollywood of the late 1920s as the sound revolution swept through. The film's screenplay, suggested by the song Singin' in the Rain that was written by Freed and Brown, was scripted by Betty Comden and Adolph Green (who also wrote On the Town (1949)).
The time frame of Comden's and Green's script, the Roaring 20s Era of flappers, was mostly determined by the fact that lyricist Freed (and songwriter Nacio Herb Brown) had written their extensive library of songs in their early careers during the 1920s and 1930s, when Hollywood was transitioning to talkies. The musical comedy's story, then, would be best suited around that theme. Except for two songs, all of the musical arrangements in the film to be showcased were composed by Freed and Brown for different Hollywood films before Freed became a producer.
[Note: The title song was originally created by lyricist Arthur Freed and composer Nacio Herb Brown for MGM's Hollywood Revue of 1929 (1929). The general storyline of the film was derived from Once in a Lifetime (1932), a hilarious adaptation of the Moss Hart-George S. Kaufman play also set during the time of panic surrounding Hollywood's transition to talkies.]
Songs Re-Used in
Singin' in the Rain
(in order)

Some of the Previous Films
the Song Appeared In

Singin' in the Rain
The Hollywood Revue of 1929 (1929)
Fit as a Fiddle (and Ready for Love)
College Coach (1933)
All I Do is Dream of You
Sadie McKee (1934)
Make 'Em Laugh
(original to film)
but similar to "Be a Clown" in The Pirate (1948)
I've Got a Feelin' You're Foolin'
Broadway Melody of 1936 (1935)
The Wedding of the Painted Doll
The Broadway Melody (1929)
Should I?
Lord Byron of Broadway (1930)
Beautiful Girl
Stage Mother (1933), and Going Hollywood (1933)
You Were Meant for Me
The Broadway Melody (1929), and The Hollywood Revue of 1929 (1929)
Moses Supposes
(original to film)
Good Mornin'
Babes in Arms (1939)
Would You?
San Francisco (1936)
Broadway Rhythm
Broadway Melody of 1936 (1935), and Babes in Arms (1939)
The Broadway Melody
The Broadway Melody (1929)
You Are My Lucky Star
Broadway Melody of 1936 (1935), and Babes in Arms (1939)
The plot of the film is actually an autobiography of Hollywood itself at the dawn of the talkies. The story is about a dashing, smug but romantic silent film star and swashbuckling matinee idol (Don Lockwood) and his glamorous blonde screen partner/diva (Lina Lamont) who are expected, by studio heads, to pretend to be romantically involved with each other. They are also pressured by the studio boss R.F. Simpson (Millard Mitchell) to change their silent romantic drama (The Duelling Cavalier) and make their first sound picture, renamed as the musical The Dancing Cavalier. There's one serious problem, however - the temperamental, narcissistic star has a shrill, screechy New York accent. The star's ex-song-and-dance partner (Cosmo) proposes to turn the doomed film into a musical, and suggests that Don's aspiring actress and ingenue dancer-girlfriend (Kathy Selden) dub in her singing voice behind the scenes for lip-synching Lina. The results of their scheming to expose the jealous Lina and put Kathy in a revealing limelight provide the film's expected happy resolution.
Surprisingly, this great film that was shot for a cost of $2.5 million (about $.5 million over-budget), was basically ignored by film critics when released and treated with indifference (with box-office of $7.7 worldwide). It received only two Academy Award nominations - Best Supporting Actress (Jean Hagen), and Best Musical Score (Lennie Hayton) and didn't win any awards. The film's musical score Oscar nomination lost to Alfred Newman's score for With a Song in My Heart.
Now, after many accolades, television screenings, and its resurgence after the release of That's Entertainment (1974), it is often chosen as one of the all-time top ten American films, and generally considered Hollywood's greatest and finest screen musical. Great care was made to authenticate the costumes, the sound studio set, and other historical details in the film. The film's title song was paid twisted homage (of sorts) in Stanley Kubrick's A Clockwork Orange (1971) during the brutal rape scene. At the same time that Singin' in the Rain was being filmed, another MGM film exposing and satirizing Hollywood's foibles was also in production - director Vincente Minnelli's melodramatic The Bad and the Beautiful (1952), starring Kirk Douglas and Lana Turner, and Oscar-stealing Gloria Grahame who defeated this film's Jean Hagen for the Best Supporting Actress honor.
Plot Synopsis
---
Part of the opening credits feature the three stars from the film, briefly singing the title song with black umbrellas and yellow raincoats.
The film opens outside the famous Grauman's Chinese Theatre at an exciting 1927 Hollywood film premiere. It is Monumental Pictures' opening night for its latest romantic, black and white swashbuckler, The Royal Rascal, starring two successful silent film stars, Don Lockwood (Gene Kelly) and his leading lady - beautiful blonde bombshell Lina Lamont (Jean Hagen). One of the fans in the crowd holds up Screen Digest, a fan magazine, with Don and Lina pictured on the cover with the story titled: "Lockwood and Lamont - Reel Life or Real Life Romance?" The tabloids exaggerate their relationship - presenting them as virtually engaged.
A Louella Parsons-like radio interviewer Dora Bailey (Madge Blake) announces the arrivals of all the stars. The first limousines pull up at the show with lesser stars and their escorts, as fans cheer, anticipating the arrival of the major stars.
the "darling of the flapper set" Zelda Zanders (Rita Moreno in an early role, her fourth film) and J. Cumberland Spendrill III (Stuart Holmes), a "well-known eligible bachelor"
the "exotic star" Olga Mara (Judy Landon) in a black spider-web dress and new husband Baron de la Ma de la Toulon (John Dodsworth)
studio musician Cosmo Brown (Donald O'Connor playing a role modeled after pianist/songwriter Oscar Levant), Don Lockwood's "best friend" and long-time partner, who plays the piano on the set for Don and Lina "to get them into those romantic moods". His exit from a vehicle produces little fanfare.
Finally, Hollywood's favorite romantic team/couple of silent movies, Don and Lina, arrive ("those romantic lovers of the screen"). As they step out of their limousine, he is wearing a totally white, belted polo coat and white felt hat, and Lina has on a glittering light silvery-green gown and fur-collared stole. They are greeted with tremendous cheers from the fans, and the interviewer's words about the gorgeous couple: "They're a household name all over the world, like bacon and eggs."
Don is asked by the radio interviewer to entertain the public with an account of his rise from vaudeville:
Are these rumors true that wedding bells are soon to ring for you and Lina?...You've come a long way together, Don. Won't you tell us how it all happened?...I want your story from the beginning...The story of your success is an inspiration to young people all over the world. Please.
He begins his conveniently-laundered version of his rise to stardom with one motto he has always lived by, instilled in him by his parents from the very beginning:
Dignity - always dignity.
Then, in flashback, he reminisces for the listening public, in exaggerated fashion, about his life story and rise to the top in show business. Don tells of his early pre-Hollywood days, dancing school, rigorous musical training at the conservatory of fine arts, and many performances with his vaudeville partner/musician, Cosmo.
The narrative images on the screen belie every embellished, fabricated word he speaks - in reality, the pictures and descriptions are terribly disjointed. [The film's theme is the 'out of sync' disjunction of words / sounds / movie images from reality - what can be believed in the magical world of film? Can we believe our eyes and our ears?] What actually happened to Cosmo and Don is seen entirely differently - as an uphill struggle for two musicians/performers.
Lockwood's Verbal Description

APPEARANCE

The Screen Version

REALITY

With him (Cosmo), I used to perform for all of Mom and Dad's society friends.
They tap danced in poolrooms to harmonica music, and gathered pennies off the floor that were thrown to them.
Then if I was very good, I was allowed to accompany Mom and Dad to the theatre. They brought me up on Shaw, Moliere - the finest of the classics.
They snuck into movie theatres to watch B-movie shows (such as The Dangers of Drucilla (a King Kong rip-off)).
To this was added rigorous musical training at the Conservatory of Fine Arts.
Cosmo plays a honky-tonk piano accompanied by Don sawing on a fiddle, in a three-man band in a smoky bar-joint.
Then we rounded out our apprenticeship at the most exclusive dramatics academy.
They audition for burlesque-style "Amateur Nights" with a typical slapstick vaudeville routine. They weren't always received with applause - sometimes they got the hook.
In a few years, Cosmo and I were ready to embark on a dance concert tour. We played the finest symphonic halls in the country. Audiences everywhere adored us.
Signposts from out-of-the-way towns locate them in Dead Man's Fang, Arizona, Oat Meal, Nebraska, and Coyoteville, New Mexico, where they are booed off the stage by the audience after a double-fiddle, tap-dance number.
The next stage in Don's career took him to "sunny California" - Hollywood. (Don and Cosmo are pictured standing in front of an unemployment office in the rain.) "We were...staying here, resting up when the offers from the movie studio started pouring in." They got their start both playing B-movie background music for Monumental Pictures' westerns, starring Lina Lamont. Don's first break occurred when he was asked by the director Roscoe Dexter (Douglas Fowley) to substitute for a knocked-out and unconscious stuntman, and was given the co-starring role opposite Lina. He is shown doing even more spectacular movie stunts - flying an airplane into a house, riding a motorcycle over a cliff, and running into a burning, exploding shack [many of the earliest film stuntmen actually worked their way into performing as actors]:
My roles were urbane, sophisticated, suave...And of course, all through those pictures, Lina was and is always, an inspiration to me. Warm and helpful. A real lady.
Lina gives Don the brush-off, knowing that he is only a stuntman. Monumental Films' producer R. F. Simpson (Millard Mitchell), impressed by Don's stunt work on the set, asks him to come to his office for lunch to see about putting him in a picture with Lina: "We'll discuss a contract." The vain Lina (overhearing the proposal) suddenly shows an interest in him, although she would have nothing to do with him earlier. Don uses this to his advantage and asks Lina: "Are you doing anything tonight, Miss Lamont?" She shakes her head no and puts her arm through his - without speaking. But he replies: "Well, that's funny. I'm busy." She kicks him in the seat of his pants, as he recalls their entire career together.
The story then returns to the front of Grauman's Theatre in the present, and Don continues, doing all the talking for the pair: "Well, Lina and I have had the same wonderful relationship ever since." During the screening of The Royal Rascal (a spoof fashioned after Gene Kelly's performance in MGM's The Three Musketeers (1948)), one of the young flappers in the audience comments to her girlfriend about the sophisticated screen image that Lina's beauty projects: "She's so refined. I think I'll kill myself."
During the curtain call, following the showing of the new swashbuckler silent film The Royal Rascal that ends with the stars kissing each other, Don doesn't let Lina say a word, and we soon learn why. Backstage after the successful premiere, dim-witted, shrill-voiced, silent film star, blonde, egomaniacal bombshell Lina speaks for the first time, in a shrill, common voice. [Note: Her role deliberately imitates Judy Holliday's characterization of ditzy Billie Dawn in Born Yesterday (1950), both on stage and screen. And she also is imitating a composite of 20s vamps, such as Pola Negri, Jean Harlow, Clara Bow, and Norma Talmadge.] Simpson congratulates Lina for her smash-hit performance:
Simpson: Lina, you were gorgeous.
Cosmo: Yeah, Lina, you looked pretty good for a girl.
She vents her wrathful anger at everyone with her grating Bronx accent - the sound of her voice is an ironic contrast to her glamorous image:
F' heaven's sake, what's the big idea? Can't a girl get a word in edge-wise? After all, they're my public too!
Fortunately, silent film audiences are unaware of Lina's horrible speaking voice, but it is difficult to keep her quiet and have Don make all the speeches. She asks: "What's wrong with the way I talk? What's the big idea? Am I dumb or somethin'?" Her entourage is speechless.
She goes to Don for support: "Donny, how can you let him talk to me like that, your fiansee?" And he tries to play down their romantic pairing off-screen by the rumor mills and fan magazines:
Now Lina, you've been reading those fan magazines again. Now look Lina, you shouldn't believe all that banana oil that Dora Bailey and the columnists dish out. Now try to get this straight. There is nothing between us. There has never been anything between us. Just air.
Don is frustrated by the "cooked-up romance just for publicity," and he commiserates with his pal Cosmo about it:
Don: What's the matter with that girl? Can't she take a gentle hint?
Cosmo: Well, haven't you heard? She's irresistible. She told me so herself.