Trends of the 70s Extend Into the 80s: The Introduction of 'High-Concept' Films
The decade of the 1980s tended to consolidate the gains made in the seventies rather than to initiate any new trends equal to the large number of disaster movies, buddy movies, or "rogue cop" movies that characterized the previous decade. Designed and packaged for mass audience appeal, few 80s films became what could be called 'classics'.
The era was characterized by the introduction of 'high-concept' films - with cinematic plots that could be easily characterized by one or two sentences (25 words or less) - and therefore easily marketable and understandable. Producer Don Simpson (partnered with Jerry Bruckheimer) has been credited with the creation of the high-concept picture (or modern Hollywood blockbuster), although its roots could be seen in the late 70s (i.e., the prototypical Jaws (1975), Saturday Night Fever (1977), Star Wars (1977), Alien (1979) - known in high-concept terms as "Jaws in Space").
Simpson was the first producer to understand and exploit the significance of MTV. His action-packed, loud, flashy, simplistic, and tightly-structured films brought crowds to the multiplexes every summer. His lowest common-denominator films reflected the MTV generation, such as in his debut film Flashdance (1983) - with its pop soundtrack and iconic 'freeze-frame' ending. Other successes followed in the 80s: Beverly Hills Cop (1984) with its 'fish-out-of-water' high concept, the sexy Thief of Hearts (1984), the high-flying Top Gun (1986) - the epitome of Simpson's technique, and the stock-car racing film Days of Thunder (1990) again with Tom Cruise. By the end of the 80s era as a result, most films were not designed for 'thinking' adult audiences (such as Driving Miss Daisy (1989)), but were 'low-brow' for dumbed-down teen audiences looking for sheer entertainment value or thrills (for example, Bill & Ted's Excellent Adventure (1989), James Cameron's Aliens (1986), or Die Hard (1988)).
After the innovations of the 70s, films in the 80s were less experimental and original, but more formulaic, although there was a burst of films eager to capitalize on new special effects (CGI) techniques - now available. Predictions were grim for the industry - production costs were soaring while ticket prices were declining. The average ticket price at the beginning of the decade was about $3, and over $4 by the end of the decade, while the average film budget was over $18 million. However, fears of the demise of Hollywood proved to be premature.
The Search for a Blockbuster: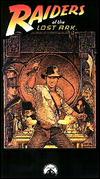 The personal cinema of 70s auteur directors such as Francis Ford Coppola, William Friedkin, Peter Bogdanovich, Martin Scorsese and Steven Spielberg was now superceded by the advent of the "blockbuster" phenomenon that they had created (with The Godfather (1972) and Jaws (1975)). The industry continued to pander to the tastes and desires of young people - one of the negative legacies of Star Wars (1977) of the late 70s.
Steven Spielberg's and George Lucas' names have often been associated with the term "blockbuster" - and their films inevitably continued to contribute to the trend during this decade, such as The Empire Strikes Back (1980), the great and exhilarating escapist-adventure film Raiders of the Lost Ark (1981), Return of the Jedi (1983), and the childhood fantasy hit E.T.: The Extra-Terrestrial (1982) with a lovable stranded alien, inspired by Peter Pan, the resurrection themes of Christianity, and with an anti-science bias. There were others that were successful, such as Ghostbusters (1984), Romancing the Stone (1984), and Back to the Future (1985), and their successive sequels.
Following this model, Hollywood continued to search, with demographic research and a "bottom line mentality," for the one large "event film" that everyone (including international audiences) had to see (with dazzling special effects technology, sophisticated sound tracks, mega-marketing budgets, and costly, highly-paid stars). Most big-screen event movies, scheduled to be released at advantageous times (at summer and Christmas-time) would take expensive fortunes to produce - but they promised potentially lucrative payoffs. In retrospect, many of the blockbusters in the 80s, such as those mentioned above, were well-constructed films with strong characters and plots not entirely built upon their special-effects.
Big Losers, Flops and Bombs: Turkeys of the 80s Decade
See extensive sub-section of site on "Greatest Box-Office Bombs, Disasters, and Flops".
There were a number of highly-touted films of the era that fared very poorly. Within a few years, it was becoming clear that blockbusters would not always insure instant profits and success:
Auteur Michael Cimino's and United Artists' incomprehensible, over-long epic Western film Heaven's Gate (1980) about Wyoming's Johnson County wars cost almost six times above-budget to produce (from $7.5 million to about $44 million). It was originally a 5-hour 25 minute version that was cut down to 219 minutes for its November, 1980 NYC premiere. The film was immediately pulled, re-cut and then re-released five months later (after being shortened by 70 minutes) in 1981 - and still failed due to bad press. It stunned its studio by becoming the biggest flop in film history at the time (US box-office was about $1.5 million) - it lost at least $40 million. UA's corporate parent, Transamerica, had to sell the studio to MGM for only $350 million as a result. [UA was responsible for earlier hits Midnight Cowboy (1969), Annie Hall (1977) and the James Bond films.]

Since then, the film has been synonymous for any film facing major financial disaster and for the director-centric era of the 70s. Bank-rolled support for independent 'auteur' directors of the New Wave of 70s directors (who controlled their own production costs with little studio oversight) ended when this film's egotistical director (Best Director winner for The Deer Hunter (1978)) was criticized as being self-indulgent, financially irresponsible and ego-driven. The end of the era also arrived due to similar failures by other auteurs: Peter Bogdanovich with At Long Last Love (1975), Martin Scorsese with New York, New York (1977) and even Steven Spielberg with 1941 (1979). [Martin Scorsese's planned film project Gangs of New York (2002) (with 10 Oscar nominations, including Best Picture), first conceived in 1978, was shelved as a result, and released many years after initial plans and screenplay completion.]


MGM/UA's and Terence Young's Korean War epic Inchon (1981) with Laurence Olivier (as General Douglas MacArthur) was produced by Rev. Sung Myung Moon and his Reunification Church - it was an embarrassment that was quickly withdrawn, with a budget of about $50 million and a US box-office of only $5 million.


Hugh Hudson's (famous for the Oscar-winning Chariots of Fire (1981)) miscalculated historical epic of the American Revolution was WB's Revolution (1985), with star Al Pacino miscast as an 18th century New York fur trapper. It grossed only $359,000 on a budget of about $28 million. The film's colossal failure curtailed Hudson's major directorial efforts until the big-budget I Dreamed of Africa (2000) 15 years later, and Pacino wouldn't star in another film for four years (until Sea of Love (1989)).


John Huston's first and sole musical, Annie (1982), a dull, uninspired major flop (that barely broke even) - inspired by the Broadway musical. The rights to the show were sold in 1978 for $9.5 million, the highest amount ever at the time.


Howard the Duck (1986), based on Steve Gerber's 70s Marvel Comics character (which went out of print in 1981), and from executive producer George Lucas (and his screenwriting pal, director Willard Huyck), was one of the worst and least successful big-budget films ever made. Lucas hired Willard Hyuck and his wife Gloria Katz (the screenwriter for Lucas' film American Graffiti (1973)) to write the big-screen version. This misguided Universal film domestically grossed about $15 million on a budget of $30 million.


The highly-anticipated Shanghai Surprise (1986), produced by Handmade Films (headed by the Beatles' George Harrison), starred newlyweds: pop diva singer Madonna and volatile actor Sean Penn. Lacking a coherent plot and without any chemistry between the two leads in poorly-acted characterizations, the overlong film failed miserably (with a box-office take of only $2.3 million with a budget of $17 million) and was nicknamed "Flop Suey".


Columbia Pictures' and writer/director Elaine May's Ishtar (1987), was a poor imitation of the Hope/Crosby/Lamour "Road" pictures. It was a very expensive comedy film ($55 million) with only a small box-office gross of about $14 million, was a tremendous disaster and one of the worst films ever made according to some reviewers - in spite of its stars Warren Beatty, Isabelle Adjani and Dustin Hoffman (who won an Oscar the next year for Rain Man (1988)!).


Writer/director Terry Gilliam's (of Monty Python fame) deeply-troubled but visually-captivating fantasy production of The Adventures of Baron Munchhausen (1989) was a major failure, due to production delays, legal issues, and on-location difficulties. Despite four Oscar nominations, it had a US gross of only $8 million with a film budget of about $46 million.


And one more at the start of the 90s, director Brian De Palma's political satire The Bonfire of the Vanities (1990), vaguely based upon Tom Wolfe's best-selling saga about stockbroker Sherman McCoy, featured multi-million dollar contracts for its miscast stars Tom Hanks and Bruce Willis. Savaged by critics, it had a budget of $47 million, and grossed only about $16 million.
Unexpected Successes:
Who would know or be able to predict that other films would be successful:
Louis Malle's low-budget, overly-long My Dinner With Andre (1981) with fascinating dinner conversation between actor/playwright Wallace Shawn and theater director Andre Gregory
Victor/Victoria (1982), set in 1930s Paris, in which Julie Andrews pretended to be a man -- pretending to be a woman, something that confused James Garner
Martin Scorsese's The King of Comedy (1982), a dark comedy about the search for stand-up comic celebrity by Rupert Pupkin (Scorsese's favorite actor Robert DeNiro), self-proclaimed as The "King of Comedy"; the film also featured an appearance by real-life comedian Jerry Lewis as arrogant Jerry Langford -- Pupkin's talk-show host idol -- who was kidnapped and tied up (and duct-taped) with assistance from his accomplice Masha (Sandra Bernhard) after Pupkin was snubbed, so that he could take his spot on the show
Milos Forman's Best Picture-winning Amadeus (1984), a quasi-biopic (adapted by Peter Shaffer from his own play) without big-name stars about foul-mouthed composer-genius Wolfgang Amadeus Mozart (Tom Hulce) and rival court composer Antonio Salieri (F. Murray Abraham) vying for the favor of an Austrian Emperor
James Cameron's The Terminator (1984) was a story about Sarah Connor - the unsuspecting future mother of John - the leader of a human rebellion against the machines (which were exemplified by the brutal metallic cyborg T-800 played by Arnold Schwarzenegger, who journeyed back in time to assassinate her); the intense and lean film established an action film genre that extends to the present day
the musical comedy Little Shop of Horrors (1986), originally a Roger Corman horror film in the 60s, about a florist shop that spawned a hungry plant named Audrey II that consumed demented dentist Steve Martin as one of its victims; its song "Mean Green Mother From Outer Space" was Oscar-nominated
Tim Burton's ambitious, hyped and over-marketed production of a dark-shaded Batman (1989) - a Warners' mega-hit film promoted with lucrative merchandising that became the blockbuster hit of the last year of the decade, with an over-the-top performance by Jack Nicholson as the villainous Joker ("Where does he get those wonderful toys?") and comedian Michael Keaton in a serious, dual role as the comic book hero - the dark avenger of Gotham City
Big Business Entertainment:
Film budgets skyrocketed due to special effects (expensive digital effects) and inflated salaries of name-recognition stars (and their agents). Big business increasingly took control of the movies and the way was opened for the foreign (mostly Japanese) ownership of Hollywood properties. To save money, many more films were being made in non-US locations by mid-decade.
A number of the studios were taken over by multi-national conglomerates as their entertainment divisions:
United Artists (acquired in 1969 by airline tycoon Kirk Kerkorian and temporarily abandoned) was bought and merged with MGM in 1981 to form MGM/UA; the company's film library was bought out by media mogul Ted Turner in 1986 for his cable TV channel, Turner Broadcasting System, Inc.; then, in 1990 MGM was purchased by Sony Entertainment of Japan - home to both Columbia Pictures and TriStar Pictures (see below)


20th (or Twentieth) Century Fox was taken over by oil tycoon Marvin Davis in 1981 and then entered into a 50% shared ownership with Australian publisher Robert Murdoch in 1985, becoming part of Fox, Inc. The film production unit was renamed simply Fox Film Corporation in 1989, and by the end of the century became known simply as Fox


Columbia Pictures was purchased by the Coca-Cola Company in 1982; (Tri-Star Pictures was also created - a joint venture of Columbia Pictures, HBO, and CBS); Tri-Star Pictures bought Loew's Theaters in 1986; British film producer David Puttnam briefly headed Columbia Pictures for a few years beginning in 1986; the Sony Corporation of America purchased Columbia Pictures Entertainment, Inc. and Tri-Star Pictures from Coca-Cola for $3.4 billion in 1989, re-naming itself Sony Pictures Entertainment; in 1992, Sony Pictures Classics became an autonomous company within Sony Pictures


Paramount became a wholly owned subsidiary of Gulf + Western Industries, Inc in 1966; in 1989, Gulf + Western was reconfigured and renamed Paramount Communications, Inc.; then in 1994, Paramount merged with Viacom International


MCA/Universal (which had officially merged in 1962) became a powerful TV production company, and started its organized studio tours - one of LA's most popular tourist attractions; they were acquired by Matsushita Electrical Industrial, Co. in 1991; in June 1995, The Seagram Company Ltd. (VO) purchased a majority equity in MCA from Matsushita; then in late 1996, MCA Inc. was renamed Universal Studios, reclaiming its heritage as one of the industry's oldest and most prestigious movie studios


Walt Disney Productions remained as one of the few studio-era survivors, with Michael Eisner as chairman and CEO beginning in 1984; it set up Touchstone Pictures in 1984 to make feature films that appealed to adult audiences; Buena Vista was Disney's distributor


Warner Communications merged with Time, Inc. - announced in 1989 (and completed in 1990) to become Time-Warner, Inc., a component of the media empire AOL-Time Warner
A few independent film companies, such as New Line Cinema and Miramax, began to make more experimental and offbeat films to fill the gaps provided by the major studios.
Because costly film decisions were more in the hands of people making the financial decisions, not the film makers, movies were made only if they could guarantee financial success, thereby pandering to a few select, well-known star names attached to film titles without as much attention paid to intelligent scripts. With this kind of pressure, the most popular film stars demanded higher salaries, up front, and well as a percentage of the film's gross take, earning as much as $20 million. Budgets and actors salaries skyrocketed out of control, and powerful agents for agencies such as Creative Artists Agency (CAA) negotiated outrageous deals.
Notable 1980s Milestones:
36 year old Sherry Lansing was named president of production at 20th Century Fox in 1980 - and became the first female to hold this position and head a major studio (she resigned in 1982 to become an independent producer)
Dawn Steel became VP for production at Paramount Studios in 1980, and then president of Columbia Pictures in 1987
in 1980, CNN (Cable News Network) began operations
in the early 1980s, Sony's superior video recording standard, termed Betamax, was overtaken by VHS (Video Home System) developed by JVC, with a longer record time of 2 hours; in 1987, when VHS commanded 95% market share, Sony finally began to abandon Betamax
in 1980, Pioneer began to market its videodisk (laserdisc) players, thereby widening the availability of films for consumer viewing and purchase
former Beatle John Lennon was shot dead on December 8, 1980 as he entered his New York apartment by Mark Chapman
in 1981, the music-video cable network MTV began broadcasting on August 1st at 12:01 am - the first music video that was aired was Video Killed the Radio Star - the debut single of the British duo - the Buggles
child-teen star and cover model Brooke Shields was the most sought-after actress of the early 80s - projecting both innocence and sexuality
director Milos Forman's Ragtime (1981) was legendary actor James Cagney's first film - a "comeback" - after 20 years of retirement
Ronald Reagan, a former President of the Screen Actor's Guild (from 1947-1952) and governor of California, became the first movie-star President of the US (the 40th) in 1981. His conservative reign and hard-edged approach toward the Soviet Union was reflected in Hollywood's many action-adventure films of the decade with aggressive, macho stars (Rocky, Rambo, Arnold Schwarzenegger, Chuck Norris, Steven Seagal, Clint Eastwood and others) - even his futuristic anti-missile defense system co-opted the name of Lucas' 70s film Star Wars
Jodie Foster was stalked by mentally-impaired John Hinckley, who tried to impress the actress by attempting to assassinate Reagan in late March, 1981
actress and aerobics guru Jane Fonda (sporting a striped leotard and leg warmers) released a workout videotape, Jane Fonda's Workout (1982), that became one of the hottest best-sellers for years, due to the increased proliferation of the home VCR
George Lucas' THX sound system made its debut - the first movie to be shown in a THX-certified auditorium was Return of the Jedi (1983) - see more below
during the making of Twilight Zone: The Movie (1983) in 1982, two child actors and Vic Morrow were killed in a freak helicopter crash - as a result, greater precautions would be taken on Hollywood sets
Walt Disney Productions and Westinghouse Broadcasting launched the cable network The Disney Channel in April, 1983
future singer/actress Vanessa Williams won the 1984 Miss America title (crowned in September, 1983, she became the first black woman ever to possess the title), but she resigned when it was revealed that she had posed for some sexually explicit photos (taken in 1982) that appeared in two issues of Penthouse magazine (September, 1984 and January, 1985)
in 1983, 20th Century Fox began to openly solicit deals to display brand names in its films
the American Movie Classics cable-TV channel started operations in 1984
in 1984, the Voyager Company introduced its Criterion Collection line of 'special edition,' high-quality, feature-packed laserdiscs, often with state-of-the-art transfers, the CAV (full feature) format, the full theatrical 'letter-box' format, special commentary tracks and supplemental material, dual audio, interviews and annotated commentary by film-makers and scholars, director's cuts, deleted scenes, storyboards and production designs, and other bonus features (theatrical shorts or trailers, shooting scripts, posters, stills galleries, print booklets, out-takes, dual versions of a film, and other extras, etc.) that have since become commonplace on DVDs by the turn of the century
in 1985, the first bricks-and-mortal Blockbuster video rental store opened in Dallas, TX and became a major alternative to small, local operations with limited video rental selections. It grew to become a major nationwide chain of stores, yet faced increased competition from video-on-demand (VOD), satellite TV, and lower-priced tapes combined with a shrinking market in the late 1990s.
in 1985, Robert Redford's Sundance Institute (established in 1980) took over the Utah/US Film Festival and later renamed it the Sundance Film Festival (held annually in January) - "dedicated to the support and development of emerging screenwriters and directors of vision, and to the national and international exhibition of new, independent dramatic and documentary films"
Rock Hudson's homosexuality was revealed when he became the first major film industry figure to die of AIDS in October of 1985
on September 8, 1986, Oprah Winfrey became the first African-American woman to host a nationally-syndicated daytime talk show, titled "The Oprah Winfrey Show"
in 1987, Premiere Magazine began publishing
The Dead (1987) was legendary director John Huston's last film, with top-billing given to his daughter Anjelica Huston and a script co-written by his son Tony
the oldest performer to win the Best Actress Oscar was 81 year-old Jessica Tandy for Driving Miss Daisy (1989)
New Technologies: Home Entertainment-Video, Cable TV, and Sound
Cable TV networks, direct broadcast satellites, and 1/2 inch videocassettes (in the VHS format) in the 80s encouraged broader distribution of films. Sales and revenues from pre-sold theatrical features for videocassette reproduction and cable TV distribution contributed increased percentages for studios' earnings - sometimes outpacing box-office profits. [In an influential decision, the Supreme Court ruled in the case of Universal v. Sony Betamax (1984) that home video-taping for personal use was not a copyright infringement.]

Many studios entered the business of producing films for commercial TV networks, and the release of their films for the home entertainment-video market became a profitable rental-sales business. The pre-recorded video of Disney's Sleeping Beauty (1959) brought sales of over a million copies when it was released in 1986. And then to illustrate the burgeoning video industry over the next few years, 1988 sales of E.T.: The Extra-Terrestrial (1982) surpassed 15 million!
Tri-Star Pictures Motion Picture Company, one of Hollywood's major producer/distributors, was created in 1983 as a joint venture of CBS Inc., Columbia Pictures, and Time-Life's premium cable service Home Box Office (HBO) (founded in 1972). HBO and Showtime both functioned as producer/distributors in their own right by directly financing films and entertainment specials for their own pay-television cable stations. HBO became a leader, developing the first made-for-pay-TV movie The Terry Fox Story (1983). It became the first cable network to win an Oscar, for Best Documentary Feature for Down and Out in America (1986), and an Emmy, for Dear America: Letters Home From Vietnam (1987). By the 1990s, all the major pay-TV cable networks had expanded their output, creating original series, films and mini-series, along with producing documentaries, stand-up comedy, and sports programming.
[In 1989, Time Inc. merged with Warner Communications, becoming the major media giant Time-Warner.] The spread of access to cable television (and satellite broadcasts) threatened traditional one-screen theatres and film attendance. On the other hand, multi-plex movie theatres with multiple screens spread across the country during the 80s, while the number of drive-in theatres drastically declined.

Multi-track Dolby stereo sound, the THX sound system (named after George Lucas' first feature film), and Dolby SR ("spectral recording") (all designed to produce higher quality sound, noise reduction, surround-sound and other special effects) were introduced in the 70s and 80s, and advertised as a special feature for films such as Amadeus (1984) and Aliens (1986). The first movie to be shown in a THX-certified auditorium was Return of the Jedi (1983). [In 1992, a new technology dubbed Dolby Digital was introduced to movie-goers in Batman Returns (1992), and then DTS Digital Sound made its debut in Jurassic Park (1993).]

Film History of the 1980s
Part 1, Part 2, Part 3, Part 4, Part 5, Part 6
---



---