Notable British Films: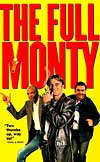 The most successful British film of the first half of the decade was Mike Newell's surprise hit Four Weddings and a Funeral (1994), an intelligent, well-scripted romantic adult comedy about the major rites of passage in life (and death). It featured a long-running romance between a reserved Britisher and confirmed bachelor (Hugh Grant) and attractive American (Andie MacDowell), with a hilarious bit-part by Rowan Atkinson (aka Mr. Bean). Writer-director Scott Hicks' Australian/UK film Shine (1996) told the story of recovering gifted pianist David Helfgott (Best Actor-winning Geoffrey Rush) with a history of mental problems. Due to the film's popularity, the real-life Helfgott went on a musical concert tour, but received mostly negative reviews.
The decade's most successful British film was first-time director Peter Cattaneo's Best Picture-nominated The Full Monty (1997) about a group of displaced, unemployed Sheffield steel-mill workers who become 'Chippendale-style' male strippers. It brought new popularity to two hits: Hot Chocolate's "You Sexy Thing," and Donna Summers' "Hot Stuff." The edgy and visually-fresh film about drug addiction, Trainspotting (1995) was based upon Irving Welsh's famous novel set in Edinburgh, with original Scottish characters (and unknown actors) including Renton, Spud, Sick Boy and Begbie, and featuring a pulsing soundtrack with Iggy Pop singing "Lust for Life". Although not a British film, Rob Roy (1995) starred Liam Neeson as 18th century Scottish legend Robert Roy MacGregor based upon Sir Walter Scott's legendary novel.
Distinctive Independent Film-Makers:
In the 90s' era of blockbusters, independent films made significant headway. The major studios set up specialty art-house production and distribution divisions, such as Sony Pictures Classics and Fox World Cinema. There were any number of shoestring-budget, non-mainstream films that appealed to disenchanted Generation-Xers, from directors such as Richard Linklater, Kevin Smith, Edward Burns, Todd Solondz, Gus Van Sant and Jim Jarmusch.
Richard Linklater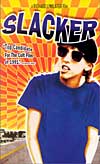 Writer/director Richard Linklater's first feature Slacker (1991) was a free-form, low-budget film that defined a generation of dead-beat, drop-out, misfit individuals living on the edge of the college town of Austin, Texas during a 24-hour period. [Many of Linklater's films would be contained within a 24-hour time frame.] The word 'slacker' was immediately seized upon as a word to define a group within the twenty-something subculture. His next film, a rambling ensemble drama Dazed and Confused (1993), dubbed 'the American Graffiti (1973) of the 90s', followed graduating Texas high-school students on their last academic day in the Bicentennial year of 1976. The quotable, archetypal film introduced many exceptional acting newcomers to audiences, including Milla Jovovich, Ben Affleck, Parker Posey, Renee Zellweger, Matthew McConaughey, Cole Hauser, Adam Goldberg, and Joey Lauren Adams.
Linklater's more accessible and sweet film Before Sunrise (1995) followed the overnight budding romance between a traveling young American (Ethan Hawke) and a French student (Julie Delpy) in Vienna, and the dialogue-heavy SuBurbia (1997), an adaptation of writer/actor Eric Bogosian's play, examined a group of punk twenty-somethings outside a suburban Austin convenience store. In the new decade, Linklater's innovative 6th film, Waking Life (2001) combined digital video and animation to produce a highly philosophical avant-garde film.
Kevin Smith: The Jersey Trilogy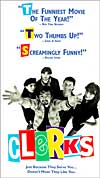 Writer/director Kevin Smith's first film (the first in a so-called "Jersey trilogy") was a dead-pan, low-budget, comedy cult film titled Clerks (1994) made in grainy 16 mm and originally rated NC-17 for foul language - it chronicled one day in the unglamorized, working-class life of Dante (Brian O'Halloran) - a twenty-two year old college dropout and Quick Stop convenience store clerk in New Jersey with his video-store clerk best friend Randal (Jeff Anderson). Smith went on to make Mallrats (1995) about two suburban New Jersey 'slackers' (Jason Lee and Jeremy London) who retreated to a shopping mall after being dumped by their girlfriends (Shannen Doherty and Claire Forlani), and then the low-budget comedy-drama Chasing Amy (1997) - an honest and appealing story of love between two New Jersey comic-book artists (Ben Affleck and Joey Lauren Adams), one of whom was lesbian. Smith's final film of the decade was the controversial religious satire Dogma (1999), with Linda Fiorentino as a Catholic abortion clinic worker, Alanis Morissette as God, Ben Affleck and Matt Damon as banished fallen angels, Chris Rock as Rufus (the 13th Apostle), and Salma Hayek as a celestial muse named Serendipity.
Edward Burns: The Long Island Trilogy
Actor/writer/director Edward Burns' first feature (the first in a so-called "Long Island trilogy") was The Brothers McMullen (1995) - an old-fashioned character study of three Irish-American brothers living together in Long Island, New York. Burns' follow-up films were the romantic comedy She's the One (1996) about a pair of rivalrous brothers (Ed Burns and Mike McGlone) both interested in the same woman (Cameron Diaz), and the romantic, blue-collar drama No Looking Back (1998) set in a quiet coastal town, with Lauren Holly and Jon Bon Jovi.
Todd Solondz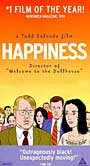 Todd Solondz directed the painfully-realistic, uncompromising rites-of-passage black comedy Welcome to the Dollhouse (1995) - his first major success, about bespectacled, geeky 11 year-old outcast Dawn Weiner (Heather Matarazzo) in a middle-class New Jersey family and her cruel, miserable, and isolated progress through puberty, when called "lesbo," "weiner dog," and "dog-face" by her junior-high classmates. In one scene, she was menaced by a crass 7th grade bully classmate named Brandon (Brendan Sexton, Jr.) who told her at her locker that he was going to rape her at 3 pm, but then didn't follow through - although she was willing to submit to him, if necessary, in order to be accepted. [Solondz would rexamine the same themes in his later film Palindromes (2004).]
His next film was the challenging, controversial dark comedy of sex and perversion unusually titled Happiness (1998). It was about a predatory, suburban pedophile father/family man Bill Maplewood (Dylan Baker), a psychiatrist by profession, who in a startling scene shot with slow-motion closeups, gazes with affection at an 11 year-old boy (!), one of his son's classmates, during a little-league baseball game. His next dark film was Storytelling (2001), with two concurrent plotlines (titled "Fiction" and "NonFiction") examining racial and sexual themes.
Gus Van Sant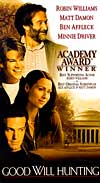 Gus Van Sant directed two films of underworld outsiders in this period: Drugstore Cowboy (1989), a 1970s 'Me Generation' tale of drug-store robbing druggies featuring a powerful performance by Matt Dillon, and My Own Private Idaho (1991) about a roving group of young, gay hustlers (featuring a terrific performance from River Phoenix). After the critical failure of Even Cowgirls Get the Blues (1994), Van Sant's four biggest films of the decade were:
To Die For (1995), a black comedy with Best Actress Golden Globe-winning Nicole Kidman as a New Hampshire housewife with wicked aspirations to be a famous TV newscaster
Good Will Hunting (1997), a hugely-successful, coming-of-age drama co-scripted by the film's stars Matt Damon and Ben Affleck (who won a Best Original Screenplay Oscar for their efforts), with the main character a brilliant mathematician who worked as a janitor at the Massachusetts Institute of Technology, and had Minnie Driver as his love interest
Psycho (1998), an inferior, shot-by-shot color remake of Hitchcock's horror thriller classic Psycho (1960), with Anne Heche as Marion Crane (Janet Leigh's character), and Vince Vaughn as the Bates Motel owner (Anthony Perkins' character)
Finding Forrester (2000), about an unlikely relationship between a reclusive, past Pulitzer Prize-winning novelist (Sean Connery) and a budding 16 year old writer (Rob Brown)
Larry Clark
One of the most controversial and bleak films of the 90s was from a Miramax-related studio (with Gus Van Sant as executive producer). It was still photographer and director Larry Clark's debut film, the unrated Kids (1995), about self-destructive New York street teens engaged in unprotected sex, hedonism, and drug-taking. It mostly focused on the promiscuous sexual experiences of AIDS-infected Telly (Leo Fitzpatrick), a teen-aged seducer who desired only virgins (one of whom was Chloe Sevigny). A similar follow-up film was the unrated, compelling Bully (2001), another graphic film (often accused of being exploitative and leering) based upon real life events, about amoral, drug-using, violent youth who naively conspired to murder one of their "bully" friends.
Jim Jarmusch
After his successes with the low-budget feature Stranger Than Paradise (1984) and Down By Law (1986), Jim Jarmusch's films of the decade included Night on Earth (1991) - an anthology of five "road" stories, the offbeat western Dead Man (1995) with Johnny Depp, and the documentary on the rock band Neil Young and Crazy Horse in Year of the Horse (1997).
Original Films of the Decade:
Tim Burton's fantasy romance/comedy Edward Scissorhands (1990) starred Johnny Depp as the scissor-handed title character who was created by Vincent Price and adopted by an Avon lady. Mike Nichols' The Birdcage (1996) was the American version of La Cage Aux Folles (1978), a weird in-law story about a young man who brought his fiancee home to meet his parents. Robin Williams starred as gay nightclub owner named Armand Goldman, and Gene Hackman as a right-wing conservative politician - whose daughter is engaged to William's son. Terry Gilliam's Twelve Monkeys (1995) remade La Jetee (1962, Fr.), starring Bruce Willis who came back from the future (the year 2035) to learn what killed 5 billion people years earlier. Wes Anderson's Rushmore (1998) was an unusual but smart comedy about an improbable love triangle between precocious 15 year-old 10th grade private school student Max Fischer (Jason Schwartzman), his befriended depressed local steel factory millionaire/magnate and jaded mentor Herman Blume (Bill Murray), and Rushmore Academy's recently-widowed first-grade teacher Ms. Rosemary Cross (Olivia Williams). And Reese Witherspoon starred as determined Student Council candidate Tracy Flick in Alexander Payne's satirical Election (1999).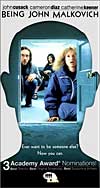 One of the most original, bizarre and surrealistic films of the 90s was Spike Jonze's debut feature Being John Malkovich (1999) with an inventive script by executive producer Charlie Kaufman - the story of a street puppeteer/filing clerk (John Cusack) in a Manhattan office building who discovered and entered a sealed portal that led into the mind of actor-celebrity John Malkovich. At the end of the decade, Darren Aronofsky's shocking anti-drug Requiem for a Dream (2000) featured numerous addictions (food, diet pills, TV, and heroin) exhibited with an intoxicating style. It starred Oscar-nominated Ellen Burstyn as a diet-pill-popping, Coney Island widow/mother of her junkie son and his girlfriend( Jennifer Connelly).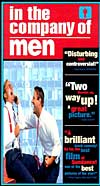 Actor/director Warren Beatty brought comic strip Dick Tracy (1990) to the screen, with Madonna as Breathless Mahoney and Al Pacino as Big Boy. David Lynch directed the weirdly-perverse, surreal and erotic Wild At Heart (1990) with Laura Dern and Nicolas Cage as on-the-road lovers Sailor and Lulu. His next film was the truly bizarre, breathtaking and enigmatic Lost Highway (1997). He finished the decade with an uncharacteristic, G-rated, sentimental, real-life tale The Straight Story (1999), about an aging brother's (Best Actor-nominated Richard Farnsworth) lawn-mower journey to visit his ailing brother (Harry Dean Stanton).
Playwright Neil LaBute's film-directing debut work regarding relationships was the provocative low-budget black comedy In the Company of Men (1997), a cruel and unsettling misogynous story about two businessmen, Chad (Aaron Eckhart) and Howard (Matt Malloy), on a six-week trip who decide to romance and then brutally dump an unsuspecting deaf woman, with lines such as: "Never trust anything that can bleed for a week and not die," and "What's the difference between a golf ball and a G-spot?...I'll spend twenty minutes looking for a golf ball!" And Todd Haynes' second feature Safe (1995) brilliantly told the story of a fragile, vulnerable Southern California housewife Carol White (Julianne Moore) who suffered from environmental illness and retreated to a perfectly sterile world beyond germs in Wrenwood - a holistic center near Albuquerque, New Mexico. There, she became further alienated, isolated, and detached from life - the film was interpreted as a comment upon the AIDS crisis of the decade.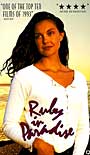 Ashley Judd:
One of the decade's best actresses, Ashley Judd made an impressive film debut in writer/director Victor Nunez's quiet character study and sleeper film Ruby in Paradise (1993), about a Tennessee heiress who fled her home and became a clerk in a Florida souvenir shop. For the remainder of the decade, she starred in crime dramas and thrillers (often as a reluctant victim), such as A Normal Life (1996), the serial killer thriller Kiss the Girls (1997) with Morgan Freeman, Eye of the Beholder (1999), and director Bruce Beresford's Double Jeopardy (1999) with Tommy Lee Jones.
Documentary Films: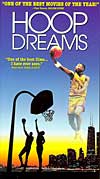 In the documentary film genre, the most critically-acclaimed documentary appeared mid-decade: director Steve James' videotaped three-hour Hoop Dreams (1994), the six-year dramatic, uphill story of two hopeful teenaged, inner-city African-American basketball players (William Gates and Arthur Agee) in Chicago (with partial athletic scholarships at St. Joseph's - a predominantly white, suburban Catholic school) who struggle and aspire to be superstars in the NBA.
Animated - and Family Oriented Films:
Disney's studios had a number of animated-cartoon feature classics in the 90s:
Beauty and the Beast (1991), the first animated feature ever to be nominated as Best Picture
Aladdin (1992), an 'Arabian Nights' tale about a street urchin who fell in love with a princess, with the hit song "A Whole New World" and Robin Williams as the voice of the Genie
The Lion King (1994), featuring Jeremy Irons as the voice of Scar and the theme of the 'Circle of Life'; its sound track was available in stores three weeks before its film opening
the romanticized fantasy Pocahontas (1995) - the first Disney animated feature based on historical fact; it had an outdoor premiere in Central Park, New York City on June 10, 1995 attended by nearly 100,000 people - the biggest premiere of any film ever; winner of two Oscars: Best Original Musical or Comedy Score, and Best Song "Colors of the Wind"
The Hunchback of Notre Dame (1996)
Mulan (1998), an expensively-made story of ancient China
Tarzan (1999), the first full-length animated feature about "the King of the Jungle" and winner of Best Original Song (Phil Collins) for "You'll Be In My Heart"
Atlantis: The Lost Empire (2001), based on the Jules Verne adventure
Teenage Mutant Ninja Turtles (1990) with Raphael, Leonardo, Michelangelo, and Donatello succeeded (and grossed $130 million) with stylish comic-book violence and licensed product merchandising until the public was saturated with two more sequels in 1991 and 1993. Beethoven (1992) was about a tiny puppy adopted by suburb-dweller Charles Grodin that grew into a giant, slobbering and destructive St. Bernard who was threatened by an evil veterinarian (Dean Jones). Free Willy (1993) told of a boy (Jason James Richter) punished for vandalism by having to clean up the graffiti mess at a theme park, where he developed a close emotional bond with one of the performers - a killer whale named Willy (Keiko).

Director Henry Selick's and Tim Burton's The Nightmare Before Christmas (1993) was a monumental work of art - a stop-motion animated and musical fable. It was followed by producer Burton's and director Selick's PG-rated James and the Giant Peach (1996) - about the fantastic adventurish journey of a young boy, and the PG-rated comic fantasy Monkeybone (2001), based on Kaja Blackley's comic book novel Dark Town - with a title character combining traits of Curious George and Bart Simpson. Chris Noonan's magical Australian film Babe (1995), about a talking pink piglet with a talent for herding sheep for Farmer Hoggett, was an unexpected success. It featured Ferdinand the duck, Duchess the cat, and a sheepdog named Fly. The sequel Babe: Pig in the City (1999) was a darker version of the original.

John Lasseter's and Pixar's Toy Story (1995) (with the tagline 'To Infinity - and Beyond!') was the first feature-length film completely animated by computer - the film and its pioneering digital animation studio Pixar won a Special Achievement Award. It featured cowboy toy Woody (with voice of Tom Hanks) and the futuristic, high-tech Buzz Lightyear (with voice of Tim Allen) and a richly detailed and imaginative world. Its blockbuster sequel was just as remarkable and considered the superior film, Toy Story 2 (1999) - produced by Pixar Animation Studios. Barbie, the most popular toy of the 1900s, made her movie debut in the popular film, and Kelsey Grammer provided the voice of the Prospector. Woody was threatened because he was regarded as a highly-collectible 1950s TV character. The film also featured the poignant "You've Got a Friend in Me" and Randy Newman's Oscar-nominated "When She Loved Me."
Japan's collectible Pokemon trading cards and video games (Nintendo and Game Boy) became enormously popular with America's children, courtesy of Warner Bros. studios. The crude and cartoonish Pokemon: The First Movie (1998), dubbed in English for American audiences, had the most lucrative Thanksgiving weekend film opening of the 1900s when released in the US in 1999. Its "pocket monster" star was Pikachu, a bright-eyed, baby-talking yellow creature with a lightning-bolt tail. The gross-out, vulgar feature South Park: Bigger, Longer and Uncut (1999) rivaled Disney's family-oriented animations, and produced an Oscar-nominated song "Blame Canada"with bawdy lyrics - ("Time's have changed, Our kids are kids are getting worse, They won't obey their parents, They just want to fart and curse!...").
In 2001-2003, the first three years of the new Oscar category of Best Animated Feature, there were many worthy competitors:
Monsters, Inc. (2001)
Jimmy Neutron: Boy Genius (2001)
Shrek (2001) - the winner
Ice Age (2002)
Lilo & Stitch (2002)
Spirit: Stallion of the Cimarron (2002)
Spirited Away (2001, Jp.) - the winner, in 2002
Treasure Planet (2002)
Brother Bear (2003)
The Triplets of Belleville (2003, Fr.)
Finding Nemo (2003) - the winner
Adult-Oriented Films:
Filmmaking and production expenses continued to escalate, as well as the violence and sex depicted. In some cases, the returns were enormous. Henry and June (1990), based on Anais Nin's memoirs, was the first film to be released with the NC-17 (No Children Under 17 Admitted) rating (which had replaced the old "X" rating in 1990 without the commercial stigma) for its explicit handling of sex.

Director Paul Verhoeven was successful in the early part of the decade with Total Recall (1990), and the commercially-successful investigative thriller Basic Instinct (1992) - the year's most popular movie. In 1990, scriptwriter Joe Eszterhas had sold his script for the erotic thriller for a record $3 million to Carolco Pictures. The film included gory violence, uncrossed/panty-less legs during a police interrogation, and sleazy, steamy sex scenes between Michael Douglas and Sharon Stone (playing a bi-sexual blonde suspected of murder), and with psychiatrist Jeanne Tripplehorn. Verhoeven's much-hyped, widely-distributed, NC-17 rated Showgirls (1995), teamed with writer Joe Eszterhas, became a camp classic rather than the erotic, Las Vegas lap-dancing drama it was supposed to be.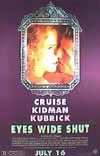 Director Milos Forman's sympathetic portrayal of Hustler publisher Larry Flynt (Woody Harrelson) as a First Amendment hero in The People vs. Larry Flynt (1996) brought criticism to the film. The eroticizing of gruesome car crashes in David Cronenberg's graphic Crash (1996) also engendered controversy and brought an NC-17 rating. Writer/director Paul Thomas Anderson's Boogie Nights (1997) examined the world of late 70s and 80s pornography with Mark Wahlberg as well-endowed adult film star Dirk Diggler, Burt Reynolds in a comeback role as a director/producer of skin flicks, Julianne Moore as veteran porn star Amber Waves, and Heather Graham as an uninhibited Rollergirl. Adrian Lyne's controversial Lolita (1997) with nymphet teenager Dominique Swain, a remake of Kubrick's 1962 classic, first aired on Showtime cable TV, and then experienced distribution problems.
The most anticipated film was legendary director Stanley Kubrick's psychosexual Eyes Wide Shut (1999), his final film released posthumously in the summer of 1999, with real-life husband/wife superstars at the time (Tom Cruise and Nicole Kidman, who would later divorce in 2001). The dreamy, visually-beautiful, thought-provoking film was a sexy adaptation of Arthur Schnitzler's 1926 novella Dream Story (Traumnovelle) and destined to become a Kubric classic. Although it was condemned as misogynistic, out-of-touch, and uncompelling, the story was about a Manhattan doctor (Cruise) who, after hearing an emotional confession of infidelity from his wife (Kidman), explored his own sexuality during a tortuous, adventurous nocturnal journey (including a visit to a masked orgy in Long Island featuring all-nude naturally-endowed females). Segments of the orgy scene in the film were digitally-altered in order to bring the film an R-rating.

Film History of the 1990s
Part 1, Part 2, Part 3, Part 4, Part 5, Part 6
---



---