Patriot Games (1992)
d. Phillip Noyce, 117 minutes

Film Plot Summary

Ex-Marine and fifty-ish, newly-retired CIA officer John "Jack" Ryan (Harrison Ford), now an author and professor at the US Naval Academy (Annapolis, Maryland), lived with his family in their isolated, coastal Maryland home: medical doctor wife Dr. Caroline "Catherine" Ryan (Anne Archer) and precocious pre-teen daughter Sally (Thora Birch). They were about to travel to London where he was to speak about Soviet fleet development to the Royal Naval Academy. As Ryan left the Academy after his lecture, terrorist breakaway-IRA assassins, including ruthless Kevin O'Donnell (Patrick Bergin), his lover Annette (Polly Walker), Sean Miller (Sean Bean) and his 16 year-old younger brother Patrick "Paddy-boy" Miller, plotted to attack and kill Lord William Holmes (James Fox), British Minister for Northern Ireland and the Queen Mother's cousin, as he left his royal residence in an unscheduled motorcade. Ryan witnessed the assassination attempt, as the terrorists set off a grenade underneath one vehicle and gunmen shot the driver and front seat passenger. Ryan intervened, grabbed a gun and killed Patrick Miller (as his brother looked on) and a few others as they fled. Foiling the attack, he heroically saved the lives of Holmes and his family, but was wounded in the shoulder in the exchange of gunfire (he later explaining that he acted because he was "mad").

Seething with anger and revenge, Sean Miller was jailed, but refused to name his accomplices who deserted him. Before the "Terrorist Trial" held later, after Ryan had healed, Lord William Holmes presented him with knighthood: Knight Commander of the Victorian Order for his bravery. After presenting court testimony against Sean Miller, Ryan passed by Miller as he angrily threatened: "Bloody proud of yourself, aren't you? You stuck your nose in where it didn't belong, and now you've killed my baby brother."

Upon returning home, Catherine informed her husband that she was pregnant, and as a family, they discussed whether they wanted a boy or girl. On TV, they listened to an interview with Sinn Fein representative Paddy O'Neil (Richard Harris), who was questioned about the assassination attempt, and whether the perpetrators were members of a provisional wing of the IRA.

Also involved in the militant terrorist splinter group was Annette, posing as a rare book collector, and Dennis Cooley (Alex Norton), proprietor of London's Cooley's rare bookstore. She delivered a note in an old copy of Robinson Crusoe to Cooley: "Miller, Sentencing Route Date, Vehicle Armaments" - regarding a scheme to intercept Miller's transfer to Albany Prison on the Isle of Wight in an escort convoy. The vehicles transporting Miller were ambushed and hijacked in Kent near the Channel by his fellow comrades (O'Donnell and Annette), the police officers and Inspector Highland were mercilessly killed, and Miller escaped. Immediately, Admiral James Greer (James Earl Jones), Ryan's former superior at the CIA, notified him of the news and that Miller had presumably left the country, but chances that he would pursue Ryan in the US were considered remote. Then, Greer proposed that Ryan return to his CIA job, but he refused. Ryan's wife intuitively knew he had been asked to return and told him: "I can't go back to that life again."

Miller and a group of his comrades took a Libyan freighter from Britain to North Africa for terrorist training in the desert, and to prepare for their next assassination attempt on Lord Holmes, to meet their objective: "Free every Irish political prisoner." The current newspaper reported about the Anti-Terrorist Branch's predictions: "SO-13 Predicts IRA Terror Wars." But Miller had only one obsession - to kill his younger brother's murderer. Meanwhile, Ryan continued to teach at the US Naval Academy in Annapolis, Maryland, where Lt. Comm. Robby Jackson (Samuel L. Jackson) presented him with a joke medal - the Order of the Purple Target medal "for service above and beyond the call of duty of a tourist - even a Marine" (the medal had a bulls-eye on it and read: SHOOT ME).

In the next scene, Sean Miller and some members of his group were plotting a two-pronged attack against Ryan's family, to murder them. Sean and others waited outside Sally's school, where the young girl was picked up by her mother and they followed them onto a busy highway, while others (including Annette) assaulted Ryan as he walked to his car a few blocks from the Naval Academy. Ryan observantly survived his attack and then attempted to alert Catherine by car phone of the threat, but he couldn't prevent their car from crashing into a highway barrier. Although both survived, his wife suffered a concussion (the baby was OK), but Sally was more seriously hurt and her spleen had to be removed. As he waited for news of their recovery in the hospital, Ryan learned that Paddy O'Neil, who was in the US on a fact-finding tour, declared the attack a "heinous crime." He strongly asserted that the IRA was not responsible for the attack.

Ryan was adamant about returning to work at the CIA in Langley, Virginia, to assess the terrorist case that had only brought tragedy to his family. As he studied secret documents and papers, a police assault by SO-13 on IRA members manufacturing explosives in an apartment took place in Belfast, Ireland, after they had received a tip. Ryan was able to identify the members of Miller's group, including O'Donnell ("long-time IRA strategist") - hypothesizing: "I think if we could find O'Donnell, we'll find Miller still standing at his side." He also realized that O'Donnell's radical group was targeting IRA group members (in a cheap hotel room, at a farmhouse, and at the apartment) - and the IRA wasn't claiming responsibility for the killings, as O'Neil had pointed out. Therefore, the murders were being committed by O'Donnell's ultra-violent rogue group or faction, the Ulster Liberation Army, acting independently of the IRA, although the IRA was being blamed. He also hypothesized that if they found the woman with long red hair -- Annette -- they would find Miller and O'Donnell.

Miller and Annette met up with O'Donnell in the North African desert training camp, where Miller was stunned to learn that the Ryans had survived their automobile crash. However, O'Donnell was pleased with the bloody war that they had precipitated in Britain against the IRA: "The war is raging, and when it's over, we'll be the only ones left standing." When the Ryans returned home, they were again threatened by Miller by phone in the middle of the night, and Catherine was fearful: "He's never going to leave us alone," and then requested: "Just get him."

At an Irish pub in the US, Ryan met with Paddy O'Neil for a conversation, and demanded to know the location of Miller and O'Donnell, but O'Neil refused to sell out his fellow Irish countrymen ("the day that I sell out my countrymen will be the day that I put a bullet through my own head") even though they weren't members of the IRA. Ryan threatened putting a "stranglehold" on O'Neil's gun money with adverse publicity: "I will f--king destroy you!"

The CIA determined that the weapons used in the Holmes incident were traceable to an arms dealer that supplied Libyan dictator Kaddafi. Further study of North African camps narrowed down the suspected location of O'Donnell's group to seven locations - now under satellite surveillance. Ryan received a crucial tip from O'Neil about Annette, as the British continued their own search for terrorist group members. They pursued Cooley from his bookstore, who hurriedly fled to North Africa (where Miller murdered him soon after). Ryan riskily hypothesized that one of the camps was the location of the terrorist group (because it included both a female - Annette with "tits" - and a bald, sunburned newcomer - Cooley). An S.A.S. strike team was ordered to attack and kill all its targeted occupants, as the CIA group watched the heat-sensitive photography on a live feed. Afterwards, Greer stated matter-of-factly, "It's over" - but it wasn't. Ryan and Greer didn't know that Miller, O'Donnell, Annette and other comrades had already left the camp and departed for the US, for a second assassination attempt on Lord Holmes.

One of Holmes' scheduled appearances was to be at the Ryan home for a presentation dinner of the knighthood, and for Sally's homecoming from the hospital. Holmes' traitorous assistant, Geoffrey Watkins (Hugh Fraser), had tipped off Miller's group about the location and timing of the dinner, and was in on the plot. Surveillance security officers, including Maryland state troopers and Diplomatic Security Service (DSS) agents surrounded the house during the stormy night, but they were killed off by Miller's group, wearing infra-red night-vision headgear. [When the agents didn't report in as usual, the CIA was notified, and it ordered the FBI to send in hostage rescue teams.] The power to the house was cut off (by Watkins in the basement), and Ryan realized that they were once again personally threatened. He forced Watkins to tell him about the scheme that involved five or six others, and then was able to protect Sally and his wife and lead them to safety from the upstairs darkened bedroom to the basement. After Jackson killed a few of the terrorists as they entered the basement, Ryan then led everyone to escape boats at the bottom of nearby cliffs, where he sped off in one of the speedboats to lead the killers away from Holmes ("He's leading us away from the royal"). The crazed Miller refused to turn around and pursue their mission's primary target, and angrily shot both Annette and O'Donnell ("That's not my mission!") in order to continue his personal vendetta.

In the exciting finale, Ryan and Miller fought hand-to-hand on Ryan's flaming speedboat, and Miller was killed when he fell backwards onto a sharp boat anchor, after which the boat exploded when it hit rocks. Ryan jumped to safety and was picked up by a rescue team helicopter that saw the fiery explosion.

In the final scene set in the Ryan kitchen, Catherine learned the results of her amniocentesis, but failed to tell Jack or Sally the gender of their child before the credits rolled.

Film Notables (Awards, Facts, etc.)

This 1992 film was adapted from Tom Clancy's 1987 novel of the same name. However, chronologically, its events predated the events found in The Hunt for Red October (novel: 1984, film: 1990).

Clancy publicly accused the filmmakers of bastardizing his book with plot alterations and technical mistakes, but finally allowed his name in the credits.

With no Academy Award nominations.

With a production budget of $45 million, and box-office gross receipts of $83 million (domestic) and $178 million (worldwide).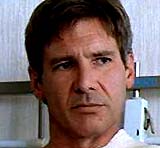 John "Jack" Ryan
(Harrison Ford)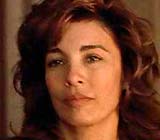 Dr. Caroline "Catherine" Ryan
(Anne Archer)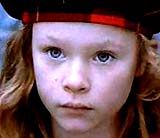 Sally Ryan
(Thora Birch)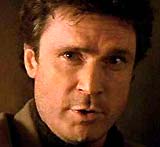 Kevin O'Donnell
(Patrick Bergin)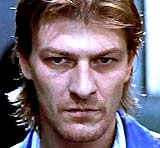 Sean Miller
(Sean Bean)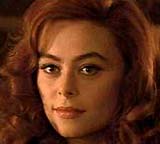 Annette
(Polly Walker)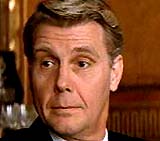 Lord William Holmes
(James Fox)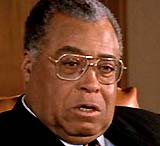 Admiral James Greer
(James Earl Jones)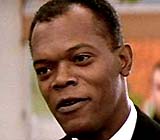 Lt. Comm. Robby Jackson
(Samuel L. Jackson)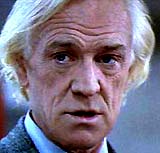 Paddy O'Neil
(Richard Harris)