Background
---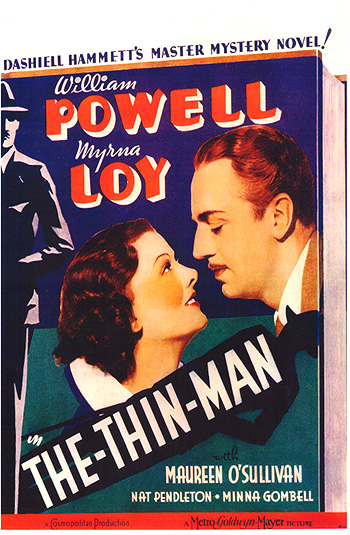 The Thin Man (1934) is the first installment of a popular series of six films casting a sophisticated, glamorous, pleasure-seeking, and urbane husband-wife detective team (William Powell and Myrna Loy as Nick and Nora Charles). It became one of the defining films of the classic era in the comedy-detective subgenre. Director W.S. Van Dyke had just previously directed Manhattan Melodrama (1934), in which stars Powell and Loy had displayed their unique and charming chemistry in the first of their 14 film pairings. [Note: Their coupling immortalized them as a fantastic screen duo, joining others in the annals of cinematic history, such as Bogie and Bacall, Tracy and Hepburn, Garland and Rooney, Lewis and Martin, Astaire and Rogers, Day and Hudson, Hope and Crosby, and Newman and Redford.]
The film's murder mystery story took a back seat to the romantic screwball comedy, featuring the splendid, snappy and flirty banter between the rich, carefree married couple. They were known for sleuthing, solving murders, wisecracking one-liners, affectionate witticisms, delightful teasing and one-upmanship, alcoholic fun with plenty of martinis (two years after the end of Prohibition), a wire-haired terrier named Asta (actually named Skippy), and a loving relationship - often punctuated with quick kisses and slight hiccups. In the end, retired sleuth Nick Charles resolved the crime and assembled all of the major characters (and suspects) at a New Years' Eve dinner party to reveal the devious killer.
The story was taken from Dashiell Hammett's 1934 detective novel of the same name, with a married couple that was supposedly modeled on the author's relationship with longtime love and playwright Lillian Hellman. [Note: This was Hammett's fifth and final novel, written following the hard-boiled noirs The Maltese Falcon and The Glass Key.] Mystery and detective films were very much in vogue during the 1930s, including the Charlie Chan, Mr. Moto, The Shadow, Bulldog Drummond, Ellery Queen, and Philo Vance series. [Note: The Thin Man star William Powell had just completed four films as Vance from 1929 to 1933.]
The 'Thin Man' of the title was actually the murder victim in the novel and film (Clyde Wynant), and only appeared in this first film. The low-budget MGM film - that was shot on the cheap in less than three weeks (some even claimed just 14 days) and earned over $2 million, has always been rated as the best of the bunch.
The entertaining, escapist film launched a series of five more lucrative Thin Man sequels (from 1936 to 1947), some of which had their screenplays also written by Dashiell Hammett. Albert Hackett and Frances Goodrich were responsible for co-writing the screenplays for the first three Thin Man films:
After the Thin Man (1936), d. W.S. Van Dyke - a Best Picture nominee
Another Thin Man (1939), d. W.S. Van Dyke
Shadow of the Thin Man (1941), d. W.S. Van Dyke
The Thin Man Goes Home (1945), d. Richard Thorpe
Song of the Thin Man (1947), d. Edward Buzzell
The husband and wife team (billed as "the happiest married couple in radio") was also broadcast on radio (by Pabst Blue Ribbon) for many years, with Claudia Morgan in the role of Nora, and a number of actors in Nick's role (Lester Damon, Les Tremayne, Joseph Curtin, and David Gothard). Each radio show ended with Nora's closing: "Good night, Nickeee..." The couple's popularity progressed into television, where Peter Lawford and Phyllis Kirk portrayed the pair for three seasons on NBC-TV in The Thin Man from 1957-1959, in 72 30-minute episodes.
Other copy-cat husband/wife sleuthing comedies were also inspired, such as these 1970s-1980s shows:
McMillan and Wife (1971-1977), on NBC, with Rock Hudson and Susan Saint James
Hart to Hart (1979-1984), on ABC, with Robert Wagner and Stefanie Powers
Remington Steele (1982-1987), on NBC, with Pierce Brosnan and Stephanie Zimbalist
Moonlighting (1985-1989), on ABC, with Bruce Willis and Cybill Shepherd
Woody Allen's part-homage film Manhattan Murder Mystery (1993) starred the director and Diane Keaton as the Liptons, modeled after the Charles couple. The couple was also memorably spoofed as Mr. and Mrs. Dick and Dora Charleston (cunningly played by David Niven and Maggie Smith) in Murder by Death (1976). A modernized remake of the original Thin Man film was planned by Warner Bros - to be directed by Rob Marshall and to star Johnny Depp as the tuxedoed, Prohibition-era sleuther solving a Manhattan murder mystery.
Although it was nominated in four categories for Academy Awards, Best Picture, Best Actor (William Powell), Best Director (W. S. "Woody" Van Dyke), and Best Adapted Screenplay (husband-and-wife screenwriting partnership Frances Goodrich and Albert Hackett, also authors of Naughty Marietta (1935), It's A Wonderful Life (1946), Easter Parade (1948), Father of the Bride (1950), and The Diary of Anne Frank (1959)), it was up against stiff competition from the Oscar-sweeping film It Happened One Night (1934), and went away empty-handed.
[Note: This film's first sequel, After the Thin Man (1936) was also a Best Picture nominee, and the first sequel ever nominated for Best Picture. The film also featured a surprise ending in which Nora revealed her impending motherhood. And then in the third film in the series Another Thin Man (1939), there was the debut of a new generation of Charles' represented by Nicky Charles, Jr. (William A. Poulsen).]
Plot Synopsis
---
As the film opened, an eccentric, tall, wealthy businessman/inventor named Clyde Wynant (Edward Ellis) - the "thin man" of the film title, was in his inventor's workshop - viewed first as a silhouetted shadow cast on a wall. He was angered when his assistant interrupted him, and not knowing that his doting daughter Dorothy (Maureen O'Sullivan, better known as "Jane" from two Tarzan films) and future son-in-law Tommy (Henry Wadsworth) had arrived. When they announced their wedding plans to him, mean-spirited Wynant told his daughter that he was going into seclusion to work on an important new business idea and invention (because there's "no peace, no quiet, everybody interrupting me"). He refused to tell her his intended whereabouts, but he promised that he would return for her post-Christmas wedding (December 30th) to give her away.
Wynant was recently divorced from his wife - later introduced as Mimi who had since remarried - because he was conducting an affair with his pretty blonde secretary/mistress Julia Wolf (Natalie Moorhead). He had put his mustached lawyer, Herbert MacCaulay (Porter Hall), in charge of his financial and business affairs while he planned to be away.
Just before he departed for his long sabbatical, Wynant visited his upstairs office and discovered $50,000 in government bonds missing from his safe. Intended as a wedding present for his daughter, he questioned his clerk Tanner (Cyril Thornton) about their whereabouts. He immediately suspected his mistress-secretary Julia had taken the bonds. He stormed into her apartment, where he surprised her in the company of another man [Joe Morelli (Edward S. Brophy)]. He accused his mistress Julia of two-timing and cheating on him, and pressured her to confess that she took the bonds and sold them. (He also believed that she had taken advantage of his absentmindedness.) He threatened her with embezzlement and promised to turn her over to the police. Then, he learned that she had divided the bonds equally with an unnamed accomplice. Intercepting a strange telephone call (from a scar-faced man later identified as Nunheim), he suspected who had assisted her.
Three Months Later
In the next scene, three months later on Christmas Eve in a fancy restaurant, Dorothy danced with her fiancee Tommy and expressed how worried she was that she hadn't heard from her father, who had promised he would return by then. At the nearby bar, a suave and glib Nick Charles (William Powell), a retired former sleuth, made a memorable first appearance in the film. He illustrated to an assemblage of bartenders how to properly mix a batch of martinis, while moving rhythmically to the music:
The important thing is the rhythm! Always have rhythm in your shaking. Now a Manhattan you shake to fox-trot time, a Bronx to two-step time, a dry martini you always shake to waltz time.
Dorothy recognized him ("as a real live detective" from years earlier) and introduced herself to him. Nick remembered her also, since her divorced father was a former client - as she explained to her fiancee: "He once worked on a case with my father." She told Nick that she was concerned and suspicious that her father was nowhere to be found, and had failed to notify her. Nick suggested that she telephone her father's lawyer, MacCaulay, to find out if he had heard from Wynant.
In the next memorable comedic scene, Nick's sophisticated and loving wife Nora (Myrna Loy) also made a noisy and memorable entrance - typical of screwball comedies. Heavily laden with Christmas packages, and dragged by their dog Asta on a leash, she ended up sprawled face-first on the floor as she entered the crowded restaurant. When asked to take the dog out of the restaurant by a waiter named Joe, Nick had a ready answer:
Nick: Oh, it's all right, Joe. It's all right. It's my dog. And uh, my wife.
Nora: Well, you might have mentioned me first on the billing.
Nick: The dog's well-trained. He'll behave himself.
Dorothy and Tommy were introduced to Nora before they left. Nick invited them to look them up again, since they were going to be in town for a while. They had come to New York from California (where they had lived for four years) for the Christmas holidays to celebrate their newly-wedded bliss with drinking, partying, sleeping late, and shopping. [The film capitalized on the recent repeal of Prohibition, although in the novel set before Prohibition's repeal, the couple had to drink boot-legged hootch.] The couple sat down to have a few drinks at a table in the bar area:
Nora: (commenting on Dorothy's beauty) Pretty girl.
Nick: Yes, she's a very nice type.
Nora: You got types?
Nick: Only you, darling. Lanky brunettes with wicked jaws.
It was obvious that Nick had been drinking heavily, and Nora wanted to keep up with him:
Nora: Say, how many drinks have you had?
Nick: This will make six martinis.
Nora (to waiter): All right. Will you bring me five more martinis, Leo? And line them right up here.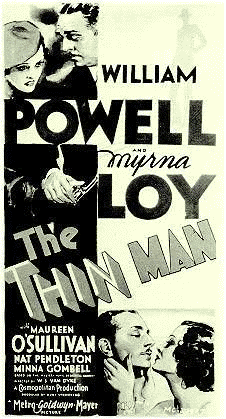 Soon afterwards, the couple both suffered from severe hangovers in their hotel room:
Nora: What hit me?
Nick: The last martini. How about a pick-me-up?
Just then, the doorbell rang and Wynant's lawyer MacCaulay entered, and asked:
What's Mimi [Dorothy's divorced mother] up to, Mr. Charles?...She usually is trying one way or the other to get money out of Wynant...I wanted to find out if you were, uh, (laughs), sleuthing for her?
Nick explained that he had quit being a gumshoe detective four years earlier and preferred to be retired, in order to manage the private affairs of his newly-wed heiress wife - and presumably spend his inherited fortune.
MacCaulay explained how he hadn't heard from or seen Wynant for three months ("He sends word through his secretary Julia Wolf when he wants money. I give it to her and she gives it to him"). Then, MacCaulay received a phone call from his secretary and was informed that Wynant had reappeared and was "back in town" and waiting to meet him. As MacCaulay hurriedly left, he wished them both a "Merry Christmas." Nora was tired of the Christmas spirit:
The next person who says Merry Christmas to me, I'll kill 'em.
Based on MacCaulay's phone call report, Nick telephoned Dorothy to let her know that her father had arrived back in town. Mimi (Wynant) Jorgensen (Minna Gombell), Wynant's equally mean-spirited ex-wife, overheard the conversation, and demanded to know where Wynant was. Greedy and frantic, she was concerned that Wynant's mistress Julia was taking all her ex-husband's money, now that she had remarried an unemployed, penniless lothario named Chris Jorgensen (Cesar Romero). She was worried that Wynant was unavailable to help support her and Chris.
Dorothy told off her mother who was only interested in her ex-husband's money:
You just want money and you haven't any right to any more. He made a big settlement on you.
After learning that Wynant had supposedly been seeing his mistress Julia while in town, Mimi phoned Julia in the Clarkson Apartments (#9A) and arranged to meet and speak with her. To make matters even more serious, she found Julia's murdered corpse in the apartment when she arrived. (Nunheim was seen surreptitiously leaving the building as she entered.) At the scene of the murder, Mimi secretly removed Wynant's watch chain from Julia's clutching dead hand, thinking that she could protect Wynant from incriminating evidence. [Wynant's alleged reappearance happened to coincide with the first of several murders of his close acquaintances.]
Five short scenes were inter-cut to add further intrigue to the story:
(1) Mimi was seen in a restaurant speaking to Nunheim:

Mimi: Where have ya been?
Nunheim: Out makin' money.
Mimi: Let's see it.
Nunheim: I haven't got it yet. But I'll get it.

(2) A stocky-built man named Stutsy Burke (Walter Long) informed Joe Morelli at a bar that Julia Wolf had recently been "bumped...off."

(3) MacCaulay expressed complete shock and surprise when phoned and told that Julia had been murdered.

(4) A cleaning woman described how she would tell the police "everything" about how she "heard an awful fight in there awhile ago" between Wynant and Julia the night that he left town.

(5) MacCaulay, summoned by police, was questioned about his last contact with Julia, when he gave her money for Wynant. He answered: "Yesterday, I gave her a thousand dollars." Police detective Lt. John Guild (Nat Pendleton) immediately suspected that the missing Wynant was Julia's murderer, because there was no sign of the money:

MacCaulay: Perhaps it was a robbery.
Guild (skeptically): And her with that sparkler on her finger and thirty dollars in her purse. It looks to me like our friend Wynant came around to collect and ran into a little trouble.

MacCaulay also asserted that his secretary received a phone call message from Wynant to meet him at the Plaza at 3 pm, but Wynant didn't show up.
Later at Mimi's apartment, Lt. Guild questioned her about the murder scene that she witnessed, and asked: "Did you see anything in Miss Wolf's hand?" Mimi denied seeing anything or touching the body, although the medical examiner claimed that the body may have been touched ("that someone had forced open the girl's hand after she'd been killed"). After the police left, Dorothy walked in on Mimi putting the watch chain in a wall safe, and was dismayed to think that her father might be the murderer.
At a festive Christmas party that the Charles couple were hosting, news of the Julia Wolf murder was heard on the radio:
Police have found out that the beautiful blonde secretary was once a gangster's girl. They're now looking for the gangster. Clyde Wynant, the girl's employer, is still missing.
Nick was asked why he was in town during the Julia Wolf murder case: "My wife's on a bender. I'm trying to sober her up." Nora was also asked if Nick was working on the case:
Nora: Yes.
Reporter: What case?
Nora (retorting): A case of scotch. Pitch in and help him.
In the kitchen, she recommended that Nick take the Julia Wolf case, because it sounded interesting and exciting. He reminded her why he was not coming out of retirement:
I haven't time. I'm much too busy seeing that you don't lose any of the money I married you for.
She tried to entice him with the intriguing murder case, now that the inventor had been accused of a crime: "Girl mysteriously murdered, nobody knows who did it, they haven't found any clues, no gun, no fingerprints." Nick asserted that he wanted to hear nothing more from her about the case:
Nora: Is that my drink over there?
Nick: What are you drinking?
Nora: Rye.
Nick: (He picked up the glass and slugged down its contents.) Yes. That's yours.
Dorothy arrived at the Charles' Christmas party terribly distressed. She begged to speak to Nick alone. To protect her father, she confessed to Nick that she shot Julia, but Nick immediately saw through her fabricated story - a cover-up to protect her father. Soon after, Mimi arrived and also wished to speak to Nick about "something very important." Mimi asked Nick for assistance in locating her missing ex-husband:
You will help me find Clyde, won't you?
Nick was again reluctant to interrupt his Christmas vacation to help anyone, speak to reporters, or to get involved in the case in any way. However, in the midst of the party, he received an intriguing phone call from Nunheim: "I'd like to lay a proposition before you. Well, I can't discuss it over the telephone, but if you'll give me a half-hour of your time...It's about Julia Wolf" - but then the call was cut off.
As the drunken party-goers sang Oh Christmas Tree, Nora embraced and kissed Nick, and told him what she thought about all the low-life guests he had gathered together: "Oh, Nicky. I love you, because you know such lovely people."