Solid, Significant Films and Directors of the Decade:
Some of the most established Hollywood filmmakers continued to make solid films during the decade - Martin Scorsese, Michael Mann, Robert Altman, Anthony Minghella, Oliver Stone, James Brooks, Brian De Palma, Robert Zemeckis, Barry Levinson, Francis Ford Coppola, Steven Spielberg, and others.
Martin Scorsese
For instance, Martin Scorsese directed the following in the decade before the turn of the century:
the graphically-violent and compelling GoodFellas (1990) - a virtuoso adaptation of Nicolas Pileggi's best-selling book Wiseguy and a true-life account of gangster/FBI informant Henry Hill (in the witness protection program ultimately) noted for his statement: "As far back as I can remember, I always wanted to be a gangster", with fellow gangsters Robert DeNiro and Joe Pesci ("I'm funny how? Like a clown? I amuse you?")
Cape Fear (1991), a commercially-successful remake of director J. Lee Thompson's 1962 thriller film (with Gregory Peck and Robert Mitchum), with Robert DeNiro as a vengeful, psychopathic ex-convict stalking defense attorney Nick Nolte
the costume drama The Age of Innocence (1993), an adaptation of Edith Wharton's 1920 novel of passion, hypocrisy, sexual longing and emotional/psychological repression set in 1870s Victorian New York society, starring Daniel Day-Lewis and Michelle Pfeiffer as illicit lovers, and Winona Ryder (who had a Best Supporting Actress nomination)
Casino (1995), a Las Vegas-based gangster film (again from a Pileggi adaptation) set in the 1970s, with favorite stars Robert DeNiro (as gambling executive Ace) and Joe Pesci (as Mob enforcer Nicky), and Oscar-nominated Sharon Stone (she won the Golden Globe award for Best Actress) as a hedonistic, drug-addicted ex-prostitute named Ginger McKenna
Kundun (1997), a unique, episodic, historical epic about the 14th Tibetan Dalai Lama's life, with visually-rich cinematography by Roger Deakins
Bringing Out the Dead (1999), a stunning urban drama about a haunted New York paramedic/ambulance driver (Nicolas Cage); the film reunited Scorsese with his frequent scriptwriter Paul Schrader, who scripted Taxi Driver (1976), Raging Bull (1980), and The Last Temptation of Christ (1988)
Gangs of New York (2002), a period drama from Herbert Asbury's book, starring Leonardo DiCaprio, Daniel Day-Lewis, and Cameron Diaz; nominated for 10 Oscars (without any wins)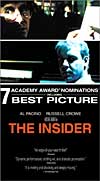 Michael Mann
Screenwriter/producer and director Michael Mann's superb crime thriller Heat (1995) brought together DeNiro and Pacino (for the first time) on opposite sides of the law. His next widely-acclaimed film (with seven Oscar nominations including Best Picture) was The Insider (1999), the dramatic true-to-life story of a tobacco company scientist (Russell Crowe) who exposed the corrupt industry for veteran 60 Minutes correspondent Mike Wallace (Christopher Plummer) and the show's producer (Al Pacino). At the turn of the century, Mann also directed the biographical sports drama Ali (2001), with Best Actor-nominated Will Smith portraying the legendary boxing great Cassius Clay/Muhammed Ali during a ten year period (1964-1974).
Robert Altman
Maverick director Robert Altman made two satirical studies in the 1990s of modern day Los Angeles society, both with huge starring casts - one of his trademarks:
The Player (1992), adapted from scriptwriter Michael Tolkin's novel - a scathing, dark comedy of the movie business and a Hollywood studio production executive (Tim Robbins) who murdered a writer to protect his position; with over four dozen cameo appearances by stars in the cast
Short Cuts (1993), a complex and sprawling set of eight interlinked stories involving six dysfunctional couples (over twenty characters) - all Southern California residents, and their interacting lives
Lesser Altman works followed: Pret-A-Porter (1994), Kansas City (1996), The Gingerbread Man (1998), and Dr. T & the Women (2000).
Anthony Minghella
Anthony Minghella wrote the screenplays and directed two major films in the 90s:
an acclaimed, three hour long World War II saga/romance The English Patient (1996) from independent studio Miramax - a major Academy Award winner (with nine Oscars, including Best Director and Best Picture), about burned cartographer Count Almasy (Ralph Fiennes) after a plane crash in WWII who told his life story on his Italian deathbed to Canadian nurse Hana (Best Supporting Actress-winning Juliette Binoche)
the Hitchcockian-style psychological thriller The Talented Mr. Ripley (1999), starring Matt Damon, Gwyneth Paltrow, and Jude Law
Oliver Stone
After the screen biography The Doors (1991) about lead singer Jim Morrison (Val Kilmer) and his West Coast rock group (famous for 'Come on baby, light my fire'), Oliver Stone directed the three-hour political thriller JFK (1991) to re-examine the 1963 Kennedy assassination and to attempt to speculate and prove a conspiracy theory and cover-up. In the film, he 'deconstructed' the Lee Harvey Oswald one-gunman theory denounced by the government-sanctioned Warren Commission with a counter-theory involving higher-ups angered by Kennedy's liberalism. Kevin Costner starred as DA Jim Garrison ("Back, and to the left... back, and to the left... back, and to the left") and Gary Oldman as assassin Lee Harvey Oswald. Jack Valenti, the head of the Motion Picture Association (MPA) questioned the premise of Stone's highly stylized film.
Stone's next effort, Heaven and Earth (1993) concluded his "Vietnam trilogy" of Platoon (1986) and Born on the Fourth of July (1989).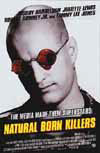 Quentin Tarantino wrote the story for Oliver Stone's controversial study of mass murder - Natural Born Killers (1994) - an over-the-top, visceral satire on the desire of the violence-obsessed, exploitative media in America to maximize profits, with stars Woody Harrelson and Juliette Lewis as Mickey and Mallory - two image-conscious serial killers on a psycho road trip as they are pursued by a sleazy TV reporter (Robert Downey, Jr.). The energetic film precipitated at least eight 'copycat' murders and violent incidents by self-professed 'natural born killers,' including two Oklahoma teens who watched the film repeatedly and then went on a similar shooting spree. A subsequent multi-million dollar lawsuit in 1995 against director Stone (and then Time Warner Entertainment), brought by a victim in Louisiana, was finally dismissed in 2001. The film was originally banned from theatrical distribution in Ireland. A 2000 Director's Cut version brought back more than 150 shots removed from the theatrical version prior to release - severely edited in order to get a R rating instead of an unrated or NC-17 rating. [A year earlier, Juliette Lewis had also appeared in Kalifornia (1993), an updated, disturbing 90s version of Malick's youth road movie Badlands (1973).]
James Brooks and Other Notable Directors and Award-Winners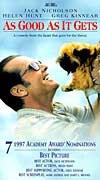 James Brooks' Best Picture generation-gap romance As Good As It Gets (1997) entertained and won acting Oscars for Jack Nicholson (as an obnoxious bigot) and Helen Hunt (as a waitress with a heart of gold) from its seven nominations. Writer/director Mike Figgis' Leaving Las Vegas (1995) won the Best Actor Oscar for Nicolas Cage as a down-and-out ex-writer and boozer in love with a sympathetic prostitute (Elisabeth Shue).
John Madden's Shakespearean romance Shakespeare in Love (1998) won top accolades including Best Picture, Best Supporting Actress (Judi Dench as Queen Elizabeth) and Best Actress (Gwyneth Paltrow as the Bard's cross-dressing lover Viola). Earlier, Kathy Bates won the Best Actress Oscar for her bat-swinging/psychopathic fan role in director Rob Reiner's blackish thriller Misery (1990), another Stephen King adaptation (by William Goldman). Tom Cruise was the lead in the sports-related romantic comedy/drama Jerry Maguire (1996) - a sports agent ("Show me the money") who partnered with football player pariah Rod Tidwell (Best Supporting Actor-winner Cuba Gooding, Jr.) and single mother Renee Zellweger ("You had me at hello"). Francis Ford Coppola continued to make hits, such as his final segment of the trilogy The Godfather, Part III (1990), Bram Stoker's Dracula (1992), and The Rainmaker (1997).
Brian De Palma
Brian De Palma, known for his various genres of thrillers (borrowing techniques from the great master Hitchcock), produced more hits in the 90s (except for The Bonfire of the Vanities (1990)), including the following:
the provocative Vietnam War film Casualties of War (1989)
Raising Cain (1992), a shocking psychological thriller with John Lithgow cast in the dual role of twin brothers
the crime saga sequel to his own film Scarface (1983) - Carlito's Way (1993), reteaming DePalma with Al Pacino playing a former Puerto Rican drug dealer and ex-con
Mission: Impossible (1996), a big-budget, overly-complicated, summer action film (a remake of the popular 60s TV series) with Tom Cruise
Snake Eyes (1998), a politically-tinged, gripping thriller with Nicolas Cage as a dishonest Atlantic City homicide detective who becomes embroiled in a conspiracy theory after the assassination of a Defense Secretary at a championship boxing match
Mission to Mars (2000), a sci-fi thriller
Robert Zemeckis
After directing the last in the trilogy, Back to the Future 3 (1990), the black comedy Death Becomes Her (1992) with Oscar-winning makeup effects, and Best Picture-winning Forrest Gump (1994) with Tom Hanks' Best Actor performance, Robert Zemeckis directed Contact (1997), an emotional sci-fi drama based on a novel by Carl Sagan, about the serious quest for intelligent life in outer space by a young scientist (Jodie Foster).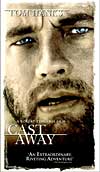 Then he directed two films released in the same year:
Cast Away (2000), the story of an ill-fated Federal Express employee (Tom Hanks) who becomes stranded on a remote island for four years following a plane crash with a volleyball named "Wilson"; the film reunited Hanks with Zemeckis - their first film together since 1994
What Lies Beneath (2000), an old-fashioned supernatural thriller with a spooky house and an unexpected ending, with stars Michelle Pfeiffer and Harrison Ford as a married couple
Barry Levinson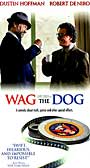 Rain Man's (1988) director Barry Levinson was responsible for a number of minor films in the 90s, including Avalon (1990), Bugsy (1991), Toys (1992), Disclosure (1994), Jimmy Hollywood (1994), Sleepers (1996), Sphere (1998), and Liberty Heights (1999). The gangster film Bugsy (1991) starred leading man Warren Beatty as the larger-than-life visionary mobster Ben 'Bugsy' Siegel, who opened the first casino hotel in the desert-surrounded town of Las Vegas - The Flamingo, named after his Hollywood mistress Virginia "Flamingo" Hill (Annette Bening who soon became his real-life wife).
Coincidentally, Levinson's political satire Wag the Dog (1997), filmed in only a month and starring Robert DeNiro and Dustin Hoffman, emerged at the time of President Clinton's sex scandal with Monica Lewinsky - with a similar plotline of official misconduct, and the invention of a war in Eastern Europe to distract attention. Here was another example of Hollywood art presaging real-life.
Steven Spielberg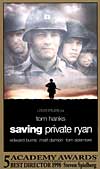 Spielberg contributed a number of major films in this decade, already discussed: the pair of dinosaur blockbusters Jurassic Park (1993) and The Lost World: Jurassic Park (1997), and award-winning 'holocaust' epic Schindler's List (1993). He also directed the historical drama Amistad (1996) about a mutiny aboard a slave ship, based on a true story from the 19th century. Producer/director Steven Spielberg finished the decade with his second WWII epic Saving Private Ryan (1998) that won five of its eleven Academy Award nominations. It opened with incredibly brutal, recreated footage of the Omaha Beach bloodbath and mass slaughter of GIs on June 6, 1944, and told the story of Captain Miller (Tom Hanks) who was on special assignment to find a fourth brother in a family where three brothers had already died. Among others, it received Oscars for Best Director (Spielberg's second) - but not Best Picture, Best Film Editing, and Best Cinematography (Janusz Kaminski) for its remarkable hand-held camera work.
Steven Soderbergh
And cerebral writer/director Steven Soderbergh solidified his career, following his Cannes Film Festival's Palm d'Or winner sex, lies and videotape (1989) with a series of uneven films in this decade:
the stylistic, black and white Kafka (1991), derived from Kafka's stories, with Jeremy Irons as miserable insurance clerk Franz Kafka
the little-acknowledged, St. Louis Depression-era drama King of the Hill (1993) starring Jesse Bradford
The Underneath (1995), a remake of Robert Siodmak's noir classic Criss Cross (1949)
the one-man show of Gray's Anatomy (1997), with Spalding Gray seeking alternative treatment for an eye affliction
the low-budget, original, experimental film Schizopolis (1997) - a bizarre series of sketches or gags with director/producer Soderbergh as the star
the sexy, hip, mainstream crime caper Out of Sight (1998) told non-linearly with federal marshal Jennifer Lopez as the hostage of suave bank robber George Clooney
The Limey (1999) with legendary actor Terence Stamp as a vengeful, aging Cockney criminal investigating the 'accidental' murder of his daughter in Los Angeles
Soderbergh would reach the pinnacle of prominence with three films early in the next decade:
Erin Brockovich (2000) with Best Actress-winning Julia Roberts as the twice-divorced single mom title character, who successfully prosecuted utility company PGE for poisoning the water supply in the small town of Hinkley, CA
the Best Director-winning Traffic (2000), told in three separate, but interwoven stories
the remake Ocean's Eleven (2001)

Film History of the 1990s
Part 1, Part 2, Part 3, Part 4, Part 5, Part 6
---



---