The New Revolutionary Business Model for Hollywood:
According to the LA Times in late September 2011, Hollywood's business model was poised to make a revolutionary shift. Due to a rapid 40% decline in home entertainment revenue (from the once-profitable sale of DVDs, the previous revenue model), the newest switch would be to Video On-Demand (VOD) services and the acceleration of the digital delivery of movies over the Internet.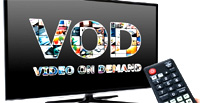 Many options would be developed to accommodate consumers' Internet-connected digital devices (smartphones, tablets, and TVs), in order to facilitate digital movie consumption (and collection) via downloads. The article ("The Revolution Will Be Downloaded") predicted: "It may be the biggest shift in Hollywood's business model since the explosion of the DVD in the late 1990s." However, the complexity of downloading a film on one device for viewing it on another device (in the bedroom, minivan, or portable DVD player) was a hurdle to be overcome.
Various revolutionary options were utilized to begin to increase home entertainment media sales:
Storing and Watching Movies in the "Cloud" - Consumers would be able to watch a purchased film on any Internet-connected digital device, with just a login and password to access their locker in the 'virtual' cloud.
Digitizing DVD Collections - Services would be available to copy (or convert) one's movies from DVD to a 'digital locker' in the cloud. Tech-savvy computer users could convert their films themselves and upload them.
Different Price Points - Premium video on demand would be the most expensive in the first few weeks of a film's release. Then a few weeks later, a less expensive digital copy could be purchased. The cheapest option would be to wait for a rented digital copy or DVD, available only after a longer waiting period.
Social Networking - A list of recommended or preferred films would be personally generated for each user and available for purchase from choices made in social networks (Facebook's 'like', or Amazon's/Netflix's recommendations, or even YouTube). People could use social networks to watch films with friends, share clips, play social games (movie-related), and get recommendations based on the 'likes' of people on their friends lists, or the most popularly-viewed clips.
Multiple Screens - More than one digital screen could be synched up for a single film, to present additional angles, directorial commentary, text, etc.
The Creation of Movie-Specific Apps - Smartphones and tablets would be more than just movie screens. They could be used as ancillary 'second screens' with additional content for the film being watched on another device.
The Early Launch of Premium VOD Titles:
With DVD revenues, domestic box office, and movie theatre attendance down, an experimental new business model was attempted in mid-2011 - the early launching of premium VOD titles. The trial idea was to generate new and untapped revenue before the DVD release, when movies were often not legally available. It was the first time that a major studio movie would be available on TV sets (at a premium price) very soon after playing in theaters. The risk was not knowing how many subscribers would pay $30 for a movie that had already played in theaters and would soon be available to rent on DVD in about a month. [Note: DirecTV already offered its approximately 6 million subscribers about 6,000 titles on demand through its DirecTV Cinema initiative.] Proponents argued that it would provide an alternative to piracy and have little or no effect on ticket sales.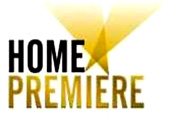 In that year, four Hollywood studios - Sony Pictures Entertainment, 20th Century Fox, Universal Pictures, and Warner Brothers - made an arrangement (known as "Home Premiere") with satellite TV provider DirecTV to release films only two months after their theatrical release, but before their DVD release. [Note: At the time, the traditional release time frame was a minimum of three months - 90+ days - from theaters to home market viewing.]
The first premium on-demand film to be released in the short time frame was Sony's Just Go With It (2011), based on the film Cactus Flower (1969), this time starring Jennifer Aniston and Adam Sandler, at the cost of $29.99. The release date was just 69 days after the film premiered in theaters. The next three films to be released were:
Warner Bros.' Farrelly Bros.' comedy Hall Pass (2011) with Owen Wilson and Jason Sudeikis
Universal Pictures' sci-fi romance thriller The Adjustment Bureau (2011), starring Matt Damon and Emily Blunt
Fox Searchlight's quirky comedy Cedar Rapids (2011)
However, the project was still viewed as a possible threat to bricks-and-mortar theaters, especially movie chains (such as Cinemark, AMC and Regal) that had just started to conduct expensive upgrades to accommodate digital and 3-D projection. In protest before the launch, 23 prominent film makers - including directors James Cameron, Peter Jackson and Robert Zemeckis - urged movie studios to reconsider participating in "Home Premiere."
Hollywood Studios Partner Up Their Distribution Rights with Subscription Internet Video Services:
Hollywood studios were increasing distribution rights for their films and TV programs to Internet companies, as opposed to traditional TV channels, in a move to make more revenue. Income from new licensing deals with film studios began to provide substantial income for many Hollywood studios.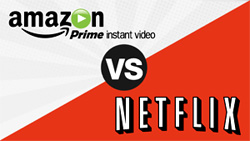 For example, DreamWorks Animation SKG, Inc, a large supplier of media content (films and TV specials), ended its long-running pay-TV deal with cable station HBO in 2011. It signed a new deal to pump its content through Netflix. This was the first time a major Hollywood supplier chose Web streaming over pay television. Netflix planned to begin exclusively streaming DreamWorks films starting with movies released in 2013 and running through 2016.
At the same time, Amazon was competing by bulking up its streaming video service (dubbed Amazon Prime) with movies and TV shows from 20th Century Fox (including 2,000 older films and TV shows). As an incentive to prospective digital purchasers, studios were also accelerating their offerings of movies for sale online before they could be bought on disc.
Film studios took advantage of the proliferation and use of social media to produce positive word-of-mouth and boost sales through various digital video sources. (Digital video referred to TV shows, ads, amateur videos and original digital videos shown online that could be watched using a variety of devices such as computers, smartphones, tablets or internet-connected TVs.) Twitter, YouTube and Facebook and other services also provided a powerful marketing tool for the film industry.
The Slow Decline of DVDs (Digital-Video Discs) and Physical Media Sales:

Home digital streaming of video content (buying, renting or downloading movies on Smart TVs and iTunes, and subscription-based streaming services such as Netflix, AppleTV and Amazon Fire) continued to boom and topple traditional DVD and Blu-Ray revenues. For the first time, digital video streaming subscription revenues surpassed DVD / Blu-Ray sales in the US in 2016 ($11.4 billion for US digital vs. $8.0 billion for US physical). [Note: The peak of DVD sales was in the mid-2000s.]
Revenue from Blu-Rays and DVDs decreased by $3 billion between 2009 and 2013. Physical media sales (DVDs and Blu-rays) continued to shrink as total consumer spending on DVDs began a pattern of steady decline for the remaining years of the decade.
Three of the top-selling DVDs in the decade were popular animated features. Frozen (2013) toppled Avatar (2009) as the best selling video release of the decade:
Online Streaming From Digital Services: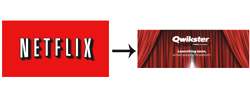 One portending decision that illustrated how streaming would become a dominant business model in the 2010s decade was Netflix's remarkable announcement in July of 2011 that it would split its DVD-by-mail and streaming platform into two separate services, each with subscription cost price increases. The rental DVD service would be called Qwikster, while Netflix would maintain the streaming side of the business. This strategy, to bring more TV shows and movies to the platform, also meant the service would need to generate its own content.
It was a short-lived decision, when consumer complaints about Qwikster led to a reversal of the change by the company. Netflix announced it would continue to offer both DVD- and streaming-based movie services through its own central site and brand. However, the direction of the industry was clear - there would be a major transition from the original business model as a DVD rental mailer to a future model as a video-streaming service.
[Note: As Netflix had predicted, by 2018 the DVD side of the business remained flat and in decline with only about 3 million subscribers, while the streaming business soared to about 120 million subscribers (worldwide). It was remarkable, then, that in late 2019, Netflix still had 2.7 million subscribers on their DVD plan. The resilience of the plan could be explained by a number of factors. For many households, streaming video consumed too much bandwidth, and many rural areas had insufficient broadband access. The DVD service also continued to be convenient and provided a large selection of titles. According to some reports, Netflix streaming had fewer than 6,000 film and TV titles, while DVD Netflix had about 100,000 titles.]
Increases in home entertainment revenues began in 2012, due in part to increased downloading and streaming of movies from digital sources and the Internet (through devices including smartphones, tablets, and SMART TVs), and buying and renting from digital services. Purchases of consumers that were adding up included accessing and/or owning electronic-digital copies of movies and subscriptions to online streaming services.

The newest businesses to benefit included Netflix Inc., Apple Inc.'s iTunes and Amazon.com (for Amazon Prime), Best Buy's CinemaNow, Google Play, Hulu, and Wal-Mart's Vudu. Google Chromecast entered the home streaming market and surpassed Apple TV for second place in market share behind Roku. In mid-2013, Amazon acquired Viacom (owner of MTV, Comedy Central, Nickelodeon, and other networks), previously aligned with Netflix. It was the online retailer's largest licensing deal to date. The result was that it could provide a slate of exclusive offerings on Amazon Prime.
Another coming trend involved a new technology (an online storage service for consumers' purchased digital content) dubbed Ultraviolet that would allow consumers to store digital copies of movies in the cloud. By mid-decade, consumer spending on digital video sources (rather than physical formats such as DVDs or Blu-Ray) had increased significantly, and had overtaken physical products in the marketplace. Businesses that were declining included the rental spending sector (but not VOD) and video rental kiosks (such as Redbox). Another major development was that by 2013, more films were being shot digitally than through traditional celluloid means.
New Competition in the Movie Business From Non-Traditional Movie Producers: Netflix, Amazon, Hulu and More
With the enormous growth of VOD and online streaming, companies such as Netflix and Amazon began producing their own big-budget feature-films. Netflix, Amazon Prime, Showtime, HBO, and others had entered the movie industry with their own original content in small to medium-budgeted movies that were reaching larger and larger audiences. The rise of new subscription services, and competition for market share from players such as Netflix and Amazon offering original movies produced incredible changes in the industry. Exclusive acquisition deals or arrangements also became commonplace between the studios and subscription VOD services and products (sometimes involving the imposition of exclusive theatrical windows for showings, or the sharing of original movies on other platforms, such as Hulu).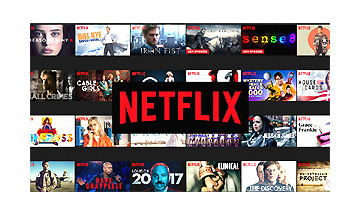 Netflix, the on-demand internet streaming media provider, became a major game-changer in the way that films were released and distributed, moving from its original distribution platform of videos to an acquisition and production platform. Netflix's business plan was to partner with established production studios to create its content, and then to provide content to its subscribers.
Netflix aggressively pursued increased original content (such as House of Cards, Orange Is the New Black, and Marco Polo), and was able to successfully bypass standard distribution channels. [Note: Its Oscar-nominated documentary The Square (2013), about the ongoing Egyptian Revolution of 2011, marked the first Oscar nomination for a Netflix production.] Although streaming services (such as Netflix and Amazon) were making inroads with some of their programming choices (e.g., Netflix's House of Cards and Amazon's Transparent), there were few if any break-out hit movies.
In 2015, Netflix released eight self-produced films (then 28 films in 2016 and 26 films in 2017). The closest the services came to bona-fide hits were Amazon's and Spike Lee's Chi-Raq (2015) (at $2.6 million) (Amazon's first theatrical release) and Netflix's and director Cary Fukunaga's child-soldier drama Beasts of No Nation (2015) (at only $91,000). In fact, the West African drama Beasts of No Nation (2015) was Netflix's first feature-film release. It was made available for streaming, simultaneousy as it played week-long awards qualifying runs on a small number of screens. Due to Netflix's defiance of the traditional 90-day window (between theatrical showings and availability on the home market), many major theater chains opted not to show the film.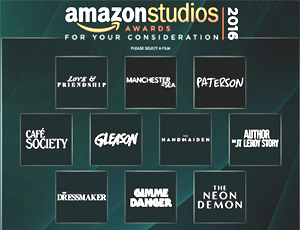 With its support of Manchester by the Sea (2016), Amazon Studios became the first streaming service ever to produce a film nominated for Best Picture. Many of Amazon's productions became 2017 Sundance nominees, as well as becoming available for viewing on Amazon Prime.
Netflix won its first Oscar for a feature film: Icarus (2017), about systematic Russian doping at the Olympics, in the category of Best Documentary Feature. And then Alfonso Cuarón's and Netflix's Roma (2018, Mex.) won three Oscars (Best Foreign Language Film, Best Director, and Best Cinematography) and almost won Best Picture - it first played in theaters for three weeks before streaming began.
The competing streaming company Hulu in 2018 surpassed the 20 million US subscriber mark, for both its live pay-TV package and standalone on-demand services. Also in 2018, Hulu announced a multi-year deal with DreamWorks Animation, giving it exclusive U.S. streaming rights for the studio's library titles, new releases starting in 2019, and new original series to bow in 2020. [In the past, exclusive studio rights would have gone to premium cable networks.]
Hulu's "virtual" pay-TV service, offered 50-plus channels including ABC, CBS, Fox and NBC in most markets. In addition, Hulu said that 78% of viewing on the service took place on Internet-connected TVs. However, in 2018, Netflix remained a major competitor, with more than double the amount of Hulu's US streaming subscribers (56.7 million).
The Major Disney Merger With 21st Century Fox - Future Consequences: Disney's Pre-Eminence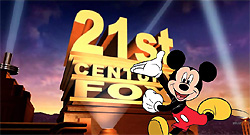 In one of the biggest showbiz mergers of all time, Disney (Hollywood's top studio) purchased fourth-ranked 21st Century Fox for $52.4 billion (in stock). The deal was valued at $66.1 billion including debt. It was a monumental deal in which Disney would now acquire all of Fox's divisions - domestic and foreign, and distribution and marketing. The one caveat required by the Justice Department for the giant media merger to go through was that ESPN-owner Disney would have to sell off Fox's 22 regional sports networks.
In the deal, some of Disney's acquired assets from Fox included Fox's movie studios, Fox 2000, Fox Searchlight, the National Geographic Channel and FX Networks, Asian pay-TV operator Star TV, and Fox's stakes in Euro satellite broadcaster Sky (39%), Endemol Shine Group (50%) and Hulu (30%) (Disney already owned 60% of Hulu).
It was noted that Disney's now-doubled content (adding to its already-popular animated features, Marvel and Star Wars films) would now be supplemented by Fox's X-Men, Alien, The Fantastic Four, Avatar and Predator franchises, in addition to TV shows like The Simpsons, Family Guy, Modern Family, How I Met Your Mother and The X-Files. It was also hypothesized that the number of studio releases would likely shrink due to the absorption. And Disney would have a considerable market share of the movie industry at about 37%, while leaving its nearest competitors in the dust - Warner Bros. (at 13.8%) and Universal (at 13%). With its increased clout and forecasted higher grosses, Disney could conceivably set tougher terms with exhibitors for its studio titles.
In 2019, Disney became a record-holder as the first studio to have five $1 billion movies (measured in worldwide revenue) in a single year - the five films that crossed the $1 billion mark were: Avengers: Endgame (2019), The Lion King (2019), Captain Marvel (2019), Aladdin (2019), and the animated Pixar film Toy Story 4 (2019). Toy Story 4 (2019) was the fourth Pixar film to make $1 billion, joining Incredibles 2 (2018), Finding Dory (2016) and Toy Story 3 (2010). Later in 2019, Disney's Frozen 2 (2019) and Star Wars: The Rise of Skywalker (2019) brought that count to seven titles.
The Disney studio had already broken its own industry record of $7.61 billion that it had achieved in 2016. The achievement was remarkable since the domestic box office for 2019 was down roughly 6.5% compared to the same time in 2018. By the end of 2019, Disney became the first studio to earn $10 billion at the box office in a single year.
Disney+ Streaming Service: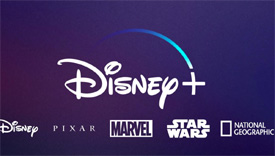 The acquisition of Fox was part of Disney's plan to acquire more content for a future launch in late 2019 of its own subscription, stand-alone streaming service, known as Disney+, that would compete with industry leaders Netflix and Amazon Prime Video (and streaming services from HBO Max and Comcast). The Disney+ service was bolstered by global distribution agreements in place with Apple, Alphabet's Google, Microsoft, Roku and Sony.
Disney+ offerings included movies and television shows from Disney, Pixar, Marvel, Star Wars, and National Geographic. Disney also provided a bundled streaming option for subscribers, including Disney+, ESPN+, and an ad-supported version of Hulu. The combination would give subscribers sports programming, the library of content from Disney, as well as original programming and broadcast shows from Hulu.
The Proliferation of Alternate TV-Watching Subscription Services: 'Cord-Cutting'
A major trend that emerged was the proliferation of alternate TV-watching subscription services (and online streaming) by major outlets, and the growth of Internet-delivered TV. By mid-2015, about 7% of all US households (about 8.4 million) subscribed to broadband service and at least one streaming video service (or OTT, an acronym for over-the-top), but did not subscribe to pay TV. Cable TV subscriptions continued to decline.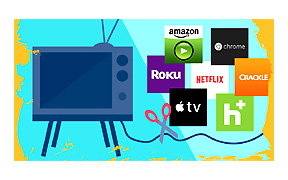 People were watching less TV and going to fewer theatrical movies. By the end of 2017, it was estimated that 22 million US adults were cord-cutters who had canceled their traditional pay-TV (cable and satellite) services. According to researchers (as reported in Variety), that figure was up 33% from 16.7 million in 2016. And the number of "cord-nevers" (consumers who never subscribe to pay TV) was predicted to rise 5.8% in 2017, to 34.4 million. In 2017, approx. 196.3 million US adults had pay-TV services, but looking further out to the year 2021, that number would decline to 181.7 million. Overall by 2021, around 30% of American adults wouldn't have traditional pay TV.
Cable companies were finding that pay-TV subscribers were cancelling, while others were signing up for broadband. Statistically, about 56% of all US households had at least one Internet-connected TV. Consumers were sending a clear signal - they did not want cable packages of 200+ channels (most of which they didn't watch or need) - and were becoming "cord-cutters," preferring instead to have an a la carte approach to television subscription plans.
Many products were being offered as alternatives to regular TV programming, from many sources: Amazon Video (Prime), Hulu, Apple's iTunes, Netflix, Sling TV, Roku, YouTube, and others. One of the biggest winners as a result of these changing trends was Netflix - the booming streaming service had invested heavily in creating its own individual content, and had dramatically increased its subscriber base across the globe, with more cost-effective alternatives to moviegoing.
This new development was just enough to encourage more pay-TV/cable service subscribers to drop their cable services. However, TV viewers had to take into consideration that a fast Internet connection would still be required (without the TV/cable bundling discount to defray the cost).
Film-Going Trends and Studio Box-Office Results: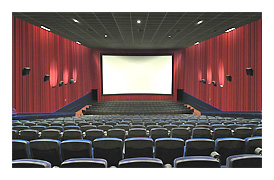 Throughout the decade, attendance was mostly down at movie complexes. Most often, factors affecting box-office results included the difficult recessionary economy (until late in the decade), rising ticket prices (especially premium rates for 3-D), consumer fatigue and over-familiarity with sequels and remakes, more viewing options (VOD, streaming, etc.), poor image and sound in multiplexes, overcrowded weekends, noisy or inconsiderate theatre patrons, the use of social media to instantly broadcast word-of-mouth film reactions, and the glut of other diversionary technological gadgets. Entertainment dollars earned from attendance at the local multiplex were being threatened by numerous portable devices, advanced home theater systems, and numerous video-on-demand (VOD) services.
In 2010, the number of tickets sold (1.34 billion tickets) was almost 6% lower (the lowest in 15 years) than in 2009 (1.42 billion tickets), although revenues were similar due to steeper ticket prices for 3D. Many factors accounted for shrinking crowds attending movies - again down in 2011 to a 16 year low. It was noted by many industry observers that there was a noticeable decline in younger moviegoers at the multiplexes, a trend that began in late 2010 and continued afterwards. The trend had a serious impact on Hollywood film revenues.
However, one of the bright spots was that foreign box-office revenues were climbing to an all-time high at the start of the decade. Six major Hollywood studios reported $13.53 billion in overseas ticket sales in 2011 -- an all-time record, and up 6% to 8% over the previous year. This helped to off-set shrinking domestic revenues and declining DVD sales. In many cases, films that flopped or performed less well in the US did much better overseas (for example - the domestic box-office for Pirates of the Caribbean: Dead Men Tell No Tales (2017) - with a production budget of $230 million, was very modest in the US: $172.6 million (domestic), but the film fared much better worldwide (at $794.9 million)).
[Note: Analysts surmised that lower theatrical ticket-admissions was due to slowly-increasing ticket prices, keeping patrons away and preventing theatre attendance from substantially growing throughout much of the decade. The actual number of tickets sold domestically throughout much of the decade remained basically flat - and down from the all-time high of 1.57 billion ticket-admissions in 2002.]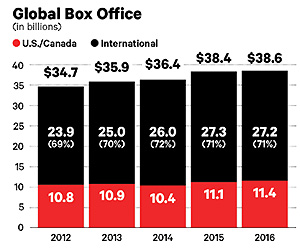 In 2013, studios began to expand their definition of "opening weekend," by premiering blockbusters (such as Iron Man 3 (2013), World War Z (2013), and White House Down (2013)) on Thursday evenings rather than at Thursday midnight screenings (Friday at 12:01 am). This caused a major shift in figuring out box-office totals, since Thursday grosses were now being added to traditional weekend totals. Hollywood celebrated in 2013 -- it was a record-setting year at the box office, with domestic revenues hitting close to $11 billion for the first time - the largest annual take ever.
Case Study - The Year 2017:
The year 2017 was a fairly dismal year - with big-budget flops and attendance hitting a 25-year low in 2017. The total number of movie tickets sold in 2017 was 1.239 billion. It was a 5.8% drop compared to 2016, and it was the lowest total since 1992 (at 1.173 billion). The domestic revenue totals for 2017 ($11.1 billion) were helped by higher ticket prices (for IMAX, RealD, and MX4D screens), but there were fewer people attending movies - and multiplexes reported lots of empty seats.
AMC Entertainment Holdings Inc., the world's biggest movie theater chain owner, reported a bleak financial outlook in 2017, due to declining ticket sales in the film industry, especially in the third quarter of 2017. Increased consumer access to movies anywhere (digital subscriptions) and via on-demand streaming services, changing movie consumption, and a shrinking of theatrical release windows resulted in a major decline in movie-theatre attendance. Overall, shares of movie theater operator AMC Entertainment Holdings, Inc. plunged 53.1% in 2017. Declines in revenue also affected three of the other largest North American movie theatre chains: Regal Entertainment Group, Cinemark Holdings and Cineplex.
Many films started with a promising opening weekend, but then quickly faded and fizzled, especially when there was bad "word-of-mouth" for a film (for example, Alien: Covenant (2017), Transformers: The Last Knight (2017), Pirates of the Caribbean: Dead Men Tell No Tales (2017)). The more casual movie-attenders were much more difficult to lure to theaters, and were more likely to wait to see the film in a few months through video-on-demand or on DVD.
China - A Major Movie Market:
In particular, China had become the second-largest movie market globally after the United States, after overtaking Japan in 2013. China was on track to overtake the North American film market (possibly by the year 2020 acc. to some prognosticators). Previously, the market there had been restricted by a quota system on imported films, government imposed strict censorship, and other barriers. Revenues began to grow dramatically in the continent of China, especially with an increase in the number of Chinese movie screens (60,000 by the end of 2018, more than the US) and movie-goers, due to its population of 1.4 billion (compared to the US population of 329 million). China was also experimenting with promoting its own home-grown productions to compete with imported Hollywood films, and had some limited success.
With the box office in North America declining by 4.8% in 2019 from 2018 (from $11.9 billion to $11.4 billion), according to data from Box Office Mojo, China further narrowed the gap in box office revenues with the North American market. It was predicted that China's fast-growing sales at the box office might exceed that of the U.S. by the end of 2020 (but the impact of COVID-19 kept things very uncertain). Trends forecast that Chna could dominate in the foreseeable future. Under the best of circumstances, some expected the Chinese box office to jump to $15.5 billion by 2023. It was clear that North American theatrical revenues would probably never return to their pre-COVID levels.
Two Chinese domestic films were particularly noteworthy:
Ne Zha (2019), an animated fantasy adventure that became the highest-grossing Chinese animated feature
Wolf Warrior 2 (2017) (aka Zhan lang II), the highest-grossing Chinese feature film of all time, and the highest-grossing (worldwide) non-English film of all time; it became the first film to gross more than $600 million at the Chinese box office
The most popular and best-performing US English-language films in the Chinese market in the decade included those that were action flicks with easy-to-follow plots - including films in various franchises:
The Fate of the Furious 8 (2017), Fast and Furious 7 (2015), and Fast & Furious Presents: Hobbs & Shaw (2019)
Avengers: Infinity War (2018), Aquaman (2018), and Avengers: Endgame (2019)
Transformers: Age of Extinction (2014)
Declining Revenues for the Foreign Language Film Market:
The previous decade of the 2000s was known for some very big, subtitled foreign hits that were widespread hits in the US, including:
Crouching Tiger, Hidden Dragon (2000, Taiwan) - $128 million (domestic), $213.5 million (worldwide)
Hero (2004, China) - $53.7 million (domestic), $177.4 million (worldwide)
Pan's Labyrinth (2006, Mex.) - $37.6 million (domestic), $83.3 million (worldwide)
Amelie (2001, Fr.) - $33 million (domestic), $174 million (worldwide)
Jet Li's Fearless (2006, China) - $24.6 million (domestic), $68 million (worldwide)
Kung Fu Hustle (2005, China) - $17.1 million (domestic), $100.9 million (worldwide)
The Motorcycle Diaries (2004, Arg.) - $16.8 million (domestic), $57.7 million (worldwide)
Y Tu Mama Tambien (2002, Mex.) - $13.9 million (domestic), $33.6 million (worldwide)
Monsoon Wedding (2002, India) - $13.9 million (domestic), $30.8 million (worldwide)
Volver (2006, Spain) - $12.9 million (domestic), $85.6 million (worldwide)
This was not true for the 2010 decade for the most part (until 2019's Parasite), with only a very few art-house, live-action (non-animated) subtitled films that made any impact in the US. Younger audiences appeared to not be interested in subtitled, niche films:
Baahubali 2: The Conclusion (2017, India) - $20.2 million (domestic), $254 million (worldwide)
Instructions Not Included (2013, Mex.) - $44.5 million (domestic), $99 million (worldwide)
Parasite (2019, S. Korea) - $35.5+ million (domestic), $165.4+ million (worldwide)

Film History of the 2010s
Part 1, Part 2, Part 3, Part 4, Part 5
---



---