Great (and Less than Great) Comedies of the 80s:
Director Ron Howard's Night Shift (1982) was set in a morgue, with a cast including a young Shannen Doherty and Kevin Costner, Michael Keaton (in his first film and known for saying: "Is this a great country or what?"), Henry Winkler as the night-shift clerk, and Shelley Long as a hooker. Steve Martin starred as crazed neurosurgeon Dr. Hfuhruhurr who was in love with a disembodied brain in a jar (voice of Sissy Spacek) while trying to romance gold-digging Kathleen Turner. It was Martin's third film with director Carl Reiner, after The Jerk (1979) and the film-noir parody Dead Men Don't Wear Plaid (1982).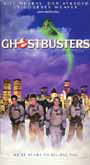 Ghostbusters (1984), the costly horror comedy with a Saturday Night Live cast - a mix of National Lampoon's Animal House (1978) and Close Encounters of the Third Kind (1977) - told about a parapsychologist team of crazy professors that investigated and fought against paranormal (special-effects) phenomena (with its catch-phrase: "Who ya gonna call?"). It starred Dan Aykroyd, Harold Ramis and Bill Murray (taking the place of John Belushi after his tragic death due to a drug overdose at age 33 in March, 1982). It was one of the biggest hits of the decade, noted for its conclusive battle against a giant marshmallow man. Its success led to a horrible sequel in 1989, a hit single record, a cartoon series, and various other merchandise emblazoned with the familiar "NO GHOSTS" symbol.

Other crass comedies with zany, slapstick, TV-like skits parodied earlier films. The joke and pun-filled Airplane! (1980), from the trio of Zucker brothers and Jim Abrahams, was inspired by the serious melodrama Airport (1970) and aggressively spoofed (like Mel Brooks had done earlier) the entire disaster film genre of the 70s with fast-paced jokes ("Don't call me Shirley"), sight gags, and sexual double entendres.
Abrahams and the Zuckers, the creators of Airplane! did not contribute to the sequel Airplane 2: The Sequel (1982), but they spoofed Elvis, 60's beach films and more in Top Secret! (1984). They resurrected their short-lived TV series Police Squad and brought Leslie Nielsen to the screen - perfect in the role as the deadpan, bumbling LA detective Lt. Frank Drebin in The Naked Gun: From the Files of Police Squad! (1988). [The trio were also responsible for Hot Shots! (1991), a parody of Only Angels Have Wings (1939) and Top Gun (1986) with emerging star Tom Cruise.]
In the cloak-and-dagger comedy Hopscotch (1980), Walter Matthau played a disgruntled CIA agent taken off the field and given a desk job, who took revenge by hooking up with lover/ex-agent Glenda Jackson in Europe, writing his tell-all memoirs and circulating them to all the rival agencies. TV comedian Jackie Gleason reprised his role as frustrated southern Sheriff Buford T. Justice in the hit sequel Smokey and the Bandit II (1980). The Cannonball Run (1981) was about a group of eccentrics who raced cross-country across America, including Jackie Chan (in one of his first US film roles) as a kung-fu Subaru driver. Tim Burton's surrealistic Beetlejuice (1988), a take-off of the "Topper" series of 30s and 40s films, featured Michael Keaton as the evil, grotesque phantom Betelgeuse, and Geena Davis and Alec Baldwin as ghosts who wished to exorcise their home of humans haunting it.
There were many soul-transference films in the late 80s - the best was the endearing comedy-fantasy Big (1988) with Tom Hanks' deft, believable performance as 13-year old David Moscow in the body of a 35-year old "big person" after using a magical carnival wishing machine. Coppola's poignant time-travel film Peggy Sue Got Married (1986) starred Kathleen Turner as a 43 year old in the body of a high school senior.
The average US film of the 1980s seemed to be aimed at unthinking, moronic teenagers, as evidenced by crude slapstick teen comedies:
the sexploitation film Porky's (1982) with Angel Beach high-school locker-room humor, and its sequels: Porky's II: The Next Day (1983) and Porky's Revenge (1985)
Police Academy (1984) (and its many sequels)
the various National Lampoon films (1983, 1985, and 1989), beginning with Vacation (1983) - with the always-clumsy and dim-brained Clark Griswold (Chevy Chase) taking his family cross-country in a gigantic pea-green "Family Truckster" station wagon with a hiccupping engine to Wally World theme park - with all of their arduous misadventures
the dope humor of Cheech and Chong (Up in Smoke (1978), Cheech and Chong's Next Movie (1980), Cheech and Chong's Nice Dreams (1981) and Born in East L.A. (1987))
the "stupid humor" of Bill & Ted's Excellent Adventure (1989) featured two shabby and unbrainy lead characters/dudes - Alex Winter and Keanu Reeves (in a breakthrough role) who traveled through time to pass their history class test. Their stupidity was demonstrated when they were offered the Iron Maiden by their medieval Evil Duke captor - they reacted with "Excellent!" without realizing that it was a torture execution machine and not a rock band ("Bogus!")
it was followed by Bill & Ted's Bogus Journey (1991) - a parody of the Terminator films (with two evil robot-twins) and Back to the Future films, and a parody-sendup of both Bergman's The Seventh Seal (1957) with its Reaper Dude, and Powell/Pressburger's Stairway to Heaven/A Matter of Life and Death (1946); it's simple philosophy was: "Be Excellent to Each Other"
Acerbic, vulgar, stand-up "I get no respect" comedian Rodney Dangerfield appeared in a string of comedies including Caddyshack (1980), Easy Money (1983), and Back to School (1986). The controversial Disney release, Roger Donaldson's Cocktail (1988) presented Tom Cruise in an early role as Brian Flanagan, an ex-GI and flamboyant juggling bartender with a carefree attitude about sex and alcohol.
Encouragingly, other comedies showed more intelligence:
Nine to 5 (1980) - a successful screwball comedy with Jane Fonda, Lily Tomlin and Dolly Parton (in her acting debut) as three secretaries who took revenge on their boss
Sydney Pollack's cross-dressing romantic comedy Tootsie (1982) starred Dustin Hoffman in a tour-de-force performance as unemployed actor Michael Dorsey, alias daytime soap star "Dorothy Michaels," who was forced to cross-dress in drag to find work - it was an engaging, original, hilarious drag comedy with other stars Jessica Lange, Geena Davis, Charles Durning, Rodney Coleman, and Bill Murray
another role-reversal comedy, Mr. Mom (1983) starred Michael Keaton as the out-of-work house-husband
This is Spinal Tap (1984) - director Rob Reiner's debut feature film -- a brilliantly-clever fictional documentary (or mockumentary) about an on-the-road heavy-metal British rock group on a comeback tour (with their new album Smell The Glove) -- their amplifier could be turned up to 11, and as a group they became lost on their way to the stage for a performance
Ron Howard's outrageous hit comedy about a mermaid (Darryl Hannah) who fell for Tom Hanks (who had graduated from TV's Bosom Buddies), Splash (1984) - this was Touchstone's first production
Pee-wee Herman's (Paul Reubens) big-screen film debut in Tim Burton's first film as director - the weirdly-funny and original Pee-wee's Big Adventure (1985) - with the guileless hero's determined search for his stolen bicycle (with rocket launchers and an ejector seat) in the basement of the Alamo! His next film was the off-beat sequel Big Top Pee-Wee (1988) with the zany comic character falling in love with a beautiful Italian circus acrobat (Valeria Golina)
director Richard Benjamin's comedy The Money Pit (1986), with Tom Hanks and Shelley Long as two homeowners who suffered financial distress after purchasing a suburban fixer-upper in New York
Paul Mazursky's Down and Out in Beverly Hills (1986), a remake of Renoir's Bondu Saved by Drowning (1932), was Disney/Touchstone's first R-rated feature; it brought a return to stardom for Bette Midler, and also starred Richard Dreyfuss and Nick Nolte
two appealing and emerging stars, Bette Midler and Danny De Vito, appeared in the comedy, crime-caper classic Ruthless People (1986)
the wonderful fantasy The Princess Bride (1987)
in Richard Donner's updating of the classic tale Scrooged (1988), a TV executive (Bill Murray) learned about the true meaning of Christmas when visited by the Ghost of Christmas Past (David Johansen) and Present (Carol Kane)
Working Girl (1988)
the contemporary romantic comedy When Harry Met Sally... (1989) from director Rob Reiner (son of director Carl Reiner) was famous for its tagline question: "Can two friends sleep together and still love each other in the morning?" and for Meg Ryan's simulated on-screen orgasm in a crowded New York deli (and the punch-line: "I'll have what she's having")
Parenthood Comedies:

The gender-role comedy Mr. Mom (1983) starred Michael Keaton and Teri Garr as a couple who reversed their domestic roles - he wore a gas mask to change diapers and she got a job and saved the Tuna account. More challenges of parenthood were presented in two hilarious, but light-weight comedies: director Amy Heckerling's Look Who's Talking (1989) with unmarried single mother Kirstie Alley choosing taxi-driver John Travolta as the perfect father/baby-sitter for her baby (Bruce Willis provided the humorous "off-screen" voice and impressions of the child Mikey all the way from conception to age one); and director Ron Howard's heart-warming, thoughtful Parenthood (1989) with Steve Martin and Mary Steenburgen as model, middle-class parents in the middle of a four-generational family. Leonard Nimoy of Star Trek fame directed the romantic comedy Three Men and a Baby (1987), with 'foster parents' trio Tom Selleck, Steve Guttenberg, and Ted Danson (an architect, a cartoonist, and an actor) as middle-aged, eligible bachelor-roommates with a infant girl on their hands - it was a re-make of the French hit Three Men and a Cradle (1985). Its poorly received sequel was Three Men and a Little Lady (1990), directed by Emile Ardolino.
Animations and Kids' Comedies:
The ground-breaking, escapist TRON (1982) from writer/director Steven Lisberger used cutting-edge computer graphics combined with live action (featuring human stars Jeff Bridges and David Warner) in a tale set within a gladiatorial computer game. Technical breakthroughs were also accomplished in Robert Zemeckis' innovative Who Framed Roger Rabbit (1988) - the most expensive film of the 80s decade at $70 million. It seamlessly blended animated cartoon characters (superstar Roger and his wife Jessica voiced by Kathleen Turner) and live action in a hard-boiled, 1940s-style Hollywood murder mystery featuring Bob Hoskins as noir detective Eddie Valiant. [The film was a collaboration between Steven Spielberg and the Walt Disney Studio. Earlier, Disney had married animation and live-action in the 60s hit Mary Poppins (1964).]
Japanese writer/director Katsuhiro Otomo's animated Akira (1988) elevated/revolutionized the art form with his comic book-derived, violent story set in a 21st century post-WWIII Japan. And computer animation would become a dominant force in future years after Pixar's digitally-animated Tin Toy was awarded the Best Animated Short Film Oscar in 1988 - it was the first computer animated film to win an Oscar.

Disney Studios returned to its old-fashioned film values with Honey, I Shrunk the Kids (1989), an inventive, special-effects comedy about a father/scientist (Rick Moranis) who accidentally reduced four children to ant-size proportions with his molecular reducer. Harry and the Hendersons (1987), about the first abominable snowman (or Bigfoot) brought to suburbia by a vacationing family in the Pacific Northwest, was turned into a TV sitcom in the early 90s.
Disney also scored with one of its old-fashioned musical animations that appealed to both children and adults. Its 28th feature-length cartoon The Little Mermaid (1989) heralded a new generation of successful animations, with its classic tale by Hans Christian Andersen featuring characters Ursula, Ariel, and Sebastian.
Box-Office Stars of the Decade:

The greatest box-office star early in the decade was Sylvester Stallone, who commanded $12 million a film in mid-decade. Stallone was replaced by superstar Eddie Murphy (on the strength of Beverly Hills Cop (1984) and its sequels). [The other major African-American star of the 1980s was Whoopi Goldberg, who appeared in Spielberg's The Color People (1985), Jumpin' Jack Flash (1987), Clara's Heart (1988), and Ghost (1990) (for which she won a Best Supporting Actress Oscar), among others. African-American comedian Richard Pryor was another popular star in the late 70s and early 80s, until an unfortunate, near-fatal accident while free-basing cocaine.]
And then Murphy in turn was replaced by Austrian-born Arnold Schwarzenegger, who catapulted to action-film fame in director James Cameron's sci-fi romantic thriller The Terminator (1984) - in which Arnold as a futuristic, invincible cyborg returned to Los Angeles to murder a strong heroine (Linda Hamilton) whose offspring would ultimately lead a rebel revolt. [Schwarzenegger's first popular feature film was the sword-and-sorcery epic Conan the Barbarian (1982), and subsequent machismo films after The Terminator further exaggerated his bulk and bravura: Mark Lester's Commando (1985) and Walter Hill's Red Heat (1988).]
Bruce Willis, star of TV's hit show Moonlighting, finally succeeded as a believable, lone, smart action-hero in director John McTiernan's super-charged action blockbuster Die Hard (1988), playing off-duty lone cop John McClane caught in a dangerous situation with terrorists (led by Alan Rickman) in an L.A. Century City high-rise.
Clint Eastwood continued to be popular as both actor and director, playing the familiar Dirty Harry (1971) in 70s-80s sequels:
Magnum Force (1973)
The Enforcer (1976)
Sudden Impact (1983)
The Dead Pool (1988)
Eastwood also played other western heroes in High Plains Drifter (1973), The Outlaw Josey Wales (1976), Bronco Billy (1980), and Pale Rider (1985). And in 1986, the popular star/director was elected mayor of Carmel-by-the-Sea in Northern California.
Furthermore, Burt Reynolds, Robert Redford, Jane Fonda, Dustin Hoffman, John Travolta, Sally Field, Sissy Spacek, Barbra Streisand, Harrison Ford, Alan Alda, Bo Derek, Richard Gere, Paul Newman, Tom Cruise, Michael J. Fox, Chuck Norris, Paul Hogan, Bette Midler, Kathleen Turner, Glenn Close, Tom Hanks, and Tom Selleck were also successful stars in the 80s. There were also a number of comedians who appeared in lists of top stars, including: Steve Martin, Dudley Moore, Goldie Hawn, Bill Murray, Chevy Chase, Dan Aykroyd, Rodney Dangerfield, Danny DeVito, and Robin Williams. Cher, Prince, and Dolly Parton were cross-over singing stars.
Other 80s Notables:
Reprising the success of the earlier buddy-cop films 48 Hrs. (1982) and Beverly Hills Cop (1984) with bankable star Eddie Murphy, Australian actor Mel Gibson was propelled into stardom in Richard Donner's fast-paced, box-office champ Lethal Weapon (1987). The over-the-top action film highlighted the chemistry of the mis-matched, buddy-team of suicidal cop Riggs (Mel Gibson from the Mad Max films) and conventional, laid-back, by-the-book methodical partner Murtaugh (Danny Glover) - and led to many sequels in future years. An American Werewolf in London (1981) told of a backpacker (David Naughton) who was attacked one night on the English moors, resulting in his transformation into a hairy werewolf during full moons.
And perennial favorite Meryl Streep won her second Oscar with Alan Pakula's Sophie's Choice (1982), adapted from William Stryon's novel. Streep played a Holocaust-surviving Polish mother named Sophie Zawistowski, who faced a horrendous choice in a Nazi concentration camp (Auschwitz), in a story told in flashback. Robert Duvall won his only Best Actor Oscar for his portrayal of heavy-drinking, down-and-out country singer Mac Sledge who found redemption later in his life in director Bruce Beresford's Tender Mercies (1983), with an Oscar-winning Horton Foote screenplay.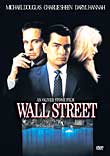 Writer-director Oliver Stone's Wall Street (1987) starred Best Actor-winning Michael Douglas as a ruthless, amoral, money-worshipping, greedy company trader in a mega-villain role as Gordon Gekko. The film paralleled the decade's excessiveness, its 'get-rich' narcissism ("Greed is good") and the real-life insider scandals of the Reagan-era 80s. [Ironically, the film was released in early December - just after the major Stock Market Crash of October 19, 1987.]
Jack Nicholson portrayed a slowly-deranged axe-killer and caretaker of a remote hotel in Stanley Kubrick's haunted hotel horror film The Shining (1980). [It would be another seven years until Kubrick's next film, Full Metal Jacket (1987).] Another Stephen King adaptation was the low-budget occult horror film Children of the Corn (1984) in which a small midwestern town (without adults) was the scary setting for children who worshipped something out in the fields. And finally, Cujo (1983) - another horror film based upon a Stephen King novel, was about a St. Bernard dog that caught rabies after being bitten by a bat, and kept Donna Trenton (Dee Wallace Stone) and her son Tad (Danny Pintauro) helplessly trapped in their car for hours.

Film History of the 1980s
Part 1, Part 2, Part 3, Part 4, Part 5, Part 6
---



---