Background
---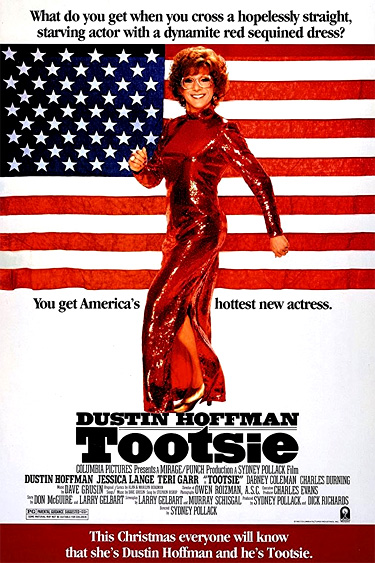 Tootsie (1982) is an engaging, original, hilarious gender-comedy story of an unemployed actor Michael Dorsey (Dustin Hoffman) whose disguises as a feminist named "Dorothy" fooled his/her co-actors and helped him get a job and become a female star on a daytime television soap opera titled Southwest General. [Note: It was based upon the real-life ABC-TV soap-opera serial-show General Hospital that began airing in 1963.] Ultimately, his female impersonation resembled a Southern-accented version of the popular character of Dame Edna Everage (an alter-ego created by Australian comedian Barry Humphries). The modern-day, appealing classic Hollywood romantic comedy from Columbia Pictures satirized both daytime TV soap operas and the difficult NY theatre scene among other things.
The comedy with a message was about the subject of chauvinistic sexism - insightfully realized by a male who experienced for himself the lecherous, dismissive, and patronizing way that women were treated by condescending members of his own sex. It featured many lines of witty dialogue and set up an appealing story structure, but was mostly not laugh-out-loud comedy. Hoffman successfully prepared for the role by dressing in drag and convincingly fooling others (he impersonated his daughter Jenna's Aunt Dorothy during a parent's evening event at school and deceptively fooled her teacher). He also welcomed the chance to lampoon his own acting reputation as "difficult." The slightly-controversial comedy was originally rated R, but director Pollack successfully appealed for a PG rating and won. [Note: the PG-13 rating wasn't introduced until 1984.]
The tale of multiple identities told about a desperate out-of-work, contentious NYC stage actor and drama teacher who was often considered temperamental. He couldn't find long-term acting jobs, and was continually aggravating his long-suffering talent agent George Fields (director Sydney Pollack). To find employment, Michael disguised himself as his own cross-dressing alter-ego named 'Dorothy Michaels' - a middle-aged feminist with padding, and won a role in a soap opera. Soon, he became wildly popular in the hit TV show Southwest General, but his life became even more like a real soap-opera. While pursued by aging lead actor John "The Tongue" Van Horn (George Gaynes) in the role of lecherous Dr. Medford Brewster, the disguised Michael became close to sweet, bubbly fellow co-star - the submissive, confused, struggling and deceived actress Julie Nichols (Jessica Lange), while her interested widowed father Lesley "Les" Nichols (Charles Durning) fell for him/her. [Note: Les' crush on "Dorothy" recalled a similar deceptive drag-romance in Some Like It Hot (1959) between Osgood Fielding III (Joe. E. Brown) and Daphne/Jerry (Jack Lemmon).] Ultimately, Michael was transformed and enlightened when he learned what it was like to be 'female.' He gained the empathic lesson that he confessed to his closest female friend Julie in the conclusion: "I was a better man with you, as a woman, than I ever was with a woman, as a man."
The film's main taglines were:
"What do you get when you cross a hopelessly straight starving actor with a dynamite red sequined dress?
You get America's hottest new actress."
"Behind every great man, there is a woman."
Few know that a so-called "Tootsie Syndrome" became a term used to reference a popular culture phenomenon in which men would assume or co-opt the role of females - and almost instantly acquire sympathy and understanding for 'the other' - and in the process prove to be better women than 'real' ones. In 1983, feminist writer Elaine Showalter first coined the term to refer to cross-dressing men (not transvestites) who pretended to be women and appropriated the force of feminism to stand up for their rights and increase their own prestige and power. In 1989, sociologist Kathleen Barry studied how the syndrome revealed a hidden hatred of 'real' women. It could cause some men to become better and more authentic representations of women than actual 'real' women, including becoming better mothers and feminists. In Tootsie (1982), this happened - the most successful woman and media celebrity portrayed in films of the early 1980s was in fact a disguised actor impersonating a feisty female character.
Three other taglines were:
"Little did this desperate, out of work actor know when he secretly auditioned for a female role that he'd become the hottest star on television. Not even the girl he's madly in love with knows that he's Tootsie."
"He's Tootsie. She's Dustin Hoffman. Desperate, he took a female role and became a star. If only he could tell the woman he loves."
"Can you keep a secret? In the next 72 hours, this desperate, unemployed actor will secretly audition for the female lead of a soap opera. And become America's hottest new actress."
1982 became known as the year with many Academy Award-nominated cross-dressing, gender-reversed, drag or transvestite performances/ roles with confused sexual identities:
Julie Andrews earned a Best Actress nomination for Victor/Victoria (1982) as Victoria Grant, the title role singer who pretended to be gay Polish cabaret singer Count Victor Grezhinski, while co-star Robert Preston received a Best Supporting Actor nomination as her gay partner-in-crime Carroll "Toddy" Todd, who ended up in drag during the finale singing "Shady Dame From Seville"
John Lithgow was given a Best Supporting Actor nomination for playing trans-sexual (sex-changed) ex-football player Roberta Muldoon in The World According to Garp (1982)
and then in 1983, Linda Hunt won Best Supporting Actress for the male role of Chinese-Australian photographer Billy Kwan in the next year's The Year of Living Dangerously (1983)
Many other cross-dressing comedies - in the guise of examining male-female sex roles - played upon the same main features of this film, beginning with:
I Was a Male War Bride (1949), by director Howard Hawks, with Cary Grant as a dress-wearing female to comply with the War Brides Act
Torch Song Trilogy (1988), by director Paul Bogart, about witty drag queen actor/playwright Arnold Beckoff (Harvey Fierstein) in a film adaptation of the smash Broadway play of the same name
Mrs. Doubtfire (1993), by director Chris Columbus, with Robin Williams as a matronly female housekeeper
The Adventures of Priscilla, Queen of the Desert (1994, Australia), by writer/director Stephan Elliott, a fun, drag-queen road film about two drag cabaret performers and a middle-aged transgender woman crossing the Australian outback to perform in Alice Springs
To Wong Foo Thanks for Everything, Julie Newmar (1995), by director Beeban Kidron, another road film about three drag queens traveling cross-country from NYC to Hollywood until their car broke down
The Birdcage (1996), by director Mike Nichols, with Robin Williams as Armand Goldman, a gay cabaret owner opposite long-time drag-queen companion Albert Goldman (Nathan Lane) - it was a contemporary US remake of the classic French comedy La Cage Aux Folles (1978, Fr.)
Other serious mainstream Hollywood studio films in the early 1980s were beginning to portray gay partnerships and in-drag characters, including Cruising (1980), Making Love (1982), Partners (1982), and Personal Best (1982). [Note: See Filmsite's: Sex in Cinema: 1980, and Sex in Cinema: 1982.]
Many asked about the origin of the film's title, and there were two explanations both unrelated to the film itself -- (1) it was the name of the dog of Hoffman's mother, and (2) as a little child, Hoffman's mother playfully threw him into the air and exclaimed his nickname: "How's my Tootsie-Wootsie?" The film's original title was more in line with the film's theme: "Would I Lie to You?"
Before the project finally gained steam, it went through two other directors (Dick Richards, Hal Ashby, and Sydney Pollack), many choices of actors/actresses (Cher, Michael Caine, and Peter Sellers) and about twenty script rewrites with numerous writers. Actor/director Sydney Pollack's ultimate choice as the director of the comedy was a new genre for him, since his previous films were mostly serious dramas, including They Shoot Horses, Don't They? (1969), Jeremiah Johnson (1972), The Yakuza (1974), Three Days of the Condor (1975), Bobby Deerfield (1977), The Electric Horseman (1979), and Absence of Malice (1981). His appearance in Tootsie was also Pollack's first credited acting role in 20 years - he had portrayed the character of Sgt. Owen Van Horn two decades earlier in the war film War Hunt (1962).
With ten Academy Award nominations, including Best Picture, Best Director, Best Actor--Dustin Hoffman, Best Supporting Actress--Teri Garr, Best Original Screenplay, Best Cinematography, Best Sound, Best Song ("It Might Be You"), and Best Film Editing, it had only one win, for Best Supporting Actress (Jessica Lange) for her role as Julie, 'Dorothy's' girlfriend. One of Lange's co-stars, Teri Garr (with her only career nomination) was also competing in the same category for her performance as Sandy Lester, Hoffman's unemployed girlfriend.
[Note: Lange was also nominated in the Best Actress category as tragic, ill-fated, self-destructive, mentally-ill starlet Frances Farmer in Frances (1982). It marked the first time, since 1942, and only the third time in all Oscar history, that an actress was nominated in both the lead and supporting categories. It also happened to Fay Bainter in 1938 and Teresa Wright in 1942. It was also only the fourth time in Academy history that a performer had competed in two acting categories in the same year. Lange was the first acting double-nominee since 1944 when Barry Fitzgerald was also nominated for both Best Actor and Best Supporting Actor awards for Going My Way (1944).]
The two-hour long hit farce was released at Christmas-time, and became one of the most highly-acclaimed and financially-successful comedies and films of 1982 (and of all-time). It had a very strong showing as the second highest-grossing (domestic) film of the year at $177.2 million (with a production budget of $21 million), but earning only about half as much revenue as the top blockbuster, Steven Spielberg's E.T.: The Extra-Terrestrial (1982) at $359.2 million.
Plot Synopsis
---
Title Credits: Drama Class/Auditions
The film opened with a slow pan from right to left inspecting the top of a makeup table at a community theatre. Items included a monocle, dental false teeth, various jars, hair pieces, an opened container of color foundation, and a small pair of scissors. A disembodied male hand dipped a brush into a bottle of hairpiece extension glue and dabbed it onto his moustache area on his face, and then applied a fake thin strip of hair to the area.
During the long title credits sequence composed of a montage of vignettes, late 30s actor Michael Dorsey (Dustin Hoffman) was instructing drama students in a classroom - intercut with segments of Michael auditioning for himself. One of the students, 34 year-old Sandra "Sandy" Lester (Teri Garr), was in front of the class performing a voice and singing exercise off-key, while other students chuckled. He urged the class members to do mouth and concentration exercises: "Good, good, Keep it specific. Still a little tension in the mouth" as they stuck out their tongues and contorted their mouths.
The actor - now identified as Michael, was applying makeup as a master disguise artist. He also dabbed hair-glue to his left upper cheek (to apply a scar), and then was seen in the middle of an audition. On stage, he looked out into a darkened theatre blinded by a spotlight, and was instructed by an unseen director in front of him to turn to page 23 of the script ("the second scene of the first act"). In costume (with the mustache and scar), Michael read from the script:
Michael: Oh, sweetheart, do you know what it was like waking up in Paris that morning, seeing the empty pillow where - Wait a minute! Cover your breasts. Kevin is downstairs! My God, what are you?
Actor/Stage Manager (Tom Mardirosian): I'm a woman. Not Felicia's mother. Not Kevin's wife.
A voice from the audience abruptly dismissed Michael from the audition: "Thanks very much, Mr. Dorsey. We need someone a little older." During another audition on a different stage, Michael was again trying out - now wearing shorts and a striped T-shirt and holding a baseball mitt, as he called out: "Mom! Dad! Uncle Pete, come quick! Something's wrong with Biscuit! I think he's dead!" This time, a second stage manager (Jim Jansen) from the dark area of seats rejected him for a different age-related reason: "We're looking for someone a little younger." During a third try-out, Michael flubbed his lines, and was almost instantly dismissed for having the wrong height - and insistent personality: "The reading was fine. You're just the wrong height....We're lookin' for somebody shorter....We're lookin' for somebody else."
Back in his drama class, Michael interrupted two students doing improvisation in front of the group, and then found himself improvising on stage during a fourth audition:
With improvisation, you're the writer. You're the playwright. Listen, when somebody writes a play, they decide where the highs are, where the lows are. Right? Now you do it. And you may not be high where they're high in the writing. You may not be low where they're low in the writing. You may be high on 'but.' You may be high on 'and.' Of course, they were doin' it for dough.

(The scene segued to Michael's fifth audition on another bare stage)

They were doin' it for dough - the same as everybody does it for dough. But the question is in the last analysis. What were they doing for dough! You and me, for dough, were advancing our little non-Prussian careers. So when all hell broke loose, and the Germans started running out of soap and figured, 'What the hell? We might as well cook up Mrs. Greenwald', who the hell do you think stopped 'em?
Irritated by the director's lack of attention, Michael stopped, broke off his reading, and directed an impertinent question to the empty auditorium of red chairs where he heard mumbling: "Pardon me, but is my acting interfering with your talking?" An abrupt cut back to the classroom inferred that he had failed another audition. Michael presented his own serious acting philosophy to his students:
Don't play a part that's not in you. Don't say 'he' or 'she' like you did last week when you were doing Kitty, right? When you were doing Time Of Your Life. If you can't make the part yourself, then you can't play it.
During a sixth stage performance, this time a rehearsal, Michael was playing the role of a dying Count Tolstoy, propped up with a cane and holding his script. He was criticized by the British director in one of the house seats for his stage positioning: "That's super, Michael. But I wonder if you could move center stage on that last speech, and then die...The left side of the house can't see you at all." The strong-willed, difficult-to-work-with Michael became argumentative with the director and kept asking 'why? - exhibiting an unendearing trait of obnoxiousness:
Michael: You want me to stand up and walk to the center of the stage while I'm dying?
Director: Well, I know it's awkward, but we'll just have to do it.
Michael: Why?
Director: I just told you. Now do it!
Michael: Because you say so?
Director: Yes, love.
Michael: Not with me as Tolstoy.
Michael threw down his script and cane and exited. He further instructed his aspiring, struggling acting students in NYC to put in hard work, but face reality that there would be long periods of unemployment - the situation that he was desperately facing himself:
You gotta work. There's no excuse for not working. There's no excuse for not working. There's unemployment. There was unemployment when I started acting. There was unemployment when all my friends started acting. And it's not changed. You got 90%, 95% unemployment, right? It's never gonna change. You're an actor. You're in New York City. There is no work. But you gotta find ways to work.
Restaurant Work:
At McMullen's Restaurant, Michael was employed in the kitchen area, where he worked next to his droll and bemused playwright roommate Jeff Slater (Bill Murray). Amidst the chaos of preparing food orders, Jeff boasted to Michael about his latest script with a rewritten 'necktie scene': "I'm very excited. It's gonna change theatre as we know it." He also stipulated to the cook why he sampled much of the food on plates before their delivery: "I eat these things once a day so if the customers say, 'Hey, do I eat his food?', I can say, 'Yeah, I eat his food.'" After their work shift while walking to their tenement apartment, the two roommates argued about the 'necktie scene', and during their disagreements, Michael expressed his frustration, depression, and disillusionment about his failing life:
Jeff: What's wrong with you?
Michael: What's wrong with me? I'll tell ya what's wrong with me. What's wrong with me - it is very depressing to be disagreed with.
Jeff: It's depression. Today's your birthday, Michael, and you haven't mentioned it all day.
Michael: Oh no, no don't start in with that, man. I'm a character actor. Age has no effect on me.
Jeff: That's good, that's very good.
Michael: How does one not be depressed?
Jeff: Instead of tryin' to be Michael Dorsey, the great actor or Michael Dorsey, the great waiter, why don't you just try to be Michael Dorsey?
Michael: I am Michael Dorsey, I am Michael Dorsey. I don't know what the payoff is.
Jeff: Well, say it like you mean it.
Michael: I am Michael Dorsey. Fine. Okay?
Surprise Birthday Party:
As they stepped inside their building's loft apartment on W. 18th St.(and 5th Ave.) in Chelsea, Michael was greeted with a surprise birthday party. A toast was proposed: "To Michael Dorsey, who like it or not, makes you remember what acting's all about!" Someone else yelled out: "Being unemployed!' Michael's ditzy, neurotic, on/off girlfriend/student Sandy added her own toast:
To Michael, who's been my friend for six years. Oh! Was it that long? And who is my coach. And he's just great. He's a great coach, and a great actor. He's a great guy and - this is a really dumb speech. Let's get drunk. Happy birthday!
A decorated cake with about 40 burning candles was brought over, as the group sang "Happy Birthday" to Michael. Later during the party, Michael exhibited how he was an aging bachelor adept at picking up women. He tried to engage with one of the attractive female guests named Patty: "You an actress? You have a terrific face. That's a nice blouse. Who'd you come here with?" Meanwhile, flaky playwright Jeff was speaking in the kitchen to an attentive group:
I don't want a full house at the Winter Garden Theatre. I want 90 people who just came out of the worst rainstorm in the city's history. These are people who are alive on the planet until they dry off. I wish I had a theatre that was only open when it rained.
Michael spoke to a group of people about creating his own opportunities in life, and gave the example of promoting Jeff's scripted play in upstate Syracuse, after raising some funds: "Sandy and I are raising $8,000 to do Jeff's play up in Syracuse. As soon as we raise some money, we're gonna do it. You could do the same thing, it's a great country...You make it. You find a way to raise it." Michael was so preoccupied that he showed no interest in Emily's baby girl when Sandy took the infant into her arms and asked him: "Isn't she cute?" She facetiously told Emily: "He loves children, he really does."
He demonstrated how insincere and dishonest he was when he used the same pick-up line ("You have a terrific face") on part-time actress Linda (Christine Ebersole) whom he had seen in 'Dames at Sea': "Good work, really. You have a great singing voice....I felt there was an aura between us when I saw it. I'm not kidding. I don't know you, but I know you. I'll betcha I can tell you somethin' that you don't know about yourself...I bet ya like to run barefoot on the beach." She asked why he was so "wired" - he confessed the opposite:
It's my birthday. I haven't worked in two years...Yeah, it hurts me.
As the party was winding down and guests began to leave, Michael postponed a later rendezvous with Mrs. Mallory (Debra Mooney), who had planned on returning after the party. He lied, claiming he was going to be working on rewriting the third act of his roommate's play instead. Meanwhile, Sandy emerged from the bathroom with a plunger in her hand after being trapped for half-an-hour - and nobody had noticed. Alone with his girlfriend Diane (Susan Egbert) in the kitchen, Jeff bemused about changing people's tastes and dreams:
I did a thing about suicides of the American Indian. And nobody cared. Nobody showed. And I think the American Indian is as American as John and Ethel Barrymore and, uh, Donny and Marie Osmond. I think it's really sad, but I think that, nowadays, when people dream, they don't even dream in their own country anymore. And that's sick.
Michael leaned against a pole as the few remaining partiers left, including Linda (Jeff nicknamed her "Miss Right") who waved at Michael - and was dumping him at the same time - as she departed with someone else. Sandy approached Michael and told him that her date had also left with someone else and that she needed a Seconal.