Background
---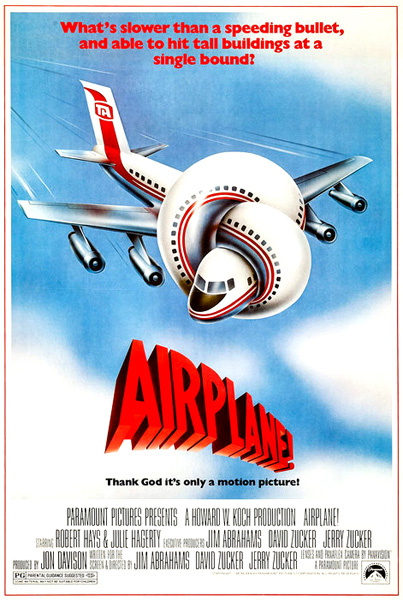 Airplane! (1980) was a trend-setting, zany, hilarious comedy - using as its core material the airplane disaster film as the spoof's stepping stone, borrowing from the subplots of heavy-handed films in the 1970s decade with all-star casts, such as the Airport film franchise (Airport (1970), Airport 1975 (1974), Airport '77 (1977), The Concorde: Airport '79 (1979)), and Skyjacked (1972). It has been regarded as the best disaster film spoof ever made, and one of the surprise comedy hits of all-time.
Given the fact that the film hinted at drug use (cocaine, amphetamines, glue sniffing, etc.), sexual deviancy (pedophilia and bestiality), fellatio (a literal 'blow job'), a young white girl who liked her men black, a display of porno magazines, a topless woman, some swear words, and three suicides, it was remarkable that it was rated only PG. To be fair, the PG-13 rating didn't arrive until mid-1984.
The revolutionary film comedy reinforced the idea that one could pack a movie-length feature with a running stream of dozens of wall-to-wall jokes (similar to early TV comics Sid Caesar and Carol Burnett) and succeed - even if all the quips and gags (approximately 300 or more in number according to some estimates) weren't funny. One of its unintended side-effects was to basically destroy the Irwin Allen-styled, big-budget disaster film genre for many years.
There were at least four inspirational sources for Airplane's plot:
Flight into Danger (1956) - an episode of the 1950s Canadian TV show Encounter
Zero Hour! (1957), from director Hal Bartlett, starring Dana Andrews, Linda Darnell, and Sterling Hayden; with a script by Arthur Hailey, who was later responsible for the screenplay for Airport (1970), based upon his own best-selling 1968 novel of the same name
The Crowded Sky (1960), segments
Terror in the Sky (1971), a CBS-TV movie, a remake of Zero Hour!
The storyline of a distressed airliner was an excuse for a frantic, slapstick parody filled with visual-sight gags, puns, deadpan and absurdist humor, gross-outs, sexual double entendres, verbal literalism ("Surely you can't be serious." "I am serious, and don't call me Shirley"), rapid-fire satirical wisecracks, irreverent references to other films such as From Here to Eternity (1953) and Saturday Night Fever (1977) disco dancing, and visual and verbal non-sequiturs. Even the esteemed Writers Guild of America (WGA) bestowed upon it the top award for the Best Comedy Adapted from Another Medium.
Its two main taglines were:
What's slower than a speeding bullet, and able to hit tall buildings at a single bound?
Thank God it's only a motion picture!
Released in the summer of 1980 by Paramount, this popular hit came from the comedy writing/directing team of David Zucker, Jim Abrahams and Jerry Zucker (known colloquially as ZAZ and their brand of "ZAZ humor") - it was their directorial debut feature film. It had been preceded by their screenwriting for John Landis' independently-produced underground hit The Kentucky Fried Movie (1977) - a comic anthology of TV shows and commercials. In one sketch, they lampooned the entire Irwin Allen disaster genre with a hilarious preview trailer for the disaster film That's Armageddon. [Note: The ZAZ trio of comedy writers were known as The Kentucky Fried Theater when they performed as a Wisconsin comedy troupe.]
Filming took only a little more than a month, on a budget of $3.5 million, with a whopping domestic revenue take of $83.4 million. It was followed by a less funny ZAZ-less Airplane II: The Sequel (1982) by director Ken Finkleman.
After the success of Airplane! (1980), ZAZ followed up with:
Top Secret! (1984) - a spoof of espionage movies
Ruthless People (1986) - an adaptation of an O. Henry story
The Naked Gun: From the Files of Police Squad! (1988), directed by David Zucker, co-written and co-produced by ZAZ
The Naked Gun 2 1/2: The Smell of Fear (1991), by writer/director David Zucker, co-produced by ZAZ
Other comedy spoof films had been made before 1980:
Westerns spoof: Cat Ballou (1965)
Japanese Monster Films spoof: Woody Allen's What's Up, Tiger Lily? (1966)
Mel Brooks' spoofs of various genres (before Airplane!):
Westerns: Blazing Saddles (1974)
Horror: Young Frankenstein (1974)
Silents: Silent Movie (1976)
Hitchcockian Thrillers: High Anxiety (1977)
But Airplane! was responsible for unleashing a flurry of lampooning comedies (for many subgenres and film styles) - all trying to capitalize on its whopping success - including:
Biblical Stories spoof: Wholly Moses! (1980)
Mel Brooks' spoofs (after Airplane!):
Historical Eras: History of the World, Part I (1981)
Science-Fiction and Star Wars: Spaceballs (1987)
Swashbucklers: Robin Hood: Men in Tights (1993)
Dracula Films: Dracula: Dead and Loving It (1995)
Serial Killer/Slasher and Stalker Movies spoof: Student Bodies (1981)
Hospital Soap Operas spoof: Young Doctors in Love (1982)
Film Noir - Crime/Detective spoof: Dead Men Don't Wear Plaid (1982)
1930s Gangster Movies spoof: Johnny Dangerously (1984)
1950s Sci-Fi Movies spoof: Amazon Women on the Moon (1987)
TV's Police Squad (1982) spoofs: The Naked Gun franchise (from 1988-1994)
The Exorcist spoof: Repossessed (1990), starring Linda Blair and Leslie Nielsen
Top Gun spoof: Hot Shots! (1991), from co-writer/director Jim Abrahams
Rambo spoof: Hot Shots! Part Deux (1993), also from co-writer/director Jim Abrahams
Late 80s-Early 90s Suspense-Mystery Thrillers spoof: Fatal Instinct (1993)
Lethal Weapon spoof: Loaded Weapon (1993)
James Bond franchise spoofs: The Austin Powers franchise (from 1997-2002)
Sports spoof: BASEketball (1998), from co-writer/director David Zucker
Horror movie spoofs: The Scary Movie franchise (from 2000-2013)
In the flimsy, sophomoric, tongue-in-cheek story, dumped, shell-shocked ex-military flyer-pilot Ted Striker (Robert Hays in his screen debut) pursued ex-girlfriend Elaine (Julie Hagerty in her screen debut) - a Trans American Airlines stewardess on an ill-fated, crippled plane flight from Los Angeles to Chicago with food poisoning-stricken pilots, while a drug-using air traffic control tower chief-supervisor attempted to help land the troubled airliner. The airplane passengers and other ground personnel characters were a cliched stereotypical group of humorous individuals, and there were numerous references to other films.
This movie revitalized the acting careers of TV and film stars from earlier decades, such as Peter Graves, Lloyd Bridges, and Robert Stack, and launched a new career direction in comedy for Leslie Nielsen as the straight-faced, dead-panning Dr. Rumack, who up to that time was known mostly for B-movie dramatic roles, in films like Forbidden Planet (1956) and The Poseidon Adventure (1972). Nielsen went on with the ZAZ comedy team to originate the character of police Lt. Frank Drebin in their Police Squad! TV series - and recreated the role in the many The Naked Gun films.
Due to its being a comedy, it was no surprise that it received no Academy Award nominations.
Plot Synopsis
---
The title credits in the opening sequence of the short 88-minute film with a superficial, juvenile plot were set to the familiar John Williams theme music of Jaws (1975) with the airplane's rear vertical fin (a parody of the shark's pectoral fin) ominously slicing through the billowing clouds on a full moon-lit night. The movie's title screen - in CAPITAL LETTERS - unfurled once the jetliner lunged up and flashed its underbelly.
The first dialogue in the film was heard from dueling sentient background recordings of a husband (a male named Vernon) and wife (a female named Betty) team of announcers at Los Angeles International Airport (LAX), beginning with their first line: "The white zone is for immediate loading and unloading of passengers only. There is no stopping in the red zone," and ending with an argument between them about getting an abortion.
During the evening rush to the airport, passengers (future protagonists) converged on the Trans-American Airlines terminal. Trans-American Airlines stewardess Elaine Dickinson (Julie Hagerty) was brought to the curb by a transport van before she wheeled her bag into the terminal. She was solicited by the first of many panhandlers - a male religious zealot who offered a flower and asked for a donation to the "church of religious consciousness" - but she declined. Inside, two Hare Krishnas (David Leisure and John David Wilder) were also approached by a female religious zealot offering the same spiel, but she was told: "No thanks, we gave at the office." At the X-ray security check point, the monitor showed dangerous items being ignored or unusual readouts (a lung X-ray, for example), while an amputee was forced to remove all of his personal items - and both his prosthetic arm and leg. A family disembarked (later identified as the Hammens, with son Joey) at the curb.
A taxi driver, later identified as Ted Striker (Robert Hays), haphazardly pulled onto the terminal's curb and ran into the building, as he told his next passenger fare (Howard Jarvis, known in California politics for limiting spending - specifically, lowering California's property taxes by supporting the notorious Proposition 13) who sat in the taxi's back seat: "I'll be back in a minute" - the meter was set to run as he abandoned his cab. Ted was also propositioned by a religious zealot for a donation, and allowed the startled man to pull off his leather jacket.
Two distracted ground-crewmen (Jerry and David Zucker) were on the tarmac, while one was guiding a large 747 airplane to a hangar with glowing sticks, and accidentally directed the plane into the terminal building. As the plane crashed through the terminal windows, a woman tossed her blanketed infant into the air. It was one of the film's most memorable and iconic images (paying homage to a similar crash sequence with a train in Silver Streak (1976)). Meanwhile, the cab driver caught up to Elaine, his ex-girlfriend, begging for her to reconsider their relationship and work things out. She firmly told him: "I can't live with the man I don't respect." Self-aware, he faced the 'fourth wall' audience (and camera) and reacted with an aside - before a pissy, greenish-yellowish wall:
"What a pisser!"
At an airport's mostly adults-only magazine rack displaying dirty magazines (generally labeled Whacking Material - with titles such as "Dominant Females"), Captain Clarence Oveur (Peter Graves) perused a magazine titled: Modern Sperm. A female voice on the PA system summoned the Captain to a nearby bank of Courtesy Telephones and instructed him to pick up the White Phone. However, when he mistakenly picked up a Red Phone, the voice immediately chided him: "No, the White Phone!" When another announcement repeated the original instruction to pick up the White Phone, the Captain angrily shouted back: "I've got it!" The call was from the Mayo Clinic (in Minneapolis) about a heart transplant patient on his upcoming flight. The caller was Dr. Brody (Jason Wingreen) (seen with jars of "Mayo-nnaise" lining the shelves behind him, and a beating, bouncing transplant heart on his desk):
This is Doctor Brody at the Mayo Clinic. There's a passenger on your Chicago flight 209er, a little girl named Lisa Davis, en route to Minneapolis. She's scheduled for a heart transplant, we'd like you to tell her mother we found a donor an hour ago. We have the heart here, ready for surgery. We must have the recipient on the operating table within 6 hours. I want you to make sure she's kept in a reclined position and that a continuous watch is kept on her IV. Also, it's very important that she remain calm.
Then, the operator interrupted with another emergency call on line 5 from the clinic from Mr. Hamm, and the Captain responded with a pun:
Give me a Hamm on five, hold the Mayo.
An ambulance pulled up to the Boeing 707 passenger Trans-American Airlines plane being readied for its flight to Chicago, to unload a stretcher carrying the sick young girl Lisa Davis (Jill Whelan) on life support, a heart transplant patient with an IV held up by her mother Mrs. Davis (Joyce Bulifant).
Meanwhile, traumatized war veteran Striker explained to Elaine why he had refused a job at Boeing - he was now flight-phobic and shell-shocked due to his military experience and "war record." She chided him for his lack of career responsibility ("different cities, different jobs"), and told him she was going to be moving on with her life back in Chicago, and would never fly back to LA. Frustrated by Elaine's snub, Striker punched another annoying solicitor with a flower in the face.
In the cockpit, Captain Oveur and his navigational co-pilot Victor Basta (Frank Ashmore) were discussing weather predictions for their destination, when second co-pilot Roger Murdock (Kareem Abdul-Jabbar) arrived - (one could sense the potential for future word-play on the words "Victor", "Vector," "Oveur" (over), "Clarence" (clearance), and "Roger"). The outside window-washer (Jimmie Walker known for the 70s sitcom Good Times), after opening the jet's hood and checking the oil dip-stick (after changing the oil), fell off his ladder with a loud scream. Immediately afterwards through the cockpit window, Captain Oveur was handed the bill for the jet's repairs - he paid for the charges with a credit card using a primitive card imprinter.
To follow Elaine, Ted purchased a "smoking" section ticket from a female ticket agent (Mallory Sandler) for the Chicago-bound TA ("Tits and Ass"?) flight (#209), and was handed a literally-smoking plane ticket. As he walked onto the tarmac to board the plane, the ex-Air Force pilot suffered flashbacks of his war years during a bombing mission - and began to feel uneasy about the flight.
One of the film's long-running gags occurred between two jive-talking black passengers, Jive Man 1 Holm (Norman Alexander Gibbs) and Jive Man 2 Arthur (Al White), whose conversations required subtitles, for example:
Jive Man 1: "Sheeeet, man, that honkey mus' be messin' my old lady got to be runnin' col' upsihd down his head!"
Subtitles: "GOLLY, THAT WHITE FELLOW SHOULD STAY AWAY FROM MY WIFE OR I WILL PUNCH HIM."
Jive Man 2: "Hey Holm, I can dig it! You know he ain't gonna lay no mo' big rap upon you man!"
Subtitles: "YES, HE IS WRONG FOR DOING THAT."
Jive Man 1: "I say hey sky, s'other say I won say I pray to J I get the same ol' same ol."
Subtitles: "I KNEW A MAN IN A SIMILAR PREDICAMENT, AND HE ENDED UP BEING SORRY."
Jive Man 2: "Knock yourself a pro slick. Gray matter back got perform' us' down I take TCBin, man'."
Subtitles: "DON'T BE NAIVE ARTHUR. EACH OF US FACES A CLEAR MORAL CHOICE."
Jive Man 1: "You know wha' they say: See a broad to get that bodiac lay'er down an' smack 'em yack 'em."
Subtitles: "EARLY TO BED, EARLY TO RISE, MAKES A MAN HEALTHY, WEALTHY AND WISE."
As the plane prepared for take-off, the phonetic "No Smoking" and "Fasten Seat-belt" warning sign lit up with a Spanish accent: "El No A You Smoko," and "Putana da Seatbeltz." Ted settled into his seat when his elderly, sex-crazed female seat-mate (Ann Nelson - credited as Hanging Lady for good reason) noticed his anxiety as she glanced a few times at his crotch, and began questioning him:
Hanging Lady: Nervous?
Ted: Yes.
Hanging Lady: First time?
Ted: NO, I've been nervous lots of times.
An out-of-place train conductor-stationmaster (with a pocket watch on a gold chain) at the foot of the stairs came upon a lovelorn young couple, a soldier named Bill (Cyril O'Reilly) and his girlfriend (Amy Gibson) hugging, and gave them an alert: "Better get on board, son. All aboard!!!!!" As the plane moved toward the runway, homage was played to two separate, classic war-time goodbye scenes in The Big Parade (1925) and Since You Went Away (1944). The girlfriend ran along the side of the taxi-ing plane - with the sound effect of a chugging steam train - with the entry door still open. She knocked over steel light towers in her path as he threw her his broken watch as a memento.
Captain Oveur shifted the plane into gear - using a car's manual gear-shift type mechanism. There was continuing confusion about the pilot's reply "Roger" with his own co-pilot Roger and navigator Victor (and other misappropriations, reminiscent of Abbott and Costello's "Who's On First?" routine in The Naughty Nineties (1945)) while talking to ground control during clearance for take-off:
Controller in Tower: Flight 2-0-9-er, you're cleared for take off.
Captain Oveur: Roger!
Roger Murdock: Huh?
Controller: LA departure frequency, 1-2-3 point 9-er.
Captain Oveur: Roger!
Roger Murduck: Huh?
Victor: Re-quest Vector, over!
Captain Oveur: What?
Controller: Flight 2-0-9-er, clear for vector 3-2-4.
Roger Murdock: We have clearance, Clarence.
Captain Oveur: Roger, Roger. What's our Vector, Victor?
Controller: Tower's radio clearance, over!
Captain Oveur: That's Clarence Oveur! Over.
Controller: Roger.
Roger Murdock: Huh?
Controller: Roger, over.
Roger Murdock: Huh?
Oveur: Huh?
As the plane took off and was soon at cruising altitude, the jet was often-times shown flying from the exterior - with the anachronistic sound of a propeller plane instead of a jet turbine.
On board the plane, during the Captain's introductory announcement, there was a reversal of magazines: a Nun (Maureen McGovern) was reading the Boy Scout publication BOYS' LIFE, while a young boy named Joey (Rossie Harris) read NUNS' LIFE (with a cover picture of a nun riding on a surfboard). When Ted's seat-mate asked for "light" reading material from Elaine, she was given a small-sized leaflet titled: "Famous Jewish Sports Legends." The old lady attempted to facilitate match-making when Ted returned to his seat and bumped into Elaine (who said she had no time for him):
No wonder you're upset! She's lovely! And a darling figure. Supple pouting breasts, firm thighs - it's a shame you two don't get along.