Other Films with Military Themes:
Taylor Hackford's pro-militaristic, adult-style melodramatic romance An Officer and a Gentleman (1982) featured an award-winning song "Up Where We Belong" and starred Debra Winger and Richard Gere in the lead roles as paper-mill worker and aspiring Navy jet pilot respectively
the serious, surprise hit Taps (1981) included early performances of Tom Cruise, Timothy Hutton and Sean Penn as American military academy cadets participating in a revolt
Tony Scott's ultra-positive, macho Top Gun (1986) with ear-shattering, competitive acrobatic flying sequences, a homosexual sub-text, a rock soundtrack (from Simpson/Bruckheimer) and award-winning hit song by Berlin "Take My Breath Away," and mega-star Tom Cruise as Lt. Pete "Maverick" Mitchell - a crack, fighter pilot trainee at the US Navy's Fighter Weapons School at San Diego; noted for the line: "I feel the need - the need for speed"
sci-fi combat allegorizing the Vietnam war experience in John McTiernan's Predator (1987) with Arnold Schwarzenegger leading a commando unit to kill a chameleon-like, camouflaged alien creature in the jungles of Central America
director John Badham's comedy/drama WarGames (1983) starred a young Matthew Broderick as high-school computer whiz David Lightman who accidentally broke into an air-defense, missile-base supercomputer at NORAD and nearly started World War III with a Defense Department game called "Global Thermonuclear Warfare"
high-energy, improvisational comic Robin Williams starred in Barry Levinson's fact-based, main-stream success Good Morning, Vietnam (1987) as iconoclastic, anti-establishment, unconventional 60s disc jockey Adrian Cronauer from Saigon's Armed Forces Radio
Dance-Musical Films:
Although the much-publicized Annie (1982) by renowned director John Huston failed, other non-traditional dance musicals flourished:
Staying Alive (1983), written and directed by Sylvester Stallone, starred John Travolta (in his 10th film) as an aspiring Broadway dancer (six years after Saturday Night Fever (1977)); although successful at the box-office, it contributed to the downfall of Travolta's career for most of the rest of the decade
Adrian Lyne's slick Flashdance (1983) was the immensely popular, highly kinetic, music-video style film - with an Oscar-winning title song by Irene Cara. It featured 19 year-old Jennifer Beals in her first starring role as Alex - a day welder in Pittsburgh and night dancer in a men's club who aspired to successfully audition for ballet school. [The film almost singlehandedly inspired off-the-shoulder, oversized torn sweatshirts, legwarmers, the aerobics exercise class craze of the 80s, and the skillful art of removing one's bra from under one's shirt; it also introduced two newcomers, writer Joe Eszterhas and producer Jerry Bruckheimer (who went on to produce Beverly Hills Cop (1984) and Top Gun (1986), among other films)]
Footloose (1984) with John Lithgow as a strict minister and Kevin Bacon as the illegal dancer in town featured Kenny Loggins' hit single of the title song
Singer Prince (his first starring film) played "The Kid" in the feature-length music video Purple Rain (1984), and succeeded in having the #1 movie, album, and single simultaneously
the teen-oriented dance/romance Dirty Dancing (1987) about a young girl named Baby (Jennifer Grey, Joel's daughter) finding sexual awakening with Patrick Swayze in the early 60s through wild dancing at a Catskills vacation resort
Western-style Saturday Night Fever film, James Bridges' Urban Cowboy (1980) featured Houston honky-tonks, mechanical bull-riding in bars, blue-collar cowboys, and country music dancing (including the Cotton-Eyed Joe) - and popular young stars John Travolta and Debra Winger
The Rise of Independent and Non-Hollywood Films: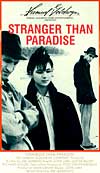 Independent (or "indies") films made by various directors and writers provided uncompromising, low-budget, original visions of reality outside the studio system, following in the tradition of the first wave of independents by John Cassavetes in the 60s. Innovative films included Jim Jarmusch's acclaimed minimalist road-film comedy Stranger Than Paradise (1984) (that won the Camera d'Or at Cannes in 1984) and another odyssey film of three escaped prisoners entitled Down By Law (1986). Camp director John Waters' Polyester (1981) included smelly Odorama; he also directed Hairspray (1988).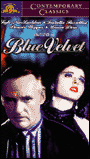 Writer/director David Lynch made some of his best films in the 80s. His brilliant but disturbing Blue Velvet (1986) starred Dennis Hopper who revitalized his acting career in the repulsive role as the villainous, sadistic, and blackmailing Frank Booth toward a brutalized Isabella Rossellini. The unique film visualized the repulsive and twisted horrors that lurked behind ordinary small-town life - all stemming from the mysterious discovery of a severed human ear in a field by a naive college student.
Director Stuart Gordon's outrageous H.P. Lovecraft adaptation Re-Animator (1985) contained gore and demented black humor. German film-maker Wim Wenders directed the haunting Paris, Texas (1984) with Nastassja Kinski (as a lost wife working in a peep-show behind a one-way window) and Harry Dean Stanton as wandering husband Travis (on an obsessive quest to piece together his family) in an impressive Sam Shepard adaptation. The non-linear film included a Ry Cooder soundtrack, and an impressive opening credits sequence in the desert.
Maverick filmmaker Jonathan Demme (noted for The Silence of the Lambs (1991) and Philadelphia (1993) in the next decade) began his career as a B-movie director/writer and trainee under Roger Corman, and had a number of cult classics in the 80s, including: Melvin and Howard (1980), the concert documentary Stop Making Sense (1984) about the Talking Heads with singer/guitarist David Byrne, Swing Shift (1984), Something Wild (1986), Swimming to Cambodia (1987), and Married to the Mob (1988).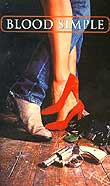 The first feature film from independents Ethan Coen (producer) and Joel Coen (director) - the complex, suspenseful Gothic, film noir thriller Blood Simple (1984) was just the beginning of their many off-beat, dark-edged films - this one featured the screen debut of Coen regular Frances McDormand. It was a tale of murder, mis-read motives, a premature burial, plot twists, and a gruesomely-impaled hand (belonging to vile private eye M. Emmet Walsh). The black comedy won the Grand Jury Prize at the newly-created Sundance Film Festival. Raising Arizona (1987) was next - an original, contemporary screwball comedy-farce about the kidnapping of a baby (one of the Arizona quintuplets) by a childless couple (Holly Hunter and Nicolas Cage).
Through his independent Zoetrope Studios, Francis Ford Coppola financed the exorbitantly-expensive and experimental One From the Heart (1982), a romantic musical set in Las Vegas. The stylized film was innovatively shot entirely on videotape within the controlled environment of the studio. And writer/director Michael Moore's iconoclastic documentary Roger & Me (1989), an expose about the disastrous effects of the closing of a General Motors plant (headed by CEO Roger Smith) on Flint, Michigan, earned almost $8 million - the highest ever earned for its genre.
Independent Film-Maker Steven Soderbergh:

Versatile independent film-maker/writer-director Steven Soderbergh's low-budget, minimalist, character-driven debut film was sex, lies and videotape (1989). The film featured four Baton Rouge, Louisiana characters without obvious sexual activity or nudity: a childless married couple (Peter Gallagher and Andie MacDowell in her first major screen appearance), the wife's adulterous sister (Laura San Giacomo), and a high-school friend (James Spader) of the husband who 'voyeuristically' videotaped the women talking about their sex lives.
Its premiere at Robert Redford's 1989 Sundance Film Festival captured everyone's attention and helped to encourage the production of other thought-provoking indies. It was the winner of the top prize (Palme d'Or) at the Cannes Film Festival, and went on to be a commercial and critical success. [Although Soderbergh would continue making various films in the next decade, his breakthrough came in 2000 with two more mainstream films: Erin Brockovich (2000) and Traffic (2000).]
Spike Lee and John Singleton:

Black movie-making emerged in a stronger state in the mid-80s, with films from independent film writer-director-star Spike Lee:
his modest debut was with the hip romantic comedy She's Gotta Have It (1986), about a liberated, sexually-voracious Brooklyn woman named Nola Darling (Tracy Camilla Johns) and her three boyfriends; the film was reportedly made in about two weeks with over-drawn credit cards budgeted at about $175,000
School Daze (1988) told about factions in an African-American Southern college
Do the Right Thing (1989) - a thought-provoking, controversial, crackling, prefiguring study of racism in America that was seen in the explosive conflict and relations between Italian- and African-Americans, Koreans and white law-enforcement in a Bedford-Stuyvesant neighborhood block during a stifling hot summer day. (The film was bolstered with Public Enemy songs on the soundtrack)
Jungle Fever (1991) - a film that examined inter-racial romance, starring Wesley Snipes and Annabella Sciorra
24 year-old John Singleton would soon join Spike Lee as an influential black moviemaker in the early 90s with his debut film - the coming-of-age drama Boyz 'N the Hood (1991), one of the highest-grossing films ($57 million) ever directed by an African-American. With his film, Singleton became the youngest nominee for Best Director in Academy history, and the first African-American to be nominated as Best Director.
John Sayles: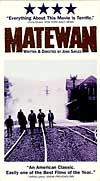 Writer/director/actor John Sayles first won acclaim for the low-budget Return of the Secaucus 7 (1980) about a weekend reunion of college friends (a precursor of The Big Chill (1983)) and then directed the independent The Brother From Another Planet (1984), an E.T-like urban fable about a black space alien-fugitive pursued in Harlem by white bounty hunters. His historical drama Matewan (1987) told the true-life story of exploited 1920s coal miners in Matewan West Virginia, and Passion Fish (1992) was a more intimate character study of the physical and spiritual healing of a paralyzed soap opera star in her Louisiana bayou hometown.
Female Producers/Directors:
One notable milestone in the 1980s and early 1990s was that women producers and directors were beginning to emerge within the male-dominated film industry:
Jodie Foster - Little Man Tate (1991) (actor/director)
Penny Marshall - Jumpin' Jack Flash (1986) (debut film as director), Big (1988) (director), Awakenings (1990) (director/producer)
Barbra Streisand - The Main Event (1979) (actor/producer), Yentl (1983) (actor/producer/director/screenwriter), Nuts (1987) (actor/producer), The Prince of Tides (1991) (actor/producer/director)
Amy Heckerling - Fast Times at Ridgemont High (1982) (director), Johnny Dangerously (1984) (director), National Lampoon's European Vacation (1985) (director), Look Who's Talking (1989) (director/screenwriter), Look Who's Talking Too (1990) (director/screenwriter), Look Who's Talking Now (1993) (co-producer)
Jane Campion - Sweetie (1989) (director/screenwriter), An Angel At My Table (1990) (director), The Piano (1993) (director/screenwriter)
Susan Seidelman - Smithereens (1982) (director/producer/screenwriter), Desperately Seeking Susan (1985) (director), Making Mr. Right (1987) (director/producer), Cookie (1989) (producer/director), She-Devil (producer/director)
Re-Runs of Previous TV Material:
Hollywood studios turned for script material to vintage 50s TV series:
the serious, popular detective series Dragnet was converted into the comedy Dragnet (1987) with Dan Aykroyd impersonating Jack Webb's speech and deadpan manner (e.g., "Just the facts, Ma'am") as a squarish detective; Tom Hanks starred as Aykroyd's non-conformist partner Pep Streebeck, and Joe Friday's original partner in the TV series, Harry Morgan, was featured in a cameo as police captain Bill Gannon
a beloved television series was re-worked in Brian De Palma's Chicago crime film The Untouchables (1987), with a script from Pulitzer-winning playwright David Mamet, a score from Ennio Morricone, borrowings from the 'Odessa Steps' sequence in Sergei Eisenstein's Battleship Potemkin (1925), and Robert De Niro as Al Capone, Sean Connery as honest Chicago cop Jimmy Malone - an Oscar-winning role, and Kevin Costner as Prohibition-era federal agent Eliot Ness
Brian De Palma: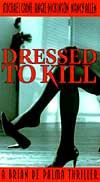 In the 80s, De Palma was also credited with many sensational, Hitchcock-like thrillers:
PG-13 Ratings Debut, and R-Rated, Adult-Oriented Features:
For most of the 70s and part of the early 1980s, the increase in violent movies, horror films, and slasher films (with an increase in depictions of violence toward women) encouraged Jack Valenti, the president of the Motion Pictures Association of America (MPAA) to finally take action. The MPAA created a new ratings category between R and PG known as PG-13. It issued its first PG-13 rating (after the inappropriately PG-rated Poltergeist (1982) and Indiana Jones and the Temple of Doom (1984) from Spielberg for its heart-ripping sequence) for right-wing writer/director John Milius' Red Dawn (1984), an imaginative tale reflecting fears of a Russo-Cuban invasion of the American heartland. By 1986, a rating of PG was automatically given to films with swearing and narcotics use.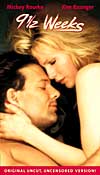 Paul Mazursky's R-rated Down and Out in Beverly Hills (1986), with Nick Nolte as a homeless person (similar in character to Spielberg's alien E.T.) befriended by a filthy rich Beverly Hills couple, was noted for being Disney's (under the name of its adult-oriented subsidiary Touchstone Films) first film to use the 'F' word. Jack Nicholson was diabolical as Daryl Van Horne in the R-rated black comedy fantasy The Witches of Eastwick (1987), seductive with Cher, Susan Sarandon, and Michelle Pfeiffer. The biographical R-rated romantic drama Sid and Nancy (1986) was a story of punk rock, heroin addiction, infatuation and doomed love between Sex Pistols' singer Sid Vicious (Gary Oldman) and groupie Nancy (Chloe Webb).
There were a few adventurous American films, with R ratings, that were specifically aimed at adult audiences. As the decade was just about to dawn, Richard Gere bared all (one of the first instances of a male star appearing nude) as a high-living, convertible-driving gigolo in director Paul Schrader's American Gigolo (1980), accompanied by Blondie's song "Call Me." Director Ken Russell's erotic thriller Crimes of Passion (1984) starred Kathleen Turner as prostitute China Blue and Anthony Perkins as an obsessive preacher.

Reflecting the Puritan morality of the late 80s, however, and inspiring many talk-shows on its issues of marital infidelity and the dangers of dating, was Adrian Lyne's follow-up film to Flashdance (1983) - Fatal Attraction (1987), a suspenseful, melodramatic, erotic thriller about one-night stands, sexual games, and obsessive love (with Glenn Close as Alex Forrest - a murderous jilted, stalking woman). Its crowd-pleasing ending was determined by focus groups and preview audiences and substituted for the original version found in the script and filmed earlier. Sex was served up very hot, kinky and steamy in Lyne's next film - 9 1/2 Weeks (1986) with Wall Street executive Mickey Rourke serving up sensual foods into art gallery worker Kim Basinger's upturned mouth to the tune of Bryan Ferry's "Slave to Love."
Revival of Film Noir with Neo-Noir Films: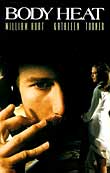 Dark, shadowy scenes, deadly females, and menacing circumstances were brought back in modern, revisionistic film noirs in this decade. Lawrence Kasdan's first film was the steamy, modern-day Floridian, 40's style film noir Body Heat (1981) (with Kathleen Turner in a sexy screen debut) - based upon the plot-lines of Double Indemnity (1944) with William Hurt as the sexually-horny lawyer duped by a rich, gorgeous trophy wife. Jessica Lange and Jack Nicholson instilled heavy sex in the kitchen into Bob Rafelson's lackluster remake of the 1946 classic film noir The Postman Always Rings Twice (1981).
Taylor Hackford's Against All Odds (1984) attempted to loosely remake the classic Out of the Past (1947) with Rachel Ward as spoiled heroine Jessie (the Jane Greer role), Jeff Bridges as ex-football star Terry Brogan (the Robert Mitchum role), and James Woods as gambler/businessman Jake (the Kirk Douglas role). Cast members from the original film in the remake included Jane Greer (now as the mother), and Paul Valentine (as a two-bit hood in the original, but now as Councilman Weinberg). The Coens' Blood Simple (1984) featured sleazy characters, an endless murder scene, and double-crosses - all characteristics of classic film noir.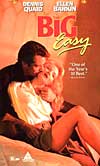 Neil Jordan's Mona Lisa (1986), set in a depraved London, was a gritty tale about a high-priced call girl (Cathy Tyson) and her ex-con chauffeur-bodyguard (Bob Hoskins). Alan Parker's occult post-noir Angel Heart (1987) (originally X-rated) featured a seedy private detective's (Mickey Rourke) search for a missing singer in New Orleans for a devilish client Louis Cyphre (Robert De Niro) and involved voodoo, corruption, devilish circumstances - and an infamous sex scene (restored on unrated video/DVD releases) between Rourke and The Cosby Show star Lisa Bonet.
Writer/director David Mamet's moody House of Games (1987) dealt with the surreal world of con artists and their victims. The first film appearance of serial killer Hannibal Lecter (later appearing in The Silence of the Lambs (1991) and Ridley Scott's Hannibal (2001)) was in Michael Mann's thriller Manhunter (1986). Jim McBride's erotic crime noir The Big Easy (1987) featured Cajun music and a slick detective's (Dennis Quaid) murder investigation and romance with a repressed DA (Ellen Barkin). Ridley Scott directed the visually-compelling top-notch romantic crime thriller Someone to Watch Over Me (1987), while Roger Donaldson's No Way Out (1987) was based on John Farrow's classic The Big Clock (1948). Al Pacino played a New York police detective who fell for one of his suspects (Ellen Barkin) - a potential serial killer in the tense Sea of Love (1989).

Film History of the 1980s
Part 1, Part 2, Part 3, Part 4, Part 5, Part 6
---



---