'Colorization' of the Classics: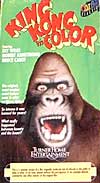 After Ted Turner purchased the vast library-inventory of classic MGM and UA films in 1986 and proposed colorization of the B/W films, there was a bitterly-fought debate over the topic in mid-decade. Topper (1937) was the very first B/W feature film to be released to the home video market in 1985 in a 'colorized' version, using computer technology - a controversial modernizing technique at the time. Colorized ("computer-colored" or "color-imaged") films began to be broadcast on television for the first time in 1985. When the classic Miracle on 34th Street (1947), converted by Color Systems Technology (CST) for 20th Century Fox, aired in 1985, it became the highest rated non-network movie in syndication. Colorization became extremely controversial in the late 1980s, especially with regard to "classic" monochrome films such as Citizen Kane (1941) (which ultimately was not colorized). Other films to be colorized included King Kong (1933), Hughes' The Outlaw (1943), Laurel and Hardy's Way Out West (1937), Room Service (1938), The Maltese Falcon (1941), Casablanca (1942), Yankee Doodle Dandy (1942), Arsenic and Old Lace (1944), many Shirley Temple films, It's a Wonderful Life (1946) and more, were all colorized. By the mid-90s, colorization of films was no longer an issue.
In another 'homage' to the classics, Fritz Lang's silent Metropolis (1927) was reincarnated and prepared by Giorgio Morodor for theatrical re-release in 1984. This version was tinted and featured heavy-metal, synthesizer music (from artists such as Freddie Mercury, Pat Benatar, Adam Ant, and Bonnie Tyler).
The Trend Toward Teenage Comedies: The Teen Sex Comedy
The trend for youth films began with a number of late 70s and early 80s films with young actors and actresses. Some attributed the trend toward teenaged cinematic fare to the tremendous success of Star Wars (1977) with youth audiences. The films were entertainment geared for teenagers and younger pre-teen audiences (both were becoming sizeable segments of movie theatre attendance). At the end of the previous decade, Steve Tesich's Oscar-winning screenplay helped to highlight Peter Yates' oft-overlooked, youthful bicycle film Breaking Away (1979), about four boys (Dennis Christopher, Dennis Quaid, Daniel Stern, and Jackie Earle Haley) and their frustrations/hopes in a recession-affected Midwest college town - it was a portent of the times. Writer/director Barry Levinson's debut film Diner (1982) was a bitter-sweet, rites-of-passage tale of six male buddies in their twenties growing up in late 50s Baltimore and hanging out in the local diner Fells Point - with remarkably realistic dialogue scenes. [Levinson would proceed in making other Baltimore-themed films in the same decade, including Tin Men (1987) and Avalon (1990) - and later Liberty Heights (1999).]
One of the earliest youth-oriented films was actually responsible for also launching the teen-sex film -- it was Porky's (1982) (followed by its sequels: Porky's II: The Next Day (1983) and Porky's Revenge (1985)). The R-rated film was typical of sex-drenched, lame films (with lots of gratuitous female nudity) telling about a group of horny males who sought sexual experiences and the loss of virginity through various sexual encounters and schemes (often humiliating) and by voyeurism. Further exploitative comedies were released, such as Screwballs (1983), Revenge of the Nerds (1984), and Hot Dog: The Movie (1984).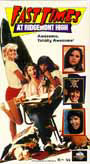 Youth-Oriented (Yuppie) Films:
Female director Amy Heckerling's energetic, candid and unassumingly real Fast Times at Ridgemont High (1982), her directorial debut feature film, was the quintessential teen film of the 1980s. It included a number of stereotyped but realistic roles derived from screenwriter Cameron Crowe's (a former Rolling Stone writer) undercover study-exposé of L.A. high school life during a year at a San Diego HS:
stoned, unforgettable, bleached blonde California surfer dude Jeff Spicoli (Sean Penn) with checkered sneakers: "I've been stoned since the third grade"
pudgy teenaged high-school freshman Stacy Hamilton (Jennifer Jason Leigh) who awkwardly lost her virginity in a baseball dugout to older stereo salesman Ron Johnson (D.W. Brown), and after another sexual experience became pregnant and had an abortion
Stacy's 'worldly' friend Linda Barrett (Phoebe Cates) who taught her with a carrot, in the school's cafeteria, about how to deliver oral sex
strict US history teacher Mr. Hand (Ray Walston)
ticket-scalping lecherous male Mike Damone (Robert Romanus) who impregnated Stacy during a quick sexual encounter in a pool bathhouse
[The film was also notable for being the American Graffiti (1973) and American Pie (1999) of its decade, because it introduced so many new and future stars, including Jennifer Jason Leigh, Phoebe Cates, Judge Reinhold, Sean Penn, Forest Whitaker, Eric Stoltz, Nicolas Cage, and Anthony Edwards).] Strong sexual content included nude scenes for both Leigh and Cates. Heckerling's only other notable film in her career was another teenage film - Clueless (1995) - a satirical, funny tale loosely based on Jane Austen's Emma, about an adorable but rich, bratty, self-obsessed and shallow Beverly Hills teenager named Cher Horowitz (Alicia Silverstone), memorable for her color-coordinated designer wardrobe, and rich California slang.
Also, Francis Ford Coppola's two films of disaffected, angst-ridden youth in the early 80s were both adapted from S.E. Hinton novels and starred Matt Dillon:
The Outsiders (1983) - with the tagline: "They grew up on the outside of society. They weren't looking for a fight. They were looking to belong" - about 1960s Oklahoma teens divided into two gangs: the underprivileged greasers and elitist Socs (pronounced so-shes); with mostly unknown actors who would later become stars -- Patrick Swayze, Ralph Macchio, C. Thomas Howell, and Matt Dillon, and known for the catchphrase: "Let's do it for Johnny!"
Rumble Fish (1983) - about the love between two brothers: The Motorcycle Boy (Mickey Rourke) and kid brother gang leader Rusty James (Matt Dillon); made as an experimental art film in black and white
New teen stars of this youth-obsessed cultural decade began to emerge, including Molly Ringwald, Matt Dillon, Ally Sheedy, Anthony Michael Hall, Patrick Swayze, Tom Cruise, Eric Stoltz, Judd Nelson, Kiefer Sutherland, Phoebe Cates, Charlie Sheen, Mary Stuart Masterson, Matthew Broderick, Jennifer Grey, Lou Diamond Phillips, Sean Penn, Emilio Estevez, James Spader, Jennifer Jason Leigh, Judge Reinhold, and Rebecca DeMornay.
The Rise of the Brat Pack, and 'Coke-Addicted Yuppie' Films: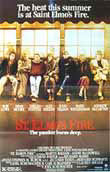 Joel Schumacher's St. Elmo's Fire (1985) - a soap-operish, teen version of The Big Chill (1983) for the younger Yuppie generation with ensemble acting, was responsible for giving the self-indulgent, self-absorbed, and socially-apathetic stars who portrayed seven Georgetown graduates (up and coming yuppies) who hung out at a bar their detested nickname "The Brat Pack." Brat Packers in this film included:
Emilio Estevez
Ally Sheedy
Rob Lowe
Demi Moore
Andrew McCarthy
Judd Nelson
Mare Winningham
On and off screen, the stars wore designer clothes, drove the coolest sports cars, and projected a 'fast lane' cynical attitude about life. Edward Zwick's About Last Night... (1986), an adaptation of David Mamet's one-act play Sexual Perversity in Chicago, starred Rob Lowe and Demi Moore as a singles scene couple who had to confront their real feelings after a one-night stand.
John Hughes' 'Teen' Films:
(see also Entertainment Weekly's 50 Best High School Movies)
In the 1980s, the most consistent output, and the most watchable and solid films of the sub-genre of youth-oriented teen comedies starring teenage characters (who were experiencing adolescent angst) were from writer/director and producer John Hughes. Hughes had first made himself known in the early 80s by co-writing two memorable comedies:
the cross-country road trip family saga National Lampoon's Vacation (1983) (with Chevy Chase and Beverly D'Angelo), with memorable segments including the visit to simple-minded hick cousins, deceased Aunt Edna strapped to the station-wagon roof, and bad luck upon arriving at LA's amusement park Walley World
the fatherhood tale Mr. Mom (1983) with Michael Keaton in a reversal of gender roles
He was responsible for a number of comedic, "teen"-oriented coming-of-age or 'rites of passage' films directed toward a youth audience, frequently emphasizing the tensions of the adolescent and post-adolescent years, the problems of growing up, the high school years, aspects of peer pressure, teen parties, money, rebellion, friendship, romantic relationships among teens, and family strains. Hughes later admitted: "One of the great wonders of that age is that your emotions are so open and raw. That's why I stuck around that genre for so long."
His most well-used actors/actresses included: Molly Ringwald, Anthony Michael-Hall, John Candy, Macaulay Culkin, and Chevy Chase. [A so-called "Molly Trilogy" of films included three Ringwald favorites: Sixteen Candles (1984), The Breakfast Club (1985) and Pretty in Pink (1986).] Hughes directed the following popular films, after signing a three-year, $30 million deal:
Hughes' first directed film was the attractive and realistic Sixteen Candles (1984) - a Reagan-era Cinderella story with Molly Ringwald (in a star-making role) as sensitive, lovelorn teen Samantha "Sam" Baker (with a clueless family) awkwardly turning sixteen and having a horrible birthday, upstaged by her older sister's wedding week. Geeky freshman (Anthony Michael Hall) - to satisfy a bet - incredulously asked Sam: "Can I borrow your underpants for 10 minutes?"
the dialogue-rich, dark and provocative R-rated The Breakfast Club (1985) told a story of five disparate, crudely-cliched and stereotyped high-school teens forced to be together (a teen version of an encounter group) during a Saturday detention, and struggling with issues of conformity and parental values. The main players were Emilio Estevez as the jock, Ally Sheedy as the off-beat weirdo (and "compulsive liar"), Anthony Michael Hall as the geek, Judd Nelson as the delinquent, and Molly Ringwald as the pretty and rich socialite. Its generational anthem was "Don't You (Forget About Me)" by Simple Minds.
Weird Science (1985) was a wacky, hormonal-fantasy comedy about two dweeby nerds (Anthony Michael Hall and Ilan Mitchell-Smith) who created the Ultimate sexy woman (Kelly LeBrock) through their computer - and ideas from the Frankenstein (1931) film.
the entertaining Ferris Bueller's Day Off (1986) defined a teenage rebel of the 80s - a risk-taking, spirited high-school prankster and malingerer Ferris (Matthew Broderick), and his friend (Mia Sara), who ditched school (and Principal Rooney) for a day in downtown Chicago; filled with tips on how to fake a high fever, break into a computer system, and crash a parade. Ferris reminded everyone: "Life moves pretty fast. If you don't stop and look around once in a while, you could miss it."
Hughes also produced and wrote the script for two other teen-oriented romances:
director Howard Deutch's Pretty in Pink (1986) examined teenage cliques and class status, with Molly Ringwald as an under-appreciated, outcast lower-class girl from the wrong side of the tracks. She faced growing pains and teenage angst over her love for a rich kid (Andrew McCarthy), while adored by her eccentric, doting childhood sweetheart (Jon Cryer).
Some Kind of Wonderful (1987), another awkward romance (about class struggle) about a sensitive teenaged boy's (Eric Stoltz) romantic attraction to hot teen queen (co-star Lea Thompson) while ignoring his faithful, long-suffering, tom-boy companion and true friend (Mary Stuart Masterson).
Following his success with teen-angst romances, Hughes' next films were the adult comedy Planes, Trains & Automobiles (1987) about an agonizing cross-country trip on Thanksgiving experienced by an uptight father/marketing executive (Steve Martin) and a lunkish shower-ring salesman (John Candy), and the less-satisfying adult-oriented dramedy She's Having a Baby (1988) with Kevin Bacon and Elizabeth McGovern as yuppie newlyweds on the verge of parenthood. The film had an influence on the forthcoming entire sub-genre of baby films. Hughes' Uncle Buck (1989) was another coming-of-age comedy about a crass, slobbish bachelor-uncle (John Candy) forced to serve as a long-term babysitter for his brother's children (a rebellious teenaged daughter named Tia and two younger kids, Miles, and Maizy).
[Hughes would strike gold in the 90s with the commercial giant Home Alone (1990) a slapstick kid-friendly comedy and its two sequels - Home Alone 2: Lost in New York (1992) and Home Alone 3 (1997), and with kid-oriented Dennis the Menace (1993) and the funny Baby's Day Out (1994).]
Other Teen-Oriented Films:
Paul Brickman's satirically funny Risky Business (1983) (with its oft-quoted line: "What the f--k?") commented on the decade's materialistic greed by portraying a conservative teen named Joel Goodson (Tom Cruise in an early starring role) - noted for dancing in his underwear to "Old Time Rock & Roll" - who held an outrageous party in his house, and set up a profitable hooker-business (with call-girl Rebecca DeMornay) as a school project during his parents' absence. And director Susan Seidelman's successfully-marketed feminist screwball comedy Desperately Seeking Susan (1985) starred Rosanna Arquette and pop singer Madonna (in her film debut). It was set in the hip, 80's New Wave culture of New York's Lower East Village SoHo, and helped popularize the chart-topping song "Into the Groove." One of the best teen movies ever made was Rob Reiner's second feature film -- the romantic comedy The Sure Thing (1985), with 17 year-old John Cusack (as Walter "Gib" Gibson) searching for romance with beautiful, white-bikinied and California-tanned Nicollette Sheridan ("The Sure Thing") while finding real love with prim student Alison Bradbury (Daphne Zuniga) on the roof-top by film's end.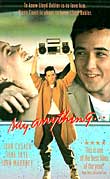 One of the best teen romance/comedies of the decade was Cameron Crowe's directorial debut film Say Anything... (1989) with John Cusack (as underachieving, trench-coated Lloyd Dobler) and Ione Skye (as beautiful valedictorian Diane Court) in outstanding roles as high-school graduates and unlikely lovers - the film was most noted for a boom-box blaring Peter Gabriel that he held above his head to serenade his girlfriend. Paul Schrader's naturalistic, melodramatic Light of Day (1987) starred Michael J. Fox and real-life rock star Joan Jett (in her debut film) as brother and sister (in a dysfunctional family headed by Gena Rowlands), who played rock musicians in a local Cleveland band named the Barbusters.
Other films examined disenfranchised, alienated and coming-of-age youth: Tim Hunter's disturbing River's Edge (1986) with many future stars (Keanu Reeves, Crispin Glover, etc.) - revolved around the aftermath of an atrocious teen murder of a suburban high-schooler's girlfriend - all inspired/based on a 1981 murder case. Also, Rob Reiner's sentimental Stand By Me (1986) was about the rites-of-passage of four small-town Maine boys (including River Phoenix, who died of a drug overdose in 1993 at the age of 23) in the 1950s while looking for the corpse of a dead kid. The horror/comedy The Lost Boys (1987) was a teen vampire film with a tagline appreciated by teens: "Sleep all day. Party all night. Never grow old. Never die. It's fun to be a vampire." An offbeat, black-comedy satire on competitive teen social popularity in a modern high school was found in the darkly funny Heathers (1989) starring Winona Ryder (as Veronica) and Christian Slater (as JD). The film covered such topics as teen suicide, murder, and school bombings.
At least two films were related to books (dubbed 'yuppie fiction' or 'MTV novels') published by young authors about the 1980s cocaine-drug culture. Marek Kanievska's Less Than Zero (1987), set in Beverly Hills with college-aged teens (Andrew McCarthy, Robert Downey, Jr., and Jamie Gertz), illustrated both the bright side of the materialistic business world and the downside of failure and drug use. Director James Bridges' Bright Lights, Big City (1988), based on Jay McInerney's screenplay adaptation of his own 1984 tragi-comedy novel (his first) of the same name, starred Michael J. Fox as an aspiring writer and Manhattan yuppie whose life was brought down by drugs, alcohol, and nightlife. It co-starred Kiefer Sutherland (his hard-partying friend), Phoebe Cates (his model wife) and Swoosie Kurtz. The novel was named after the early 60s song Bright Lights, Big City, originally sung by blues singer Jimmy Reed.
James Bond Films:
Sequels featuring the 007 secret agent continued to thrive in the 80s:
For Your Eyes Only (1981) - the 12th official James Bond film, starring Roger Moore (in his best Bond film appearance) as James Bond; also with Carole Bouquet, Lynn-Holly Johnson and Cassandra Harris (Mrs. Pierce Brosnan) as the 'Bond Girls', and Julian Glover as the villain, Kristatos; directed by John Glen (his first Bond film)


Octopussy (1983) - the 13th Bond sequel, also with Roger Moore, and with Maud Adams (as Octopussy) and Kristina Wayborn as the 'Bond Girls', and Louis Jourdan as the villain, Kamal; directed by John Glen
[Maud Adams was the only 'Bond Girl' to appear in two Bond films (both Roger Moore films) as different characters: her other film was as Andrea Anders in The Man With the Golden Gun (1974)]
[The main title song for Octopussy (1983), All Time High (sung by Rita Coolidge), was the only Bond title song -- with lyrics -- that didn't mention the film's title in its lyrics, until Casino Royale (2006) with its theme song You Know My Name (written and performed by Chris Cornell). The theme songs for Dr. No (1962) and On Her Majesty's Secret Service (1969) were instrumental, therefore they had no mention of the titles in their lyrics.]


Never Say Never Again (1983) - not considered one of the official Bond films; considered a remake of Thunderball; with Sean Connery triumphantly returning as James Bond after a twelve year absence; with Klaus Maria Brandauer as the villainous Largo, and 'Bond Girls' Barbara Carrera and Kim Basinger; directed by Irvin Kershner


A View to A Kill (1985) - the 14th in the series with Roger Moore as Bond, also with Tanya Roberts as the 'Bond Girl' and Christopher Walken as the villain (Max Zorin), with Grace Jones as henchwoman May Day. Also starring Fiona Fullerton, Patrick Macnee and Alison Doody. This was Roger Moore's last appearance as Bond, his seventh appearance; directed by John Glen


The Living Daylights (1987), the 15th official Bond film in the 25th year of the series; action-packed with the first appearance of Timothy Dalton as Bond (the agent's fourth incarnation); also Maryam D'Abo as the 'Bond Girl' and Joe Don Baker as the villain, Brad Whitaker; directed by John Glen


Licence to Kill (1989) - the 16th official Bond film, again with Dalton (his 2nd and final appearance), and Carey Lowell and Talisa Soto as the 'Bond Girls', and Robert Davi as the villain, Sanchez; directed by John Glen (his fifth Bond film)
[NOTE: It would be 6 more years until the next installment (the 17th), GoldenEye (1995), marked by the first appearance of Pierce Brosnan as the British super-agent]
Endless Sequels: The Beginning of a Trend
Throughout cinematic history, there has been a tradition of re-doing films in series or installments with familiar, recurring sets of performers and plot routines), such as the repeated appearance of Charlie Chaplin's "Little Tramp" character in numerous films, serials such as The Perils of Pauline (1914) with a returning heroine, the Universal horror film recycles (i.e., Frankenstein, Dracula, The Mummy, etc.), The Thin Man (1934) mystery-detective series, the many James Bond and Tarzan films, and Mickey Rooney's Andy Hardy movies, to name just a few.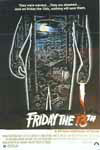 Before 1980, there were very few sequels - maybe two or three each year. Beginning in the early 80s (and from then on), however, a mind-staggering, steady stream of mindless, crude sequels were produced each year, usually inferior to their originals - with some notable exceptions. Remakes and sequels, with the 'same story, different title' principle, were designed to defray the monetary risks of Hollywood film-making. Most often, these sequels were hastily-made, inferior knockoffs made by lesser film-makers and without key cast members (wisely reluctant to reappear) from the original. Predictably, the repetitive carbon copies usually resulted in dwindling box-office returns.
John Carpenter's highly-successful, low-budget slasher Halloween (1978) sparked a revival of horror films in the 80s and forever since. Other film-makers attempted to cash in on its success at the box-office with similar story-lines. A large percentage of the films in the 80s (and later) were nightmarish slasher films (e.g., the Evil Dead series, the very successful Friday the 13th franchise and series, and A Nightmare on Elm Street films (the first one by director Wes Craven) with a new villain - the terrifying burn victim Freddy Krueger (Robert Englund) with knives on his fingers who appeared in bad dreams as a child molester). [There was also a 44-episode TV anthology in the late 80s and early 90s of Freddy Krueger films made-for-TV films, including Freddy's Nightmares: Dreams That Kill (1990) and Freddy's Nightmares: Freddy's Tricks and Treats (1990)]

Film History of the 1980s
Part 1, Part 2, Part 3, Part 4, Part 5, Part 6
---



---