A View to a Kill (1985)
d. John Glen, 131 minutes
Opening Credits, Title Sequence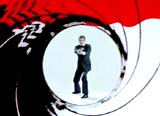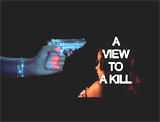 Gun-barrel Sequence: Designed by Maurice Binder
Main Title Sequence: Designed by Maurice Binder
Title Song: "A View to a Kill" (sung by Duran Duran)
Film Plot Summary
In the pre-title credits sequence set in snow-bound Siberia in Russia, Bond (Roger Moore) uncovered the buried corpse of Agent 003, using a miniature Geiger counter (microchip tracker) that detected a microchip hidden in a heart-shaped picture locket (portraying his family?) around his neck. After retrieving the microchip, he fled on skis - battling Russian ski troops from the Siberian research center. He hijacked one of their snowmobiles until it was blown up by a helicopter, and then continued downhill on a modified snowboard (to the accompaniment of the Beach Boys' 'California Girls'). He used his flare gun to send a blinding explosive into a pursuing helicopter's cabin, causing it to crash into an ice floe (# 1-2 deaths, # 1-2 Bond kills). Afterwards, he reached a British mini-submarine disguised as an iceberg, piloted by pretty agent Kimberley Jones (Mary Stavin). As the submarine surged ahead on auto-pilot, she was thrown into his arms on the luxurious sofa, where he unzipped the front of her jumpsuit as she exclaimed: "Oh, Commander Bond." He charmingly replied: "Call me James. It's five days to Alaska" as they kissed (# 1 tryst).
About one week later, Bond returned to London's MI6 headquarters for a briefing with M (Robert Brown) and the Minister of Defence Frederick Gray (Geoffrey Keen), but first engaged in brief "customary pleasantries" in the outer office with secretary Miss Moneypenny (Lois Maxwell), dressed in a pink spring outfit with wide-brimmed hat. "Q" (Desmond Llewelyn) was demonstrating a prototype of a "highly sophisticated surveillance machine" - a dog-like robot (with a retractable neck and video cameras for eyes) called 'Snooper'. Q also discussed a new silicon integrated circuit (IC microchip), specially-developed by one of the UK's private defense contractors to be immune to damage from intense magnetic pulses generated by a nuclear explosion. At present, if a nuclear blast was detonated in space, it would render "absolutely useless" everything with a microchip embedded in it, including the UK's defense systems (M: "We'd be paralyzed, at the Russian's mercy"). The indestructible microchip was identical to the one Bond retrieved from the 003 agent, also identified as a Zorin Industries product.
Six months earlier, the Anglo-French combine (Zorin Industries) had acquired the research company, before a suspected leak occurred. The Minister of Defence was disturbed by the finding: "The KGB must have a pipeline into that research company," but balked at Bond's suggestion that the millionaire French industrialist Max Zorin who headed the company was associated with the KGB - "A staunch anti-Communist with influential friends in the government." M had already initiated an investigation into a possible security leak in Zorin Industries, involving the Russians, and Bond was assigned to conduct "discreet" inquiries.
M, "Q," Miss Moneypenny, and Bond attended the Royal Ascot races, where they observed the blonde-haired, multi-lingual Max Zorin (Christopher Walken) - a racehorse breeder and owner of one of the competing horses (Pegasus), who had made a second forture in electronics and high-tech. He was accompanied by a deadly, martial arts-trained Amazonian bodyguard named May Day (Grace Jones). Bond met Sir Godfrey Tibbett (Patrick Macnee), a horse expert attached to the British Secret Service, who suspected that cheating Zorin's miracle-winning horse Pegasus (with an inferior bloodline) was in a fixed race, especially during the "fast last furlough." The French jockey club had hired a detective named Aubergine to look into it, and Bond planned to visit Paris, France, to speak to him. In a fancy restaurant mid-way up the Eiffel Tower, Bond met with French agent Achilles Aubergine (Jean Rougerie) during lunch, where they were entertained by Dominique and her "enchanted papillons" - paper butterflies controlled by off-stage black-garbed puppeteers with fishing rods. As Aubergine told Bond about Zorin's upcoming annual thoroughbred horse sales event at his stud-ranch, he was killed by one of the butterflies equipped with a deadly-poisoned fishing lure-hook that struck him in the neck (# 3 death).
Bond pursued the black-clothed assassin up stairs inside the tower, where the killer made a spectacular swan-dive and parachuted away to a Seine River boat conducting a wedding reception onboard. Bond took up pursuit in a commandeered taxi, beginning a destructive, high-speed chase sequence through the streets of Paris, during which he drove the car over a bus roof, then sheared off his own car's roof and back-half. He took a leap from a bridge onto the boat, but the killer (revealed as May Day) had already jumped onto an awaiting speedboat (piloted by Zorin) and escaped. Afterwards, M reprimanded Bond for his reckless pursuit that resulted in paying damages of $6 million francs.
Posing as rich dilettante horse dealer James St. John Smythe (pronounced: "sin-jin-smythe"), and with Tibbett as his chauffeur, Bond was driven in a vintage 1962 Rolls-Royce to the horse sale at Zorin's extravagant Chantilly, France chateau. At the entrance, they were greeted by Asian Pan-Ho (Papillon Soo Soo) and security head Scarpine (Patrick Bauchau), and Bond was escorted to the previews being conducted at the stables. He expressed an interest in looking at Pegasus, who was to be shown last and expected to bring a sale of $3 million. Snooping around in another part of the stables, Tibbett found that Pegasus was missing. Bond was then driven to his quarters in the chateau, and led by Jenny Flex (Alison Doody) to his room. Bond bantered with her, with sexual overtones: "I take it you spend quite a lot of time in the saddle." She replied: "Yes, I love an early morning ride." Bond responded: "I'm an early riser myself." In the room, Tibbett (continually berated as a manservant) and Bond checked for bugs and listening devices (with a Philips shaver bug detector), and then set up a tape recorder playback device next to a lamp-bug with their recorded voices, so they could retreat undetected to the balcony. There, they noticed the arrival of a helicopter and watched as Zorin greeted a gorgeous blonde woman -- Bond joked: "She'd certainly bear closer inspection."
At a formal garden reception at 6 pm for the horse buyers, Bond attempted to pursue Zorin and the mysterious woman into a private office, but was stopped by May Day. With polarizing sunglasses, Bond was able to see through the blacked-out windows of Zorin's office, where he watched as Zorin suspiciously wrote out a check for his pretty visitor - Miss Stacey Sutton (Tanya Roberts). When they left, Bond used a credit-card sized lock-pick opener to enter the office, where he broke into Zorin's desk and used a mini-copier roll-on device on Zorin's checkbook to produce a facsimile imprint of a $5 million dollar check, made payable to S. Sutton. While Bond mingled outdoors with the guests, he used his micro-camera ring to photograph two of Zorin's associates: white-haired horse-breeding consultant Dr. Carl Mortner (Willoughby Gray) and a rich San Francisco oilman-geologist named Bob Conley (Manning Redwood). Mortner expressed how his theories on selective breeding and conditioning were equally applicable to horses and human beings.
And then Bond met Zorin himself, who was put off and excused himself when Bond asked about the sport of fishing ("fly-casting" - the method of Aubergine's death), implicating him in the murder. With champagne in hand, Bond introduced himself to Stacey Sutton, first asking: "Are you buying or selling?" She was slightly insulted, not realizing he was referring to horses, something she wasn't interested in. Zorin noticed and summoned May Day to break up their conversation: "Get her away from him." As Stacey was escorted away from Bond (before he learned her name), May Day added: "Someone will take care of you." Bond replied: "Oh, you'll see to that personally, will you?"
That evening, Tibbett and Bond snooped around Pegasus' stable and discovered it had a secret switch to a built-in elevator in the stall - they descended into a high-tech basement laboratory where Pegasus was located. One of Pegasus' legs had evidence of a recent surgical operation. With a stethoscope, Bond safecracked a large vault, where he found evidence that Dr. Mortner implanted a microchip in the favored race horse to assure a victory. The microchip was programmed to control an injection of "additional natural horse steroids" to overcome race fatigue. The injection by needle of a performance-enhancing drug was activated or triggered by a remote-control transmitter small enough to hide in the tip of a jockey's whip. Two of Zorin's security guards interrupted their search (after they found the elevator in a lowered position), and as the agents hurriedly left, Tibbett mistakenly replaced the microchip in the wrong tube holder. In Zorin's warehouse (an automated packing plant), the agents also found microchips being hoarded (even though there was a world surplus). When they were confronted by the two guards, Bond disposed of both of them on a moving conveyor belt ("It's all wrapped up"), packing them up with other crates.
In another area of Zorin's estate, the industrialist was engaged in a martial-arts contest with May Day, that ended in in a rough love-making session. They were disturbed by a call from Scarpine about intruders in the warehouse. Bond managed to race back to his room before the chateau drawbridge was raised. During a search of the chateau, May Day recalled to Zorin that Bond was the man at the Eiffel Tower. She found Bond waiting for her naked under the sheets in her bedroom. Upon the urged assent of Zorin, she slipped off her workout bathrobe, revealing her nakedness, and climbed into bed with 007. (Bond: "May Day, where have you been? I've been waiting for you, to 'take care of me personally'"). He noted: "I see you're a woman of very few words." May Day responded: "What's there to say?" She was the first sexually aggressive Bond girl, evidenced by her reversal of positions - she climbed on top. (# 2 tryst) Meanwhile, Dr. Mortner realized that Bond had opened the safe and misplaced one of the microchips.
Bond was brought to Zorin's study the next morning (under the pretense of searching thoroughbred bloodlines in a database), where he used his desktop computer (and video camera) to discover Bond's true identity. He seemed amused when he read the results: 'British Secret Agent, Double-O Seven, Usually Armed, Extremely Dangerous, James Bond, British Secret Service, Licensed to Kill'. Zorin invited Bond to accompany him on his morning ride to try out one of his possible purchases - a spirited horse named Inferno. Bond also instructed Tibbett to go to town and contact M to have a trace put on the Sutton check. When Tibbett took the Rolls-Royce for a car-wash (tailed by Jenny Flex and Pan-Ho), he was killed by a hidden May Day in the back seat - she strangled or garrotted him from behind (# 4 death). Bond's morning ride ended at Zorin's private riding track, where sportsman Zorin offered Bond a proposition - if he could remain on the steeplechase course in a race against other riders, he could keep the "Ithacus colt gratis." However, the race was fixed - the jumps over rails and water were electronically raised or lengthened, and the crop-wielding stable boys attempted to knock Bond off his horse. To top it off, Zorin used the remote-control transmitter on his whip/cane to send Bond's horse bolting out of control - it bounded from the course-track into the woods, with other riders in pursuit. There, Bond spotted the Rolls Royce returning from town - after leaping onboard, he saw it was driven by gun-wielding May Day, with Tibbett slumped dead in the back-seat. Zorin approached and revealed that he knew Bond's identity ("You lost, 007"). The agent was knocked unconscious, and shoved in the back-seat with Tibbett - and the car was submerged in a nearby remote lake. Bond revived and survived by escaping from the car and remaining underwater by breathing compressed air from the car's tires.
Zorin met with KGB colleague General Gogol (Walter Gotell) at a deserted racetrack - the Russian official was upset over Bond's elimination without prior approval: "Reprisals might jeopardize ongoing operations." Gogol was also disturbed by Zorin's racetrack dealings and other "unauthorized commercial ventures." Zorin disagreed, and was upset over British infiltration into his Siberian operation. He claimed he had made new associations and resigned from the KGB: "I no longer consider myself a KGB agent." Gogol warned threateningly: "You will come back to us, comrade. No one ever leaves the KGB."
Then, Zorin met with a group of investors in his ultra-modern conference center, where he described his overall objective -- the control of the distribution of microchips, but one obstacle remained -- Silicon Valley (an area south of San Francisco) already monopolized 80% of the world's microchip market. He demonstrated a full-scale model of the area - and then asserted that he wished to end SV's domination through an initiative dubbed Project Main Strike. The associates objected to his "outrageous terms" including demands for $100 million from each of them, and half the net income in return for participation in Project Main Strike. One who vehemently opposed the plan was escorted out by May Day and ejected down stairs (converted into a slide) into mid-air (# 5 death) (Zorin: "Does anybody else want to drop out?") -- the meeting was occurring on Zorin's Skyship 6000, bound for San Francisco.
At Fisherman's Wharf in the city, Bond met with CIA agent Chuck Lee (David), posing as a fish salesman. He learned that Zorin had also arrived there. Lee described two of Zorin's associates from Bond's photographs. First, Conley, a geologist who ran Zorin's East Bay oil reclamation project. And second, monocled scientist Dr. Mortner who was really Hans Glaub, a Nazi Germany pioneer in the development of steroids. During WWII, he experimented on pregnant women in the concentration camps, to enhance the intelligence of their children. Most aborted although a few of the births were of children with phenomenal IQs - one negative side-effect was that they were also psychotic. Glaub avoided the War Crimes Commission when the Russians grabbed him at the end of the war and set him up in a laboratory to develop steroids for their athletes. Zorin was conceivably one of the "steroid kids" - a freakish offspring of the Nazi eugenics experimentation, who regarded Mortner as a 'father figure.' Since then, Zorin had become a KGB agent set up as an internationally-successful businessman, while exporting high-security technology secrets to his Soviet colleagues. [However, he had dropped out to pursue his own plan for world domination.] Bond also spoke to Mr. O'Rourke, a local fisherman, who described how the crab-fishing was ruined near Zorin's heavily-guarded oil-pumping station in the East Bay.
That evening, Bond donned scuba-gear to investigate Zorin's oil-pumping station, not knowing that testing of new equipment for its efficiency was about to occur as preparation for Main Strike (in three day's time). As Bond swam into one of the major intake pump pipes, he was almost killed when the increasing pressure sucked him into the pump's rotating propeller blades. To escape, he jammed his scuba air-tank into the propeller and barely survived reaching the surface. He noticed other Zorin divers exploring the pipe, and watched as May Day caught one of two other suspected Russian KGB agent divers planting an explosive on the pump and tape-recording Zorin's conversation in the pumping station control room. The bomb was diffused and one of the Russian agents was blamed for the pump's failure - he was eliminated when Zorin mercilessly ordered him to be fed into the blades (# 6 death).
Bond pursued after the second diver who emerged on shore with a tape of Zorin's conversation - he tackled her and realized she was an old Russian adversary named Pola Ivanova (Fiona Fullerton). Together, they drove in her Chevrolet Corvette to the Nippon Relaxation Spa, where they shared a steamy, hot soaking in a soapy jacuzzi tub. As he massaged her neck, she sighed: "That feels wonderful." He replied: "Feels even better from where I'm sitting. Would you like it harder (or hotter)?" They reminisced about their previous erotic encounter in her dressing room after her London performance for the Bolshoi. When he switched the music to classical and she turned up the bubbles, she exclaimed: "The bubbles tickle my -- Tchaikovsky! Ah, detente can be beautiful." He responded: "This is no time to be discussing politics." (# 3 tryst) Afterwards, as Bond showered, she took the cassette tape recording she had made of Zorin's conversation, and snuck away to an awaiting car driven by General Gogol. She was unaware that Bond had switched tapes on her with one of Japanese music - when Bond listened to the real tape, it revealed a puzzling operation titled Main Strike that was to occur in three days - a "Silicon Valley operation."
Soon after at San Francisco City Hall, Bond met with the head of the state of California's Divisions of Oil and Mines, W.G. Howe (Daniel Benzali) - he posed as reporter James Stock for the London Financial Times. He asked why Zorin was pumping seawater into his pipeline rather than pumping oil out. He was told it was usual practice to pump sea-water in to test the integrity of an oil pipeline, and to determine leaks. As Bond left the office, he noticed as Stacey Sutton came up to Howe with the results of some porosity tests. He trailed after her, as she drove an official Department of Conservation (Mines and Geology) vehicle (Jeep Cherokee) to a sprawling mansion on the outskirts of the city near the San Andreas Lake Reservoir. He broke into a window with a lock opener, and was soon confronted by Stacey holding a shotgun on him in an upstairs bedroom. She accused him of being "just another Zorin stooge," and tried to call police, but discovered the phone lines severed. He convinced her that he was trustworthy when he grabbed her shotgun (loaded with ineffectual rock salt) and fought off a group of Zorin's thugs who were in the process of assaulting her home.
She introduced herself - and revealed she had information to share with him about Zorin. Bond retained his posing as newspaper reporter James Stock. Over dinner prepared by Bond, she described how she (as an only child) was heir to her grandfather's California mining operation (Sutton Oil), taken over by Zorin in a rigged proxy fight. As a state geologist working in City Hall, she had fought against Zorin, although the court lawsuit had almost bankrupted her - taking all of her cash, furniture, and more. Zorin's offer of $5 million for her shares of Sutton Oil was "ten times more than they're worth." The offer was essentially to buy her silence: "Just drop the lawsuit and shut my mouth" - and she ripped up the check: "I'd sell everything and live in a tent before I'd give up." After Bond reconnected the phone, he tucked her into bed and then fell asleep in a chair keeping watch over her. The next morning as she brought him breakfast in a skimpy nightie, they both felt a minor seismic earth tremor (2.5 Richter) with an epicenter near Zorin's oil fields. When Bond mentioned Zorin's pumping activities with seawater, Stacey was shocked about the dangerous activity: "Those wells are in the Hayward Fault...That's incredibly dangerous." When she explained Zorin's plan to Howe and demanded that the pumping stop, she was fired.
Bond teamed up with Stacey to speak to Chuck Lee at her mansion, who advised that they had to first know Zorin's specific intentions before he could speak to his superiors. Stacey asserted: "Flooding a fault could cause a major earthquake. But what would Zorin have to gain?" If they knew how many of Zorin's wells were involved, by investigating file records in City Hall, they would know if Silicon Valley would be affected. When Lee left the mansion, he was murdered by May Day (# 7 death, off-screen, body found later in Chinatown). In the City Hall file room, Bond and Stacey came upon a map pinpointing Main Strike, an abandoned silver mine near the San Andreas fault. They were surprised at gunpoint by Zorin and May Day, and then led to Howe's office as hostages. Using Bond's gun, Zorin shot Howe dead (# 8 death) to frame Bond - making it look like revenge for Stacey's discharge. He then had the building set on fire with gasoline and a few Molotov cocktails - abandoning Bond and Stacey who were trapped inside a stalled elevator. To escape, Bond climbed up through the elevator's service hatch and lifted Stacey to safety within the fiery shaft with an extended fire hose, after saving her from the elevator crashing into the basement. When they reached the street level after climbing down a fire-ladder, the police captain tried to arrest them - believing that Bond (identifying himself as James Bond from the British Secret Service, to Stacey's shock) was a suspect in Howe's murder, but the two escaped in a stolen fire-truck. After a number of crashes and collisions, and Bond's acrobatic escapades on an unlocked, swinging ladder atop the vehicle, they successfully eluded pursuit by daringly driving and sailing over a partially-raised drawbridge.
The next day, Bond and Stacey arrived (by fire-truck) at the 'abandoned' Main Strike mine to investigate Zorin's mining and drilling operations, where they noticed the arrival of tons of explosives. Bond commandeered one of the supply trucks carrying explosives to gain entry, after which the two disguised themselves as mine workers. They gained access to the mine shaft itself by concealing themselves under a tarp in one of the transport rail-carts (holding bags of explosives). The massive operation was being supervised by Zorin himself, along with May Day. He had already pumped seawater from his oil-wells into the Hayward Fault. A geological expert, Stacey (in a control room with a map of Silicon Valley) surmised with Bond how Zorin planned to detonate explosives under California's huge lakes (such as San Andreas Lake) near California's geological fault lines (such as the San Andreas Fault), in order to induce a flood. At the mine site directly beneath them, he was also scheming to trigger a massive bomb (set to go off in 3600 seconds, or one hour) to break a "key geological lock" that usually kept the two faults from moving at once. He would create a "double earthquake" - moving both fault lines at the same time and submerging all of Silicon Valley under water. The catastrophe was timed to occur at the peak of the spring tide, within the hour.
The two were again discovered, forcing them to escape through the control room's window. They were pursued by May Day with her female henchwomen Pan-Ho and Jenny Flex through the interior of the mine. Zorin betrayed them by sealing the entrance to the mine and by detonating the first set of bombs readied to flood the mine (and the fault lines) by emptying the San Andreas Lake above them - the small explosion drowned Pan-Ho and Jenny Flex (# 9-10 deaths) and killed all of the mine workers (number of deaths unknown), despite Conley's protestations (before he was knocked out by Scarpine). From a vantage point of safety, Zorin and Scarpine gunned down the remainder of the fleeing workers who survived the tidal wave (number of deaths unknown). May Day had followed Bond and Stacey to safety up a rickety ladder within a ventilation shaft, but Stacey was the only one to reach the surface. Bond and May Day were plunged downward and caught in the rushing, surging water.
When the waters began to subside, Bond and May Day found themselves together. She gave up her allegiance to Zorin after being double-crossed ("And I thought that creep loved me"). They came upon the bomb set to detonate and disrupt the "geological lock" that would cause both faults to rupture and produce massive earthquakes and flooding. Meanwhile, Zorin, Scarpine, and Dr. Mortner fled in a smaller, inflatable airship and navigated to Silicon Valley, where Zorin predicted a major natural disaster: "The greatest cataclysm in history." May Day and Bond attempted to move the booby-trapped bomb to another location away from the faults and from the pile of explosives it was set on. After May Day lifted the heavy platform rig holding the bomb, the device was shifted to one of the hand rail-carts that they began to push from the mine. When the handbrake malfunctioned, May Day chose to remain on the rail-cart, holding the brake off. Although Bond cried out for her to jump away, she shouted to Bond: "Get Zorin for me" before dying instantly (# 11 death) when the bomb exploded outside the mine - the disaster was averted. Meanwhile, Zorin's airship had returned to the mine, and he witnessed how his plan had been foiled. He noticed Stacey in the hills above the mine, who was distracted when overjoyed that Bond was alive, and Zorin snatched her as a hostage.
Bond clung to the airship's mooring rope as the airship headed for the Golden Gate Bridge. Zorin tried in vain to dislodge Bond by ramming him into city buildings or smashing him against the girder supports of the bridge. To immobilize the airship to the bridge, Bond lashed the rope around the cable supports. As Stacey attacked Zorin in the airship's gondola, Zorin lost control and the airship crashed into the bridge, knocking Dr. Mortner unconscious. She also hit Scarpine over the head with a fire extinguisher to knock him out. When assaulted by Zorin wielding a fire axe, Stacey lept onto the bridge and almost tumbled off. Bond came to her rescue, saved her from falling, and then struggled against Zorin. After a violent fight, the madman lost his grip and fell to his death in the Bay (# 12 death, # 3 Bond kill). Dr. Mortner revived and was holding a lit bundle of dynamite, when Bond severed the mooring rope with the axe to send the airship away and jolt Mortner back into the gondola where he dropped the dynamite. Both Scarpine and Mortner perished when the airship was destroyed by the enormous explosion (# 13-14 deaths, # 4-5 Bond kills).
In London, General Gogol offered M an Order of Lenin medal to present to "Comrade Bond" - the first time the honor was ever awarded to a non-Soviet citizen. The Russian was pleased, surprisingly, that Bond had saved Silicon Valley because, as he put it, Soviet technology was dependent upon stolen American secrets: "Where would Russian research be without it?" But Commander Bond was missing and couldn't be thanked personally. In the shower in her mansion's bathroom, both Bond and Stacey were interrupted by "Q's" S.N.O.O.P.E.R. surveillance robot monitored from a nearby trailer. When "Q" was asked, "What's the position?", he replied: "007 alive...Just cleaning up a few details!" Bond threw a towel over the robot as Stacey sighed: "Oh, James" (# 4 tryst) and they sank below the shower curtain together.
Film Notables (Awards, Facts, etc.)
The 14th film in the series. The third Bond film directed by John Glen.
The last of seven films (over twelve years) with aging 57 year-old Roger Moore as James Bond. In reality, Moore was older than the mother of his co-star Tanya Roberts. It was also the last film with Lois Maxwell in the role of Miss Moneypenny. Dolph Lundgren, who was dating Grace Jones at the time of filming, made his film debut in this movie in the role of Gogol's bodyguard.
One of the least-liked of the films in the series, accused of being uninspired and tired. It was particularly criticized for playing the Beach Boys' 'California Girls' on the soundtrack during a snow-surfing pursuit-chase in the pre-title credits sequence.
The film's title was taken from Ian Fleming's short story From a View to a Kill. It was the third Bond film to have a completely original screenplay.
The film's theme song, performed by Duran Duran, was the only Bond theme music to top the Billboard Hot 100.
Bond villain Christopher Walken was the first actor to star in a Bond movie after winning an Academy Award (Best Supporting Actor for The Deer Hunter (1978)). [Note: The next performer to duplicate the feat was Halle Berry in Die Another Day (2002) after winning Best Actress for Monster's Ball (2001).]
With a production budget of $35 million, and gross revenue of $50 million (domestic) and $152 million (worldwide).
Set-pieces: the snowy pursuit in Russian Siberia, the Eiffel Tower parachute escape to a Seine River boat and thecar chase through Paris, the steeplechase horse-race, the trapped elevator scene during the burning of SF City Hall and the slapstick fire-engine escape, and the final hand-to-hand battle on the airship-blimp and atop the Golden Gate Bridge.
Bond Villains: Max Zorin (Christopher Walken), May Day (Grace Jones), Pan Ho (Papillon Soo Soo), Scarpine (Patrick Bauchau), Jenny Flex (Alison Doody), Dr. Carl Mortner (Willoughby Gray), Bob Conley (Manning Redwood), W.G. Howe (Daniel Benzali)
Bond Girls: Kimberley Jones (Mary Stavin), Stacey Sutton (Tanya Roberts), Pola Ivanova (Fiona Fullerton)
Number of Love-Making Encounters: 4
Film Locales: Siberia, Russia, London and Ascot, England, Paris, France, Zorin's chateau in France (Chantilly), San Francisco and surrounding Bay Area in California
Gadgets: miniature Geiger counter (microchip tracker), remotely-controlled prototype "surveillance machine" or dog-like robot called 'Snooper', "Q's" micro-comparator, Philips electric shaver bug detector, tape recorder, polarizing glare-eliminating sunglasses (that can see through one-way glass), credit card-sized (Sharper Image) lock pick/opener, miniature roll-on copier-reading device (used to scan Louis Vuitton Cheque-Book Imprint), micro-camera ring, cane transmitter, horse jockey's whip or cane (transmitter), Zorin's computer and hidden video camera
Vehicles: Russian helicopter, Russian snow-mobiles, submersible disguised as an iceberg, Bond's stolen 1984 Renault 11 Parisian taxi, Bond's 1962 Rolls-Royce, Zorin's helicopter, Zorin's Airship-Skyship 6000 dirigible (blimp), 1984 gray Chevrolet Corvette, white Jeep Cherokee, Zorin's inflatable, helium-filled smaller Airship
Number of Deaths (Bond Kills): 14 (5)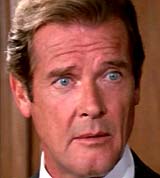 James Bond:
(Roger Moore)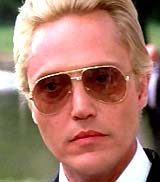 Bond Villain: Max Zorin
(Christopher Walken)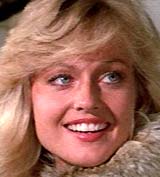 Bond Girl: Kimberley Jones
(Mary Stavin)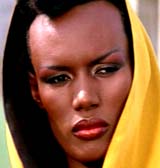 Bond Villain: May Day
(Grace Jones)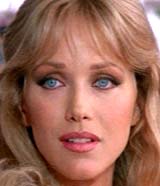 Bond Girl: Stacey Sutton
(Tanya Roberts)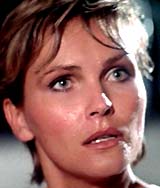 Bond Girl: Pola Ivanova
(Fiona Fullerton)