Literary-Based Films: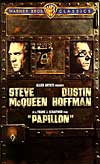 As in all decades, films were developed from best-selling novels and literature: Papillon (1973) was adapted from Henri "Papillon (butterfly)" Charriere's book - an autobiographical account with Steve McQueen (with a butterfly tattooed on his chest as Henri 'Papillon' (butterfly) Charriere) and Dustin Hoffman (as swindler-counterfeiter Louis Dega) - fellow prisoners in the infamous penal colony in French Guiana. Also, the third film version of F. Scott Fitzgerald's The Great Gatsby (1974) was the third film of Robert Redford on the top-ten list for the year. Ken Kesey's 1962 counter-cultural novel One Flew Over the Cuckoo's Nest (1975) was the basis for Milos Forman's acclaimed film about mental hospital inmates (filmed in the Oregon State Mental Institution) and a repressive Nurse - it was the first film since It Happened One Night (1934) to sweep the top five Academy Awards, giving four-time losing nominee Jack Nicholson his first Oscar win.
British and Australian Directors: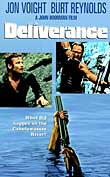 A number of British directors, such as John Schlesinger, John Boorman, and Peter Yates had migrated to Hollywood and were continuing to produce taut, critically-successful films. Following his earlier success with Midnight Cowboy (1969), one of Schlesinger's best films of the decade was the adult drama Sunday, Bloody Sunday (1971) starring Glenda Jackson and Peter Finch as lovers of the same man (Murray Head) in a complex romantic triangle. He also directed The Day of the Locust (1975) - a dark view of 1930s Hollywood, and the chase-thriller Marathon Man (1976) with Laurence Olivier as a tooth-extracting Nazi.
English filmmaker John Boorman's Deliverance (1972), a rites-of-passage drama adapted from James Dickey's novel, was about a group of four civilized Atlanta businessmen (with Burt Reynolds as a macho, cross-bow-wielding member of the group named Lewis) who canoed into the Appalachian wilderness and found themselves threatened and assaulted by backwoodsmen. (Its theme song "Dueling Banjos" became a huge hit, and its tagline asked: "What Did Happen on the Cahulawassee River?")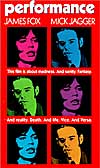 UK director Nicolas Roeg directed some of his best films during this decade, including co-directing Performance (1970) with Rolling Stones singer Mick Jagger playing a pop star who lived with a sadistic gangster (James Fox) in Swingin' 60s London. He also helmed the visually-stylized, semi-mystical and beautiful adventure film Walkabout (1971) about the contrast of aboriginal and modern culture in the Australian outback through a rites of passage journey taken by a young teenaged girl (Jenny Agutter) and an aboriginal boy. He then directed the brooding and psychological thriller Don't Look Now (1973), a haunting tale of mystery and death set in Venice and starring Julie Christie and Donald Sutherland as a grieving couple. David Bowie starred in the title role in director Roeg's imaginative The Man Who Fell to Earth (1976) as Thomas Jerome Newton ("Mr. Sussex") - an alien in search of water who became a multi-millionaire due to his advanced knowledge of engineering.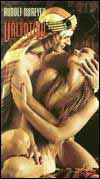 The experimental, controversial and sensational Ken Russell directed a number of films in the 1970s:
an adaptation of D.H. Lawrence's novel entitled Women in Love (1970)
The Music Lovers (1971) about the life of Russian composer Tchaikovsky
the shockingly excessive The Devils (1971) about demonic possession, with Vanessa Redgrave and Oliver Reed
The Boy Friend (1971) - a tribute to Busby Berkeley's Hollywood musicals with Twiggy
a hyper-wild visualization of Peter Townsend's rock opera Tommy (1975) - Russell's first commercial hit
the depiction of Franz Liszt as a sex-obsessed rock star in Lisztomania (1975)
another screen biography - this time of a silent screen idol Valentino (1977) with dancer Nureyev in his debut film role, opposite Michelle Phillips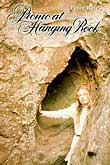 Highly-regarded British director David Lean's only film of the decade was the overlong Irish romantic melodrama Ryan's Daughter (1970). After his thrilling Bullitt (1968), Peter Yates also directed Mother, Jugs and Speed (1976), a black comedy about rival ambulance drivers named Mother (Bill Cosby), Jugs (Raquel Welch), and Speed (Harvey Keitel). His best film of the 70s was the insightful, bicycle-racing, coming-of-age youth film Breaking Away (1979).
From Australia, Gillian Armstrong created the period piece My Brilliant Career (1979) - a feminist tale in turn-of-the-century Australia. Peter Weir directed the mysterious, beautiful and moody Picnic at Hanging Rock (1975) and the unsettling The Last Wave (1977). And Bruce Beresford directed The Getting of Wisdom (1977) set in a Melbourne girls' boarding school, and the riveting Boer War-South Africa courtroom drama Breaker Morant (1980). Finally, Mel Gibson was propelled into stardom in George Miller's post-nuclear, action-adventure film Mad Max (1979) as a vengeful policeman whose family was attacked by a motorcycle gang.
Big-Budget, Escapist Entertainment:
A number of films of the 70s commented little about the political and social scene - they were just sheer escapist entertainment on a large scale. The trend was toward bigger, more expensive films - with no guarantee of quality. These youth-oriented films and their sequels were aimed at less discriminating and demanding younger audiences - juveniles roughly between ages 12 and 24. Amazingly, some of the record-breaking films of the 70s relied more on special effects than leading stars:
William Friedkin's The Exorcist (1973) with a head-revolving, demonically-possessed Linda Blair
Steven Spielberg's Jaws (1975) with a mechanical great white shark
Close Encounters of the Third Kind (1977) with a giant alien spaceship
George Lucas' Star Wars (1977) - the fourth episode subtitled 'A New Hope,' with James Earl Jones as the voice for David Prowse's character, and Peter Cushing as the Grand Moff Tarkin
Richard Donner's big screen, British-made Superman (1978) was the most expensive film of the 70s decade, at $55 million - lead star Christopher Reeve brought back the popular DC comic-book character and hero of the 50s TV series, and Gene Hackman starred as Lex Luthor. [Marlon Brando's 10-minute appearance for his role as Jor-El cost a record fee of about $3.5 million and earned him top billing in the credits - it was the most expensive cameo in film history to date.]
emerging British director Ridley Scott, after his earlier war drama and debut feature film The Duellists (1977), directed the very scary monster film Alien (1979) - it was publicized with a chest-bursting scene and the line: "In space, no one can hear you scream" and featured a part cockroach/part shark alien creature designed by Swiss artist H. R. Giger, that terrorized the crew of the Nostromo spacecraft
Hollywood's Disaster and Calamity Films: Famed Producer/Director Irwin Allen
A commercially-inspired subgenre of adventure films developed in the 70's to thrill audiences with mega-disaster, big-budget extravaganzas (and subsequent spoofs) filled with magnificent special effects, perilous situations, outlandish rescues, laughable gimmicks, and large star-studded casts. Disasters could be either man-made or natural. They would often receive numerous special/visual effects Oscar nominations, but were often neglected for their acting performances. See Filmsite's section on disaster films for more information.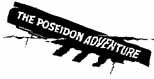 The first major disaster film was director/writer George Seaton's Airport (1970) - a Grand Hotel-type film with a suspenseful plot derived from an Arthur Hailey novel about a damaged plane (with pilot Dean Martin) and a busy snowbound Midwest airport. Helen Hayes won a supporting Oscar (her second) for her role as an old lady stowaway. [Airport was sequeled three times in the same decade: Airport 1975 (1974), Airport '77 (1977), and Airport '79: Concorde (1979).] The saturated, over-played disaster genre was vulnerable to spoofs that first began to appear in the 1980s - led by the popular comedy Airplane! (1980).
The disaster movie craze was also triggered by producer Irwin Allen's incredibly-successful The Poseidon Adventure (1972) with a gross of $93 million - an exciting tale (with many stars including Gene Hackman and Shelley Winters) about a capsized luxury liner from a tidal wave - the SS Poseidon. A sequel followed: Allen's Beyond the Poseidon Adventure (1979). Producer Irwin Allen also exploited the popular subgenre with The Towering Inferno (1974) about a high-rise skyscraper fire (a feature film uniquely co-created by two rival studios: 20th Century Fox and Warner Bros.). From its eight Oscar nominations (including Best Picture!), it won three awards: Cinematography, Film Editing, and Song, and starred Steve McQueen as the fire-chief.
Another spectacular disaster film from director Irwin Allen was The Swarm (1978), about threatening killer bees arriving in the US from South America. Allen also produced the disaster dud When Time Ran Out... (1980) about the eruption of a resort island volcano, with Jacqueline Bisset, William Holden, and Paul Newman - it was Allen's final feature film production.
Other films followed the trend:
a Los Angeles quake magnified by low-frequency tremors termed "Sensurround" in Universal's Earthquake (1974), starring Charlton Heston and Ava Gardner, among others [Rollercoaster (1977) was also screened in Sensurround]
Richard Lester's thrilling Juggernaut (1974)
Robert Wise's widescreen drama The Hindenburg (1975)
Steven Spielberg's Jaws (1975) - about the dangers lurking beneath the surface
John Frankenheimer's Black Sunday (1977) - with a plot involving the Super Bowl Stadium and a Goodyear blimp
Meteor (1979), about a gigantic meteorite hurtling toward Earth
Science-Fiction Films of the 70s:
Besides the splashy, big-budget Spielberg-Lucas sci-films of the decade, there were other speculative, innovative, and thought-provoking examples in the genre:
a popular, clever, mostly successful and serious five-film series of classic simian films (spanning 1968 to 1973) about apes that have evolved into an intelligent society, derived from Pierre Boule's novel Monkey Planet, originating with Planet of the Apes (1968)
director Robert Wise's tense The Andromeda Strain (1971) adapted from Michael Crichton's best-selling novel about a strange bacterial agent
the sci-fi disaster film The Omega Man (1971) with Charlton Heston as the sole survivor of germ warfare unleashed on Earth, who struggled to survive in the city of LA over-run by mutant scavengers
special-effects genius Douglas Trumbull's directorial debut film - the speculative Silent Running (1972)
Richard Fleischer's dark futuristic Soylent Green (1973) in which Charlton Heston as an investigating cop revealed the source of people's food in the year 2022 in Manhattan
Michael Crichton's Westworld (1973) told about a holiday resort named Delos where androids malfunctioned (Yul Brynner starred as a deadly robotic gunslinger)
John Boorman's visually surreal Zardoz (1974) with Sean Connery
the satirical sci-fi thriller The Stepford Wives (1975) told of women who were replaced by perfect homemaker robots (who wore flowery dresses and cooked gourmet meals) in order to please their husbands
Norman Jewison's ultra-violent Rollerball (1975) with James Caan as brutal sports champion Jonathan E.
Michael Anderson's dystopic view of society in the year 2274, Logan's Run (1976), starring Michael York (as a Sandman) and Jenny Agutter who flee the city to Sanctuary (the ruins of Washington DC inhabited by Peter Ustinov) after learning about the after-30 euthanistic policies of their society
Peter Hyams' Capricorn One (1977) about a faked NASA Mars landing and mission (with OJ Simpson as one of the astronauts!)
Disney's dark sci-fi adventure film The Black Hole (1979), one of the studio's earliest PG films, was an attempt at challenging or duplicating Lucas' Star Wars, although it only succeeded with its dazzling special effects and John Barry score
a TV and Star Wars-inspired Star Trek - The Motion Picture (1979) - the first adaptation of the successful TV show, with Captain Kirk (William Shatner) now an Admiral, reunited with Spock (Leonard Nimoy) and "Bones" McCoy (DeForest Kelley) on the starship Enterprise
legendary director Stanley Donen's and John Barry's Saturn 3 (1980), a serious science-fiction film that was ignored and bombed at the box office, starring Kirk Douglas and Farrah Fawcett (at the height of her popularity from the TV series Charlie's Angels, and with a brief topless scene that brought the film most of its attention) located on a research space station near Saturn where they are developing hydroponics-grown food for a struggling Earth
The Biggest Stars of the 70s Decade:
Stars in the 1970s that continued to be popular or rose in star power included Paul Newman, Clint Eastwood, Steve McQueen, John Wayne, Elliott Gould (due to his appearance in M*A*S*H (1970)), Dustin Hoffman, Lee Marvin, Jack Lemmon, Barbra Streisand, Walter Matthau, George C. Scott, Ali MacGraw, Sean Connery, Gene Hackman, Marlon Brando, Goldie Hawn, Ryan O'Neal, Burt Reynolds, Robert Redford, Charles Bronson, Jack Nicholson, Al Pacino, Woody Allen, Mel Brooks, Tatum O'Neal, Sylvester Stallone, Diane Keaton, Robert DeNiro, John Travolta, Richard Dreyfuss, Warren Beatty, Jane Fonda, Peter Sellers, Roger Moore, and Jill Clayburgh.
An Unusual Decade:
This was a most interesting decade, beginning with the sappy saccharine romance of the much-talked about Love Story (1970), directed by Arthur Hiller - a phenomenally successful film at the box office, but universally panned by critics for its manipulative, melodramatic appeal ("Love means never having to say you're sorry") between the two stars Ryan O'Neal and Ali MacGraw. This was also the decade in which the world's first eight-plex theatres began to open - in Atlanta in 1974, and the decade in which rock 'n roll icon Elvis Presley died -- August 16, 1977.
And the decade was filled with such surprise winners and oddities, such as:
the influential Taiwanese film from director King Hu, A Touch of Zen (1969), a landmark martial-arts epic masterpiece that was the first ever Chinese language film to win a major western film festival award (at Cannes in 1975) and would prove influential to future generations of film-makers such as Ang Lee
Michael Wadleigh's Woodstock (1970) - a documentary-style chronicling (with some split-screen effects) of the 1969 rock concert held in up-state New York, and including Jimi Hendrix's famous guitar solo; with a film crew including a young Martin Scorsese and his future trusted editor Thelma Schoonmaker
The Great White Hope (1970) - loosely based on the story of Jack Johnson (Jack Jefferson in the film, portrayed by James Earl Jones), about the first black boxer to become world heavyweight champion
Robert Mulligan's teenage coming-of-age film Summer of '42 (1971) about three boys in a New England resort, including 15 year-old Gary Grimes who came of age by engaging in an affair with the pretty wife (Jennifer O'Neill) of a pilot in WWII
Willy Wonka & The Chocolate Factory (1971), Roald Dahl's adaptation of his own novel about an eccentric candy-maker (Gene Wilder) who held a contest involving five golden tickets
the horror film Willard (1971) with Bruce Davison starring as the repressed title character who trained and used rats (named Ben and Socrates) to kill his enemies; its sequel Ben (1972) featured a Michael Jackson title song hit
John Waters' gross-out cult film Pink Flamingos (1972), with cross-dressing Divine starring as Babs Johnson
the overlooked - and slightly overbaked police drama Electra Glide in Blue (1973), James William Guercio's sole directorial effort with Robert Blake as an Arizona motorcycle cop
the big-budget version of the popular Chinese genre of martial arts, the fast-paced action/thriller Enter the Dragon (1973) propelled 32 year-old kung fu artist Bruce Lee to major posthumous American stardom shortly after his tragic and mysterious death in July, 1973 - it was Lee's biggest US success and last fully-completed role; it was also the first kung fu film produced by a major Hollywood studio
the romantic comedy of a politically-mismatched couple (Robert Redford as a rich and conservative writer and Barbra Streisand as a supporter of those blacklisted in Hollywood) in Sydney Pollack's The Way We Were (1973) - its popularity was enhanced by Streisand's hit version of the title song
the gimmicky horror film Wicked, Wicked (1973), filmed entirely (except for the credits) in distracting split-screen "Duo-Vision", to allow the audience to see both the hunted (a resort's guests) and the hunter (a serial killer); with Tiffany Bolling
the notorious, low-budget, backwoods cult horror film classic of the decade - The Texas Chainsaw Massacre (1974) - a popular slasher film by Tobe Hooper about a group of Texans that encountered a family of cannibals, with Gunnar Hansen in the role of serial killer Leatherface; this film was an indication of the increasing violence in films [the film's title was immortalized in an early song by the Ramones, heard on the radio during the film]
the socially-satirical portrait of a hedonistic Beverly Hills hairdresser (Warren Beatty) in Shampoo (1975) who was romancing three women (Lee Grant, Carrie Fisher, and Goldie Hawn) during the Nixon election period
The Sunshine Boys (1975) marked a film career comeback for comedian George Burns (who came out of retirement and hadn't been in a feature film since Honolulu (1939)) - the role gave Burns a Best Supporting Actor Oscar and re-energized his career
the madcap musical comedy The Rocky Horror Picture Show (1975) was the story of a stranded engaged couple (Brad and Janet - Barry Bostwick and Susan Sarandon) who encounter mad scientist Dr. Frank N. Furter (Tim Curry) and his "Time Warp" group of Transylvanians - it would become a cultish audience phenomenon in midnight shows after its first midnight showing in the spring of 1976
Stanley Kubrick's Barry Lyndon (1975) based on a Thackeray novel, with Ryan O'Neal in the lead role as an 18th century gambler
the hyper-active stunts and fast car chases in Smokey and the Bandit (1977)
director Herbert Ross' romantic comedy The Goodbye Girl (1977), with a script by Neil Simon, was an unexpected hit and brought an Oscar to Richard Dreyfuss
the first Muppet feature film aptly titled The Muppet Movie (1979), one of the highest grossing live-action children's films ever made, noted for its disparate collection of characters such as Kermit (frog), Miss Piggy (pig), and Fozzie (bear)
director Robert Benton's Best Picture-winning drama Kramer vs. Kramer (1979) about a messy custody battle between stars Dustin Hoffman and Meryl Streep for a child and the challenges of single fatherhood
stars Jane Fonda and Robert Redford paired again in The Electric Horseman (1979)
director Ted Ketcheff's North Dallas Forty (1979) showcased the dark side of professional football, involving drug use and alcohol, with stars Mac Davis (as a quarterback) and Nick Nolte (as a wide-receiver)
...and former B-movie actor, good-guy cowboy star and New Right champion in politics Ronald Reagan would soon rise in Presidential politics and become the first movie star ever elected President
Future star (and California governor) Arnold Schwarzenegger made his screen debut in a minor film in 1970 and later starred in Pumping Iron (1977), a documentary about professional body-building in preparation for the Mr. Universe contest.
Film Critics on Television:
Chicago Sun-Times reviewer Roger Ebert and Chicago Tribune critic Gene Siskel began to co-host and present their quarrelsome film reviews on public television (Chicago's local PBS station WTTW) in 1978, with a series called Sneak Previews. The hugely successful show, with "Thumbs Up" and "Thumbs Down" trademarked ratings, was immediately syndicated nationwide. It soon became the highest-rated series in the history of public broadcasting.
New Independent Studios:
In 1978, five disgruntled United Artists executives left the studio over a disagreement about lack of control, and formed Orion Pictures. (The group of executives were represented by the five stars depicted in the constellation of Orion - the new corporation's logo.) At the end of the decade in 1979, brothers Harvey and Bob Weinstein, first finding success as rock concert promoters in the early 70s while students at the Univ. of Buffalo, became film distributors and formed the independent studio Miramax (derived from the combination of their parents' names: Miriam and Max), after purchasing and renovating a run-down, second-run movie theater in Buffalo, N.Y., and turning it into a profitable college art house. The brothers launched Miramax in 1979 with its headquarters in Tribeca.
The first hit film distributed by the newly-launched studio was the British comedy The Secret Policeman's Other Ball (1982) directed by John Cleese. Bought at the 1979 Cannes Film Festival, it was a collection of footage from benefit rock concerts in London (with comedy provided by the Monty Python Flying Circus troupe) to support the human rights organization Amnesty International. The film, including Rowan "Mr. Bean" Atkinson's hilarious headmaster skit, Billy Connelly singing country music, and Pete Townshend's acoustic versions of "Pinball Wizard" and "Won't Get Fooled Again," grossed $6 million.
[Note: Since 1993, Miramax (and Dimension, one of its subsidiaries to produce and distribute innovative genre films, that was headed by Bob Weinstein) had become a part of the Walt Disney Company. And Orion was sold to MGM in 1997.]
Looking Ahead:
Many reviewers and historians have concluded that the 70s was a very complex, pluralistic and unique era in film-making, due to its many socially-conscious themed films, lots of conflicting viewpoints and visions about America from distinctive auteur-directors, and the questioning of norms and what had come before. A new era was dawning that would emphasize the marketing, advertising and budgeting of films, the search for blockbusters, the dominance of the powerful studios over independent film-makers, and the prominence of "high concept" - the idea that a film should be able to be pitched with a succinctly stated premise. This idea took hold most clearly in the 70s with the novel approach taken by Jaws (1975) - with its visual-ad poster (a shark poised to attack swimmers above with the tagline: "Don't go in the water!").
The premise of 'high-concept' was to easily convey the film's main premise (with the broadest appeal possible) so that it could be easily sold to the marketplace. However, many films in the 1970s couldn't easily be reduced to one sentence or image, since it was difficult to compress rich character development, cinematography, acting, or other artistic qualities of a film into a short phrase. Trends would be changing with the rise of test-marketing, expensive ad campaigns, more bottom-line predictability, and the massive release of first-run films nationwide - accompanied by concentrated TV and print ads.
By the early 1980s, the 60's era of music, free love, youthful idealism, and friendship that had extended into the 70s was clearly over. By now, the hippies (a baby boomer generation) of the 60s had become a new crop of angst-ridden, suburban-dwelling yuppies. They could only nostalgically look back to the 60s and ask what had happened to their lives. Audiences clearly identified with and revered films such as The Big Chill (1983), by writer/director Lawrence Kasdan. It featured a catchy Motown soundtrack of hit songs (by The Temptations, Aretha Franklin, Marvin Gaye, and Smokey Robinson and the Miracles) celebrated by successful, upwardly-mobile, thirty-something college grads from their days 15 years earlier at the University of Michigan, who gathered together for a weekend funeral-reunion in a summer vacation house in South Carolina. The many stars of the ensemble film - Jeff Goldblum, Kevin Kline, Tom Berenger, Glenn Close, Mary Kay Place, Jo-Beth Williams, Meg Tilly and William Hurt reflected upon the good ol' days (and the promise of what might have been but hadn't materialized), smoked dope, cooked together and paired up for sex in unpredictable ways. The film's two taglines were highly appropriate: "In a cold world you need your friends to keep you warm," and "How much love, sex, fun and friendship can a person take?"

Film History of the 1970s
Part 1, Part 2, Part 3, Part 4, Part 5, Part 6
---



---