Background
---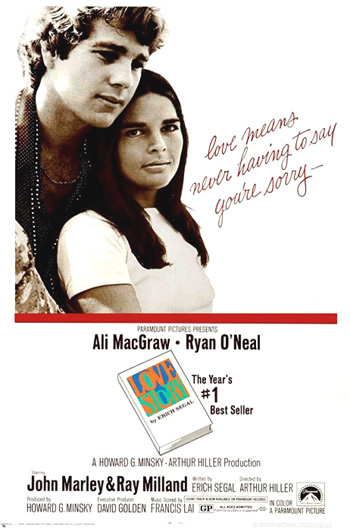 Love Story (1970) is a sentimental, romantic tearjerker film from director Arthur Hiller about a tragic couple. [Note: Hiller had passed up the opportunity to work on The Godfather (1972) to make this film.] The melodramatic and tragic soap-opera, tremendously popular and a financial success (the top-earning film of the year at $106 million) but panned by critics for its sappy content, was based upon Erich Segal's # 1 best-selling short novel of the same name, released appropriately on Valentine's Day in 1970.
The film's tagline was the oft-quoted:
"Love means never having to say you're sorry."
The line of dialogue appeared slightly differently in Segal's novelization: "Love means not ever having to say you're sorry."
The catchy, haunting, piano-plinking score won the Best Original Score Oscar (the film's sole award) for Francis Lai from its seven Academy Awards nominations: Best Picture, Best Actor (Ryan O'Neal), Best Supporting Actor (John Marley), Best Actress (Ali MacGraw), Best Director (Arthur Hiller), and Best Original Story and Screenplay (Erich Segal). Beau Bridges, Michael York, Michael Douglas, Jon Voight, Michael Sarrazin and Peter Fonda all turned down the part of Oliver - which ultimately went to Ryan O'Neal.
This film rescued Paramount from total bankruptcy (it was the 9th most profitable studio at the time), and began an incredible streak of major successes under Paramount VP of development Robert Evans' stewardship, including Harold and Maude (1971), The Godfather (1972), Play It Again, Sam (1972), The Getaway (1972), Serpico (1973), The Great Gatsby (1974), Chinatown (1974), Marathon Man (1976) and Black Sunday (1977).
An inferior sequel was produced later in the decade - Oliver's Story (1978) pairing a still-grieving Ryan O'Neal with Candice Bergen.
Plot Synopsis
---
Told as a flashback, this is an uncomplicated love story between two star-crossed lovers-students, Harvard pre-law hockey player Oliver Barrett IV (Ryan O'Neal) and Radcliffe music student Jenny Cavalleri (Ali MacGraw). Oliver narrates the opening line of the film, looking back:
What can you say about a twenty-five-year-old girl who died? That she was beautiful and brilliant? That she loved Mozart and Bach, the Beatles, and me?
Their love triumphs over different economic-class backgrounds (he is a "preppie millionaire," she a smart-mouthed "social zero" from a blue-collar Italian/American family). Their main obstacle to romance is that his rich, powerful and snobbish father, Oliver Barrett III (Ray Milland) objects and threatens to cut off funding: "Oliver, if you marry her now, I'll not give you the time of day." To which the younger, bull-headed Oliver defiantly asks: "What offends you more, Father, that she's Catholic, or poor?" He ultimately responds: "Father, you don't know the time of day."
There are a number of touching, oft-remembered kissing scenes in this tearjerker romance, including the major scene of the star-crossed couple walking across the Harvard campus and talking about their relationship. Oliver delivers a harsh ultimatum to Jenny:
Look, Cavalleri, I know your game, and I'm tired of playing it. You are the supreme Radcliffe smart-ass - the best - you can put down anything in pants. But verbal volleyball is not my idea of a relationship. And if that's what you think it's all about, why don't you just go back to your music wonks, and good luck. See, I think you're scared. You put up a big glass wall to keep from getting hurt. But it also keeps you from getting touched. It's a risk, isn't it, Jenny? At least I had the guts to admit what I felt. Someday, you're gonna have to come up with the courage to admit you care.
They stop walking as she replies - simply: "I care" before they kiss. The scene dissolves into their nude embracing and kissing during love-making in his dormitory room. Shortly later in the film, in a snowy montage, they end up playing in the snow, throwing snowballs and tossing a football at each other, and wrestling together - as they kiss with flecks of snow on their faces. The two young lovers marry and first move into a small apartment in Cambridge before Oliver is hired by a New York law firm and they move to the city.
After meeting many obstacles and making sacrifices, including her turning down a trip to Paris to marry him, she is diagnosed as terminally ill ("very sick") when she is tested for pregnancy and fertility ("She's dying"). In a lengthy deathbed conversation with Oliver at the Mount Sinai Hospital in a tear-inducing closing, she tells him: "It doesn't hurt, Ollie, really it doesn't. It's like falling off a cliff in slow-motion, you know. Only after a while, you wish you'd hit the ground already, you know." He states he fell off a cliff when he met her. Then, she tries to bring up his spirits:
Now you've gotta stop being sick...that guilty look on your face, it's sick. Would you stop blaming yourself, you god-damn stupid preppy. It's nobody's fault. It's not your fault. That's the only thing I'm gonna ask you. Otherwise, I know you're gonna be OK. (pause) Screw Paris!...Screw Paris and music and all that stuff you thought you stole from me. I don't care, don't you believe that? (He shook his head no) Then get the hell out of here. I don't want you at my god-damn deathbed.
He finally admits: "I believe you. I really do." She responds with a last request: "That's better. Would you please do something for me, Ollie? (He kisses her hand) Would you please hold me? (He half-heartedly hugs her) No, I mean really hold me. Next to me." He reclines next to her on the bed.
Afterwards, in the hallway, Oliver speaks to Jenny's father Philip (John Marley), who says with a choked-up voice: "I wish I hadn't promised Jenny to be strong for you." As he leaves the hospital, he runs into his father, who asks: "Why didn't you tell me? I made a couple of calls, and as soon as I found out, I jumped right in the car. Oliver, I want to help." His son simply replies: "Jenny's dead." When his father begins to reply: "I'm sorry...," Oliver interrupts him and quotes his late wife's earlier remark:
Love, love means never having to say you're sorry.
This is the last line of film dialogue.
For the remaining three minutes in the touching finale, Oliver walks across the street to snow-covered Central Park as the poignant, award-winning "Love Story" theme music builds and he contemplates what life might have been like with Jenny, while sitting on a bench. The camera pulls away from him, shot from behind, before the closing credits.