Mel Brooks: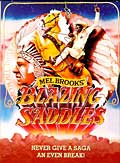 In some cases, comedy reached new lows of vulgarity and tasteless jokes in this decade. After his breakthrough film in the previous decade, The Producers (1968), about Nazis and Broadway musicals, Mel Brooks further used comic stars Gene Wilder, Marty Feldman, Madeline Kahn and Cloris Leachman in two films in 1974. Brooks' first in a series of satirizing parodies of classic movie genres (often as star, scripter and director) was his lewd and raunchy western comedy Blazing Saddles (1974) - his first commercial hit. It told the story of the Waco Kid (Gene Wilder) and Black Bart (Cleavon Little) - a black sheriff recruited to clean up a white frontier town. It was most remembered for its famous campfire scene with gaseous cowboys.

Next, Brooks spoofed Universal's mad-scientist, Frankenstein cycle of horror films with Young Frankenstein (1974) - one of his best films, with Gene Wilder as the infamous brain surgeon, Peter Boyle as the Monster, Marty Feldman as hunchbacked Igor, and Teri Garr as the voluptuous lab assistant. Brooks' follow-up parody was the self-indulgent Silent Movie (1976), a tribute to the early slapstick days of Hollywood with Mel Funn (Mel Brooks) as a washed up film producer who tried to recruit celebrities in Hollywood for his film, including Burt Reynolds, Paul Newman, Anne Bancroft, and others. It was noted for only one spoken word delivered by mime Marcel Marceau. And the shallow and obvious High Anxiety (1977) spoofed scenes and themes from various Alfred Hitchcock films, notably Psycho's (1960) shower scene. Brooks' influence on comedy films extended from Airplane! (1980), a lampoon of disaster flicks, to the randy teenage sex comedy American Pie (1999) and beyond.
Absurdist Monty Python Films: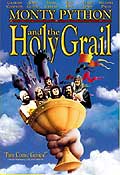 The decade was also assaulted with the irreverent, absurdist, off-beat British film comedies from BBC-TV's early 70s Monty Python's Flying Circus mad-cap gang including:
And Now for Something Completely Different (1971), a series of TV vignettes and comedy sketches
Monty Python and the Holy Grail (1975) (their first feature film) - a spoof of Arthurian legends, with Knights who Say 'Ni' and a carnivorous rabbit
the satirical (and sacrilegious to some viewers) Monty Python's Life of Brian (1979), with a reluctant Messiah in ancient Palestine named Brian Cohen (Graham Chapman) and his misled disciples, and noted for the line of dialogue: "Blessed are the cheese-makers"
Monty Python's The Meaning of Life (1983)
Other Comedies:
Playwright Neil Simon wrote the original screenplay for Murder By Death (1976) as a lightweight spoof of fictional film detectives and sleuths such as Miss Marple, Nick and Nora Charles, Sam Spade, Hercule Poirot and Charlie Chan. Director Robert Mulligan's Same Time, Next Year (1978) was an adult-themed romantic comedy about a long-running marital affair (once annually) between Alan Alda and Ellen Burstyn. And another comedy House Calls (1978) told of a hospital romance between widowed doctor Walter Matthau and recent-divorcee Glenda Jackson.

Outrageousness prevailed in the Delta fraternity house (at Faber College) in director John Landis' gross-out comedy National Lampoon's Animal House (1978), with Saturday Night Live TV comedian John Belushi in his film debut as Bluto Blutarsky (memorable for instigating a gross food fight and for the comic line: "Was it over when the Germans bombed Pearl Harbor?"). Other TV stars were crossing over into films in the decade: Chevy Chase (from SNL) and Goldie Hawn (from TV's Laugh-In) starred in the funny murder mystery Foul Play (1978). Youth-oriented stars Bill Murray, Dan Aykroyd, Eddie Murphy, Martin Short, and Michael J. Fox would all find stardom in Hollywood. Stand-up comic Steve Martin, another cross-over following performances on TV's SNL, scored big with The Jerk (1979), the first starring role for the comedian. He starred as Navin Johnson, a white man who found out that his adoptive parents were black.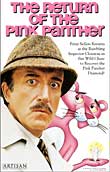 In the religious fantasy comedy Oh, God! (1977), a store clerk (singer John Denver) was divinely chosen (through messages on the radio) by old man George Burns. The film was reprised by two sequels in 1980 and 1984. Cheech & Chong's first movie, a successful low-budget effort noted for its pro-cannabis stance and anarchic comedy, was Up in Smoke (1978). It was followed-up by a number of sequels, including: Cheech and Chong's Next Movie (1980), Cheech and Chong's Nice Dreams (1981), and Still Smokin' (1983).
Traditional comedies also did well. Blake Edwards revived his original The Pink Panther (1964) in a series of 70s-80s Inspector Clouseau/Pink Panther films. Inspector Clouseau (Peter Sellers) reappeared in two sequels: The Return of the Pink Panther (1975) and Revenge of the Pink Panther (1978) -
The Return of the Pink Panther (1975)
The Pink Panther Strikes Again (1976)
Revenge of the Pink Panther (1978)
The Trail of the Pink Panther (1982)
Curse of the Pink Panther (1983)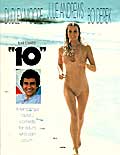 Audiences also enjoyed Edwards' sexy comedy 10 (1979) about the mid-life crisis of a successful songwriter named George Webber (Dudley Moore) who was torn between lady friend Julie Andrews and an unknown fantasy blonde, corn-row-haired beauty (Bo Derek in her screen debut) on the beach. The film generated the catch-phrase for the perfect woman ("She's a 10") and popularized Ravel's Bolero due to its infamous bedroom scene. Love At First Bite (1979) spoofed the Dracula films, with George Hamilton as the vampirish East European count who moved to New York (with servant Renfield played by Arte Johnson) and strove to make Susan Saint James his bride.
Genre Films Refashioned for the 70s: Westerns
Widening cracks in the American dream after the 60s were reflected in a number of disturbing, skeptical, pessimistic and provocative revisionist westerns, that questioned the mythical vision of the Old West. Traditional western films in the 1970s were being transformed -- classic frontier heroes of the past were being replaced by more realistic visions of the frontier, by more violent depictions, by more authentic portrayals of racism and prejudice against Native Americans, and by "urban" cowboys who could take the law into their own hands (such as Clint Eastwood's detective Dirty Harry (1971)). Symbolically, this was evidenced, in part, by the deaths in this decade of two influential directors who had placed their personal imprint upon the western genre during Hollywood's classic past:
John Wayne, the genre's greatest icon, gave his final feature film performance after almost 50 years in cinema (mostly in westerns) in over 140 lead roles, with his last lead role as aging/dying Western gunslinger John Bernard Books in director Don Siegel's The Shootist (1976). 72 year-old Wayne died shortly thereafter of lung and stomach cancer in June, 1979. The western also starred Lauren Bacall as fiesty widow Mrs. Rogers, and future director Ron Howard as the hero-worshipping son. Wayne had won his sole career Oscar at an Oscars ceremony in the spring of 1970 for his Best Actor-nominated performance in True Grit (1969), defeating "urban" cowboys Jon Voight and Dustin Hoffman for their nominated roles in John Schlesinger's X-rated Midnight Cowboy (1969).
After his landmark film Bonnie and Clyde (1967), director Arthur Penn filmed Thomas Berger's novel Little Big Man (1970), an episodic, revisionist western tale of the picaresque (and fictional) adventures of 121-year old frontier drifter Jack Crabb (Dustin Hoffman) in a series of historical events told in flashback (he was the last survivor of Custer's Last Stand) - a telling film about hero worship and the abuse and slaughter of minority groups, with relevant parallels between the Indian wars and America's military involvement in Vietnam. Ralph Nelson's anti-racist western Soldier Blue (1972) dramatized the 1864 Sand Creek Massacre tragedy and brutal mistreatment of Indians.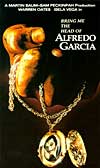 After his success with the ultra-violent The Wild Bunch (1969), interpreted as an allegory of the Vietnam War conflict, Sam Peckinpah directed other unusual westerns in the 70s:
his lyrical and atypically offbeat The Ballad of Cable Hogue (1970) with Jason Robards and Stella Stevens
Pat Garrett and Billy the Kid (1973), Peckinpah's revisionist elegy for the old-style western, ending with a duel between the legendary western heroes and one-time partners - James Coburn as Pat Garrett and Kris Kristofferson as Billy the Kid
the bizarre, grim and nihilistic Bring Me the Head of Alfredo Garcia (1974) about a bloody, bounty-hunting odyssey through Mexico for the head of a two-timing Mexican gigolo
Other film-makers that produced revisionistic westerns during this decade included Robert Altman (McCabe & Mrs. Miller (1971), Buffalo Bill and the Indians (1976)), and Clint Eastwood (The Outlaw Josey Wales (1976)).
Genre Films Refashioned for the 70s: War Films and Dramas

Joseph Heller's novel served as the basis for Buck Henry's adaptation for Mike Nichols' absurdist anti-war satire Catch-22 (1970) with Alan Arkin as bomber pilot Yossarian caught in the insanity of war. Director Franklin J. Schaffner's superb screen biography of WWII General George S. Patton in Best Picture-winning Patton (1970) (also titled Patton - Lust for Glory) was essentially a war picture that could be viewed two ways - it was either a larger-than-life praiseworthy portrayal of the heroic American general by Oscar-winning George C. Scott (who refused to be present at the Academy Awards to accept his Best Actor Oscar), or it was a subversive view of the flawed military figure noted for ivory-handled pistols and verbal/physical abuse of a battle-fatigued soldier. [Note: Francis Ford Coppola co-wrote the screenplay for Patton before his Godfather fame!]
Tora! Tora! Tora! (1970) was an excellent documentary examination of the attack on Pearl Harbor from both the Japanese and American points of view. Midway (1976) re-created the famous sea battle of World War II - enhanced with "Sensurround." Ted Post's Go Tell the Spartans (1978) was one of the earliest US anti-war films to realistically confront the reality of the Vietnam War - in a story set in Vietnam in 1964 about a doomed platoon and its leader (Burt Lancaster). After his great successes with both Who's Afraid of Virginia Woolf? (1966) and The Graduate (1967), Mike Nichols' surrealistic black comedy Catch-22 (1970), based on the best-selling novel by Joseph Heller, observed the absurdity and idiocy of war.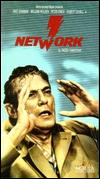 Scriptwriter Paddy Chayefsky's provocative black satire on the shallowness of TV news, Network (1976), directed by Sidney Lumet, created the decade's catch-phrase shouted by demented USB anchor Howard Beale (Peter Finch who won a posthumous Oscar): "I'm as mad as hell, and I'm not gonna take this anymore!" Charlie Chaplin's 1957 over-indulgent, anti-American film A King in New York (1957) was first screened in the United States in 1973, sixteen years after its European premiere. Martin Ritt's social-problem drama Norma Rae (1979), about a widowed mother and cotton mill worker who struggled for decent working conditions, brought a first Oscar win to Sally Field (famous for lighter film fare such as TV's The Flying Nun).
Coincidentally, James Bridges' topical thriller film The China Syndrome (1979) about a narrowly-avoided global disaster, starred Michael Douglas and Jane Fonda (the third highest box-office star of the year) as a TV news team and Jack Lemmon as a nuclear power plant employee. It opened about two weeks before the potentially-deadly 'melt-down' accident at the nuclear power plant Three Mile Island (near Harrisburg, Pennsylvania) on March 28, 1979 - and benefited from the unexpected publicity.
Genre Films Refashioned for the 70s: Film Noirs and Crime Films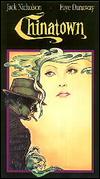 Although film noir was traditionally a genre limited to the 1940s and 50s, it re-emerged in the disillusioned, post-Watergate era with emigre Polish director Roman Polanski's latter-day brilliant, neo-noir contribution in homage to the detective melodramas of the past. His film was the complex and colorful Chinatown (1974) - about the uncovering of political and capitalist corruption, scandal (and incest) surrounding a water conspiracy set in 1930s Los Angeles. It featured a beautifully-constructed original screenplay written by the film's sole Oscar-winner Robert Towne, Jack Nicholson as a meddling private gumshoe Jake Gittes searching in a tangled plot of deceptive and perverse double-crosses, and Faye Dunaway as an alluring and mysterious vamp. Gittes suffered a painful nose injury (inflicted by knife-wielding Polanski), and heard co-star Faye Dunaway's famous wrenching line: "She's my sister...she's my daughter." In the film's final line after the surprise death of Jake's love, he was told: "Forget it, Jake. It's Chinatown."
Polanski was arrested for statutory rape in 1977 on charges of luring a 13-year-old girl (later revealed to be Samantha Geimer) to the home of actor Jack Nicholson under the pretext of photographing her for a French fashion magazine, and then drugging her with a Quaalude tranquilizer, and raping her. In early 1978, Polanski fled the country to France just hours before he was to have been sentenced in a California court for his admitted unlawful sexual relations, and has remained a 'fugitive' ever since.
Arthur Penn's enigmatic thriller Night Moves (1975) with Gene Hackman and Melanie Griffith (in an early role) also captured the mood of the post-Watergate era - a time of America's lost innocence. Writer/director Paul Schrader's Hardcore (1979) was a variation of John Ford's western The Searchers (1956) (and Martin Scorsese's Taxi Driver (1976)), the story of a morally-righteous, Michigan businessman's (George C. Scott) search for his runaway daughter Kristen (Ilah Davis) involved in pornography and prostitution in California - with the assistance of a likeable hooker named Niki (Season Hubley), and most famous for his anguished cry "Turn it off! TURN IT OFF!" when he sees her in a sordid, low-budget porno film.
Buddy Films: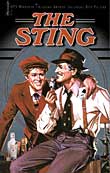 One of the best-loved, award-winning, box-office champs of the 70s was Universal Pictures' entertaining, plot-twisting, Best Picture-winning film The Sting (1973), reviving the buddy team of Paul Newman and Robert Redford (as two small-time Chicago con artists famous for the "Set-Up," the "Hook," the "Tale," the "Wire," the "Shut-Out," and the "Sting" - all inter-titles) and featuring the piano ragtime of turn-of-the-century black composer Scott Joplin. The stars were first successfully paired in George Roy Hill's earlier Butch Cassidy and the Sundance Kid (1969) (also successfully re-released in 1974).
Other buddy films in the 70s (and later decades) included some spin-offs:
Sean Connery and Michael Caine in John Huston's The Man Who Would Be King (1975)
George Burns (in his first film in decades) and Walter Matthau as two old-time vaudevillians who hated each other (Lewis and Clark) in Herbert Ross' The Sunshine Boys (1975), an adaptation of Neil Simon's play
Robert Redford and Dustin Hoffman as Washington Post reporters uncovering Watergate in All the President's Men (1976)
Arthur Hiller's buddy film comedy Silver Streak (1976) with Gene Wilder as a harmless book editor who witnessed a murder during a cross-country train trip (and then pretended to be black) and Richard Pryor as a petty thief; its success led to the equally-successful sequel Stir Crazy (1980)
Musicals and Dance Films:
Musicals were also big hits - Fiddler on the Roof (1971) was a successful box-office hit faithful to the long-running Broadway play, with Chaim Topol as Tevye - a Jewish dairyman in a small Czarist Russian village (in a role that Zero Mostel made famous). In the same year, an unconventional remake of an earlier musical, The Wiz (1971) starred Richard Pryor as the Wizard of Oz, Michael Jackson as the Scarecrow, and Diana Ross as Dorothy.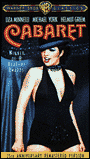 Director Bob Fosse's great revolutionary musical Cabaret (1972) and All That Jazz (1979) were quite a contrast to the sugary musicals of the 60s like Mary Poppins (1964) and The Sound of Music (1965). It was an impressive look at life in pre-War Weimer Germany between the wars, featuring stylish choreography and Minnelli's show-stopping performance as Berlin showgirl Sally Bowles. Liza Minnelli and Joel Grey (as the androgynous Master of Ceremonies) were both awarded Oscars for their performances, in addition to a statuette for the director (among its eight wins). As previously mentioned, Martin Scorsese attempted to capitalize on Liza Minnelli's star-glamour and classic musicals of the past, and cast her in his failed expressionistic musical New York, New York (1977).
Fosse's largely semi-autobiographical, Best Picture-nominated All That Jazz (1979), which won four Oscars (Best Art Direction, Best Costume Design, Best Film Editing, and Best Adapted Score) from its nine nominations, was a frenzied combination of choreography, flashbacks, and surrealism, with Roy Scheider as Joe Gideon (based on Fosse himself working on the production of the musical Chicago in 1975) - a work-obsessed, self-destructive Broadway choreographer and director. Many of the characters were either based on people in Fosse's life or characters who essentially played themselves. It was notable for Gideon's early-morning greeting in front of a mirror: "It's show time!", and for his by-pass surgery scene. [Note: Rob Marshall's version of Fosse's play, Chicago (2002) won the Best Picture Oscar.]
Bette Midler starred in the lead role (based on rock star singer Janis Joplin) in The Rose (1979). The successful theatrical re-release of The Sound of Music (1965) in 1973 demonstrated its tremendous long-term popularity. The hit Broadway rock opera from Tim Rice and Andrew Lloyd Webber, Jesus Christ, Superstar (1973) came to the screen in 1973 and modernized segments of Jesus Christ's (Ted Neeley) life. Coincidentally, it was released to the screen the same year as composer Stephen Schwartz's and director David Greene's Godspell (1973), co-written by John-Michael Tebelak, and derived from the musical play "Godspell: A Musical Based on the Gospel According to St. Matthew," but taking place on the streets of New York. Another rock opera Tommy (1975), by controversial director Ken Russell, featured the Who. Milos Forman followed up his remarkable Oscar sweep for One Flew Over the Cuckoo's Nest (1975) about a rabble-rousing inmate (Jack Nicholson) in a mental hospital battling an icy and repressive nurse (Louise Fletcher), with Hair (1979) - an adaptation of the Broadway hit musical about the hippie generation. One of the most celebrated concert films was director Martin Scorsese's The Last Waltz (1978) - the final live performance by The Band, and guest performers Bob Dylan, Van Morrison, and Joni Mitchell.


Two teen-oriented films with rock soundtracks (and both with John Travolta) were produced by Robert Stigwood, and marked a semi-comeback for the musical genre:
(1) director John Badham's Saturday Night Fever (1977) that combined disco fever, the hit music of the Bee Gees, and a star-making vehicle for John Travolta in his first film role (he had been a TV star on Welcome Back, Kotter) as Brooklyn-dwelling Tony Manero - with tight white polyester pants dancing to You Should Be Dancing and other dance songs; Travolta's dance instructor Deney Terrio would go on to host a popular TV series titled Dance Fever (from 1979-85); the film was based on an article by rock journalist Nik Cohn

(2) Grease (1978), a zesty, nostalgic musical spoof of the 50s, developed from a long-running Broadway hit, was the highest grossing film of its year, and again starred Travolta (as Danny Zuko) and pop singer Olivia Newton-John (as Sandy)
The Buddy Holly Story (1978), another popular music-related film, starred a convincing Gary Busey as the rock & roll star from Lubbock, Texas who became famous for the song "Peggy Sue," and who tragically died in a 1959 plane crash.
Sequels and Re-Makes Fever:
Early foreshadowings of things to come surfaced in the 70s - the popular sequel or re-make. Buena Vista's Herbie Rides Again (1973) followed The Love Bug (1969). Disney's Benji (1974) also encouraged the follow-up film For the Love of Benji (1977).
Tom Laughlin's biker film Born Losers (1967) introduced Billy Jack - a half-Indian fighter that the writer-director-star worked into a series of action films. The successor was Billy Jack (1971), again starring Tom Laughlin (who both produced and directed), and The Trial of Billy Jack (1974), followed by Billy Jack Goes to Washington (1977) - the last completed film in the series.
The western adventure film A Man Called Horse (1970), noted for its gruesome Sun Vow initiation ceremony, starred Richard Harris as English aristocrat Lord John Morgan who lived among the Sioux. It led to two sequels: The Return of a Man Called Horse (1976) and Triumphs of a Man Called Horse (1983).
Barbra Streisand's role as Fanny Brice in Funny Girl (1968) was brought back in Funny Lady (1975). Hitchcock's 1935 espionage classic, remade with Kenneth More in 1959, was again remade as The Thirty-Nine Steps (1978) and closely based on the original John Buchan novel, with Robert Powell replacing Robert Donat as on-the-run Richard Hannay character. Jack Clayton's period drama The Great Gatsby (1974), with Robert Redford in the lead role as the self-made millionaire and Mia Farrow as socialite Daisy, was the third film version of F. Scott Fitzgerald's classic 1925 novel. [The second version in 1949 starred Alan Ladd in the title role.]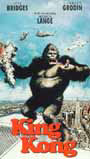 The suspenseful Agatha Christie who-dun-it Murder on the Orient Express (1974) was set on a luxurious train, with Albert Finney as Hercule Poirot. It was a sequel to And Then There Were None (1945) and brought a Best Supporting Actress Oscar and career comeback to Ingrid Bergman. The effective occult horror film The Omen (1976) with Gregory Peck as diplomat Robert Thorn and Lee Remick as his wife - who both adopt Lucifer's son, was sequeled with a trilogy of films: Damien: Omen II (1978), and The Final Conflict (1981) (aka Omen III). There were further films in the series after the 70s and early 80s: the TV movie Omen IV: The Awakening (1991), and the remake The Omen (2006).
Major sequels of much earlier classics included the following:
producer Dino de Laurentiis' $24 million inferior remake of the 1933 classic, King Kong (1976) with Jessica Lange in the Fay Wray role and Charles Grodin as the Robert Armstrong character
Barbra Streisand with Kris Kristofferson (as a fading star) in a rock version of A Star is Born (1976) - the third version of the film
the H.G. Wells mad-scientist classic, The Island of Dr. Moreau (1976), starred Burt Lancaster as the eponymous scientist engaged in genetic research; it was earlier filmed as The Island of Lost Souls (1933) with Charles Laughton, and later remade by director John Frankenheimer as The Island of Dr. Moreau (1996) with Marlon Brando
Heaven Can Wait (1978), a re-make of the comedy/drama Here Comes Mr. Jordan (1941)
The success of outer space-oriented films, such as Star Wars (1977), generated the 11th James Bond space-motif adventure Moonraker (1979) (with Roger Moore). MGM brought back twenty-nine years of its past glory in That's Entertainment (1974) with documentary-style screen highlights of its greatest musicals. (A sequel quickly followed in 1976.)

Film History of the 1970s
Part 1, Part 2, Part 3, Part 4, Part 5, Part 6
---



---