Martin Scorsese

Newcomer Martin Scorsese, a graduate of the film school at NYU, first gained recognition with personal films, including his first low-budget feature Who's That Knocking At My Door? (1968) with Harvey Keitel, developed from an earlier student film. The debut film had all the typical Scorsese trademark themes and locales that would figure prominently in most of his films - New York City, unglamorous violence, brutality, Italian-Americans, competitiveness, the guilt-inducing impact of Catholicism, hostility, complex characters, and peer pressure in dark urban settings.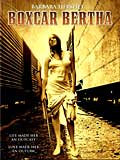 Afterwards, Scorsese served on the film crew for Michael Wadleigh's countercultural, rock festival documentary Woodstock (1970), with views of drug use and nudity, and coarse language. His next film, his first commercial film, was a AIP-Roger Corman-produced, character-driven exploitation film Boxcar Bertha (1972) designed to cash in on the Bonnie and Clyde (1967) crime film craze (and similar to Corman's own Bloody Mama (1970)), with Barbara Hershey as an itinerant, orphaned train robber in a Depression-era South cast opposite David Carradine.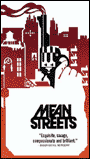 After being encouraged to make a personal work outside of mainstream Hollywood by independent film-maker John Cassavetes, the then 30 year-old Scorsese decided to co-write a semi-autobiographical, character-driven screenplay about the lives of four small-time hoods in New York's mob-dominated Little Italy. The low-budget film ($300,000), with the working title of Season of the Witch, became his breakthrough, highly-praised Mean Streets (1973) - a character study and coming-of-age crime drama starring his most-favored brooding and intense actor Robert De Niro (it was the first film of many that De Niro made with Scorsese) as psychopathic Johnny Boy, and Harvey Keitel as sharp-dressing fixer and Mafia apprentice Charlie. The film opened with Charlie's voice-over: "You don't make up for your sins in a church. You do it in the streets, you do it at home. The rest is bulls--t - and you know it." Surprisingly, it received an unexpected positive response from all audiences. The film's soundtrack was largely composed of classic rock music (notably sinister Stones' music), and used the San Gennaro festival in New York as its backdrop.
Scorsese went on to direct the realistic, semi-feminist melodrama Alice Doesn't Live Here Anymore (1974) with Ellen Burstyn as a struggling single mother and diner waitress in Phoenix, Arizona. The big-budget musical New York, New York (1977) was one of Scorsese's more conventionally-commercial films in the 70s decade - a failed attempt to bolster interest in the musical genre.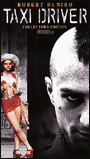 Scorsese's brutal and unforgettable Taxi Driver (1976) (with a screenplay by Paul Schrader) again starred De Niro in the decade's most notorious vigilante picture - a film that helped to spawn the modern American horror film with new extremes of violence and shock value. It was the story of a disturbed, lonely, psychotic New York City cabbie (and recent war veteran dischargee who reflected Vietnam War alienation) with a savior complex intent on rescuing twelve year-old hooker Iris Steensman (Jodie Foster) after being rejected by blonde campaign worker Cybill Shepherd. Its feverish violence, ambiguous ending, and showcase of acting talent were unprecedented. The film's realism and dark presentation of child prostitution and the seedy underworld, exemplified in Robert De Niro's characterization of Travis Bickle ("You talkin' to me?"), was as startling as Marlon Brando's performance as Stanley Kowalski in A Streetcar Named Desire (1951) two and a half decades earlier. [Famed composer Bernard Herrmann, best-known for his screeching score for Psycho (1960), died shortly after the completion of the score for Taxi Driver.]
Scorsese's grim Raging Bull (1980), with De Niro in an Oscar-winning performance as self-destructive boxer Jake LaMotta, was considered one of the ten best films of the next decade. The film brought Scorsese his first Best Director Oscar nomination.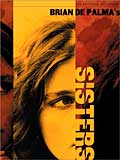 Brian De Palma

Young director Brian De Palma, with film-making roots similar to Martin Scorsese, started his career with two independent, underground black comedies about the counter-culture of the 1960s (satirizing free love, the draft, Vietnam, and the JFK Assassination): the anti-military, anti-war film Greetings (1968) (Robert De Niro's debut film) and its semi-sequel, the disjointed, provocative and bizarre Hi, Mom! (1970) - both with De Niro at the start of his film career. In Hi, Mom!, De Niro starred as filmmaker Jon Rubin who at one point joined a group of radical black activists who wanted to show whites what it was like to be black in America. [De Palma was responsible for launching the careers of Robert De Niro, Sissy Spacek, and John Travolta.] However, his first studio film Get To Know Your Rabbit (1972) with Tom Smothers and Katharine Ross was a major flop.
De Palma's often-gory horror melodramas and Hitchcockian-like thrillers, which mimicked the 'suspense master's' menacing scare tactics (and themes of voyeurism, obsession, and guilt), brought greater commercial attention. His first real mainstream film was the low-budget Sisters (1973), with homage to Hitchcock's Psycho (1960), starring Margot Kidder as a beautiful and tormented 'Siamese twin' and a score by Bernard Herrmann (Hitchcock's own favorite composer). He often incorporated reconstructions of famous scenes (from other films) into his own films, although some accused him of direct copying.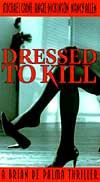 He went on to make the rock-n-roll musical-horror film flop Phantom of the Paradise (1974) - a major cult film, and then a Stephen King adaptation (King's debut novel) - the bloody, R-rated teen-drama Carrie (1976), De Palma's first major mainstream hit. It starred Sissy Spacek as a telekinetic, victimized high-school outcast (humiliated at her prom) who also faced torment from her religiously fanatical mother (Piper Laurie). The film ended with the memorably-shocking hand-from-the-grave scene. Other films followed:
Obsession (1976) (similar to Hitchcock's Vertigo (1958)) with Cliff Robertson and Genevieve Bujold
The Fury (1978), about another telekinetic child
Dressed to Kill (1980) (also similar to Hitchcock's Psycho (1960)) with Michael Caine as a transgendered and psychopathic Manhattan psychiatrist attending to a sexually-unsatisfied Angie Dickinson (who was slashed to death not in a shower but in an elevator); the film was labeled misogynistic
Blow Out (1981), a mystery about an assassination, regarding sound-effects audio technician Jack Terri (John Travolta) who inadvertently witnessed the 'accidental' killing of the governor - a promising presidential candidate, and found evidence of a conspiracy - a film that was a cross between Coppola's The Conversation (1974) and Antonioni's Blow-Up (1966)
De Palma would continue his streak of film-making into the 1980s, with his violent and bloody Cuban drug lord saga Scarface (1983) (from an Oliver Stone script) with Al Pacino as a Cuban gangster, the soft-core Body Double (1984) - with homage to Hitchcock's Rear Window (1954) and Vertigo (1958) - with a grisly power-drill murder scene, The Untouchables (1987) (from a script by David Mamet, based on the TV show) - an epic action-drama about Prohibition-Era Al Capone crusader Eliot Ness in Chicago and noted for its train station sequence that recreated the scene of a runaway baby carriage during a gunfight (similar to Battleship Potemkin's (1925) Odessa Steps sequence), and the Vietnam War film Casualties of War (1989) with Sean Penn and Michael J. Fox. By the end of the decade, he had scored both failures and hits (i.e., The Bonfire of the Vanities (1990) and Mission: Impossible (1996)).
Peter Bogdanovich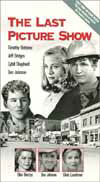 After his first feature Targets (1968) (Boris Karloff's final film with approximately 30 minutes of screen time, including stock footage from The Terror (1963)), a low-budget cult classic (produced by Roger Corman at American International Pictures) about a young middle-class mass murderer-sniper (similar to the real-life shooting rampage of Charles Whitman at the Univ. of Texas at Austin in 1966), 31 year-old former film critic Peter Bogdanovich became one of the hottest new directors at the start of the decade. [He was the first critic to become a Hollywood writer-director, and deliberately revered past American directors in his own work.]
His beautifully-photographed black and white The Last Picture Show (1971) was another melancholic rites-of-passage film. It was R-rated for its very candid sex scenes, including both a nude skinny-dipping indoor pool party, and a deflowering scene in a motel. It was an outstanding, evocative, nostalgic adaptation of Larry McMurtry's 1966 novel about two aimless, high-school seniors from blue-collar families in the small northern Texas town of Anarene in the early 50s. It also served as an elegy for a dying town and its way of life. [Although it became more commonplace, the deliberate use of black and white was considered unusual at the time.] Bogdanovich used a cast of promising young actors including Timothy Bottoms as Sonny and 20 year-old Jeff Bridges as Duane (as two football heroes), and Cybill Shepherd as the sexy, flirtatious town beauty Jacy.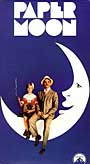 Bogdanovich's next two films were equally successful. The first one was the frenetic screwball comedy What's Up, Doc? (1972) scripted by Buck Henry. It deliberately paid homage to one of Hollywood's past classics -- Howard Hawks' archetypal screwball comedy Bringing Up Baby (1938).
He also directed Paper Moon (1973) - an engaging off-beat comedy of a wily, Depression Era con-man named Moses Pray (who sold Bibles to mourning widows) with his scheming and tough accomplice daughter (pairing real-life father-actor Ryan O'Neal and his nine-year old daughter Tatum O'Neal - who won the Best Supporting Actress Oscar for her substantial role). Tatum smoked non-tobacco 'lettuce cigarettes' in her role as the young grifter named Addie. Bogdanovich was assisted by Orson Welles who suggested that the black and white photography be shot through a red filter, adding higher contrast to the images.
But then, critical and financial failures abounded for Bogdanovich in the mid-70s and after - Daisy Miller (1974), At Long Last Love (1975), Nickelodeon (1976), Saint Jack (1979), They All Laughed (1981), Mask (1985), and The Last Picture Show's unsuccessful sequel Texasville (1990).
Robert Altman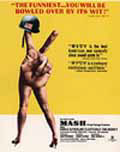 One of the most free-spirited, innovative, idiosyncratic cinema verité film-makers, Robert Altman, known for overlapping dialogue, huge ensemble casts with intermingled storylines, episodic structure, subjective sound and improvised performances delivered a prolific string of erratic, inventive, irreverent films in the seventies. He became well-known for reworking and subverting all the various genres, upending traditional narratives, and providing ambiguous conclusions to his films. His most-used performers included Shelley Duvall, George Segal, and Elliott Gould.
Although he had been a director since the early 50s, his first profitable and artistically successful, breakthrough film was the trend-setting, savagely irreverent black comedy M*A*S*H (1970), an adaptation of Richard Hooker's best-selling book. This great and daring farce satirized the war movie genre (and the Vietnam War itself) with its story of a group of doctors (including Elliott Gould as Trapper John and Donald Sutherland as Hawkeye) during the Korean War at a Mobile Army Surgical Hospital. Altman's anti-authoritarian, cynical film was the Grand Prix winning film at Cannes, and he received a nomination as Best Director - his first of five Academy Awards nominations. The popularity of M*A*S*H spawned the long-running TV series with hip characters "Hawkeye" Pierce and "Trapper" John McIntyre. [Note: M*A*S*H was released at the same time as two traditional war films: Patton (1970), and Tora! Tora! Tora! (1970).]

To skewer the western genre the next year and present an unglamorous, deconstructed, realistic depiction of a Western hero/gambler and entrepreneur, Altman filmed the revisionistic classic McCabe & Mrs. Miller (1971) with Warren Beatty as bumbling entrepreneur John Q. McCabe in the frontier town of Presbyterian Church in the wintry Northwest at the turn of the century and Julie Christie as the tough, opium-addicted brothel madam Constance Miller. The Long Goodbye (1973) re-fashioned the detective noir film, with Elliott Gould as the laid-back Raymond Chandler hero Philip Marlowe.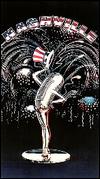 Altman's greatest over-all masterpiece, shot in under 45 days, was the low-budget, Oscar-nominated Nashville (1975) - his first great ensemble film, with about 30 musical songs (mostly original). It was a complex, scathing, dark satire on American life and values in the post-Watergate 70s era (involving issues of racism, sexuality, violence, the media, electoral politics, and the obsession with fame). America's state-of-the-union is seen metaphorically through Altman's trademark style - the interlocking lives of a huge eclectic cast of twenty-four main characters including self-interested politicians, performers and their groupies, and others (all of whom want to be star-struck) in the country-music capital setting during a presidential-campaign rally for a third-party candidate. (Singer Ronee Blakley and comedian Lily Tomlin received supporting Oscar nominations for their roles as a fragile singer and a sign-language-using unfaithful wife.) Gwen Welles as Sueleen Gay also improvised with a memorable, embarrassing striptease. The film concluded with the shocking assassination of Nashville fragile singer-star Barbara Jean (Ronee Blakley) on a concert stage during a political rally by a disgruntled, young and obsessed soldier named Kenny. The crowd was comforted into passivity by country music unknown wannabe Albuquerque (Barbara Harris) singing "It Don't Worry Me."
Further films in the decade -- he made over a dozen varied films during the 70s, with a large number of box-office duds -- included the flawed, off-beat comedy Brewster McCloud (1970), the revisionist, Depression-era romantic caper/gangster film Thieves Like Us (1974), the saga of two gamblers (Elliott Gould and George Segal) in California Split (1974), the surrealistic 3 Women (1977), the improvisational black comedy satire A Wedding (1978), and the futuristic sci-fi fable Quintet (1979). Two of Altman's other ill-fated failures were Buffalo Bill and the Indians, or Sitting Bull's History Lesson (1976), and his filming of Popeye (1980) with Robin Williams in his first major film role.

Film History of the 1970s
Part 1, Part 2, Part 3, Part 4, Part 5, Part 6
---



---