Horror Films - During Alfred Hitchcock's Last Influential Decade: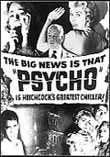 Alfred Hitchcock opened the decade (his fifth-decade of film-making) with his shocking, taut, blood-curdling Psycho (1960), his greatest masterpiece of black comedy/horror and effective psychological tension and best known for its legendary Bates Motel shower scene (edited to avoid any hint of nudity or weapon penetration) accentuated with Bernard Herrmann's piercing score. The film took a substantial risk by killing off its main star (Janet Leigh) relatively early on. And the film, considered the first modern horror film, challenged censors with the opening 'peeping tom' camera sequence, with the first view of a flushing toilet - and of course, with the notorious murder scene. To increase the suspense factor and to tease the public, Hitchcock instructed that no one was to be admitted to theatres once the film started, and an advertising slogan warned viewers to not give away the ending. [The overwhelming influence of television was evidenced by the fact that many of the production crew were 'borrowed' from Hitchcock's popular black and white television series to shoot the low-budget, full-length feature film.]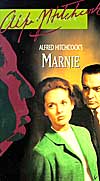 His next film was the paranoic The Birds (1963), a big-budget suspense/thriller about an onslaught of bird attacks in a California coastal town - made with startling photographic special effects. It was Hitchcock's only major film without incidental music. Hitchcock's most unsung, lesser film - the subtle, compelling psychological drama Marnie (1964), was about a beautiful but strange young woman named Marnie (Tippi Hedren) - befriended and married to a rich and handsome psychiatrist (Sean Connery) - who had a compulsion to steal, and a problem with the color red. This was the last of Hitchcock's films with a Bernard Herrmann score.
Two other less effective Hitchcock films toward the end of the decade were routine Cold War espionage-spy thrillers:
Torn Curtain (1966), Hitchcock's 50th film that featured the unlikely pairing of Julie Andrews and Paul Newman
Topaz (1969), with lesser-known stars Frederick Stafford, John Forsythe, John Vernon, and Karin Dor, and notable for its various endings
The science-fiction horror thriller Village of the Damned (1960) (remade in 1995 by John Carpenter), set in the British village of Midwich, told of the community's terrorizing by twelve children (all blonde, super-intelligent and with supernatural powers, fast-aging, and extra-terrestrial) - all born simultaneously. The UK's The Day of the Triffids (1963), based on John Wyndham's classic alien invasion sci-fi novel, told of a meteor shower that brought spores to Earth which germinated and grew into carnivorous plants. Another classic ghost-horror movie was Robert Wise's The Haunting (1963), based on Shirley Jackson's novel and starring Julie Harris and Claire Bloom.
Two feuding legendary screen actresses Bette Davis and Joan Crawford had their careers re-vitalized by playing two aged, ex-movie star sisters (Davis portrayed a former child star and Crawford a handicapped former movie star) in Robert Aldrich's chilling, campy and macabre What Ever Happened to Baby Jane? (1962), setting a trend in horror films for years to come.
George Romero's low-budget horror masterpiece was Night of the Living Dead (1968) about flesh-eating 'zombies' that possibly reanimated from their graves because of radiation from a fallen satellite. It was filmed on a miniscule budget of $114,000 and became an instant horror classic, even though it contained scenes of cannibalism and matricide, and featured a lead black actor (Duane Jones). It was one of the most successful independent features ever made at the time, earning some $12 million in box-office rentals worldwide.
Changing Times in 60s Films:
Traditional genres, like the gangster, thriller, war, horror, and western film portrayed more graphic violence and adult content. Films that exemplified these trends included Arthur Penn's stylish, fictionalized account of two notorious, anti-establishment 1930s folk-hero criminals Bonnie and Clyde (1967) with two Oscar-nominated glamorous stars Faye Dunaway and Warren Beatty as bank robbers. It featured strong supporting roles by Gene Wilder (in his screen debut), Gene Hackman, and Oscar-winning Estelle Parsons. With a screenplay strongly influenced by the European art movies of the early 1960s, this film cleverly subverted the gangster genre and ultimately became one of the studio's biggest hits. It was advertised by the phrase: "They're young...they're in love...and they kill people." Co-produced by anti-hero star Beatty, it was filmed in color and wide-screen glory and combined psychological insight, slapstick comedy, romance, and a slow-motion, machine-gunned ballet of blood in its shocking, orgasmic finale of retribution.

By the end of the decade - a time of enormous social turbulence, anti-authoritarianism and establishment questioning, political assassination, youth protest, marches and demonstrations, permissive sexuality and nudity, and anti-Vietnam War attitudes, baby boomers had become a major movie-attending presence. Hollywood cautiously produced only a few films to answer these themes. One of the most successful films to focus on youthful alienation and 'coming of age' was Mike Nichols' extremely popular but unsettling sex comedy The Graduate (1967) - noted as actor Dustin Hoffman's debut film. The film was a satire about a hapless, recent college graduate named Benjamin Braddock (Dustin Hoffman) who was "worried about his future," while experiencing a relationship-affair with a middle-aged Mrs. Robinson (Anne Bancroft) and her daughter Elaine (Katharine Ross). The box-office champ film of 1968 [the film was released in late 1967] was accompanied by an equally-popular Simon and Garfunkel soundtrack, and the memorable quote: "Plastics." With this film, Nichols became the first director to earn a million dollars.
The Lucrative Youth-Cult Market: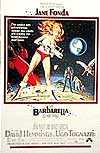 Studios capitalized on the expanding youth market by embodying the changing 60s values, and by showcasing and reflecting the loss of innocence and the onset of disillusionment in the waning decade's films.
Director Roger Vadim's campy sexploitation science-fiction comedy-fantasy Barbarella (1968) also became a cult film due to Jane Fonda's revealing strip-tease in the film's opening credits. It also set a trend for vinyl knee-high boots, and shocked some with its kinky storyline (including a literal sex 'organ').
More and more young people were attracted - in huge numbers - to theaters in the years 1967-1969, due to the release of previously-mentioned films in the decade: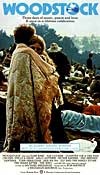 The documentary-style grandfather of all rock-concert films, Michael Wadleigh's Woodstock (1970), filmed on-location in upstate New York, chronicled the counter-cultural "happening" at the now-legendary 1969 concert. One little-known fact: it was edited by future film-maker Martin Scorsese. [Note: David and Albert Maysles' disturbing, R-rated documentary Gimme Shelter (1970) of the free 1969 Altamont (California) Rolling Stones concert presented the violent underbelly of the youth culture and rock concert phenomenon.] These films illustrated the influence of counter-cultural younger audiences on changing tastes and reflected the strength of the youth movement.
The pop singing group The Monkees starred in Bob Rafelson's self-indulgent, psychedelic, patch-work groundbreaking, surrealistic Head (1968), co-written by Jack Nicholson.
Columbia's revolutionary, soundtrack-driven 'outlaw' biker road film Easy Rider (1969), a modern-day, youth-oriented tale made independently, cheaply, and informally, starred co-writer/director Dennis Hopper (as Billy) and second-generation star Peter Fonda (as Wyatt) on a surrealistic hippie odyssey that crossed paths with a boozy lawyer (Jack Nicholson). It was an unexpected monumental hit with countercultural crowds - the first blockbuster hit from a coming new wave of Hollywood directors.
[Note: Earlier in the mid 1960s, Roger Corman (and his studio AIP) produced one of his most successful B-movies - the outlaw biker film The Wild Angels (1966), with Peter Fonda as one of its stars - Heavenly Blues, the leader of the violent and destructive 'Hell's Angels'. And all of the major male stars of Easy Rider had participated to some degree in Corman's low-budget, definitive LSD film The Trip (1967) - Fonda (as lead actor), Hopper (as uncredited second unit director), and Jack Nicholson (as screenwriter).]
As a result of Easy Rider's influence and success, this led to a flurry of equally self-indulgent, anti-Establishment themed films (generously green-lit by the big Hollywood studios) by inferior filmmakers, who overused some of the film's technical tricks, broke with a number of Hollywood conventions, and exploited the growing teen-aged market for easy profits. For example, Hopper's success with this film gave him the greenlight from Universal Pictures (and $850,000) for his next project The Last Movie (1971) which ended up being a colossal failure, due in part to reports of drug-induced orgies during filming, and its year-long editing process (delayed by alleged use of psychedelic drugs for 'inspiration').
However, a new wave of directors was looming on the horizon (Coppola, Bogdanovich, Altman, Scorsese, Spielberg, Lucas, De Palma, and Landis to name just a few) and led to an unusual eclectic set of offerings, including:
Brian de Palma's Greetings (1968)
Arthur Penn's Alice's Restaurant (1969)
Haskell Wexler's Medium Cool (1969)
Paul Mazursky's Alex in Wonderland (1970)
Russ Meyer's Beyond the Valley of the Dolls (1970)
Mike Nichol's Catch-22 (1970)
Robert Altman's M*A*S*H (1970) and Brewster McCloud (1970)
John Avildsen's Joe (1970)
Stuart Hagmann's The Strawberry Statement (1970)
Michelangelo Antonioni's Zabriskie Point (1970)
Monte Hellman's Two-Lane Blacktop (1971)
Daring Films in the 60s: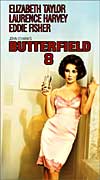 As film censorship was slowly being abolished in the US, a new freedom of language, subject matter and permissiveness was expressed in film, with more explicit treatments of sex and violence. In 1960, the Best Film Oscar went to Billy Wilder's The Apartment (1960) about an ambitious junior corporate worker (Jack Lemmon) who loaned out his apartment as a love nest to the corporation's senior executives for sexual encounters. The corporate ladder-climbing employee was shocked when he learned that his elevator operator/girlfriend (Shirley MacLaine) was also one of the boss' victims. The film skewered the success-oriented decade of the 1950s and was regarded as somewhat risque at the time, but considered tame by the end of the 1960s. Jack Lemmon also starred as an alcoholic businessman with his boozing wife Lee Remick in Days of Wine and Roses (1962), noted for Henry Mancini's Oscar-winning title song.
Another daring drama at the time was the glossy screen adaptation of John O'Hara's novel Butterfield 8 (1960) in which Elizabeth Taylor won her first Best Actress Award as an amoral, high-priced call girl in New York City. Italian director Federico Fellini's risque masterpiece La Dolce Vita (1960) (translated "The Sweet Life"), that marked the end of his Neo-Realistic period, starred Marcello Mastrioanni as a decadent society playboy and gossip columnist who pursued statuesque and busty film star Anita Ekberg to the Trevi Fountain.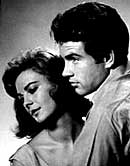 British director Michael Powell's daring and controversial psychological thriller about voyeurism, Peeping Tom (1960, UK), was criticized at the time of its release for being creepy, sick, perverse, and obscene, but since then has been re-evaluated and considered one of cinema's masterpieces. Director Elia Kazan's Splendor in the Grass (1961), a passionate love story between two high-school students in a small Kansas town, featured Hollywood's first on-screen, open-mouthed kiss and censored nudity of its young female star Natalie Wood in a bathtub as she screamed to her mother that she wasn't spoiled. It was also the first film for Warren Beatty and Sandy Dennis.
To Kill a Mockingbird (1962) was a top-notch adaptation of Harper Lee's novel about a 1930s small-town, widowed southern lawyer (Oscar-winning Gregory Peck as Atticus Finch), with two children (Scout and Jem), who defended a falsely-accused black man against charges of the rape of a white woman - mixing two controversial topics (racism and rape). Two films in 1962 pushed for more explicit themes: Stanley Kubrick's Lolita (1962) dealt with the sensitive topic of pedophilia, and producer/director Otto Preminger's political-courtroom drama Advise & Consent (1962) involved homosexuality.
Sidney Lumet's mainstream, socially-conscious melodrama about a Spanish Harlem Jewish shop owner - The Pawnbroker (1965) included a landmark scene of a woman undressing and baring her breasts - an integral component of the plot. The film was granted a Production Code seal, the first for a mainstream film containing nudity, beginning a trend toward nudity in other 60s American films. In 1967, a number of mainstream films helped spur the development of a ratings system, with their excessive amounts of explicit profanity and sexuality.
(See Sexual and Erotic Films summary for more on challenges that led to the establishment of the ratings system).
The First Films in 1966 That Challenged the System:
(1) Who's Afraid of Virginia Woolf? (1966), Edward Albee's play and stage director Mike Nichols' first screen directorial assignment - a bold film with adult themes, feuding couple George and Martha (real-life married couple Burton and Taylor), and explicit four-letter language that challenged censors. The MPAA ratings board gave the film a Seal of Approval after Warner Bros. appealed and made a few cuts of the most extreme profanity (such as "screw you"). However, anyone under the age of 18 was not allowed admission - a precursor to the R rating - in exchange. Taylor won the second and last Best Actress Oscar of her career for this performance.

(2) the sexually-frank British film Alfie (1966, UK), starring Oscar-nominated Michael Caine (in a star-making role), mentioned "abortion" on its soundtrack. It was considered daring and shocking in its time, with an examination of taboo subjects and the consequences of the sexual revolution in the swinging 1960s. The film represented a prime example of a foreign import that became attractive viewing for American audiences tired of the same old formulaic studio films.

(3) the bold and quirky British romantic comedy Georgy Girl (1966, UK) set in swinging London (with a star-making role for Oscar-nominated Lynn Redgrave) was also considered controversial for its subject-matter.

(4) Michelangelo Antonioni's first English-language film Blow-Up (1966, UK/US/It.) was also set in mod-Swinging 60s London. When Antonioni refused to cut the few glimpses of female nudity in the film, it was released without a Seal of Approval, and engendered even greater popularity for the arthouse film.
The title of the trashy melodramatic film Valley of the Dolls (1967), adapted from Jacqueline Susann's best-selling book and starring Barbara Perkins, Patty Duke, and Sharon Tate as three fame-seeking women, referred to 'uppers' and 'downers' - barbiturate pills. The first major (commercially-released) US studio film to include the word 'shit' in its dialogue was Richard Brooks' In Cold Blood (1967). It was also said a year later in Boom! (1968, UK) (spoken by actress Elizabeth Taylor as Flora 'Sissy' Goforth: "S--t on your mother!" Note: Taylor was the first actress to say 's--t' in a major motion picture). Two films claimed to be the first film to use the four-letter F word: director Joseph Strick's Ulysses (1967, UK/US) and Michael Winner's I'll Never Forget What's'isname (1967, UK) (i.e., "Get out of here, you f--king bastard!", spoken by actress Marianne Faithfull as Josie). The latter also included a scene that implied oral sex between Oliver Reed and Carol White, as did Albert Finney's first directorial attempt Charlie Bubbles (1967, UK) with a controversial oral sex scene.
The New Ratings System:
By the late 1940s, the organization known as the MPPDA (Motion Picture Producers and Distributors of America) to administer the motion picture Production Code then became known as the Motion Picture Association of America (MPAA). In 1966, the Production Code Administration (and its Motion Picture Production Code) that had set moral standards in films for almost 30 years since its establishment in the early 1930s, was curtailed. Due to pressures emerging against the archaic censorship body, its new president Jack Valenti (appointed in 1966) abolished the Hays Code in 1967. It had become very obvious that the code was outdated and unnecessarily restrictive.
In November of 1968, a major revision in the ratings systems helped to encourage artistic freedom rather than censorship, and avoid the threat of government censorship. It let Hollywood film-makers compete against adult-oriented foreign film productions, and it lessened restraint toward questionable themes (sex and nudity, violence, obscenity, etc.) A new voluntary ratings code was announced to replace the decades-old Production Code, and it was to be administered by the Motion Picture Association of America (MPAA) (under the Classification and Rating Administration). Ratings were to be enforced by theaters, distributors and exhibitors.
The four ratings beginning in 1968 (for only a few years) were:
"G" (general audiences or suitable for all ages)
"M" (suggested for mature audiences - subsequently this was soon changed to GP and then PG for 'parental guidance' suggested)
"R" (restricted audiences - no one under age 16 admitted without an accompanying adult)
"X" (for those 16 years and older, "not suitable for children")
Soon afterwards in 1969, the M rating was changed to GP (General Patronage) and then to PG (meaning 'Parental Guidance Suggested') in 1970, and the age restriction was raised to 17 from 16. Rather than a form of pre-censorship or a restriction against pornography, the new system mainly offered advisory classification to exclude under-16s from X-rated films (later changed to 17), and categorized films according to their appropriateness for young viewers. The threat of an X rating encouraged many filmmakers to re-edit their films to achieve an R rating. Most filmmakers would also subsequently try to avoid a G-rating (other than Disney's animations and true family fare) in order to raise their ratings to PG - and thereby increase their desirability by adult audiences. Many foreign film-makers chose to not submit their films to the ratings board, since their films didn't have widespread appeal anyway and would only play in arthouse venues.
After the ratings system was implemented, a lot of films were made that probably couldn't have been made or released under the old Production Code guidelines. And a number of films were specifically geared to appeal to counter-cultural, youthful or arthouse audiences that had become tired of stale Hollywood offerings.
The US/Canadian production of director Mark Rydell's originally R-rated debut film The Fox (1967, Can.) had been controversial for its depictions of nudity, masturbation and lesbianism - in a stark adaptation of D.H. Lawrence's 1923 novella of lesbian love. Brian De Palma's draft-dodger comedy Greetings (1968), (Robert De Niro's debut film) received an X rating by the MPAA for nudity and profanity (in its original release), although it was reduced to an R rating. The disturbing crime drama The Boston Strangler (1968) told the grisly story of violent, self-confessed mass murderer Anthony DeSalvo (Tony Curtis). The first film to receive an X rating was La Motocyclette (1968, UK/Fr.) (aka The Girl on a Motorcycle), about a leather-clad female cyclist (singer Marianne Faithfull) with numerous sexual fantasies.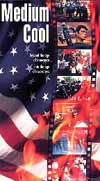 Cinematographer Haskell Wexler directed his feature debut film - the cinema-verite , non-exploitative adult film Medium Cool (1969), also originally rated X due to full-frontal nudity and violence - about a television news cameraman covering the violent 1968 Chicago Democratic Convention. Another controversy erupted over the inter-racial love scene between guerrilla leader Raquel Welch and deputy Jim Brown in 100 Rifles (1969) - rated R. Both Robert Aldrich's lesbian film The Killing of Sister George (1968), and first-time director Paul Mazursky's successful sex comedy about swinging and group therapy, Bob & Carol & Ted & Alice (1969), gave evidence that sexual permissiveness and a new liberalism about sexual mores had emerged in Hollywood.Ken Russell's version of D.H. Lawrence's Women in Love (1969, UK) (with a Best Actress Oscar win for Glenda Jackson as Gudrun Brangwen), set in a mining community in Nottinghamshire, was infamous for its nude wrestling match between stars Oliver Reed and Alan Bates.
The Best Picture Oscar for films made in 1969 went to English director John Schlesinger's X-rated Midnight Cowboy (1969) with the popular Harry Nilsson theme song Everybody's Talking. This archetypal "New Hollywood" 70s film, with nudity and profanity, told the story of the close relationship between a naive Texan stud-dishwasher (Jon Voight) and a grizzled derelict (Dustin Hoffman), two men forced to live in marginalized American society. Its themes resonated with the countercultural audiences of the time: sex, drugs, anti-authoritarianism, and the search for freedom. It was the first major, commercial studio-film so rated and the first X-rated film ever to win the Academy Award (although two years later, the ratings board re-classified it as R-rated).

Film History of the 1960s
Part 1 , Part 2, Part 3, Part 4, Part 5, Part 6
---



---