AIP's Rise to Prominence in the 60s:
American International Pictures (AIP) with director-producer Roger Corman, were responsible for a large wave of low-budget, B-film, black and white exploitative films designed for the teen market, including genres as diverse as westerns, crime thrillers, and sci-fi/horror. By 1960, however, their strategy of releasing double-features was declining in success, and they began to release bigger budgeted films (often in color). There were two series in the 60s that helped establish AIP as a leading studio:
Edgar Allan Poe Tales - AIP released a cycle of eight higher-budget, colorful widescreen films loosely based on Poe's tales, often with big-name actor Vincent Price, including

The Fall of the House of Usher (1960)
The Pit and the Pendulum (1961)
The Premature Burial (1962)
Tales of Terror (1962)
The Raven (1963)
The Haunted Palace (1963)
The Masque of the Red Death (1964)
The Tomb of Ligeia (1964)



"Beach Party" Films - released mostly to drive-in theatres, mostly sexless, antiseptic, and well-groomed antics of beachgoers (on a perpetual summer vacation), and starring popular 24 year-old singer Frankie Avalon, and now-buxom 21 year-old ex-Disney Mickey Mouse Club Mousketeer Annette Funicello (as Dolores or "Dee Dee" in later films). [Note: Ironically, both Avalon and Funicello were from Philadelphia, not sandy-beached S. California!] William Asher was the primary originator of the extremely popular and profitable series and the director of most of these films. It consisted of a four year run (1963-1966), with 7 official 'beach party' films in a continuing series (see below).

These beach movies were unique because they added pop music (almost presented as rock videos) to the fantasy 'beach party' theme. AIP realized the lucrative buying power of this new demographic group and advertised their first fluffy film Beach Party (1963) alluringly: "It's what happens when 10,000 kids meet on 5,000 beach blankets." However, wholesome star Annette Funicello - still under contract to Disney, was legally forced to not appear in a bikini, and to express repressive sexual attitudes, although she wore a non-revealing two-piece suit! - the main films in the series included:



(1) Beach Party (1963), a musical comedy starring Avalon, Funicello, Robert Cummings, and Dorothy Malone
(2) Muscle Beach Party (1964) - about a 'turf' clash between bodybuilders and beach surfers
(3) Bikini Beach (1964) - AIP's biggest grossing film ever; included Boris Karloff in an uncredited cameo role; advertised as: "It's where the girls are BARE-ING, the guys are DAR-ING, and the surf's RARE-ING to GO-GO-GO"
(4) Pajama Party (1964) (aka The Maid and the Martian), d. Don Weis; with the action moved from the beach to an indoors slumber party; with roles by old-time stars Buster Keaton, Dorothy Lamour and Elsa Lanchester, and with Disney star Tommy Kirk (of The Hardy Boys) as a poor substitute for Frankie Avalon
(5) Beach Blanket Bingo (1965) - the classic 'beach party' film, with Avalon (now 26 years old!, and in his last and major starring role in the 'Beach Party' films) who caused Funicello (as Dee Dee) to try sky-diving when he went to rescue kidnapped pop singer Sugar Kane (Linda Evans) from biker Eric Von Zipper's (Harvey Lembeck) gang, and small roles by Hollywood icon Buster Keaton (as a lecherous beachcomber) and Beach Boys singer Brian Wilson
Ski Party (1965), d. Alan Rafkin, an aborted attempt at a spin-off with new characters and locales, featuring Frankie Avalon, Dwayne Hickman, Deborah Walley, and a cameo by Annette Funicello
(6) How to Stuff a Wild Bikini (1965) - with a cast including Buster Keaton as witch doctor Bwana, Dwayne Hickman (from TV's Dobie Gillis), Mickey Rooney, and a cameo by Elizabeth Montgomery (from TV's Bewitched)
Dr. Goldfoot and the Bikini Machine (1965), d. Norman Taurog, a parody spy film (of two 60s James Bond films: Dr. No and Goldfinger), starring Vincent Price as mad scientist Dr. Goldfoot who created a group of bikinied robots
(7) Ghost in the Invisible Bikini (1966), d. Don Weis, with Deborah Walley and Aron Kinkaid in the lead roles, and Basil Rathbone and Boris Karloff in minor roles; the last in the seven film AIP series
Footnote: Back to the Beach (1987) - released over 20 years later - a comedy spoof-parody (and celebration) with Funicello and Avalon as executive producers and stars as a married couple (Frankie, the Big Kahuna and Annette) living in Ohio who head to California for a visit; featured appearances by 1950s and 1960s TV stars in bit parts (some uncredited) including Tony Dow, Jerry Mathers and Barbara Billingsley (from Leave It to Beaver), Bob Denver as a bartender (spoofing his title role in Gilligan's Island) with various humorous lines, such as: "I was on an island for years with a guy who could take two coconuts and some string and make a nuclear reactor. But he couldn't fix a three-foot hole in a boat") and Alan Hale Jr. from Gilligan's Island as his buddy, Don Adams (from Get Smart) as the Harbor Master, and Edd "Kookie" Byrnes (from 77 Sunset Strip) as a valet; Connie Stevens starred as Miss Lip Gloss of 1962 and Pee-Wee Herman (Paul Reubens) performed a virtuoso version of 'Surfin' Bird'
AIP 'Beach Party' Ripoffs:
The beach party films from AIP were cheaply ripped off and imitated in the mid-60s by many of the major studios, including director Maury Dexter's Surf Party (1964) with heartthrob singer Bobby Vinton, Wild on the Beach (1965) (aka Beach House Party) featuring an appearance by Sonny and Cher (in their film debut), and by Paramount's and director Lenni Weinrib's Beach Ball (1965). It had the tagline: "Those surf ridin', skin divin', sky jumpin', drag racin', beach bashin' boys and their bikini beauties... in a blast of a beach brawl!", starred Ed "Kookie" Byrnes and featured an appearance by Motown's Supremes. Another spy-comedy beach movie was Universal's Out of Sight (1966). Columbia's and director Don Taylor's Ride the Wild Surf (1964) starred Fabian, Shelley Fabares, Barbara Eden and Tab Hunter in a Hawaiian surf setting, and The Beach Boys singing group and pop star Lesley Gore appeared in Paramount's and William Witney's The Girls on the Beach (1965) set in S. California. Many of the teen-related beach movies included performances by pop bands of the time. Elvis Presley's Clambake (1967) was advertised as a 'beach party' film.
Other "Clean Teen" Beach Films, Gidget, and Tammy:
In the late 50s and 1960s, one of the major cinematic trends was to appeal to the 'coming of age' baby boomers - an increasingly well-groomed, youthful, middle-class film audience that wanted comic, idyllic romantic escapades without heavy melodrama. [They were the kind of clean white teens seen in TV shows such as Ozzie and Harriet and American Bandstand.] Whimsical tales of carefree teens served as a counterpart to the rebellious and mixed-up teen films with James Dean and Marlon Brando, and counterbalanced the scary early 60's political and social scene (evidenced by the Cold War, the Cuban Missile Crisis, the threat of nuclear holocaust, the growing sexual revolution and Vietnam War, etc.).

Hollywood's first teen 'beach party' or high-profile surfing film, with numerous sequels and imitators for the youth market, was the first in a series of romantic comedy films from Columbia Pictures. They featured a petite, teenaged girl, tomboyish surfer and A student named Francie Lawrence (nicknamed Gidget or "girl midget"), first played by Sandra Dee. The pert, squeaky-clean young blonde actress was one of the top 10 box office attractions from 1960 to 1961, and the 'Gidget' role was the one she would become most identified with. [She was also referenced in a song in the rock musical Grease (1978) -- "Look at me, I'm Sandra Dee, Lousy with Virginity"]:
Gidget (1959), with Sandra Dee as 'Gidget', James Darren (as Moondoggie), and Cliff Robertson as Kahuna, Malibu's resident surf bum
Gidget Goes Hawaiian (1961) with Deborah Walley as Gidget
Gidget Goes to Rome (1963) with Cindy Carol (as Gidget) and James Darren
Gidget, a spin-off TV series, lasting one season from 1965-66 with Sally Field
Gidget Grows Up (1969), a made-for-TV movie, with Karen Valentine as Gidget
Gidget Gets Married (1972), a made-for-TV movie, with Monie Ellis as Gidget
A similar series of four, surprise-hit, romantic comedies debuted in the late 50s with a charming Debbie Reynolds (followed by Sandra Dee again) as a young, backwoods country girl named Tammy Tarleton:
Tammy and the Bachelor (1957) with the hit song Tammy (Oscar-nominated as Best Song)
Tammy, Tell Me True (1961) - with Sandra Dee and John Gavin
Tammy and the Doctor (1963) - with Sandra Dee and Peter Fonda
Tammy and the Millionaire (1967) - with Debbie Watson
Tammy, a spin-off TV series from 1965-66 with Debbie Watson
Surfing Films:
The biggest surf film of the decade was director Bruce Brown's The Endless Summer (1966), a semi-documentary about the search for the "perfect wave." Other surfing and youth-oriented films that followed close behind during the decade were: Ride The Wild Surf (1964), The Golden Breed (1968), UA's For Those Who Think Young (1964), Fantastic Plastic Machine (1969), and Pacific Vibrations (1970) (promoted as "Like Woodstock on a Wave"). The surfing craze was also reflected in TV shows such as Surfside Six and Hawaiian Eye.
Literary-Based Films: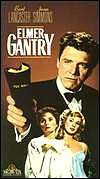 During the early to mid 1960s, Hollywood looked to literary works and the history books for many of its films. The studios were increasingly willing to pay for film rights to various novels and literary works. Examples of literary works translated to the screen in the 60s include:
Richard Brooks' absorbing adaptation of Sinclair Lewis' novel Elmer Gantry (1960) - a tale of a 1920's huckster, phony evangelist on the Midwest circuit of revival meetings, a flamboyant role for which Burt Lancaster won a Best Actor Award
Otto Preminger's Exodus (1960) with Oscar-winning music , based upon Leon Uris' novel about the establishment of the independent state of Israel, with an unlikely blue-eyed Paul Newman as Jewish leader Ari Ben Canaan
a fictionalized dramatization of the actual Scopes 'monkey trial' courtroom battle about the teaching of evolution (between the legendary Clarence Darrow and William Jennings Bryan), in the film's adaptation between defense attorney Henry Drummond (Spencer Tracy) and prosecutor Matthew Harrison Brady (Fredric March) - based upon Jerome Lawrence's and Robert E. Lee's play Inherit the Wind (1960)
A Raisin in the Sun (1961) - after its successful run as a Broadway play, was a ground-breaking work on race-relations by Lorraine Hansberry, during the early years of the civil rights movement, with Sidney Poitier and Ruby Dee
Elia Kazan's direction of an adaptation of William Inge's psychosexual drama Splendor in the Grass (1961) with Warren Beatty (in his debut film) and Natalie Wood - a Depression-era Romeo and Juliet plot; it marked the first screenplay of playwright Inge
MGM's Mutiny on the Bounty (1935) with Clark Gable and Charles Laughton, based on a true story of the British navy in the 1700s, was remade as Mutiny on the Bounty (1962), with odd-accented Marlon Brando as Fletcher Christian and Trevor Howard as Captain Bligh
Otto Preminger's The Cardinal (1963), adapted from Henry Morton Robinson's best-selling novel, following the life of a young Rome-educated American priest rising from a backwoods clergyman to Cardinal [the film was the first film in Panavision 70, a film process in which a 35 mm film was enlarged to 70 mm for wide-screen projection]
writer-director Elia Kazan's own semi-autobiographical America, America (1963) about his Turkish-Greek uncle's immigrant experience
John Huston's The Night of the Iguana (1964) - based on a Tennessee Williams play about an alcoholic former clergyman (Richard Burton) and Reflections in a Golden Eye (1967) based on a Carson McCuller novel about a homosexual army officer (Marlon Brando) in the South
Harold Robbin's steamy novel that was made into a garish saga of the career of a Howard Hughes-like millionaire/industrialist in The Carpetbaggers (1964) (actor Alan Ladd's last film)
George Stevens' big-budget religious epic The Greatest Story Ever Told (1965) was an adaptation of Fulton Oursler's best-selling book, with Max Von Sydow in the role of Jesus, Telly Savalas as Pontius Pilate, David McCallum as Judas, and many other stars in the roles of additional New Testament characters
the screen version of Robert Bolt's play in the superb, Oscar-winning period piece by director Fred Zinnemann, A Man For All Seasons (1966) - it portrayed the clash of ideals between the honorable Sir Thomas More (Oscar-winning Paul Scofield reprised his stage performance) and egocentric King Henry VIII (Robert Shaw)
director/writer Richard Brooks' filming of Truman Capote's adapted screenplay of a notorious 1959 Kansas mass murder of the Clutter family in the stark black and white film In Cold Blood (1967), starring Robert Blake as one of the two killers
Charly (1968), a TV adaptation of Daniel Keyes' story Flowers for Algernon (with a experimental lab mouse named Algernon), brought the title character (Cliff Robertson) a Best Actor Oscar for his role as someone with learning difficulties who temporarily became a genius
director Frank Perry's oddly-intriguing The Swimmer (1968), an allegorical telling of a John Cheever short story (adapted by Eleanor Perry) about a swimming trunks-clad man (Burt Lancaster) who swims home through a suburban neighborhood
James Goldman's literate screenplay for The Lion in Winter (1968), about a medieval power struggle between Queen Eleanor of Aquitaine (Oscar-winning Katharine Hepburn) and Henry II of England (Peter O'Toole)
Franco Zeffirelli's version of Shakespeare's Romeo and Juliet (1968) starred two young teenaged actors (Olivia Hussey and Leonard Whiting) in the lead roles as the tragic "star-crossed" lovers of Verona
Two aging actors were both involved in Shakespearean roles in the mid-60s: Laurence Olivier in the lead role of Othello (1965) and Orson Welles in Chimes at Midnight (1966) (also known as Falstaff), a seamless integration of five of Shakespeare's texts/plays. With French production, Welles also directed a black, expressionistic, noirish version of Franz Kafka's The Trial (1962) (or Le Proces).
Sink the Bismarck! (1960) told the story of the deadly German battleship that was sunk with a single shot by the British Royal Navy's HMS Hood. In Judgment at Nuremberg (1961), Spencer Tracy presided over Nazi war crime trials in Germany to bring justice to those guilty of crimes against humanity during the war. The Longest Day (1962), a tale about the events of June 6, 1944 told from both the Allied and German points of view, featured nearly 50 international stars.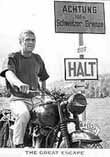 Cool, anti-hero 60s star Steve McQueen appeared in Don Siegel's WW II action drama Hell Is For Heroes (1962) about a group of Americans defending a foxhole. After his earlier work in 1960 with producer/director John Sturges, Steve McQueen was re-teamed to make the critically-acclaimed and box-office champ The Great Escape (1963), a classic WWII German POW camp escape tale (based on a true story) with an all-star group of Allied prisoners (American, Canadian, and British) - with McQueen's memorable attempt at freedom on a soaring motorbike.
During the years when the conflict in Vietnam was building up, McQueen gave a compelling, Oscar-nominated performance as a sailor aboard a gunboat (with young newcomer Candice Bergen) on the Yangtze River in China during the 1920s in Robert Wise's The Sand Pebbles (1966), the director's first film since his success with The Sound of Music (1965). The action drama provided an interesting commentary on American imperialism (and the concurrent US role in Vietnam). When tragically dying in the film's climax, the heroic McQueen asked: "What the hell happened?" - reflecting the era's confusion about its policies (See more on Steve McQueen below.)
The UK's historical war epic Zulu (1964) documented how the British at Rorke's Drift were outnumbered by Zulu tribesmen in 1879 Africa. Frank Sinatra (as Colonel 'Von' Ryan) led an escape of POWs held in WWII Italy by seizing a German train in Von Ryan's Express (1965). A popular, farcical Cold War movie The Russians Are Coming, The Russians Are Coming (1966) provided a comical and satirical perspective, with its tale of a stranded Soviet submarine on the coast of New England with a crew led by Theodore Bikel and Alan Arkin.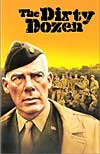 Robert Aldrich's nihilistic and macho-man The Dirty Dozen (1967) was an enormously-successful hit in the 60s - a non-stop action World War II thriller with the exciting tale of an impossible suicidal mission against the Nazis by a group of death-row convicts (including John Cassavetes, Telly Savalas as Maggot, Donald Sutherland, Charles Bronson, and ex-football star Jim Brown) - all led by tough-talking Lee Marvin. And John Wayne's portrayal as leader of elite US Army's Special Forces in the simplistic, stereotyped The Green Berets (1968) [co-directed by Wayne], patriotically bucked the era's anti-Vietnam war sentiments with heavy-handed propaganda and pro-Vietnam views. It was the only big-budget Hollywood feature film specifically about the Vietnam War that was made during the war - and it was both hawkish and pro-intervention.
Landmark Films and Stars of the 60s: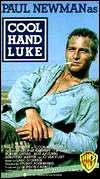 60s movie star Paul Newman's most famous screen role was as anti-hero pool-player Fast Eddie Felson in Robert Rossen's The Hustler (1961), an adult drama and character study of an emotionally-empty two-bit hustler who challenged legendary pool player Minnesota Fats (superbly played by Jackie Gleason). Other memorable films during Newman's best acting period included Martin Ritt's Texas-based drama Hud (1963), Jack Smight's detective film Harper (1966), and Stuart Rosenberg's Cool Hand Luke (1967), with Newman as Lucas Jackson - a rebellious Southern chain-gang prisoner and symbolic Christ-figure, noted for an egg-eating contest and the line of dialogue: "What we have here is failure to communicate." As many others stars would do, Newman took a stab at directing and cast his wife Joanne Woodward as a spinsterish schoolteacher in his feature film directorial debut Rachel, Rachel (1968).
Robert Mitchum had one of his most menacing roles as vengeful ex-con Max Cady, who terrorized the Bowden family led by prosecuting lawyer Gregory Peck who had sent him to prison, in Cape Fear (1962). The noirish thriller ended with a tense climax on a houseboat. (The film was remade by Martin Scorsese as Cape Fear (1991), with Robert DeNiro in the lead role as the threatening ex-criminal.)

Anti-hero Steve McQueen also exemplified the ultimate in "cool" - as a young poker player in Norman Jewison's The Cincinnati Kid (1965), and as a vengeful young half-breed in Henry Hathaway's Nevada Smith (1966). Producer/director Norman Jewison's expensive, slick caper romance/thriller The Thomas Crown Affair (1968) (remade in 1999) overdid the artsy split-screen technique and other fancy photography (from Haskell Wexler), but featured Steve McQueen in the charming title role. In addition, he participated in one of the most exciting, extraordinary car chases in film history (with McQueen driving a Shelby Mustang 350GT chasing a Dodge Charger R/T through San Francisco) in Peter Yates' action-film Bullitt (1968) with music by Lalo Schifrin. His role as an unorthodox police lieutenant inspired other maverick cop-detective films. It was one of the first Hollywood films shot entirely on location.

Another big 60's star, Audrey Hepburn, starred in one of her best-loved, off-beat roles as sophisticated Manhattan party girl Holly Golightly in the stylish adaptation of Truman Capote's story Breakfast at Tiffany's (1961) with an Oscar-winning score (including the popular Oscar-winning "Moon River") by Henry Mancini. In the Hitchcock-like murder-mystery / romantic-thriller Charade (1963), the popular actress was pursued throughout Paris by bad guys and the suave Cary Grant (assuming many aliases: Peter Joshua, Adam Canfield, Alexander Dyle, while his real name was Brian Cruikshank) - plus there were early appearances by Walter Matthau, George Kennedy and James Coburn. And she played a blind girl terrorized by a psychopathic killer (Alan Arkin) looking for heroin in the scary thriller Wait Until Dark (1967).

Esteemed black actor Sidney Poitier was the first African-American to win an Oscar for Best Actor for his role as a warm-hearted, unemployed construction worker who helped nuns build a chapel in Lilies of the Field (1963). A Patch of Blue (1965) boldly featured a kissing scene between a compassionate, well-educated black man (Sidney Poitier) and a lower-class blind white woman (Elizabeth Hartman). In just one momentous year - 1967 - the successful Poitier went on to make further hits, and appeared in the few films of the decade that portrayed racial tensions:
To Sir, With Love (1967), with Poitier as a teacher in an inner-city school in London's tough East End; also with the title hit song by Lulu
director Norman Jewison's Best Picture winning detective-murder mystery-drama In the Heat of the Night (1967), with Poitier as a Philadelphia detective named Virgil Tibbs who clashed with a bigoted Mississippi sheriff (Oscar-winning Rod Steiger) in a prejudiced, Southern redneck town; noted for the line of dialogue: "They call me Mister Tibbs!"
Stanley Kramer's old fashioned, semi-contrived Hollywood film Guess Who's Coming to Dinner (1967), about the controversial subject of inter-racial romance between a black medical doctor (Poitier) and his fiancee Katharine Houghton (the actual niece of Oscar-winning Katharine Hepburn), the daughter of Hepburn and Tracy in the film; Hepburn was playing opposite Spencer Tracy (for the ninth and final time)
Disaster film expert Irwin Allen directed the special effects-laden adventure sci-fi Voyage to the Bottom of the Sea (1961), with Walter Pidgeon as Captain Nelson commanding the submarine Seaview on a mission to save the world. The film inspired an Irwin Allen executive-produced spin-off ABC-TV series from 1964-1968, starring Richard Basehart. Richard Fleischer's Fantastic Voyage (1966) used the interior of the human body as the setting for a miniature government project in which surgeons were shrunk to save a dying man - with Raquel Welch in a tight-fitting wetsuit.
Light-Hearted Fare: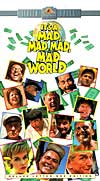 Cinerama's second hit in the 60s, before its demise, was Stanley Kramer's exhausting It's a Mad, Mad, Mad, Mad World (1963) starring almost every living Hollywood comedian (from the silent years to the present, e.g., Buddy Hackett, Jimmy Durante, Mickey Rooney, Ethel Merman, Jonathan Winters, Spencer Tracy, Milton Berle, Sid Caesar, Phil Silvers, Terry Thomas, Buster Keaton, the Three Stooges, and Jerry Lewis) in a mad search for buried treasure. According to Jimmy Durante, it was buried under a big W. [The studio set a precedent by financing a Hollywood press junket for reviewers to fly in.] Jerry Lewis also played a dual role as the ultra-smooth Buddy Love and as a nerdy college teacher (Julius Kelp) in The Nutty Professor (1963).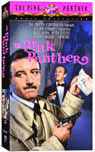 Three continents were spanned in Blake Edwards' comedy The Great Race (1965) with rivals Tony Curtis (as The Great Leslie) and Jack Lemmon (as mustached Professor Fate). The first in a long, popular series of sleuth-caper Pink Panther sequels was the original slapstick comedy The Pink Panther (1963) with the incomparable, bumbling, inept French police Inspector Jacques Clouseau (Peter Sellers in the first of five films) trailing a glove-dropping jewel thief named the Phantom (David Niven) in the Swiss Alps.
The heartwarming children's/family nature film Born Free (1966) - with an Oscar-winning title song, told of Elsa, a lion raised in Kenya and eventually returned to the wild by game wardens Joy and George Adamson. Mel Brooks' The Producers (1968) starred Zero Mostel as a con of little old ladies, Gene Wilder as his timid accountant, and their attempts to create a sure-fire flop called Springtime for Hitler. Zero Mostel was also featured in the slapstick musical comedy A Funny Thing Happened on the Way to the Forum (1966), with Stephen Sondheim songs. Jane Fonda and Robert Redford starred as newlyweds, who lived on the fifth floor of a Greenwich Village New York apartment in the romantic domestic comedy Barefoot in the Park (1967), originally a successful Broadway play from Neil Simon.
Cross-Over Singing Stars: Elvis Presley and Cliff Richard
Fox contracted with pelvic-thrusting Elvis "the King" Presley, for his debut film, the Civil War drama Love Me Tender (1956). In the same year, Elvis made two appearances on NBC-TV's Milton Berle Show (in April and June), an appearance on NBC-TV's The Steve Allen Show (in July), and the first of three appearances (from 1956-1957) on the competing CBS-TV variety show The Ed Sullivan Show (in September), propelling the singer's rise to fame.
He continued making films, including Paramount's Loving You (1957) (his first Technicolor film and first screen kiss), MGM's Jailhouse Rock (1957) and Paramount's King Creole (1958) (his third and last B/W film, and Elvis' favorite film), although he was soon inducted into the Army in 1958. In 1960, after serving a two-year stint in the US Army, rock 'n' roller and movie star Elvis Presley was honorably discharged and began filming Paramount's G.I. Blues (1960) opposite Juliet Prowse, and singing the popular "Blue Suede Shoes."
There were over a dozen Elvis Presley films released for youth audiences by 1964, including:
Loving You (1957)
King Creole (1958)
G.I. Blues (1960)
Flaming Star (1960)
Wild in the Country (1961)
Blue Hawaii (1961) - with Angela Lansbury as Elvis' mother!, and the hit song: "Can't Help Falling in Love"
Follow That Dream (1962)
Kid Galahad (1962)
Girls! Girls! Girls! (1962)
It Happened at the World's Fair (1963)
Fun in Acapulco (1963)
Kissin' Cousins (1964)
Viva Las Vegas (1964) - the King's biggest box-office hit, opposite Ann-Margret
Roustabout (1964)
Singing star Cliff Richard (the UK counterpart to Elvis Presley) and his music-filled films (sometimes with his band The Shadows) served the same function, as in director Sidney J. Furie's Wonderful to Be Young (1961) (aka The Young Ones), director Peter Yates' bus trip film Summer Holiday (1963) - a combination of pop rock, roadie film, and romantic comedy, Wonderful Life (1964), and Finders Keepers (1966).
Doris Day Returns in 60s Romantic Comedies:
For escapist entertainment by director Delbert Mann, Doris Day and Rock Hudson were re-teamed as rival business adversaries, battling each other on Madison Avenue as well as in a mating game in another appealing romantic comedy called Lover Come Back (1961) - one of their best. Cary Grant (as a suave and wealthy businessman) also starred with Doris Day (as an unemployed secretary) in the next year's That Touch of Mink (1962). In the year that Doris Day was the number one box-office star, she starred in another romantic comedy, Move Over, Darling (1963), a poor imitation of the 1940 classic My Favorite Wife (with Cary Grant and Irene Dunne).
Other Popular Films:
John Wayne starred as an zoo-animal hunter in producer/director Howard Hawks' adventure film Hatari! (1962) (meaning danger in Swahili), shot on location in East Africa. The first (and best of five) in a long series of sequels of thought-provoking science-fiction films was Franklin Schaffner's Planet of the Apes (1968), with its reversed man-ape tale, and a surprise shock ending of a fragmented Statue of Liberty in the Forbidden Zone.
The British comedy crime caper The League of Gentlemen (1960) starred Jack Hawkins as the head of a hand-picked group of bank robbers.
L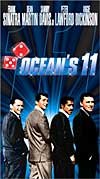 egendary director Lewis Milestone's caper film Ocean's 11 (1960) (remade in 2001) was the first movie featuring the so-called Rat Pack (Frank Sinatra, Dean Martin, Sammy Davis, Jr., Peter Lawford, Joey Bishop, also Norman Fell and Henry Silva) and sexy Angie Dickinson - a group that called themselves "The Summit" or "The Clan." [Note: the Rat Pack nickname was a misnomer. It was earlier used to identify a group surrounding Humphrey Bogart.] The film was about the heist of five Las Vegas casinos (the Sahara, the Riviera, Desert Inn, Sands and The Flamingo) at midnight on New Year's Eve, by a group of 82nd Airborne WWII veterans. By orchestrating a power outage, the group was able to unlock the cashier cages and rob the casinos. In the tale's twist ending, the money stashed in garbage bags - and hidden in the coffin of one of the group members (Richard Conte) who suffered a surprise heart attack after the job was completed - was accidentally incinerated when his body was cremated.
The last 'Rat Pack' film was the semi-musical crime comedy Robin and the Seven Hoods (1964), a Robin Hood adventure story take-off, now set in Chicago with Dean Martin as Little John, Peter Falk as rival Guy Gisbourne, Sammy Davis, Jr. as Will, Frank Sinatra as North Side boss Robbo, Bing Crosby as Allen Dale, and Barbara Rush as Marian.
Producer/writer and director Billy Wilder supplemented his phenomenal track record with the acidic tale of lawyers and insurance fraud entitled The Fortune Cookie (1966), a marvelously-funny film with the first teaming of stars Jack Lemmon (as an injured TV sports cameraman) and Best Supporting Actor Oscar-winning Walter Matthau (as a shyster lawyer who promotes the exaggeration of insurance claims). Later, the two reappeared as ideally-cast opposites (Lemmon as fussy Felix Ungar and Matthau as messy Oscar Madison) in the hilarious Neil Simon comedy The Odd Couple (1968) - the film inspired numerous sequels and TV shows or series.
Cult Exploitation:
In only two days, producer/director Roger Corman, who began his career in 1954 with ultra-cheap black-and-white exploitation movies, shot the low-budget cult classic black comedy about a killer plant - The Little Shop of Horrors (1961), with Jack Nicholson in one of his earliest roles as a masochistic dental patient.

By the mid-60s, American International Pictures (AIP) began to return to its permissive, sexually-liberated roots with youth-oriented, counter-cultural films such as Roger Corman's definitive biker film The Wild Angels (1966) (co-written and edited by Peter Bogdanovich) with Peter Fonda as Heavenly Blues, the leader of a violent leather-clad biker gang. Corman's quintessential LSD film The Trip (1967) (scripted by Jack Nicholson) told about the hallucinogenic, psychedelic tripping (visualized with special effects) of a television commercial director (Peter Fonda) in Los Angeles, and his drug dealer guide (Dennis Hopper) - the film was a precursor to the classic hit Easy Rider (1969).
And sexploitation, soft-porn director Russ Meyer, known as "King of the Nudies" and "King Leer," created one of his adult-cinema classics that was considered hard-core for its day: Faster Pussycat! Kill! Kill! (1962) - with action, violence, nudity, and humor. Later in the decade, he directed the outrageous Vixen (1968). Meyer's X-rated cult sexploitation film about a female rock group was Beyond the Valley of the Dolls (1970) - a major studio release. It featured a screenplay co-written by inexperienced screenwriter Roger Ebert (film critic) and Meyer himself. In all, throughout the 60s and 70s, Meyer produced, directed, financed, wrote, edited, and shot 23 of these 'semi-pornographic' tantalizing 'skin-flicks' (with descriptive titles) featuring big-breasted women.

Film History of the 1960s
Part 1, Part 2, Part 3, Part 4, Part 5, Part 6
---



---