New and Old Themes in 60s Westerns: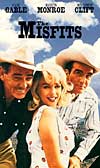 Although westerns enjoyed a revival, many 1960s westerns were down-beat and heavy-handed, portraying the themes of the fading West and the perilous plight of the aging Westerner living off past glories. John Huston's anti-Western The Misfits (1961), based on Arthur Miller's prophetic screenplay about ex-cowboys in a modern world, starred Miller's wife Marilyn Monroe as a Reno divorcee, and Clark Gable and Montgomery Clift as mustang-horse wranglers. Poignantly, it was both Gable's and Monroe's last film - shortly after filming wrapped, each of them died (in late 1960 and in mid-1962 respectively) - with Clift following shortly thereafter in 1966.
Remarkably, the comedy western Cat Ballou (1965) with its title song performed by Nat King Cole and Stubby Kaye, brought a Best Actor Oscar to Lee Marvin (in a dual role as gun-fighting brothers), often seen on a drunken horse.
Eastwood in The "Spaghetti" Westerns:

Clint Eastwood, who played Rowdy Yates on TV's Rawhide from 1959 to 1966, would go on to greater heights in his career after starring in the first of three "The Man With No Name" entries and becoming an iconic figure. The first film was an Italian/Spanish/German co-production with European actors. Sergio Leone's entire "Dollars Trilogy" reinvented the Western with his Italian-made "spaghetti westerns," including:
A Fistful of Dollars (1964) - with a storyline derived from Japanese director Akira Kurosawa's Yojimbo (1961); originally titled El Magnifico Stragnero (The Magnificent Stranger)
For a Few Dollars More (1965)
The Good, The Bad, and the Ugly (1966), notable for its Ahh-eee-ahh-eee-ahhhhh...Waah...waah...waah theme music by Ennio Morricone, and Eli Wallach as Tuco
Eastwood also began a decades-long collaboration with action-film director Don Siegel with his appearance as an Arizona lawman in NYC in Coogan's Bluff (1968).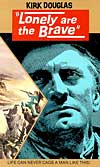 Lonely Are the Brave (1962) - a Hollywood Western set in modern times, was a chase thriller about the remorseless pursuit of a fugitive, resolute loner cowboy on his horse named Whiskey by a reluctant sheriff (Walter Matthau) and by helicopters, and other mechanical means. Richard Brooks' exciting action-adventure/Western The Professionals (1966) told the turn-of-the-century story of a rugged band of mercenaries (Lee Marvin, Burt Lancaster, Robert Ryan, and Woody Strode) sent to Mexico by a wealthy rancher (Ralph Bellamy) to rescue the man's pretty wife (Claudia Cardinale) from a villainous group of bandits led by Jack Palance; in Will Penny (1967), Charlton Heston starred as an aging, poor, and illiterate cowboy in the American West who befriends a woman (Joan Hackett) and her young son; and Monte Walsh (1970), cinematographer William Fraker's directorial debut film, featured two over-the-hill Western cowpokes (Lee Marvin and Jack Palance) trying to make the transition to the new century by settling down in Arizona.
Director Sam Peckinpah produced two classic westerns at the start and end of the decade. The earlier film prefigured his other ground-breaking masterpiece in 1969:
Ride the High Country (1962), a sensitive, nostalgic tribute to the passing of the American frontier period that brought together two aging lawmen who had helped tame the Old West - portrayed by Randolph Scott (his last screen role) and Joel McCrea
The Wild Bunch (1969) - about an aging, anti-heroic, rugged group of individualistic gunfighters/outlaws at the time of the Mexican Revolution (around 1912) who faced the civilizing of the Old West for their final rampaging ride. Peckinpah cast stars from the 40s and 50s (William Holden, Ernest Borgnine, Robert Ryan, Edmond O'Brien, and Ben Johnson) to signal the end of the era. The savage, slow-motion, mass killings in its opening and blood-spurting finale changed the traditional western forever

The decade opened with one of the most popular, shoot-em-up westerns of all-time, producer/director John Sturges' The Magnificent Seven (1960), lifting the structure of another Akira Kurosawa film - the epic The Seven Samurai (1954), about the defense of a small village. It was noted for Elmer Bernstein's memorable, Oscar-nominated score. The film made stars of many of its actors, notably Steve McQueen (and the other six: Brad Dexter, Horst Buchholz, James Coburn, Robert Vaughn, Charles Bronson, and Yul Brynner). John Wayne produced, directed, and starred as Col. Davy Crockett in The Alamo (1960), a cliched, mushy, and overlong saga of patriots defending the famous fort against the Mexican Army in the struggle for Texas' independence. [The campaign to promote the film as a Best Picture nominee and Chill Wills for a Best Supporting Actor nomination was successful, foreshadowing further strong-armed tactics within the industry.]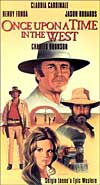 The 50's three-screen Cinerama process presented an all-star cast (James Stewart, John Wayne, and Gregory Peck, for instance) in an overlong, epic Western How the West Was Won (1963) that followed several generations of the same family. It was directed by three greats: Henry Hathaway, John Ford, and George Marshall.
Italian director Sergio Leone's beautifully-choreographed and soundtracked, revisionist epic western Once Upon a Time in the West (1968, It.), with composer Ennio Morricone's score, mixed both violence and humor in arguably one of the greatest westerns ever made. It was a story of conflict between a land-owning ex-prostitute/widow (Claudia Cardinale) and a railroad company, with Henry Fonda in an atypical against-type role as Frank - a black-hearted, butchering villain, Charles Bronson as the mysterious and brooding Harmonica, and Jason Robards as the untameable escaped con scoundrel Cheyenne. The film's tagline proclaimed: "There were three men in her life. One to take her... one to love her... and one to kill her."
George Roy Hill's popular western Butch Cassidy and the Sundance Kid (1969), about two perfectly-matched outlaw-hero buddies (the dashing duo of Paul Newman as the head of the Hole-in-the-Wall gang and Robert Redford as the gun-slinging kid), perfectly reflected the mood and emotions of the time. It had both comedy ("Who are those guys?") and graphic violence in its story of unflappable western partners-in-crime who were romantically doomed to die together in Bolivia. [The success of this likeable film brought the two 'dream team' co-stars together with the same director four years later in the Best Picture/Best Director winner The Sting (1973), and set the archetype for many more buddy-hero films to come.]
60s Musicals:
Though musicals had declined by the 1960s and would decline further in the next decade, three musicals in the decade were among the screen's greatest spectacles:
Robert Wise's and Jerome Robbins' boldly innovative, exuberant and fresh West Side Story (1961) - featured a Leonard Bernstein-Stephen Sondheim score - it was a modern, New York re-telling of the tragic Romeo and Juliet star-crossed love story, with dynamite choreography, and a sensitive depiction of the problems of rival street gangs (Sharks vs. Jets) and juvenile delinquency; with memorable roles played by Natalie Wood (as Maria) and Rita Moreno (as Anita)
Lerner and Loewe's and director George Cukor's My Fair Lady (1964), based on George Bernard Shaw's play Pygmalion - with Rex Harrison recreating his Broadway role as wagering phonetics Professor Henry Higgins, with the impossible mission of teaching common Cockney flower-seller Eliza Doolittle how to be a lady (Audrey Hepburn, who replaced snubbed Broadway star Julie Andrews, had her singing dubbed by Marni Nixon, and was not nominated for a Best Actress award)
Rodgers and Hammerstein's and Robert Wise's The Sound of Music (1965) reinvigorated the musical. It starred Julie Andrews in her second film as Maria, a spunky governess for the von Trapp family in Austria where "the hills were alive". The film was the Best Picture and Director Academy Award winner - and it surpassed Gone With the Wind (1939) as the greatest box-office success. [In 1961 and 1968, the Civil War drama was reissued and restored, outgrossing hundreds of new films in box office receipts. Some objected to its wide-screen format in the re-releases.]
Stanley Donen, known for his musicals, also produced and directed Audrey Hepburn and Albert Finney as a soul-searching married couple in the non-musical romantic comedy Two For the Road (1967). Many other musicals of the decade did extremely well:
Can-Can (1960) - a Cole Porter musical about a 19th century Parisian France
Flower Drum Song (1961) - a Rodgers and Hammerstein musical about a romance in San Francisco's Chinatown
the screen adaptation of Meredith Wilson's book of the Broadway stage hit - director Morton da Casta's thoroughly delightful, lively and enjoyable The Music Man (1962) with Robert Preston as the irrepressible, city-slicker con-art salesman Professor Harold Hill who offers a boys' band to a small Iowa town
Mervyn LeRoy's biopic musical Gypsy (1962), originally a Broadway stage musical with Ethel Merman, starred Rosalind Russell as stage Mom Rose, and Natalie Wood as stripteasing daughter Gypsy Rose Lee
the Broadway hit show of 1960, Bye Bye Birdie, was adapted for the screen by Irving Brecher and directed by George Sidney as Bye Bye Birdie (1963). It was the first Broadway musical to include rock songs; it told about an Elvis Presley-styled pop star named Conrad Birdie (Jesse Pearson); Dick Van Dyke reprised his role in the film as a struggling songwriter who sang the upbeat "Put on a Happy Face" to secretary-fiancee Rosie (Janet Leigh), and 22 year-old Ann-Margret appeared in her third film (and sang the title song during the opening credits before a blue-screen) as 16 year-old Kim McAfee - she was the lucky Ohio teenager who was chosen to receive a farewell kiss from the rock idol (before he was drafted into the military) on the TV variety program The Ed Sullivan Show
The Unsinkable Molly Brown (1964), adapted from a Broadway hit - with Debbie Reynolds as a spunky, no-holds-barred survivor of the SS Titanic and the wife of a gold-prospecting husband
Oliver! (1968) - a Best Picture and Best Director winner (defeating Kubrick's sci-fi masterpiece 2001: A Space Odyssey (1968)!), with Ron Moody as Fagin, and Mark Lester as the hungry title character who asked for "More"
However, audiences stayed away from other post-The Sound of Music musicals that were both expensive and old-fashioned, some among the biggest flops of all-time, with some of the decades' greatest stars:
Doctor Doolittle (1967) with Rex Harrison as an animal doctor who could 'talk to the animals'
Joshua Logan's big-budget flop Camelot (1967) , film-adapted from Lerner and Loewe's Broadway hit musical, starred Richard Harris (replacing Richard Burton) as King Arthur, Vanessa Redgrave (replacing Julie Andrews) as Guenevere, Franco Nero (replacing Robert Goulet) as Lancelot, and David Hemmings as Mordred
George Sidney's old-fashioned, overblown, and formulaic Half a Sixpence (1967, UK) with Tommy Steele; Sidney had earlier directed these more successful Hollywood musicals: Anchors Aweigh (1945), Annie Get Your Gun (1950), Kiss Me Kate (1953), Pal Joey (1957), and Bye Bye Birdie (1963)
Star! (1968) with Julie Andrews
Hello, Dolly! (1969), with Barbra Streisand (see below)
the California Gold Rush-era Paint Your Wagon (1969) with unusually-cast western star Clint Eastwood (singing "I Talk to the Trees") and Lee Marvin (singing "Wand'rin' Star")
Blake Edwards' Darling Lili (1970), a old-style musical that nearly bankrupted Paramount Pictures; it was the first of seven films Blake and partner Julie Andrews made together; it starred Andrews as the title character, a Mata-Hari like German espionage agent during WWI, who romanced American pilot Maj. William Larrabee (Rock Hudson)
Barbra Streisand: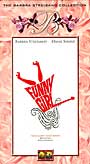 Powerhouse singer Barbra Streisand's screen debut was in Funny Girl (1968), a reprise of her Broadway role as comedienne Fanny Brice - director William Wyler's film launched her into stardom. She tied for Best Actress (an unprecedented feat) with Katharine Hepburn for The Lion in Winter (1968). The next year, she was miscast as a matchmaking widow (who met her match with eligible 'half-millionaire' Walter Matthau) in the lavish adaptation of the popular Broadway show Hello, Dolly! (1969) directed by Gene Kelly - with Louis Armstrong presenting his rendition of the title song. At the start of the 70s, Streisand appeared in two other pictures: Vincente Minnelli's musical On A Clear Day You Can See Forever (1970) and Herbert Ross' romantic comedy The Owl and the Pussycat (1970) opposite George Segal.
Films from Disney Studios in the 60s:

Walt Disney Studios re-emerged as a triumphant box-office moneymaker and producer of a variety of expensive-to-produce, animated and likable, wholesome live-action family features during the decade, including the following:
Pollyanna (1960), a family drama, brought child star Hayley Mills (with her first of six films for Disney) a special juvenile Oscar for the role as an optimistic orphan
The Swiss Family Robinson (1960), an adaptation of Johan Wyss' tale about a shipwrecked family (headed by Dorothy McGuire and John Mills) on a desert island; one of the top-grossing films of 1960
the delightfully animated 101 Dalmatians (1961), the highest grossing film of the year at $186.6 million, featured adorable puppies and villainesse Cruella DeVille
The Absent-Minded Professor (1961), a comedy with Fred MacMurray as a wacky scientist who invents flubber (flying rubber) and is pursued by Cold War spies who want the formula. It was the fifth top-grossing film of the year. The popular sequel to The Absent-Minded Professor was Son of Flubber (1963)
The Parent Trap (1961) with fresh-faced adolescent Hayley Mills playing twins through clever trick photography; it was the sixth top-grossing film of the year
Bon Voyage! (1962), another lightweight comedy about a family's vacation to Paris, with Fred MacMurray and Jane Wyman as the parents of three children (Tommy Kirk, Deborah Walley, and Kevin Corcoran)
The Sword in the Stone (1963), an animated story based on the 1938 novel by T.H. White, about a medieval sword blade embedded in a rock
Mary Poppins (1964), a delightful musical fantasy combining animation and live-action sequences, and featuring Best Actress-winning Julie Andrews in her screen debut as an energetic, eccentric nanny with magical powers in Edwardian London; also with Dick Van Dyke, and the song "Supercalifragilisticexpialidocious"
The Jungle Book (1967), the last, full-length animated film that the legendary Walt Disney supervised before his death in 1966
The Love Bug (1968), one of the top-grossing films of the year, about an anthropomorphic Volkswagen 'beetle' named Herbie with driver Dean Jones

Film History of the 1960s
Part 1, Part 2, Part 3, Part 4, Part 5, Part 6
---



---