The Invasion of British Cinema:

Increasing American interest in British fads, fashion, and culture coincided with the smash-hit period comedy and Best Picture-winning Tom Jones (1963) that was based on the hero of Henry Fielding's classic novel. [The adapted screenplay was written by John Osborne - known for his earlier work for the socially-realistic Look Back in Anger (1959).] Its win of four Oscars (including Best Picture) and six other nominations in 1963 took everyone by surprise - Tony Richardson's British film was an especially appealing, free-spirited, 'Swingin' Sixties' film because of its bawdy, slapstick attitude toward sex seen through the misadventures of a lusty youth (Albert Finney) in 18th century England.
The Fabulous Four Beatles, who had invaded the US with Beatlemania in 1963 and 1964 with their pop music made two semi-documentary musical films: (1) director Richard Lester's fast-paced, inventive rock 'n' roll comedy A Hard Day's Night (1964) (filmed in only eight weeks after the Beatles' return to England) - a day in the life of the band, and (2) the energetically zany Help! (1965). A few years later, a third Beatles-related film, the UK's animated, kaleidoscopic fantasy musical Yellow Submarine (1968) with a score by George Martin, featured a Nowhere Man, actors' voices standing in for the actual Beatles, and an invasion of Blue Meanies on Pepperland.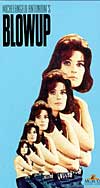 Other British films such as John Schlesinger's Darling (1965) and Far From the Madding Crowd (1967), Georgy Girl (1966), and Lewis Gilbert's sex comedy Alfie (1966) gave international attention to actors like Julie Christie, Lynn Redgrave and Michael Caine (also Vanessa Redgrave, Glenda Jackson and others). Oscar-winning Maggie Smith starred in The Prime of Miss Jean Brodie (1969), a film set in 1930s Edinburgh about an exceptional, free-thinking teacher whose pupils were "the creme de la creme." Director Ken Loach's low-budget debut film Kes (1969) told about an abused 15 year old boy (David Bradley) from the Yorkshire working classes who found solace with a pet kestrel (falcon).
Blacklisted US director Joseph Losey collaborated with scriptwriter Harold Pinter and actor Dirk Bogarde (as a sinister and unctuous manservant named Barrett) to satirize the upper strata of the British class system in The Servant (1963) and Accident (1967). But the British film (now a cult classic) that best exemplified the 'swinging' youth drugs/sex era of late 60s London was co-directors Donald Cammell's and Nicolas Roeg's originally X-rated Performance (1970) - starring Rolling Stones rock star Mick Jagger.
The Invasion of Foreign Cinema:
Many of the best and most varied arthouse films came from foreign directors (from Italy, France, and Japan) during this decade and were enjoyed (with subtitles) by college students and other sophisticated metropolitan audiences, such as:
Federico Fellini's La Dolce Vita (1960) and 8 1/2 (1963)
Jean-Luc Godard's A Bout De Souffle (1960) (aka Breathless)
Michelangelo Antonioni's L'Avventura (1960) and Blow-Up (1966)
Francois Truffaut's Shoot the Piano Player (1960) and Jules Et Jim (1962)
Alain Resnais' Last Year at Marienbad (1961)
Akira Kurosawa's Yojimbo (1961) and Sanjuro (1962)
Luchino Visconti's The Leopard (1963)
Ingmar Bergman's Persona (1966)
Luis Bunuel's Viridiana (1961), Belle De Jour (1967) and Tristana (1970)
Jean-Pierre Melville's Le Samourai (1967)
Jacques Tati's Playtime (1967)
Many famous European directors (Antonioni, Truffaut, Polanski) produced their cinematic works in Britain during the decade: Italian director Michelangelo Antonioni filmed the enigmatic, complex and thought-provoking, existential murder-mystery Blow-Up (1966), a tale of an over-sexed London fashion photographer (David Hemmings) - it was Antonioni's first English language film and his most commercially-acceptable film. [It was released without a Production code seal because it was the first feature film to show a full-frontal flash of female pubic hair.]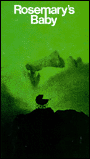 French director Francois Truffaut's first film in English was Ray Bradbury's science-fiction drama Fahrenheit 451 (1966) (with future director Nicolas Roeg as cinematographer). After his first feature film Knife in the Water (1962, Pol.), Polish director Roman Polanski went to England and made his first English-language film - the imaginatively-nightmarish, surrealistic classic Repulsion (1965) with Catherine Deneuve as a young, sexually-repressed London hairdresser who slowly descended into madness, and then later to America to make his first American film Rosemary's Baby (1968) adapted from Ira Levin's novel - the colorful thriller about a coven of Satanistic witches in New York City interested in Mia Farrow's unborn devil-baby after her husband made a deal with Satan.
In the 1960s, Czechoslovakian film-maker Milos Forman's Loves of a Blonde (1965) was nominated for a Best Foreign Film Oscar, followed soon after by the social satire of the Czech New Wave titled The Fireman's Ball (1967) -- before he emigrated to Hollywood and made his first American film there, Taking Off (1971).
Italian director Bernardo Bertolucci's first feature films were The Grim Reaper (aka La Commare secca) (1962), followed by Before the Revolution (aka Prima della rivoluzione) (1964), released in 1971, but it would be in the next decade that he would make a name for himself with Last Tango in Paris (1972). Inventive Italian director Mario Bava churned out a number of horror films in the 60s, including his best known and most influential film and his first solo directorial effort, the macabre The Mask of Satan (aka Black Sunday) (1960), starring gothic horror queen Barbara Steele as the evil witch Princess Asa. The film was banned in Great Britain until 1968 and released in a censored (and re-dubbed) version in the US. In the same time period, Egyptian-born Riccardo Freda was also pioneering Italian horror-fantasy films, including I Vampiri (1957) (aka Lust of the Vampire), and L'Orribile Segreto Del Dottor Hichcock (aka The Horrible Secret of Dr Hichcock) (1962). He also directed the sword 'n' sandal film The Giants of Thessaly (1960), a variant of the Jason and the Golden Fleece tale.
German New Wave director Werner Herzog experimented with films in the 60s, i.e., Signs of Life (1968), and then directed his first masterpiece Aguirre: The Wrath of God (1972) with Klaus Kinski in the 70s. New German cinema's auteur Rainer Werner Fassbinder had only limited success with his early films in the late 60s, until he found international successes in the 70s with Ali: Fear Eats the Soul (1973) and The Marriage of Maria Braun (1979).
Stanley Kubrick's Prolific Decade:

The most distinguished "British" films of the decade were from one of the most original, visionary and controversial of directors - Stanley Kubrick. Kubrick's first three feature films were in the 50s:
Killer's Kiss (1955) - a 67-minute long film noir
Paths of Glory (1957) - the great anti-war film with Kirk Douglas
He opened the 60s decade with his first Hollywood production: Spartacus (1960), a thrilling, historical epic about a slave revolt in Ancient Rome - another film designed to wrest viewers away from their small-scale televisions. [The covert homosexuality seduction-bathing scene between Crassus (Laurence Olivier) and slave Antonius (Tony Curtis), dubbed the 'snails and oysters' scene, was censored.] Producer and star actor Kirk Douglas had a falling out with the original director Anthony Mann, and replaced him with Kubrick, who ended up having little artistic control over the film. Douglas also promoted the use of blacklisted screenwriter Dalton Trumbo's name onscreen - it was Trumbo's first screen credit in over ten years, now that the blacklist was ending after 13 years (Trumbo became the first blacklisted screenwriter to receive screen credit).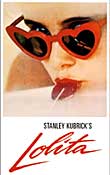 Kubrick's next two remarkable films, considered somewhat anti-Hollywoodish, were both filled with dark visions of social and political institutions during the tense Cold War era:
Lolita (1962), a satirical adaptation of Vladimir Nabokov's brilliant novel about a sexually-obsessed academic named Humbert Humbert (James Mason) who married a widow (Shelley Winters) to be close to her "nymphet" daughter (Sue Lyon)
the Cold War black comedy Dr. Strangelove: Or, How I Learned to Stop Worrying and Love the Bomb (1964) about a possible nuclear Armageddon at the hands of inept politicians, arrogant scientists, and military figures with lunatic concerns about fail-safe points, hotlines, and Communist plots such as flouridation (Gen. Jack D. Ripper's fear as portrayed by Sterling Hayden). Peter Sellers was memorable as he played three roles (including the title role) in the film, as was Slim Pickens in the role of the bomb-riding pilot who directed the H-bomb to its target - rodeo-style. One of the film's most memorable quotes was the President's admonition: "Gentlemen, you can't fight in here. This is the War Room!"

Kubrick's last film in the 60s was the most successful science fiction film of the decade with a story that spanned all of human history with giant leaps (from pre-historic cave-dwelling apes jump-cutting ultimately to futuristic outer space travelers to Jupiter). A continuing theme was the reception of an extra-terrestrial signal in its portrayal of man (bored in his technological paradise) confronting technology beyond his control. His film, based on the novel by Arthur C. Clarke, was the majestic, Super Panavision 2001: A Space Odyssey (1968) with its spectacular visuals, landmark special effects, classical music, psychedelic, light-show ride (that appealed to late 60s 'tripping' viewers) and the memorable, flawed HAL supercomputer (with the uncredited voice of Douglas Rain).
In the next decade, Kubrick would go on to make the controversial A Clockwork Orange (1971), and a visually-stunning, 18th century England period adaptation of the Thackeray novel about an Irish gambler, Barry Lyndon (1975).
Cold War Political Dramas:
Contemptuous or politically-satirical films portrayed the American military situation in a bleak, nightmarish light in the 60s:
Jack Arnold's political satire The Mouse That Roared (1959), with Peter Sellers acting in three roles (one of which was the leader of an invading force upon the US)
Billy Wilder's satirical political farce One, Two, Three (1961), based on Ferenc Molnar's play and with a screenplay by Wilder and I.A.L. Diamond, about a Coca Cola executive (James Cagney) whose job was jeopardized when his boss' daughter (Pamela Tiffin) married an East Berlin Communist (Horst Buchholz)
John Frankenheimer's black and white conspiratorial political-military drama-thriller Seven Days in May (1964) about an attempted military coup, adapted by Twilight Zone's Rod Serling from the novel by Fletcher Knebel and Charles Waldo Bailey II; with Fredric March as the President and Burt Lancaster as the Chairman of the Joint Chiefs of Staff
the apocalyptic disaster drama about nuclear war, Sidney Lumet's Fail-Safe (1964), adapted from the novel by Eugene Burdick and Harvey Wheeler, with Henry Fonda as the US President

the UK's tense The Spy Who Came in From the Cold (1965) adapted from John Le Carre's tale of espionage, with Oscar-nominated Richard Burton as a disillusioned and betrayed British Cold War spy-agent after entering into E. Germany to trap his communist counterpart
Jack Cardiff's espionage film The Liquidator (1966), based on John Gardner's novel and a parody of the James Bond films
Theodore J. Flicker's political satire The President's Analyst (1967), starring James Coburn as the title character
Howard Morris' Don't Drink the Water (1969), based on a play by Woody Allen
director/writer William Klein's angry political fantasy satire, Mister Freedom (1969) in the form of a American comic-strip super hero who must save France from the Communists (Klein was best known for his documentary Muhammad Ali, the Greatest (1969))
Golden Age Directors: The End of an Era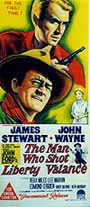 Some of the greatest directors from Hollywood's golden era were experiencing their swan songs during this decade. Many of them, including King Vidor, Raoul Walsh, Michael Curtiz, John Ford, and Howard Hawks, directed their last, lesser-known films in the 60s. For example, King Vidor's last film in the last year of the previous decade was filmed in Spain - the biblical spectacle Solomon and Sheba (1959) starring Yul Brynner and alluring Italian star Gina Lollobrigida. Frank Capra's last feature film was Pocketful of Miracles (1961) - a remake of his Lady for a Day (1933). Orson Welles was struggling in the 60s, although still directing films, such as the adaptation of Kafka's The Trial (1962) with Anthony Perkins, and Chimes at Midnight/Falstaff (1966) in which he starred as Shakespeare's Falstaff.
John Ford's last three films included the revisionistic The Man Who Shot Liberty Valance (1962), a bleak and dark vision of the West starring John Wayne as the unsung hero, Lee Marvin as the title character-villain, and James Stewart as the falsely-honored killer of the outlaw gunman - and advertised with the statement that legend was more important than truth: ("When the legend becomes fact, print the legend"), and Ford's last epic western Cheyenne Autumn (1964) - about the awful trek of three hundred Cheyenne Indians from Oklahoma to their ancestral home in Wyoming. Walsh's last work was A Distant Trumpet (1964), and veteran director Hawks ended his long career with Red Line 7000 (1965) and El Dorado (1967) with macho stars John Wayne and Robert Mitchum. With the end of the era, the old film masters were finally being acclaimed as true auteurs by writers/directors of the French New Wave.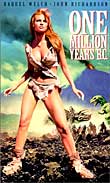 At the end of the decade, in homage to one of the greatest Western stars in cinematic history, director Henry Hathaway saluted John Wayne with True Grit (1969) - a film for which Wayne, as one-eyed, pot-bellied Marshal Rooster Cogburn, received deserved critical recognition and a sentimental Academy Award for Best Actor - his first and sole Oscar victory.
Producer/director George Pal's The Time Machine (1960) with Oscar-winning visual effects was based on the H.G. Wells tale, and starred Rod Taylor as the traveler to the year 802,701 in a world populated by Morlocks and Elois. Creative special-effects master Ray Harryhausen developed his legendary stop-motion animation techniques to perfection in his best science-fiction film ever - director Don Chaffey's Jason and the Argonauts (1963). Chaffey also directed Raquel Welch in a furry bikini (boosting bikini sales), who followed banished tribesman Tumak in Hammer Studios' unbelievable One Million Years BC (1966) (a remake of the 1939 prehistoric adventure with Victor Mature), featuring Harryhausen's animated dinosaurs.

Film History of the 1960s
Part 1, Part 2, Part 3, Part 4, Part 5, Part 6
---



---