Background
---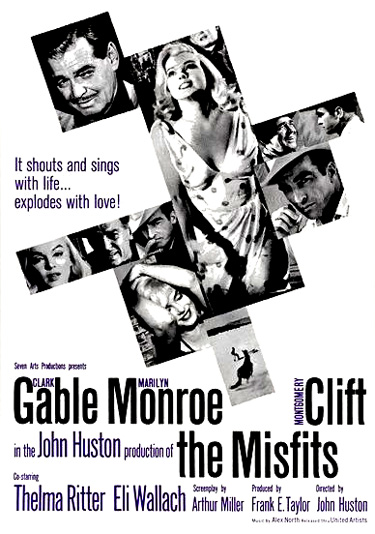 The Misfits (1961) is a poignant modern-day western drama about the death of the old West, from director John Huston and screenwriter Arthur Miller (who was briefly married to star Marilyn Monroe from 1956-1960, wrote the film for her, and experienced a disintegrating marriage during the film's production). [Note: Ironically, the film was set in Reno, Nevada, where divorces were often sought by separating couples. The year the film premiered, Miller's marriage to Marilyn ended. The film reflected uncanny resemblances to Monroe's own personal life.]
It was derived from scriptwriter Arthur Miller's own novelette (appearing in 1957 in Esquire Magazine), and from Milller's first screenplay (written specifically for his wife Marilyn Monroe at the time, during their rocky marriage). The film's budget of $4 million made it one of the most expensive B/W films of its time, and although it was a popular and well-received film, it was met with mixed reviews and responses, and didn't become profitable for United Artists until its home video release and later re-releases.
The themes of the introspective picture were the issues of loneliness and lack of communication, and the rugged individualism of modern-day 1960 Nevada cowboys who rounded up wild "misfit" mustang horses to be sold for dog food.
Some of the film's posters exclaimed the tagline:
It shouts and sings with life...explodes with love!
The introductions of the film's five main characters in the Nevada desert revealed that three were also 'misfit' cowboys who had failed family relationships (for various reasons) in their lives. Their shifting interactions with each other formed the basis for the film:
Roslyn Taber (Marilyn Monroe), a 30 year-old ex-stripper - temporarily renting a place in Reno, NV (a gambling and divorce mecca) after recently obtaining a divorce
Isabelle Steers (Thelma Ritter), Roslyn's friendly landlady
Guido Racanelli (Eli Wallach), a widowed ex-mechanic, tow-truck driver and WWII war pilot-aviator
Gaylord "Gay" Langland (59 year-old Clark Gable, the name "Gay" was short for Gable), an aging, strong-willed, old-school horse-wrangler and roper cowboy
Perce Howland (Montgomery Clift), a death-defying rodeo bull- and bronc-riding drifter, who was destined to inherit his father's ranch, but denied by his step-father-in-law
All three cowboys were captivated by Roslyn's spontaneity, sensual beauty, youthful vitality, and charm. Although Roslyn at first established a wary emotional relationship with Gay, both Guido and Perce appeared to be waiting for their chance to be with her.
The thought-provoking film was best known for being the final, haunting, fully-completed film for two major screen legends: 59 year old Clark Gable (once "The King of Hollywood") and 35 year old Marilyn Monroe. Monroe had earlier worked with director John Huston when she performed in a small role in The Asphalt Jungle (1950). A film retrospective was made by director Gail Levin over 40 years later, titled Making the Misfits (2002), featuring interviews with Arthur Miller and star Eli Wallach and archival photographs. Huston's film became a precursor of two other 1960s-1970s modern-day western dramas: Hud (1963) and The Last Picture Show (1971).
Plot Synopsis
---
The minor classic film concerned a troubled divorcee Roslyn Taber (Marilyn Monroe) in Reno, Nevada who was just completing requirements for a quickie divorce to rid herself of her inattentive husband Raymond (Kevin McCarthy). With difficulty, she practiced her lines to a divorce judge with her experienced, wise-cracking landlady Isabelle Steers (Thelma Ritter). Through Isabelle, she was introduced first to ex-mechanic, former WWII pilot, and widower Guido Racanelli (Eli Wallach) and then in a local bar to aging, washed-out 'real-life' cowboy Gay Langland (Clark Gable), a rugged individualist. When Roslyn asked him: "How do you just live?", Langland replied:
"Well, you start by goin' to sleep. You get up when you feel like it. You scratch yourself. You fry yourself some eggs. You see what kind of a day it is. You throw stones at a can. Whistle."
Isabelle toasted to the state of Nevada, known for gambling and for quickie divorces: ("Here's to Nevada, the 'leave it' state...You got money you want to gamble, leave it here. You got a wife you wanna get rid of, get rid of her here. Extra atom bomb you don't need, blow it up here. Nobody's gonna mind in the slightest. The slogan of Nevada is 'Anything goes, but don't complain if it went.'...I even left my Southern accent here....I love Nevada. You know, they don't even have regular meal times here. Never met so many people didn't own a watch. Might have two wives at the same time, but no watch. Bless them all").
Both Gay and Guido were immediately interested in the young voluptuous blonde woman, although she eventually fell in love with the gallant Langland - who was old enough to be her father. During their time together, Gay complimented Roslyn's beauty, and they discussed her profound sadness in life:
Gay: "You're a real beautiful woman. It's almost kind of an honor sittin' next to ya. You just shine in my eyes. That's my true feelin', Roslyn. What makes you so sad? I think you're the saddest girl I ever met."
Roslyn: "You're the first man that ever said that. I'm usually told how happy I am."
Gay: "That's because you make a man feel happy...Well, don't get discouraged, girl, you might."
They were offered Guido's unfinished dream house in the desert, abandoned by heartbroken widower Guido after the death of his wife (during childbirth). Gay suggested that she sort her life out by remaining in the country with him - to be friends, and she agreed. They moved in together (in the ranch-house midway between civilization and the wide-open spaces), but both realized from their past experiences that it was very difficult to "belong" to someone else:
"Look, why don't you try it out here for a while, see what happens? You know, sometimes when a person don't know what to do, the best thing is to just stand still. I'll guarantee you'll have something out here you wouldn't find on every corner. I, uh, I may not amount to much in some ways, but I am a good friend...Let me take you back and get your things. Try it for a while, see what happens."
[Note: Scenes of Roslyn's face are always in soft-focus, while the harsh light of the black and white film accentuates the crags and wrinkles on the faces of the cowboys.] A sexy paddle-ball game was played by Roslyn in her loose-fitting polka-dotted white dress in a bar, to win a bet.
Roslyn was exhilarated by the freedom of the wide open spaces, and a new, growing passionate relationship with Langland. Gay and Roslyn engaged in an honest talk about love and his first failed marriage, when she asked:
Roslyn: "What happened? Did you just stop loving your wife, Gay?"
Gay: "Well, I come home one night and she's all wrapped up in a car with a fella. Turned out to be an old friend. A cousin of mine, as a matter of fact...You know, in those days I thought you got married and that was it. But nothin' is it. Not for ever."
Roslyn: "That's what I can't get used to. Everything keeps changing."
Gay: "I'll tell you this, though. I wouldn't know how to say goodbye to you, Roslyn. It surprises me."
Conflict in a growing love triangle developed between Gay, Roslyn, and his friend Guido, who attempted to persuade her to ally with him: ("You're through with Gay now, right? Well, tell me. He doesn't know what you're all about. He'll never know. Tell me, Roslyn. I been waitin'. I'm goin' out of my mind with waitin'. Come back with me. Give me a week, two weeks. Let me show you what I am. Tell me, Roslyn. Give me a reason and I'll stop it. There'll be hell to pay, but give me a reason and I'll do it"). But Roslyn she rejected his offer:
"You never felt anything for anybody in your life. All you know is the sad words. You could blow up the world, and all you would feel is sorry for yourself!"
The trio of men -- Langland, Guido, and reckless, worn-out, injured 'rodeo cowboy' rider Perce Howland (Montgomery Clift) -- teamed up to go after a herd of wild horses in the desert highlands for a last roundup, and they took Roslyn along. After Guido's small airplane guided and terrorized the animals down from the hills, the others lassoed and rounded up the 'misfit' horses from a speeding pick-up truck. The animals included a stallion, four mares, and a colt.
Roslyn was ultimately shocked to learn that these free and wild horses would be slaughtered and cheaply sold to a dog food company for pet food. She hysterically screamed at them, accusing them of being murderers - in a dramatic long shot - gesturing and attempting to persuade Langland to call off the roundup. When he refused, she successfully appealed to Perce to defy Langland and release the horses that had already been captured. This infuriated wrangler Langland, who had single-handedly recaptured the stallion leader of the horses after a rough struggle.
[Note: After filming ended, sources claimed that Gable's subsequent heart-attack four days later (with his death 12 days later) was due to executing his own strenuous, bronc-busting stunts without a double.]
After he had assertively and independently proved that he was the boss, Gay then decided to let the horses free, thereby reconciling with Roslyn:
Don't want nobody makin' up my mind for me, that's all. Damn 'em all! They changed it, changed it all around. Smeared it all over with blood. I'm finished with it. It's, it's like, like ropin' a dream now. I just gotta find another way to be alive, that's all. If there is one anymore. (He stands). Perce, cut that mare loose for me, will ya?
The roundup ended as a financial failure, but from the ordeal, Roslyn and Langland made a new start together. In the final scene from the front seat of a pick-up truck, Roslyn spoke to Langland about having a family together - he was now optimistic about taking the right path and entering a new phase of life with her:
Roslyn: Gay, if there could be one person in the world, a child who could be brave from the beginning - I was scared to when you asked me, but I'm not so much now. Are you?
Gay: No.
Roslyn: How do you find your way back in the dark?
Langland: (nodding to the nighttime sky) Just head for that big star straight on. The highway's under it - it'll take us right home.