Background
---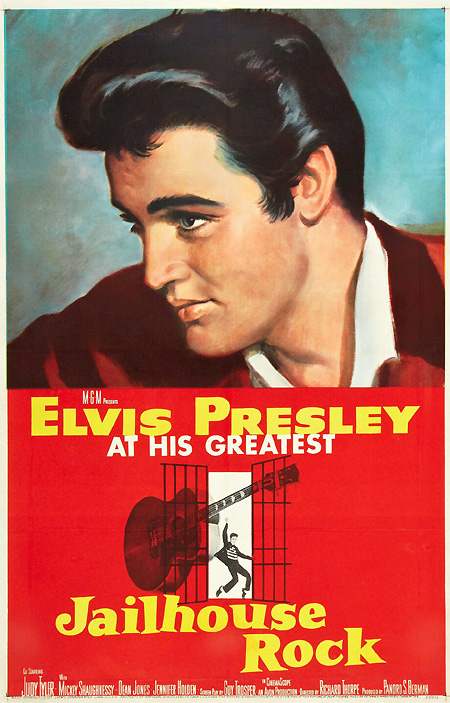 Jailhouse Rock (1957) is a prison-related, rags-to-riches musical-drama (and biopic parable of a predictable downfall and recovery) from director Richard Thorpe. It was the most influential black-and-white rock musical until the Beatles' A Hard Day's Night (1964) in the next decade. The screenplay by Guy Trosper was developed from a story written by blacklisted Nedrick Young, who would be lauded with an Academy Award for Best Screenplay for The Defiant Ones (1958) and nominated for Best Adapted Screenplay for Inherit the Wind (1960).
The great black and white, CinemaScopic B-film from MGM was arguably Elvis Presley's best, most famous, and popular film (it was his third feature film). Elvis' 'singing rebel' character in his first major dramatic singing role in the mid-50s was MGM's answer to previous teen idol James Dean, who died in 1955, and to 'method actor' Marlon Brando (portrayed as a sensitive rebel in The Wild One (1953)). Also, Elvis was an obvious replacement for the dethroned crooner Frank Sinatra, and other more mainstream stars such as Pat Boone.
There was a deliberate connection made in the contrived plot between Elvis' ex-con, white-trash character and the teenaged rocker mentality that was surging in popularity. This was the film that solidified Elvis's image as a rebellious icon challenging conventionality with a new style of music. It has been widely acknowledged that he profoundly disrupted current American mores and culture represented by the older generation, parents, politicians, religious figures, and other more conservative musical performers.
Taglines on posters and other advertising promoted the singer's tremendous film talent:
His First Big Dramatic Singing Role!
MGM Presents ELVIS PRESLEY At His Greatest
Rocking With 6 New Songs!
Elvis In Action As Never Before!
The 'Jailhouse Rock' 45 rpm single was released in late September 1957 and reached #1 on October 21. On its B-side was Elvis' 'Treat Me Nice.' Actually, the biggest hit song of the year according to Billboard was another Elvis tune: 'All Shook Up.' [Note: Elvis shared 3 of the top 5 spots of the year with two songs by Pat Boone, including 'Love Letters in the Sand' and 'April Love', reflecting the major cultural divide developing between the two divergent styles.] Many were not aware, however, that during post-production, the many songs in the film (co-written by rock 'n' roll songwriters Jerry Leiber and Mike Stoller) were audio-dubbed into the scenes - and Presley was only lip-synching the lyrics of the previously-recorded songs.
The short 96-minute long, stilted plot slightly paralleled the iconic rocker's own life - a case of art imitating life (or vice versa). 22 year-old Presley starred in his own cautionary origin story - beginning his public life as a cocky, troubled, self-centered, and quick-tempered Vince Everett, who was serving a one to ten-year jail sentence for accidental manslaughter. While in jail, his cellmate Hunk Houghton (Mickey Shaughnessy), a former veteran country-western singer, mentored him to learn guitar and sing, and persuaded him to enter the prison talent show, where he first received televised attention. After his release from incarceration after a little more than a year in prison, the budding rock star and young ex-con was introduced to the record business.
Struggling to break into the music industry and to be recognized, he was swindled during his first contact with the unethical music industry. The embittered anti-hero decided to form his own independent record label to avoid a recurrence. He soon became an overnight sensation, and was quickly seduced by the decadent lifestyle of a pop star.
[Note: The film was eerily reminiscent of the same year's A Face in the Crowd (1957) by director Elia Kazan, in which Andy Griffith also portrayed a meteoric rise by a country-hick, guitar-playing singer in jail who became an instant mass-media star and power-hungry political idol on television.]
Rebellious and caustic, he was unwilling to work with his former cellmate Hunk (whose 50/50 exploitative contract with Vince backfired) and Peggy Van Alden (Judy Tyler in her first starring dramatic role), his loyal and pretty girlfriend and a musical talent scout/record promoter. He suffered a fateful downfall due to the corrupting influences of fame and fortune, and when his singing career was endangered by a damaged larynx. His character finally saw the error of his ways and was rehabilitated and reconciled in the conclusion to his two loyal and dedicated friends-partners.
[Note: 24 year-old co-star Judy Tyler (formerly the famous puppet character Princess Summer-Fall-Winter-Spring on the 1950s The Howdy Doody Show on TV) tragically died in a car crash on US Highway 30 near Rock River, Wyoming only a few days after the film was completed, and four months before its premiere.]
Before his film career and moniker as "The King of Rock 'n' Roll," Elvis Presley (with a black pompadour and sideburns) made two appearances in 1956 on NBC-TV's Milton Berle Show (in April and June). He was criticized for his notorious hip 'gyrations' during a performance of 'Hound Dog.' This was followed by an appearance on NBC-TV's The Steve Allen Show (in July), and the first of three appearances (from 1956-1957) on the competing CBS-TV variety show The Ed Sullivan Show - propelling the singer's rise to fame. His first appearance on The Ed Sullivan Show was on September 9, 1956. The singer broke into films and made a total of thirty-one feature films in his career from the mid-50's to 1970. After signing his first film deal in 1956, Elvis was featured as an actor in many more money-making films. Although most of his feature films were forgettable, formulaic, and low-budget, sappy 'boy-meets-girl' pictures sprinkled with hit songs, Jailhouse Rock (1957) captured the real magnetism of the music star.
His screen debut was in Fox's Civil War drama Love Me Tender (1956) (originally titled The Reno Brothers), with a #1 single hit song ballad. Presley also appeared in Paramount's Loving You (1957) (noted for his first screen kiss, and his first Technicolor film). Next came this MGM debut film Jailhouse Rock (1957), followed by director Michael Curtiz' King Creole (1958) in a role as a New Orleans teen rebel (acclaimed as one of his best acting roles, his third and last B/W film and his own favorite) before the decade ended. His induction into the Army in 1958 was a well-publicized event. After his Army stint, he also starred in G.I. Blues (1960), in Don Siegel's western Flaming Star (1960) (with only two songs) as a half-breed youth, in the southern melodrama Wild in the Country (1961), and in other formulaic 60's films (i.e., Blue Hawaii (1961), Kid Galahad (1962), and his biggest box-office hit Viva Las Vegas (1964)). By the 70s, his film roles had deteriorated, and although he returned to stage performances and revived his singing career, he was physically on the decline until his death at the age of 42 on August 16, 1977 of heart disease and drug abuse, at his Graceland mansion in Memphis, TN.
This quintessential, pre-Army film was filled with Presley classics, especially the wonderfully-choreographed set piece for 'Jailhouse Rock,' as well as other memorable hit-song numbers (and two tender ballads), including:
Young and Beautiful (sung 3 times)
I Want to Be Free
Don't Leave Me Now
Treat Me Nice
You're So Square (Baby, I Don't Care)
Jailhouse Rock
Each of the songs in the film represented a narrative milestone - a higher achievement or acquisition of a stepping-stone goal. Although the film produced mixed reviews, it performed fairly well at the box-office with revenue of $3.2 million (domestic) - and became the 14th highest-grossing film of its year. The film nostalgically reflected its 1950s roots with the use of slang words such as: "Daddy-O," "Gonesville," and "Flippy."
In an era of censorship and strict conservatism, the movie was criticized for its mild profanity and loose sexuality (a mild bedroom scene), and Presley's anti-hero character depiction. Religious groups condemned the charismatic idol Presley as a 'heathen,' and warned against his corruptive threat to youth morality, exhibited in his 'lewd' contortions during his increasingly-popular and edgy, 'bump-and-grind' live performances. He was even opposed by some who considered his daring and unconventional, rhythm & blues-oriented (rockabilly) music too sexually-arousing and similar to southern black music.
[Note: In the anarchic musical comedy The Blues Brothers (1980), Jake and Elwood Blues (Saturday Night Live alumni John Belushi and Dan Aykroyd) paid homage to Presley by performing his hit song Jailhouse Rock on stage in a prison, causing a frenzy among the inmates, with intercut segments performed by James Brown, Cab Calloway, Ray Charles, Aretha Franklin and other band members.]
Plot Synopsis
---
Opening Credits:
During the opening title credits, the words "Starring Elvis Presley" were seen for the first time in a Presley film. The credits were viewed above a slow upward pan of a dark, shadowy sketching drawing of an unidentified man.
Construction Site Scene - Introduction of Vince Everett:
In the opening scene, a construction worker delivered the first line: "Here comes the sugar man," referring to the company's Paymaster (Dan White) who began to hand out pay envelopes to the employees. 19 year-old lower-class construction worker and quick-tempered, mean-spirited bad boy Vince Everett (Elvis Presley) drove up on a forklift at the construction site, yelling out happily: "Whoo-Yoo!" Smiling and anticipating being paid, he joked about how he would spend his salary check:
"I'm gonna buy me a herd of chorus girls and make 'em dance on my bed."
Vince's Deadly Bar-Room Brawl:
Afterwards in a down-and-out tavern-bar with his co-worker buddies, he cashed his work check (of over $100 dollars) with the bartender, and was soon approached by a blonde barfly. She cozied up to him, made a direct request: ("Buy me a drink, cowboy?"), mentioned she had seen him the week before, and complimented him on his "nice hair." Suddenly, he was put in the middle of a volatile confrontation with her belligerent, abusive drunk husband (or pimp/boyfriend) (John Daheim), who pushed her to the floor and called her "a two-bit little tramp." Vince argued with the man, claiming he was buying drinks for everyone: "She wasn't out of line" and that she should be left alone. The man taunted back with insults:
Tough Man: "Look, buster, if you want some teeth knocked out, just keep it up."
Vince: (unperturbed) "You scare me. Women beaters always scare me."
Tough Man: "Why don't you run along, sonny, before I muss up your hair?"
Vince had a drink poured on him, causing him to defend himself and retaliate with a right hook to the man's jaw. During a brutal fist fight, Vince accidentally killed the man with a flurry of punches. The bartender knelt down to determine the condition of the downed man and alerted the other customers: ("Somebody call a doctor, this guy's hurt bad"). In court, VInce was charged with involuntary manslaughter and found guilty, and sentenced to a one to ten-year prison sentence in the state penitentiary.
Vince's Jail-Time in Prison - With Cellmate Hunk:
Upon Vince's incarceration in prison (Cellblock 21), he was prophetically warned by the mean prison warden (Hugh Sanders) while being admitted:
"Tough woodchuck, huh? Well, that's what we're here for, to teach you hooligans. It says here, you, uh, killed a man with your bare hands. We don't use hands here, we use guns. Oh, and I'll tell ya another thing we use for cons who don't toe the mark. The whip! Understand?"
He was paired with long-timer cellmate Hunk Houghton (Mickey Shaughnessy), a grumpy, washed-up ex-country western singer who had been in jail for 8 years. Wearing a prison uniform (number 6239), Vince was led to the small cell where he saw a guitar hanging on the wall and B/W photos of country stars (including Hank Snow). Strumming on the guitar for a brief moment, Vince was ordered to return the musical instrument to its place when Hunk arrived - to set boundaries: "I'm touchy about everything." Hunk knew that Vince's processing would include a hair cut: "What do you want? A good one or a fresh-fish special?...They hack it up. A good one costs you three packs of cigarettes." From a large trunk full of contraband cigarette packs, Hunk loaned Vince three packs in exchange for repayment of four packs, but Vince reneged on the offer - and Hunk cautioned: "You'll learn."
In the next sequence, Vince's long, gorgeous black hair was cut short by the prison barber. When Vince returned to the cell, Hunk explained how he had survived and had become "one of the top cons" - with connections and his own representatives in every area of the prison ("and they all work for me"). He had developed a lucrative black market racket using cigarette packs (he called them "the coin of the realm"). Vince felt powerless: "I'm broke. I'll never accumulate any cigarettes," when Hunk told him: "The State pays you 18 cents a day and that's a start. You play ball with me and I'll stake you." As a new "fish," it was likely that Vince would be assigned a 'hard' and 'dirty' job in the coal yard, but with Hunk's influence, he might be transferred - to the print shop - in exchange for a loan (to be repaid) of five cartons of cigarettes. Vince considered the offer and then declined: "I'll take my chances."
Vince exhibited his bare-chest as he shoveled coal in the work yard. When grousing and grumbling intensified amongst the "steers" in the "can" about the new warden and the inhumane conditions, Hunk calmed the inmates by playing his guitar - the tune 'One More Day':
I'm up in the mornin' with the risin' sun
I work like a slave till the day is done
Just workin' and sleepin' and nothin' more
And ev'ry day is just like the day before

Refrain
One more day One more day
One day older and nearer to my Lord
One more day
Hunk bragged about his former "trade" of singing and his country roots: "I was singin' country music before the words were invented. And I was on the stage with the best of 'em. Eddy Arnold. Roy Acuff...I made two bills a week. I was swimmin' in gravy in those days." However, his downfall came when concert bookings dried up and he committed armed bank robbery: "A woman and a bank did it. She got used to bonded bourbon. I robbed a bank."
Vince asked to strum on Hunk's guitar, permission was granted, but with one stipulation: "Don't break the strings!" Vince then boasted about how he had played a little when he was younger: "I can sing better than you...I used to have an Uncle that had one of these things. I fooled around with it some. Here's one of his songs." He showed off his hidden musical expertise and talent by singing 'Young and Beautiful' (the first of three instances of the song in the film by Presley) - he held the guitar in an unusual, upright position:
You're so young and beautiful
And I love you so
You're lips so rare
You're eyes that shine
Shame the stars that glow.

So fill these lonely arms of mine
And kiss me tenderly
Then you'll be forever young
And beautiful to me.
He then asked Hunk for his reaction: "Like my singin'?" Hunk was doubtful: "You don't know one thing about the guitar." He offered to tutor Vince on some guitar chords and proper finger-positioning, but then became frustrated by Vince's timing: "You will never make a guitar player. You got no rhythm in your bones!" Vince reacted: "Well, I never heard of anybody payin' money to hear a guitar player." Hunk was slightly offended: "Well, don't pay any attention to me. I was only in the business for 10 years. That's all."
'I Want to Be Free' - Vince's Performance in a Televised Prison Show:
The corrupt prison warden pressured Hunk to produce a prison inmate talent show (on a program called Breadth of a Nation), to create a "smoke screen" and divert away the attention of a committee of state legislators who were scheduled to visit the prison during an investigation. With some visionary foresight, Hunk convinced Vince to participate in the show: "You know, I got a spot for you in the show. I'll teach you a new tune." Vince was reluctant: "I don't know. What's the percentage in singin' for a bunch of cons?" Hunk encouraged him to try it out: "Experience, you lunkhead! That's the percentage." Immediately after Vince learned that there would be national-television exposure, he signed on, and began dreaming of owning a convertible!
During the show's broadcast, Vince was introduced by Hunk as a 'short-timer' who sang 'real pretty.' With great heart and expressiveness, he stole the show by crooning: 'I Want to Be Free':
There's no joy in my heart, only sorrow
And I'm sad as a man can be
I sit alone in the darkness
Of my lonely room,
And this room Is a prison to me.

I look out my window,
And what do I see?
I see a bird, Way up in a tree,
I want to be Free, Free, Free,
I want to be free,
Like the bird in the tree.
Hunk's Exploitation of Vince's Talent:
Afterwards in the prison mail room, Hunk bribed the mail clerks (with five cartons of cigarettes) to hide the many fan letters from teen girls that jailbird Vince received as a result of the TV show, with some additional help from the warden:
"This is the easiest money you'll ever make as long as you live. All's you gotta do is to keep your mouth shut. I mean, about the mail. I made a mistake and I gave the kid the best spot in the show. Naturally, if word gets out all this mail's for Vince Everett, it makes me look bad. Follow? I mean me, the professional singer....If within a week, the word's not around, you get the cigarettes."
The crafty Hunk, seeing dollar signs if he could exploit Vince, cleverly tricked him into seriously considering an exploitative 50/50 managing contract with him for future earnings, although Vince was unsure at first:
Hunk: "We'd be a natural together, both ex-cons. The publicity would be sensational. Look, you get out in six months. I follow you 12 months later. Whaddya say, boy?"
Vince: "You mean we sing together?"
Hunk: "Together or alone, it makes no difference. We hire a couple of other acts - we got our own show. We play the circuit and we roll."
Vince: "I don't know anything about how to get any bookings."
Hunk: "Let me worry about the business end. Here - I made a contract for us. We split everything right down the middle."
Vince: "Hey. How come you're willin' to give me 50% of your earnings? I mean, uh, like you said, you're the one who's got the experience and the name."
Hunk: "One simple reason: I got faith in your possibilities. Sure, you're never gonna command the dough I can. But, with training, you'll do all right. Besides, I need a young man to appeal to the kids. I'm levelin' with ya, boy. Alone, son, you'd be like a lamb in a pack of wolves. Go ahead."
Vince signed the contract - he agreed to have Hunk provide unspecified business or management services in a future partnership.
Prison Food Fight and Vince's Whipping:
In the prison mess-hall, one of the inmates complained: "I wouldn't feed this garbage to a razorback hog....Slop, slop, slop!" He hurled his metal plate of 'slop' and a food-fight brawl commenced. During the chaos, Vince struck a few of the guards who were ordering him back to his cell. As punishment, he suffered a bare-backed whipping (with five lashes - on-screen) by one of the guards (Bill Hickman).
After the corporal punishment, Hunk (who was unable to save Vince because the price was too high) provided words of advice to Vince. He gave his dog-eat-dog philosophy about his experience with the cruelty of the world (and in particular within the music industry) - they were cynical words that Vince took to heart as he was about to leave prison:
Hunk: "It's a lesson to remember. Without money, you might as well be dead."
Vince: "Yeah."
Hunk: "That's all the sympathy you'll get from me. Pity's a commodity. In here, you buy it and sell it just like anything else."
Vince: "Hey, what are you, man? Some kind of an animal?"
Hunk: "That's right, buddy. I'm an animal in a jungle, and I got a motto: 'Do unto others as they would do unto you, only do it first'."
Vince: "Yeah. That's right. Do it first."
Hunk: "And it's just as bad on the outside. Worse. Remember that."
Vince: "I don't aim to forget it."
Vince's Release From Prison:
Crossed-off months on a wall calendar marked the passage of time. Released early and on parole, Vince bid goodbye to Hunk with a handshake: "See you in about 10 months." [Note: Earlier, Hunk had said he would follow him in 12 months.] They had a contractual understanding that they would soon team up together on the outside. Hunk suggested that Vince contact one of his old buddies, Sam Brewster, the owner of La Florita, to get a job.
When Vince was released early from prison after serving 14 months, the prison warden gave him $54 dollars (what was left to be owed to him by the state). To Vince's surprise, he realized he had been conned when he was handed a large bundled package of fan mail (Warden: (spitefully) "You're a real star!"). The surly warden had no concern for Vince's claim that he hadn't received his mail: "Now get out and don't come back."
The ex-con then rented a shabby room at a run-down hotel, where the desk clerk promised that a housekeeper would be sent up to make the bed. Vince refused the clerk's insistence that he should be tipped: "Well, I'm startin' a new custom: no tip." Vince selected one of the letters from the package bundle - from Mary Jane Hamilton:
(a female voice-over) "Dear Vince, I saw you on television today singing from the jail and I thought you looked real cool. My name is Mary Jane Hamilton and I'm 15 with blue eyes and brown hair. My measurements are: 33-25-36. Do you think I should reduce? Ha-ha. If you ever come to Riverport, how about giving me a blast on the phone? My number is Lockwood 4357... "
Soon after, when the elderly Cleaning Woman (Elizabeth Slifer) entered the room, Vince asked for directions to the nearest pawnshop (just a few blocks away), and then she asked: "Whatcha gonna do? Buy yourself a diamond ring?" He responded sarcastically as he dashed out: "No, I'm gonna buy a guitar and sing love songs to you."