Hitchcock in the 50s: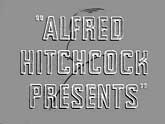 Britisher Alfred Hitchcock (1899-1980), the "Master of Suspense," made some of his very best suspense/thrillers during the 1950s, and also found success in the new medium of TV in the mid-50s. He premiered his television series anthology Alfred Hitchcock Presents in October, 1955, to bring his macabre sense of humor to the small screen. Each show was prefaced by his ominous, droll greeting "Good Evening" and short, introductory, on-screen comments. Hitchcock employed most of his TV crew to produce his black and white cinematic masterpiece at the end of the decade, the low-budget Psycho (1960).
Hitchcock became well-known and a noted film-maker for two fundamental reasons: his clever cameos called attention to himself, and his films often did well at the box-office. Although his late 1940s films, The Paradine Case (1947) and Under Capricorn (1949) (Hitchcock's second film in Technicolor) fared poorly, his 50s films flourished:
Under Capricorn (1949) - a serious, historical melodrama set in 1830s Australia (with some similarities to Hitchcock's earlier work, Rebecca (1940)) about a romantic triangle between wealthy landowner and grim ex-convict murderer Sam Flusky (Joseph Cotten), his mentally-unstable, reclusive, alcoholic and fragile wife Lady Henrietta Flusky (Ingrid Bergman) (shunned by Australian society and cared for by meddling and scheming housekeeper Milly (Margaret Leighton)), and debonair Irishman Charles Adare (Michael Wilding); eventually, the tragic reason for the Flusky's move to Australia was revealed - Sam had been imprisoned when he took the blame for Henrietta's killing of her brother, who was angered over their elopement and marriage.
Strangers on a Train (1951) - adapted from Patricia Highsmith's first novel about an amoral murderer who proposed a 'trade' or 'exchange' of crimes; used as a springboard for director/star Danny DeVito's satirical Throw Momma From the Train (1987) with Billy Crystal
the effective, voyeuristic suspenseful classic Rear Window (1954) about a neighbor-spying photojournalist (James Stewart) with a broken leg and his girlfriend (Grace Kelly) who believe that one of his apartment dwellers may be a wife murderer
Dial M for Murder (1954) - a murder thriller filmed in 3-D but not required to be shown that way, with Ray Milland as an ex-tennis pro who masterminds to commit the "perfect" crime - the murder of his unfaithful wealthy wife (Grace Kelly) for having an affair with a TV mystery writer (Robert Cummings)
The Man Who Knew Too Much (1955) - a remake of Hitchcock's own 1934 film, with Doris Day looking for her kidnapped son, and noted for the song "Que Sera Sera" as a key element
The Trouble With Harry (1955)
To Catch a Thief (1955) - a lightweight stylish thriller filmed in the south of France, and noted as being Grace Kelly's last film for Hitchcock, before marrying Prince Rainier III of Monaco in mid-April 1956 and giving up her film career forever; Kelly's last film was the Technicolor musical comedy High Society (1956) with Cole Porter tunes, a reworking of George Cukor's The Philadelphia Story (1940); at the age of 52, in mid-September 1982, Princess Grace suffered a stroke while driving on the same stretch of highway in Monaco that she had driven in To Catch a Thief, and soon died as a result of her injuries
Vertigo (1958) - a tale of masculine romantic obsession and disorientation (using a revolutionary cinematographic technique of zooming out and tracking forward simultaneously to visualize the 'vertigo' effect) for a retired San Francisco detective (James Stewart), and with Kim Novak as a woman who 'returned' from the dead
the classic North by Northwest (1959), exploring the director's favorite theme of an innocent man (Manhattan businessman Cary Grant) caught in a complex series of circumstances after being mistaken for a secret agent, and climaxing at Mount Rushmore
New Directors in the 50s: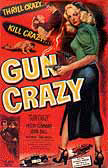 New directors like Robert Aldrich made striking impressions with early films like the apocalyptic Kiss Me Deadly (1955) (an adaptation of a Mickey Spillane pulp with private eye Mike Hammer (Ralph Meeker)). Stanley Kubrick directed the track heist thriller The Killing (1956) and the anti-war drama Paths of Glory (1957) with Kirk Douglas. Sidney Lumet's first feature film was the brilliant jury-room drama 12 Angry Men (1957) with Henry Fonda standing along against conviction. One of Joseph Lewis' best-known films was the noir, cult crime film Gun Crazy (1949) - a forerunner of Bonnie and Clyde (1967) and Natural Born Killers (1994). Independent-minded Sam Fuller, director of hard-edged, tabloid-ish films, led off the decade with the nasty, suspenseful thriller Pickup on South Street (1953) about a pickpocket (Richard Widmark) and a roll of top-secret Communist microfilm.
Nicholas Ray: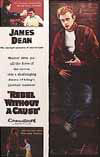 During the post-war years, two directors who later achieved cult status emerged. The first was one of the most original 50s directors - Nicholas Ray, most famous for his best film Rebel Without a Cause (1955). Ray also directed other interesting films including a Bonnie-and-Clyde, lovers-on-the-run crime film They Live By Night (1949) - (his first feature film), the murder mystery about a suspected homicidal Hollywood screenwriter trying to begin a romance with his alibi-providing neighbor in In a Lonely Place (1950), the noirish On Dangerous Ground (1951), the quintessential rodeo film The Lusty Men (1952), the bizarre cult Western Johnny Guitar (1954), Bigger Than Life (1956) with James Mason as a cortisone-addicted schoolteacher, The True Story of Jesse James (1957) (a re-make of the 1939 classic), and the crime drama Party Girl (1958).
Douglas Sirk:
The second talented and influential director of the 50s, known for visually striking, feverish, highly polished, exaggerated, big budget, emotional soap opera - melodramas, was Douglas Sirk. His best-known glossy films, with innovative production design and a dramatic use of garish color, often featured Rock Hudson:
Magnificent Obsession (1954) - a remake of the successful 1935 blockbuster
All That Heaven Allows (1955) - about a middle-aged widow's unacceptable affair with her bohemian gardener in a small town
the soapy Written on the Wind (1956) about an alcoholic Texas oilman and his sexy, trampish sister (Robert Stack and Oscar-winning Dorothy Malone)
Interlude (1957)
The Tarnished Angels (1957)
A Time to Love and A Time to Die (1958)
Imitation of Life (1959), Sirk's last film, from the novel by Fannie Hurst
Declining Strength of the Studio System:
In the 1950's, the after-effects of the 1948 Paramount Decrees (federal trust-busting laws that forbade studios to be linked with theatre chains) were devastating. The courts ordered that the film industry's vertically-integrated structure of production, distribution, and exhibition had to be separated into distinct corporate entities, and studios were ordered to sell off their theatres.
There were many other indications of the upheavals in the film industry:
once-powerful MGM mogul Louis B. Mayer resigned from the studio in 1951 (to be replaced by producer Dore Schary, who was fired in 1956) and died in 1957; MGM became an independent studio in 1959
Columbia Pictures established Screen Gems, a subsidiary for making TV programs in 1951; it leased its pre-1948 films to television in 1955; and both founding rulers, the Cohn brothers, died in the mid- to late-50s
Darryl F. Zanuck resigned from 20th Century Fox in 1956 to become an independent producer; as a result, the studio started to lose money and was forced to sell its famous backlot and release its post-1949 color films to NBC Television
Universal International (formed in 1946 from the merger of Universal Pictures and International Pictures) was sold to Decca Records in 1952; it released its films to television in 1957
Warner Bros. sold the film rights to its pre-1950 films to an investment group in 1956
millionaire Howard Hughes, who had been in charge of RKO Studios since 1948 and sole owner of the studio since 1954, sold off the studio's theatres (now a part of the Cineplex Odeon group). By 1953, RKO Studios' losses totaled $20 million, and in 1954, Hughes began the sell-off of the studio's film library to television, and fired hundreds of employees. The studio was sold to the General Tire and Rubber Corporation in 1955, and ceased the production of feature films altogether in 1957. It announced plans to close and distribute/release its remaining pictures through other companies, primarily Universal-International. The studio that had made two of the greatest films ever, King Kong (1933) and Citizen Kane (1941) and was responsible for the cycle of Astaire-Rogers dance musicals, was no more
Paramount sold the rights to its films (pre-1948) to MCA in 1958
film newsreels were discontinued in the mid-50s - they were obvious victims of TV's reigning influence; the average US film ticket price fell to $.51 in 1959 to compete with television
the effects of nitrate-based film stock, discontinued in the early 1950s because of its instability, began to be realized with the gradual disintegration of many thousands of US films
The studios became depleted with the exit rush by both directors, artists and technicians - mostly to the burgeoning television industry. Some of Hollywood's greatest directors, George Stevens, John Ford, and Leo McCarey, made half-hour dramas for the Screen Directors Playhouse (1955) on television, and others (actors, editors, and cameramen) followed suit. As a consequence, many of television's directors in the 50s, e.g., John Frankenheimer, George Roy Hill, Sidney Lumet, Sam Peckinpah, Blake Edwards, Michael Ritchie, Robert Altman, Robert Mulligan, Arthur Penn, and Franklin Schaffner became the new wave of the film industry's directors into the 60s after the decline of the studio system.
The system of studio-contracted players (the star system) began to lose some of its power and grip on movie stars in the early to mid-50s as well, and the decline would steadily reach into the next decade. Many of the stars went independent and operated as free-lance agents, moving from studio to studio for individual pictures and ushering in the age of the independent superstar. In the early 1950s, James Stewart decided to free-lance, and became a precedent-setting pioneer of the percentage deal, in which he would receive up to half the profits of his movies (he received a share of the profits for the film Bend of the River (1952)). Other stars followed suit and demanded payment on an individual film basis (in single-film deals), beginning the trend toward huge star salaries and the formation of their own production companies. Some superstars groomed themselves and guided their own careers, appearing in their own starring vehicles.
Directors charged that the demands of high-salary stars would ruin the business. In fact, by 1959 the production of films in the US dropped to about 250 films a year - a 50% drop from only a decade earlier, and only 42 million Americans were attending theatrical films on a weekly basis (as compared to more than double that amount during 1948). In contrast, more and more imported European and Asian films (such as Rashomon (1950), The Seven Samurai (1954), Pather Panchali (1955) and The 400 Blows (1959)) were being showcased in art houses and in burgeoning film festivals.
The "Red Scare" and Various Propaganda Films:
The aftermath of studio blacklists and Communist Party fears, following Senator Joseph McCarthy's HUAC witch-hunt that targeted Hollywood and smeared hundreds of film people in the early 50s, had wide-spread effects for years to come. Communist and "Cold War" paranoia and fears of Communist infiltration were reflected in a number of films of the early and mid-50s. Allegorical science fiction films reflected the collective unconscious and often cynically commented upon political powers, threats and evils that surrounded us (alien forces were often a metaphor for Communism, e.g., Invasion of the Body Snatchers (1956)), and the dangers of aliens taking over our minds and territory.
Other examples of semi-exploitative, anti-communist films helped to fuel the perceived threat of Communist spies and sympathizers, and contributed to the propagandistic political temperament of the time:
I Married a Communist (1949) (aka The Woman on Pier 13), the first of several anti-Communist films made by Howard Hughes at RKO
Guilty of Treason (1950), a propagandistic docudrama from director Felix E. Feist about courageous Hungarian Joszef Cardinal Mindzhenty (Charles Bickford) who stood up to the Communist regime in his native land and was imprisoned; the film included graphic scenes of torture for those who resisted and were enemies of the State
The Whip Hand (1951), from director William Cameron Menzies, about a small town harboring Communists who planned biological germ warfare by unleashing a deadly virus
Big Jim McLain (1952), from director Edward Ludwig, a dreadful political thriller and message film featuring John Wayne as an HUAC agent who pursued subversive pro-Reds in Hawaii; with guest appearances from actual members of the committee
The Hoaxters (1952), the sole Hollywood film about communism presented as a documentary; the MGM film indicted Fascists, Nazis, and Communists as damaging to the American way of life; nominated as Best Documentary Feature (producer Dore Schary)
Invasion, U.S.A. (1952), from director Alfred E. Green, a low-budget sci-fi disaster film about a Russian nuclear attack on the West Coast; Hedda Hopper exclaimed about the paranoid film, "It will scare the pants off you!"
My Son John (1952), an exaggerated anti-Communist melodrama about a small-town couple who were shattered by the revelation that their son (Robert Walker, who died before the film was completed) was a Communist agent; nominated for Best Writing, Motion Picture Story (Leo McCarey)
Red Planet Mars (1952), one of the most notorious and bizarre films during the period, from director Harry Horner, about an embittered ex-Nazi scientist working for the Communists (intent on destroying American democracy) by bouncing radio signals off the ionosphere and making them appear to be coming from advanced extraterrestrials on Mars, and then interpreted as being the voice of God
Walk East on Beacon! (1952), a dramatic espionage story (based on an article written by FBI head J. Edgar Hoover) about a Boston-based Communist spy ring
The 27th Day (1957), directed by William Asher, about aliens who distributed boxes to five representatives of nations, giving them the power to destroy the world
Rocket Attack, USA (1961), an hysteria-producing, alarmist, pseudo-documentary propagandistic film made during the early years of the space race that contributed to fears of an inter-continental ballistic missile (ICBM) attack by the Russians, and argued for a defense system to protect the US from a nuclear launch; almost half the film consisted of stock footage of the construction and test of American ICBMs
Red Nightmare (1962) (aka The Commies Are Coming! The Commies Are Coming!), from director George Waggner, an infamous propaganda short, narrated and hosted by Jack Webb, about a nightmarish takeover of the US by Communist forces
The legacy of HUAC's blacklisting was also felt in this decade by Best Screenplay nominee Michael Wilson for Friendly Persuasion (1956), a Civil War tale about a Quaker pacifist family (with actor Anthony Perkins' film debut). His nomination for writing the film's screenplay (uncredited in the film) was declared ineligible and his name was prohibited from a listing in the final awards ballot, because of his invoking of the 5th Amendment before the committee in 1952. Finally, by 1959, the Academy of Motion Picture Arts and Sciences (AMPAS) determined that blacklisted film industry members could be nominated for Oscar awards.
By the advent of the 60s, anti-Communist films took a more satirical edge, evidenced in a backlash of black comedies and serio-comic films, such as Billy Wilder's One, Two, Three (1961), The Manchurian Candidate (1962), Kubrick's Dr. Strangelove, Or:... (1964), and The Russians Are Coming, The Russians Are Coming (1966). And they became bolder with other such critical films as Otto Preminger's Advise and Consent (1962), Fail-Safe (1964), and Seven Days in May (1964).

Film History of the 1950s
Part 1, Part 2, Part 3, Part 4, Part 5, Part 6
---



---