Hollywood's War Against Television:
The width-to-height aspect ratio of most Hollywood films before the 50s was 4:3 (or 1.33:1), similar to the boxy-size of a television screen. [However, it should be noted that there were early experiments in wide-screen formats as early as the late 1920s, such as in French director Abel Gance's epic Napoleon (1927), with its Polyvision and 3-screen projection, or in Fox's 70mm. wide-gauge "Grandeur" system first used in Raoul Walsh's The Big Trail (1930). Both systems were aborted attempts, and turned out to be uneconomically viable at the time.]
So in its war against television, the film industry had three major campaigns involving technical advances with wide-screen experiences, color, and scope:
Cinerama
3-D and Smell-O-Vision
CinemaScope
Other Widescreen Formats and Processes
Cinerama (1952-1962)

Paramount's wrap-around, big-screen Cinerama debuted in 1952, a break-through technique that required three cameras, three projectors, interlocking, semi-curved (at 146 degrees) screens, and four-track stereo sound. It made audiences feel that they were at the center of the action.
The first film using the three-strip cinerama process was This is Cinerama (1952), a travelogue of the world's vacation spots, with a thrilling roller-coaster ride. Although there were a few successful box-office Cinerama hits in the 1950s, the process was ultimately abandoned because its novelty wore off and the equipment and construction of special theatres was too cost-prohibitive and cumbersome:
Cinerama Holiday (1955)
The Seven Wonders of the World (1957)
the Lowell Thomas production of Search for Paradise (1958)
The Wonderful World of the Brothers Grimm (1962)
the last Cinerama-released film, How the West Was Won (1962)
[In the 60s, MGM and UA also produced films including Khartoum (1966), It's a Mad, Mad, Mad, Mad World (1965), and The Greatest Story Ever Told (1965) in 70 mm. Ultra Panavision for Cinerama screens, dubbed Super Cinerama or Cinerama 70mm. In 1963, the world's largest Cinerama screen - Cinerama Dome - was 90 feet wide and unveiled in Hollywood.]
3-D Movies

In the same year as the debut of Cinerama (1952), showmanship and gimmicks like 3-D were used to bring audiences back. Special polarized, 'stereoscopic' goggles or cardboard glasses worn by viewers made the action jump off the screen - in reality, the glasses were unpopular, clunky and the viewing was blurry, although it was difficult (and expensive) for theatre owners to get cinema-goers to give them back. The 3-D effect was unable to compensate for the inferior level of most of the films.
The first full-length 3-D feature sound film was UA's cheaply-made jungle adventure Bwana Devil (1952)) by writer/director Arch Oboler, and starring Robert Stack - its taglines advertised: "A Lion in Your Lap" and "A Lover In Your Arms." The film depicted man-eating lion attacks upon the builders of the Uganda Railway. [Note: The first feature-length 3-D film was The Power of Love (1922).]
The 3-D effect was also used in many different genres:
in horror films (Warners' and B-film maker Andre de Toth's House of Wax (1953) with horror master Vincent Price, a remake of Warners' The Mystery of the Wax Museum (1933)) - the first 3-D horror film to be in the top ten box office hits in its year of release, Vincent Price portrayed the owner of a macabre wax museum in his first horror film, House of Wax (1953)
in musicals (George Sidney's Kiss Me Kate (1953))
in romantic musical comedies (The French Line (1953) starring busty Jane Russell) - one provocative tagline touted: "It'll knock BOTH your eyes out"
in westerns (Douglas Sirk's Taza, Son of Cochise (1954))
in science fiction (the cheaply-made Robot Monster (1953), and It Came From Outer Space (1953) - the first 3-D science fiction film) - and shortly thereafter, in The Creature From the Black Lagoon (1954), a story of a Gill-Man set in the Amazon
in thrillers (Hitchcock's 3-D version of Dial M For Murder (1954))
Aroma-Rama and Smell-O-Vision
Other short-lived film fads in this decade and afterwards, that were designed to tear viewers away from their TVs, included Charles Weiss' 1959 system of pumping "Oriental" scents into the theatre through the air-conditioning system - it was dubbed Aroma-Rama. Aroma-Rama was prominently used in Carlo Lizzani's Behind the Great Wall (1959), an Italian documentary about Red China narrated by Chet Huntley. In fact, this olfactory approach to expanding the movie-going experience actually had lesser-known precedents in 1906 (rose oil permeated Forest City Pennsylvania's Family Theatre during a Rose Bowl game newsreel), in 1929 (lilac oil was spread through the ventilation system of a Boston theater during the opening credits of the love story Lilac Time (1928)), and in the 1940s (various scents were distributed during the double-bill The Sea Hawk (1940) and Boom Town (1940) in a Detroit theater).
Smell-O-Vision was a similar process that came slightly later in 1960, developed by the Swiss-born Hans Laube, in which 30 different smells were injected into a movie theatre's seats when triggered by various points in the film's soundtrack. Only one film was made with this gimmicky process - Michael Todd Jr.'s' Scent of Mystery (1960) (aka Holiday in Spain). [Two decades later, director John Waters paid homage to this concept with his patented system dubbed Odorama for his B-film melodrama Polyester (1981). It used scratch-and-sniff cards and a number-system on-screen to alert an audience member when to respond.]
CinemaScope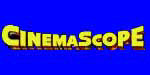 When Cinerama and stereoscopic 3-D died almost as soon as they were initiated, 20th Century Fox's CinemaScope became cheaper and more convenient because it used a simple anamorphic lens to create a widescreen effect. The aspect ratio (width to height) of CinemaScope was 2.35:1. The special lenses for the new process were based on a French system developed by optical designer Henri Chretian. The first film released commercially in CinemaScope was 20th Century Fox's and director Henry Koster's Biblical sword-and-sandal epic The Robe (1953). It debuted in New York at the Roxy Theater in September of 1953.
The dramatic costume epic told the story of a Roman tribune Marcellus (Richard Burton) who was converted to Christianity by Pythagoras (Victor Mature), his slave. Two other early efforts in CinemaScope were Beneath the 12 Mile Reef (1953) and How to Marry a Millionaire (1953). The CinemaScope wide-screen system would last for the next fourteen years.
Other Wide-Screen Formats and Processes - Milestones

Various wide-screen processes attracted audiences and monopolized the big-screen market for most of the 1950s. There were numerous optical techniques that widened the theatrical screen with effects that couldn't be duplicated on the TV screen:
- Paramount's VistaVision (used in Hitchcock's well-known thrillers To Catch a Thief (1955), his own re-make The Man Who Knew Too Much (1956), Vertigo (1958), and North by Northwest (1959), and in DeMille's The Ten Commandments (1956))
- SuperScope (RKO's answer to Fox's CinemaScope), and WarnerScope (Warners' answer to Fox's CinemaScope)
- MGM's Camera 65 (later called Super Panavision-70 and Ultra Panavision-70)
- Panavision
- TechniScope
- Todd-AO 70 mm (producer Mike Todd's pioneering, independently-owned system); Super Technirama 70 mm. was a Todd-AO-compatible 70mm format
The following are milestones in the wide-screen formats:
first VistaVision film - director Michael Curtiz' and Paramount's hit film White Christmas (1954), an Irving Berlin musical with its most-famous scene of Bing Crosby singing the title song; in the story - a follow-up remake of the earlier hit Holiday Inn (1942), Bob Wallace (Bing Crosby) and song-and-dance partner Phil Davis (Danny Kaye) put on a Christmas show to save a Vermont lodge while paired up with the Haynes Sisters: Betty (Rosemary Clooney) and Judy (Vera-Ellen)
first film in SuperScope - the western Vera Cruz (1954), and later, Invasion of the Body Snatchers (1956)
first film in WarnerScope - Santiago (1956) (aka The Gun Runner , and later Raoul Walsh's The Naked and the Dead (1958)
first film in MGM's Camera 65 (or Ultra Panavision 70) - Raintree County (1957)
Ben-Hur (1959) was a Camera 65 picture - the first film shot with Panavision lenses to win the Best Cinematography Academy Award
first Todd-AO used successfully in Fred Zinnemann's Oklahoma! (1955), Around the World in 80 Days (1956), Josh Logan's South Pacific (1958), and Porgy and Bess (1959)
first film in Super Panavision-70 - The Big Fisherman (1959), followed by Exodus (1961) and West Side Story (1961)
first films in Super Technirama - Sleeping Beauty (1959), Solomon and Sheba (1959), Spartacus (1960), King of Kings (1961), and El Cid (1961)
first film in Ultra Panavision-70 - Mutiny on the Bounty (1962)
first film in TechniScope - A Fistful of Dollars (1964)
However, Hollywood definitely lost the struggle, because wide-screen films were enormously expensive and risky to make. And it could not find a perfect antidote to reverse TV's capture of movie audiences. The number of feature films released fluctuated each year and often declined - reflecting the financial woes of the movie industry. Eventually, Hollywood gave up the idea of shooting films on 65 or 70 mm film, and reverted back to cheaper alternatives, such as shooting on 35 mm and using special lenses for projection.
Low-Budget Showman: William Castle (1914-1977)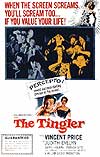 50s B-horror film director and impresario schlockmeister William Castle was known as the "King of Ballyhoo" - taking his direct inspiration for promotion from trickster P.T. Barnum. Castle's gimmicky ad campaign for Macabre (1958) promised a $1,000 Lloyds of London insurance policy for each patron who might die of fright during a screening of the film. Its taglines were: "See it with someone who can carry you home!" and "If it frightens you to death, you'll be buried free of charge!" One of the most outrageous effects he created for movie audiences was his "Percepto" format for The Tingler (1959), that consisted of installing small electric motors under the theatre seats and shocking viewers with a mini-jolt of buzzing vibration when Vincent Price appeared on screen or when blood-curdling screams were desired. The context of the film was that there was a docile creature, living in the human spinal cord, that became activated by fright and could only be destroyed by screaming ("Scream - scream for your lives").
The horror genre was enhanced with his House on Haunted Hill (1959) with Vincent Price as the eccentric host of the haunted house with a vat of acid in the basement. [By the time the film was remade about 40 years later by director William Malone as House on Haunted Hill (1999), the offer to guests to spend a night in the house was upped from $10,000 to $1 million.] One of Castle's outrageous techniques for this film, his "Emergo" 3-D system, pulled an inflatable plastic, glow-in-the-dark skeleton over film audiences to scare viewers during the film's conclusion. Castle promoted "Illusion-O" for his production of 13 Ghosts (1960), advertised as "13 Times the Thrills! 13 Times the Chills! 13 Times the Fun!" Audience members were given red-and-blue colored 'ghost-viewers' (hand-held pieces of cardboard) in order to see (or not see) the ghosts on-screen in the haunted house. His film Homicidal (1961) was promoted with a "Fright Break," a 45-second timer during the film's climax. The voice-over advised the audience of the time remaining in which they could leave the theatre and receive a full refund if they were too frightened. However, those who wished to leave had to endure the humiliations of a "Coward's Corner" set up in the lobby and bathed in yellow light - something even worse than remaining to watch the rest of the film.
At the start of Castle's Mr. Sardonicus (1961), he personally introduced the tale as "full of gallantry, graciousness and ghouls," and then reappeared in the film's conclusion to ask the audience about their preference for the evil Sardonicus' fate. The gimmick allowed audiences to vote in a "Punishment Poll" - each audience member was given a card with a glow-in-the-dark thumb they could hold either up or down to decide if Mr. Sardonicus would be cured or die at the end of the film. [Joe Dante's Matinee (1993), a tale set in 1962 during the Cuban Missile Crisis, was about a Castle-like showman (portrayed by John Goodman) named Lawrence Woolsey who was promoting his latest gimmicky horror film, Mant!, in Key West, Florida.]
Extravagant, Expensive, Hollywood Epics: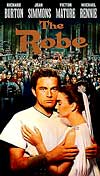 Risks were taken with lavish, overstated, spectacular epic films in this decade - more films were over three hours in the 50s, with studio support for musicals and epics. Most of the Hollywood spectaculars were Greek, Roman, or Biblical, or otherwise, beginning with The Robe (1953). Pioneering movie director Cecil B. DeMille, known for his larger-than-life, expensive films, lavish productions, and spectacular stunts, staged the greatest hit of 1952 in a circus Big Top setting with multiple stars and cameo roles - the film was Best Picture winner The Greatest Show on Earth (1952).
Other epics in mid-decade were Michael Curtiz' Biblical spectacle The Egyptian (1954) and Desiree (1954) with Marlon Brando as an inept Napoleon. Producer/director Howard Hawks' larger-than-life Land of the Pharaohs (1955), co-scripted by William Faulkner and starring Joan Collins as an evil Egyptian princess, was designed to lure television viewers away from their sets with its extravagance and cast of thousands. The exotic adventure film King Solomon's Mines (1950), based on a novel by H.R. Haggard, starred Stewart Granger as diamond-hunting Allan Quartermain with husband-seeking Deborah Kerr in the African jungle (filmed on location). Two films based on Jules Verne's novels starred James Mason: Disney's sci-fi adventure 20,000 Leagues Under the Sea (1954), with Kirk Douglas as a 19th-century whaler and James Mason as Captain Nemo in a submarine named the Nautilus, and Journey to the Center of the Earth (1959) with Mason as a professor leading an expedition into an Icelandic volcano that led them to an underground world where living dinosaurs still existed.

Three Monumental Epics in 1956:
(1) DeMille remade his own 1923 silent film for his final powerful film, re-creating the solemn Biblical epic with special effects such as the miraculous parting of the Red Sea (with 300,000 gallons of water), Charlton Heston as Old Testament prophet Moses, Yul Brynner as the stubborn Pharaoh ("So let it be written, so let it be done"), and a cast of thousands - The Ten Commandments (1956). [Former falsely-accused, blacklisted actor Edward G. Robinson performed in a comeback role as Dathan in the film.]
(2) George Stevens' Giant (1956) was a sprawling epic about a wealthy Texas family of cattle ranchers spanning a twenty-five year period, with big name stars James Dean (in his final film release), Rock Hudson, and Elizabeth Taylor.
(3) And Mike Todd's epic travelogue film version of Jules Verne's Around the World in 80 Days (1956), the second Todd-AO production, was reportedly one of the largest film projects ever made in Hollywood. It employed every means of transportation for wagering Phileas Fogg (David Niven) to circle the globe in 80 days to win a bet, including trains, boats, and a balloon. The film included scores of cameo roles, thousands of extras and costumes, a cavalcade of animals (and their animal handlers), and a whirlwind global journey - and it won five Academy Awards (including Best Picture - and in retrospect has been widely considered one of the poorest Best Picture winners).
Other lengthy, wide-screen, full-color blockbuster epics were guaranteed to follow: War and Peace (1956) (with Audrey Hepburn and Henry Fonda) and Anthony Mann's El Cid (1961) (featuring Charlton Heston and Sophia Loren).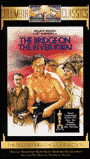 David Lean's epic The Bridge On the River Kwai (1957) was another big-budget spectacular famous for its whistling Colonel Bogey March - a story of heroism and survival in a Japanese POW forced labor camp during World War II (filmed on location in Sri Lanka). A more traditional epic, a colorful, gritty tale of the Vikings, The Vikings (1958), starred Kirk Douglas as the fierce and brutal Norse conqueror. [One of the alleged results of the Howard Hughes-produced The Conqueror (1956) with John Wayne miscast as Genghis Khan, was that the filming in the Utah desert near A-bomb test grounds in Nevada contributed to the cancer deaths of director Dick Powell and stars Wayne, Agnes Moorehead and Susan Hayward.]
William Wyler directed the award-winning remake of Ben-Hur (1959) with its celebrated, live-action chariot race, a much-celebrated film in 65 mm big-screen format that won 11 Oscars out of twelve nominations (more than any other movie in Academy Award history to that time). At $15 million, it was the most expensive film ever made up to its time, and the most expensive film of the 50s decade. It told the story of Prince Judah (Charlton Heston) who was cruelly sent into slavery after an accident, and returned to seek revenge on his oppressors. A similar Roman epic at the end of the decade, Kubrick's Spartacus (1960) starred Kirk Douglas in the title role as a gladiator and the leader of a slave revolt.

Film History of the 1950s
Part 1, Part 2, Part 3, Part 4, Part 5, Part 6
---



---